-From my own personal experience with spa facials, I was skeptical of the at-home steamer, but when I saw all of the benefits and ease of use, I had to try it out.
-Not only is using the Lonove Facial Steamer a relaxing experience, it refreshes my face, too.
-I have officially become addicted to using the steamer because it fits into my skin routine without messing with any of my other products.
I actually got this product as a gift for my birthday. I had wanted a steamer and let my family know, and they chose one that got the best reviews. When I first used it, it took me a minute to read the directions on how much water you put inside the product, but other than that it was really straightforward!
After about a minute of it warming up, the steam finally came out, and if I just closed my eyes, I felt transported to my favorite spa. I would recommend this product because it helped open up my pores and decrease acne scarring.
The Design
The steamer is silver, modern, and easy to store. This product is exclusive to all skin types. If you want a more intense treatment, you just put your face closer to the steam. The product feels like a warm humidifier on your skin.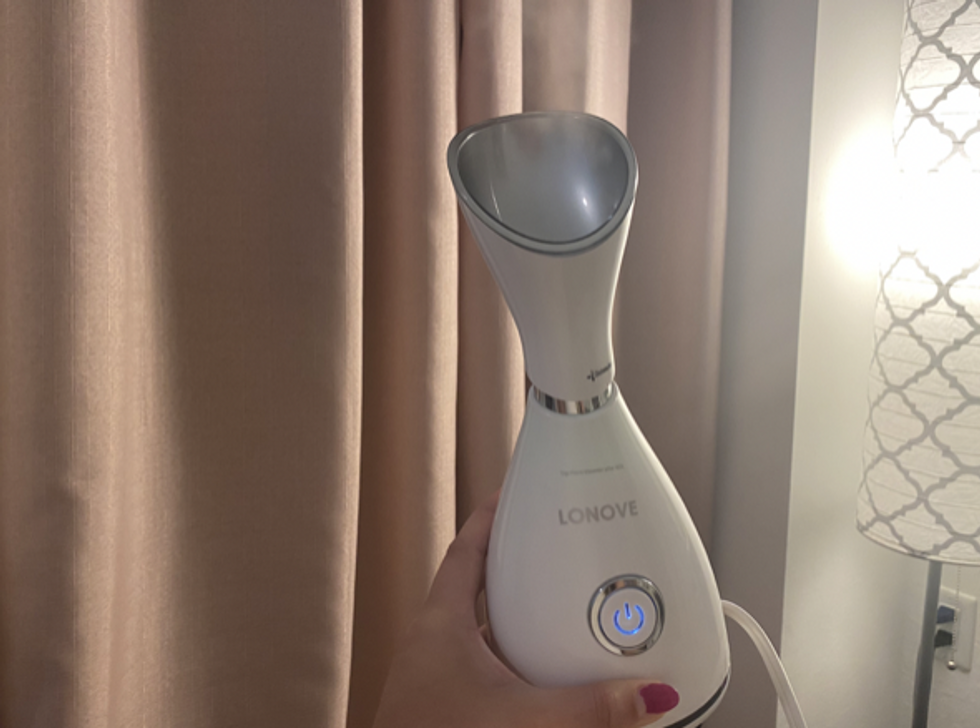 Katie Peles
The Specs

The steamer is approximately 10 inches tall, 5 inches wide, but the top of the steamer twists off, as well. The color available is silver. It comes with a headband, blemish extractors, and a water measuring cup. The steamer uses nano ionic technology, making water particles ten times more effective than a regular steamer.

Why You Should Get It
This product stands out because a steamer, to me, is a luxury commodity many do not have. It is a device that, while not necessary to have, has no alternative.
Problems I Faced
The only problem I have is that the whole experience ends too soon! If you want to use it for more than 8 minutes, you will have to fill it back up.
Many of my face masks need to stay on for at least 10 to 15 minutes, so if I want to have steam and a face mask on at the same time, there is more effort to put in refilling the product.
The Bottom Line

This product is worth your time because it is easy to use, affordable, and makes any skin thrive. There is no product like it on the market, and it will transport you to a place of zen.