With Valentine's Day approaching, people are scrambling to come up with money to buy gifts for their significant other. Receiving shiny and brand name materials are nice, but receiving a homemade gift is even sweeter. Yeah, it may not be Michael Kors, but your loved one took the time and energy to create this gift for you with love, and there is no bigger compliment than that. So if you are feeling extra sappy or stuck on what to get, try one of these DIY gifts.
1. Beery Cute Bottles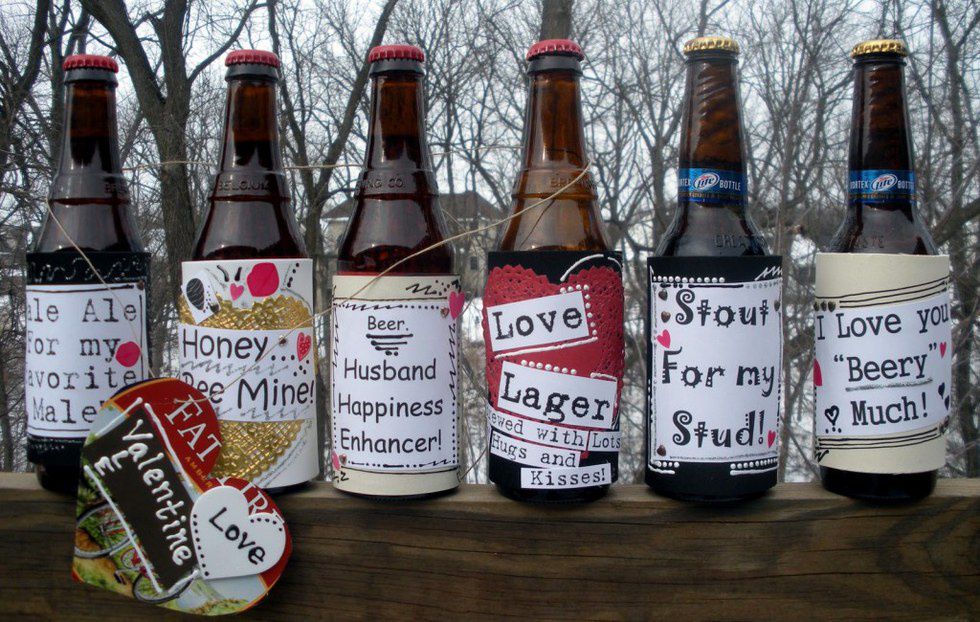 Take a spin on your partner's favorite beers and create labels with unique quotes or love messages on them to make your significant other smile ear to ear.
Project details here
2. Light of my Life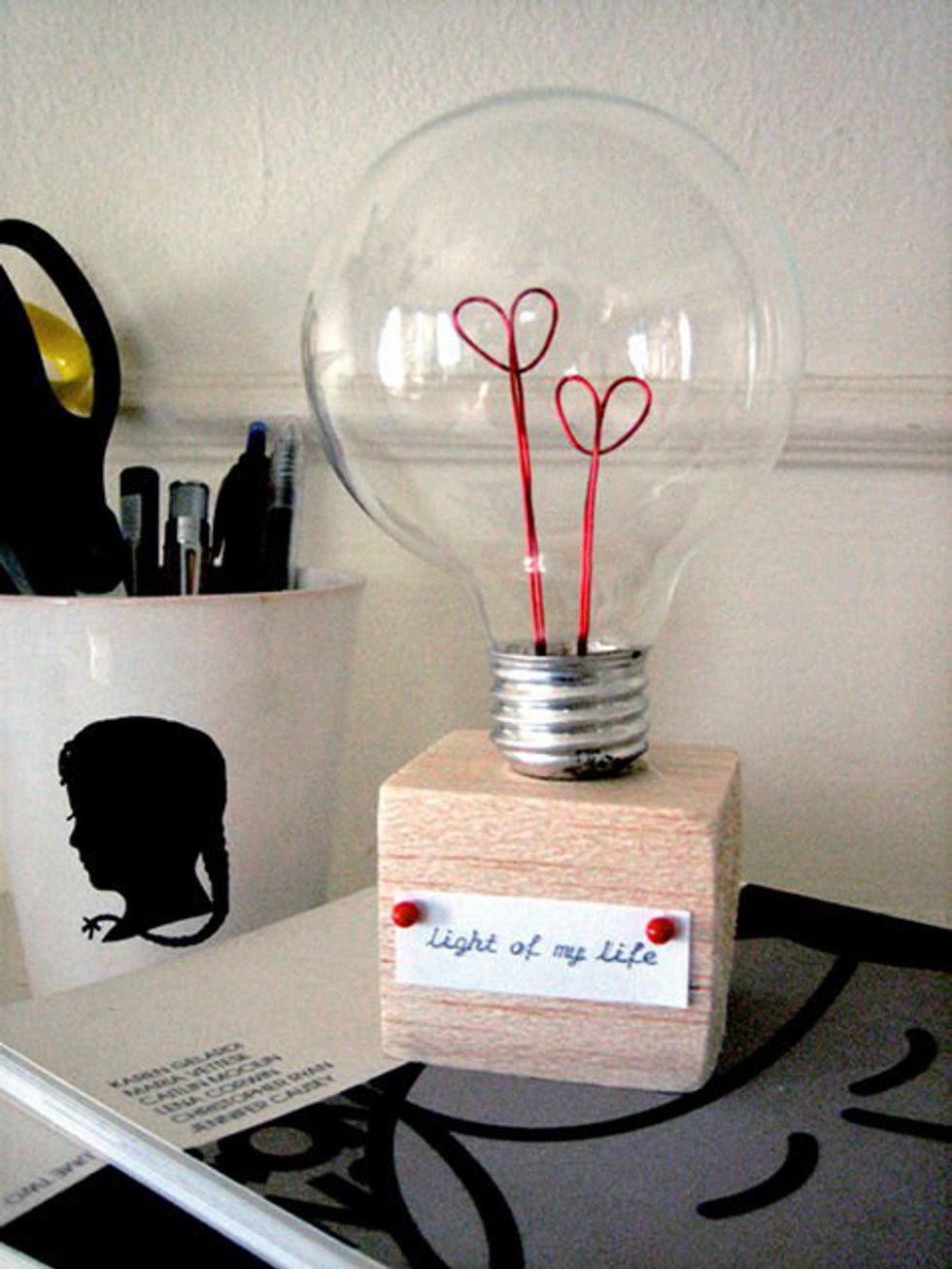 This gift is perfect to express how much someone means to you. It is also a cute decoration to put on a night stand and use when reading.
Project details here
3. Picture Perfect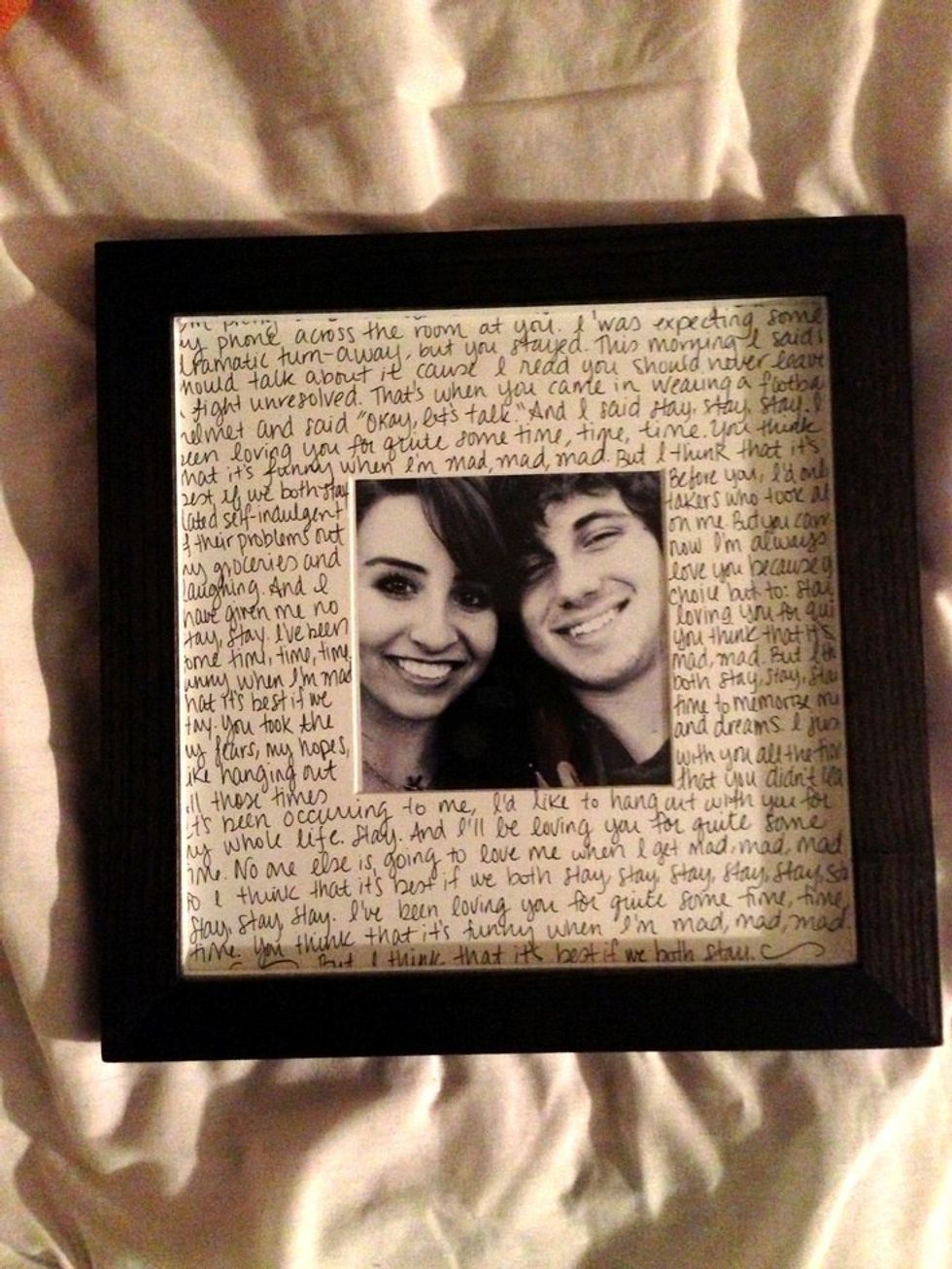 This one is simple, yet one to make your partner tear up. Put an important photo inside of the frame and write a love letter to your valentine.
Project details here
4. Sticks and Stones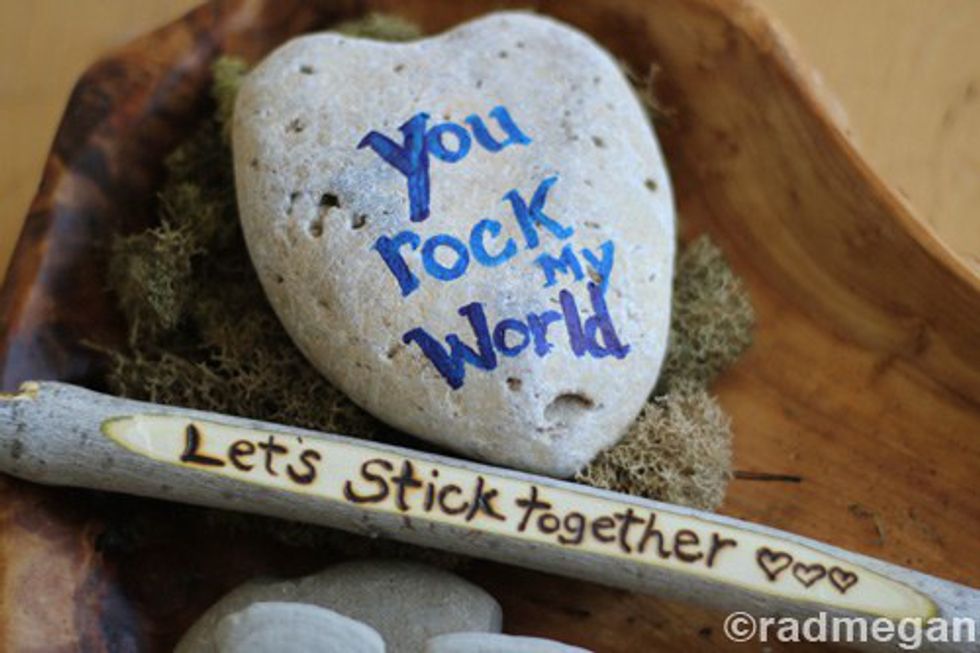 They may break my bones (get it?) but they are perfect small gits for your nature loving partner.
Project details here
5. 52 Reasons Why I Love You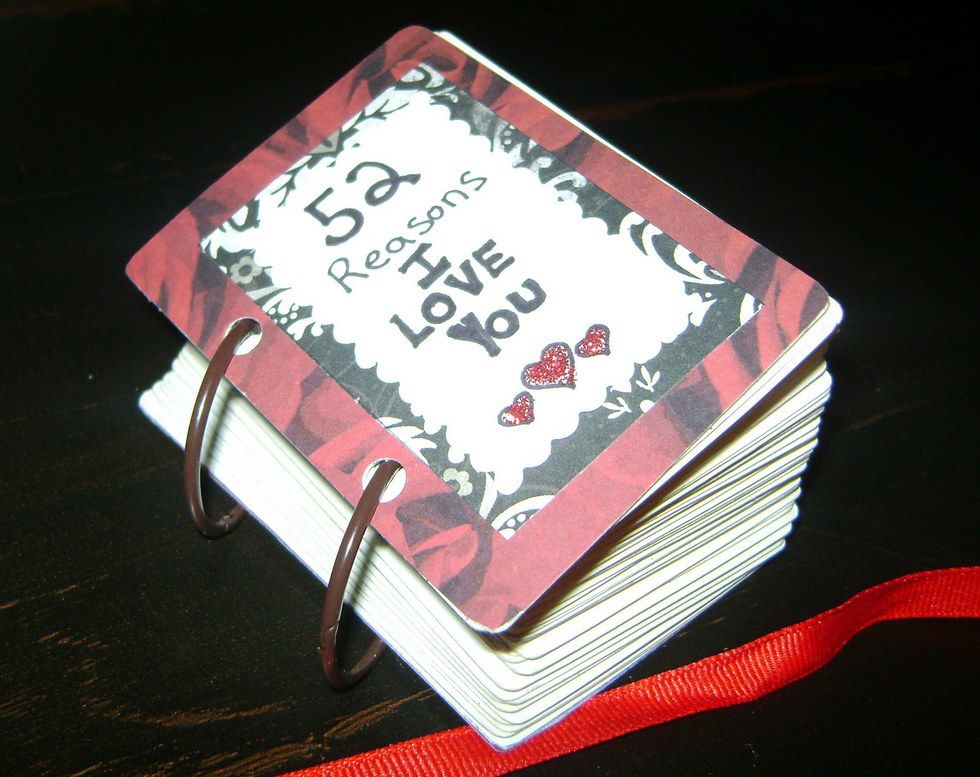 Take a deck of cards and decorate each one with pictures of you and your boo, different colored paper, glitter, and 52 reasons why you love your valentine. This gift is bound to be a tearjerker.
Project details here
6. Hooked On You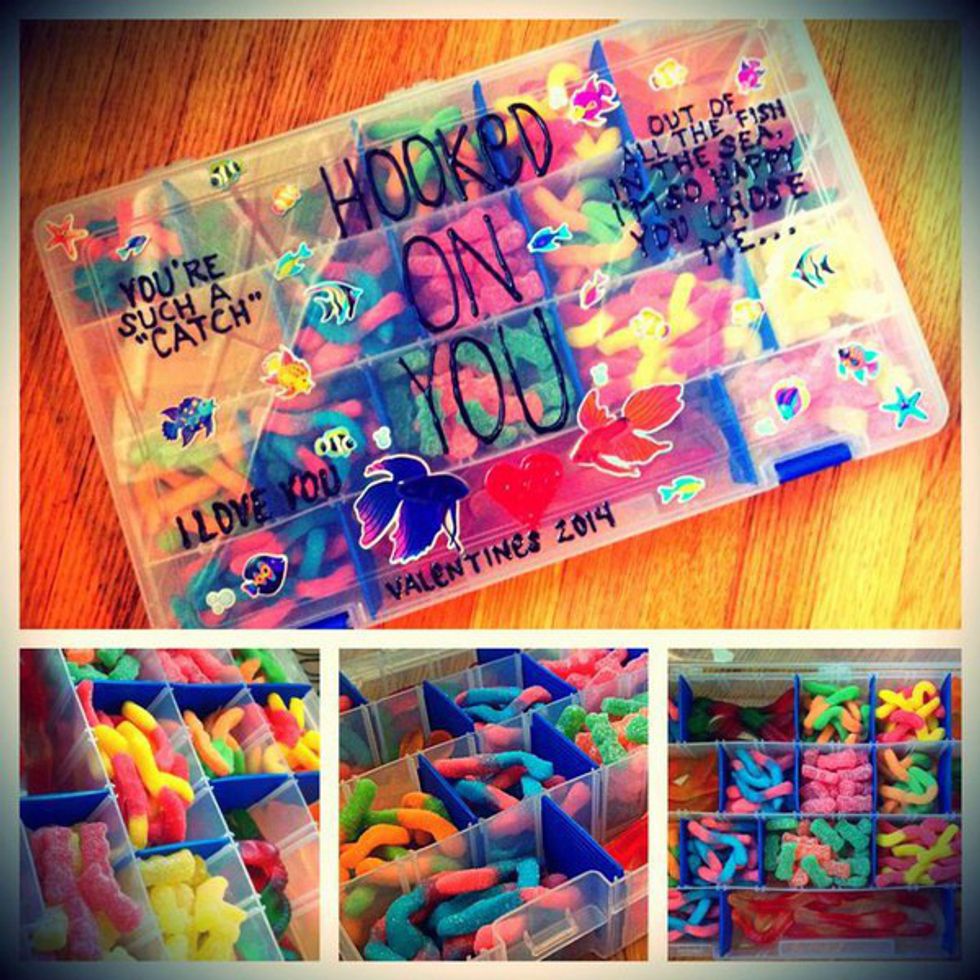 If your significant other is a catch, then make sure they know it! Fill the tacklebox a variety of candy, such as gummy worms for bait and twizzlers for fishing line.
Project details here
7. Gifts for the Senses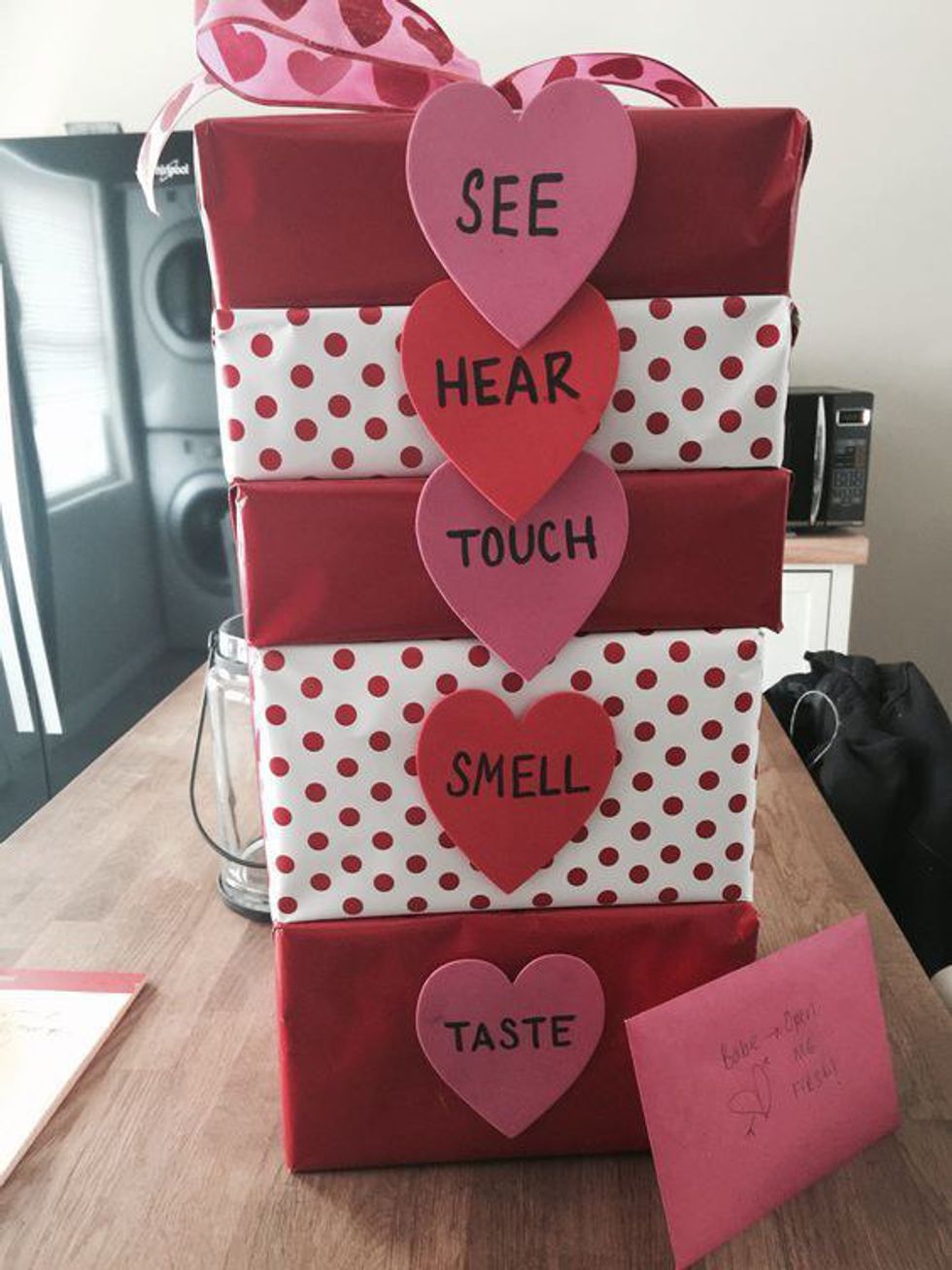 Show your boo that you love them with all of your senses. Get weird, funny, and naughty with this gift idea. Use your imagination!
Project details here
8. Drink Up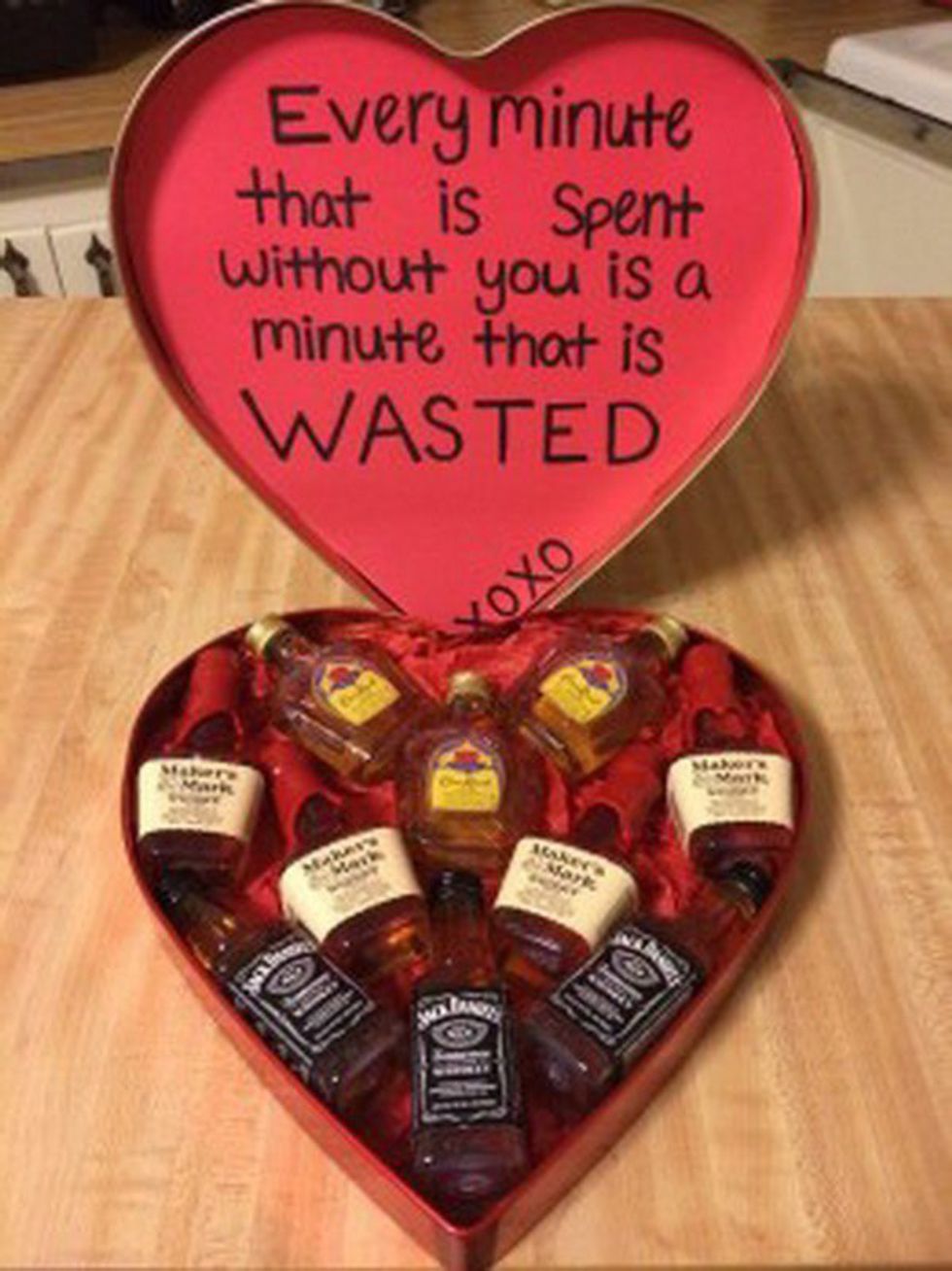 Forget the chocolates and spice up your typical heart shaped box with some of your love's favorite liquors.
Project details here
9. "Open When" Envelopes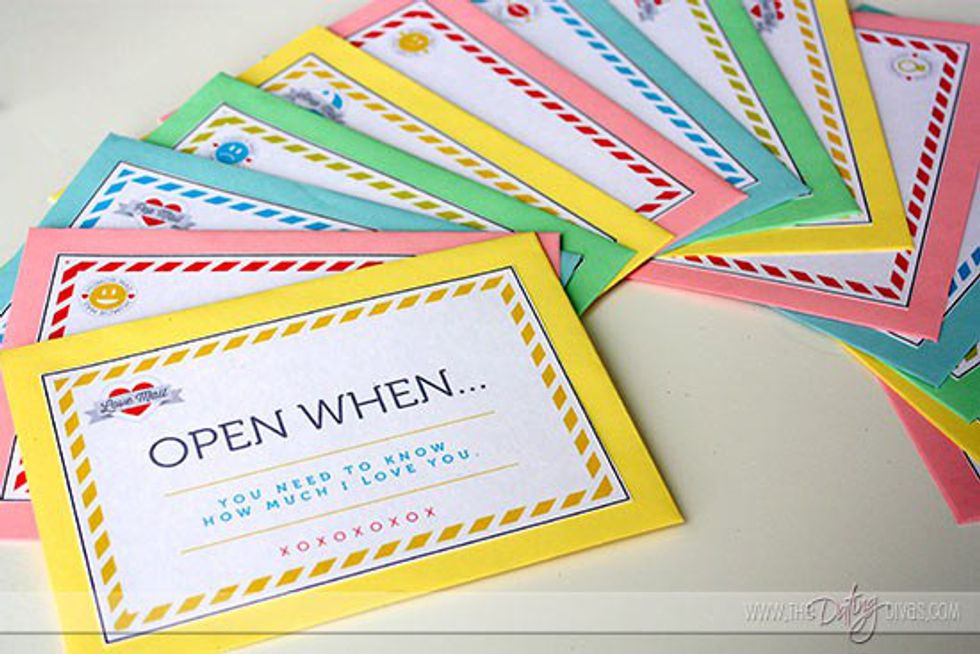 Write a letter to your partner for all the feelings they may go through. For example, make an "open when you are upset" letter and write an inspirational and upbeat letter to them!
Project details here
10. I Hit the Jackpot When I Met You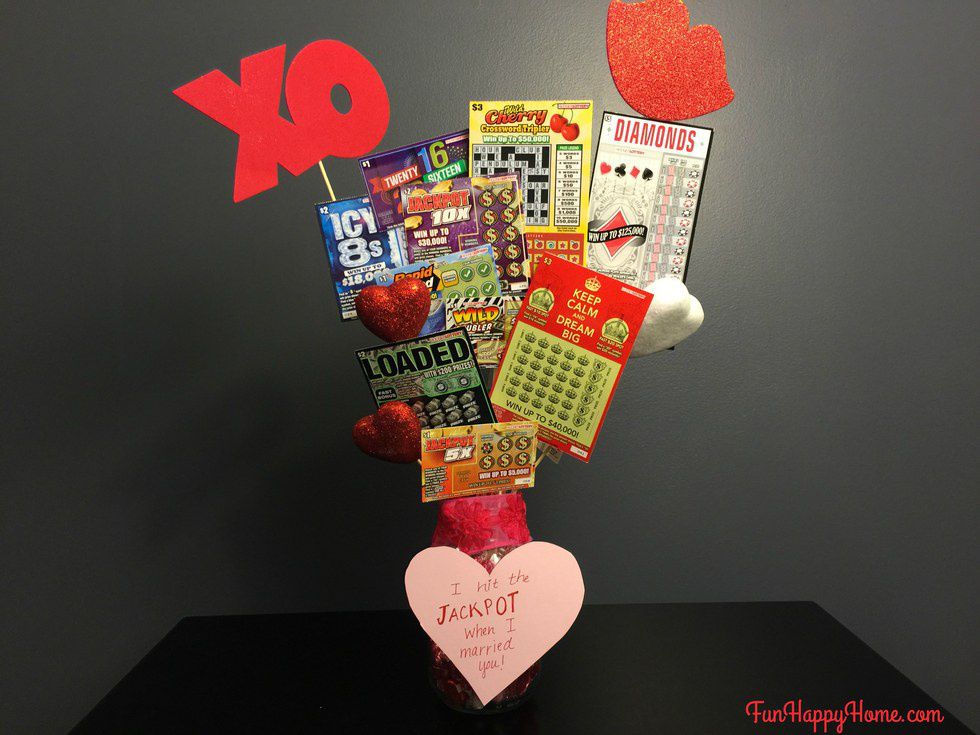 You took a chance on love and couldn't be happier. Now let your love take a chance and test their luck on some fun scratch offs. Who knows, they could win big and you two could be planning a vacation together soon. (Yes, pick this one)
Project details here
11. "You Walked Into My Life and Made Me Realize Why It Never Worked Out With Anyone Else"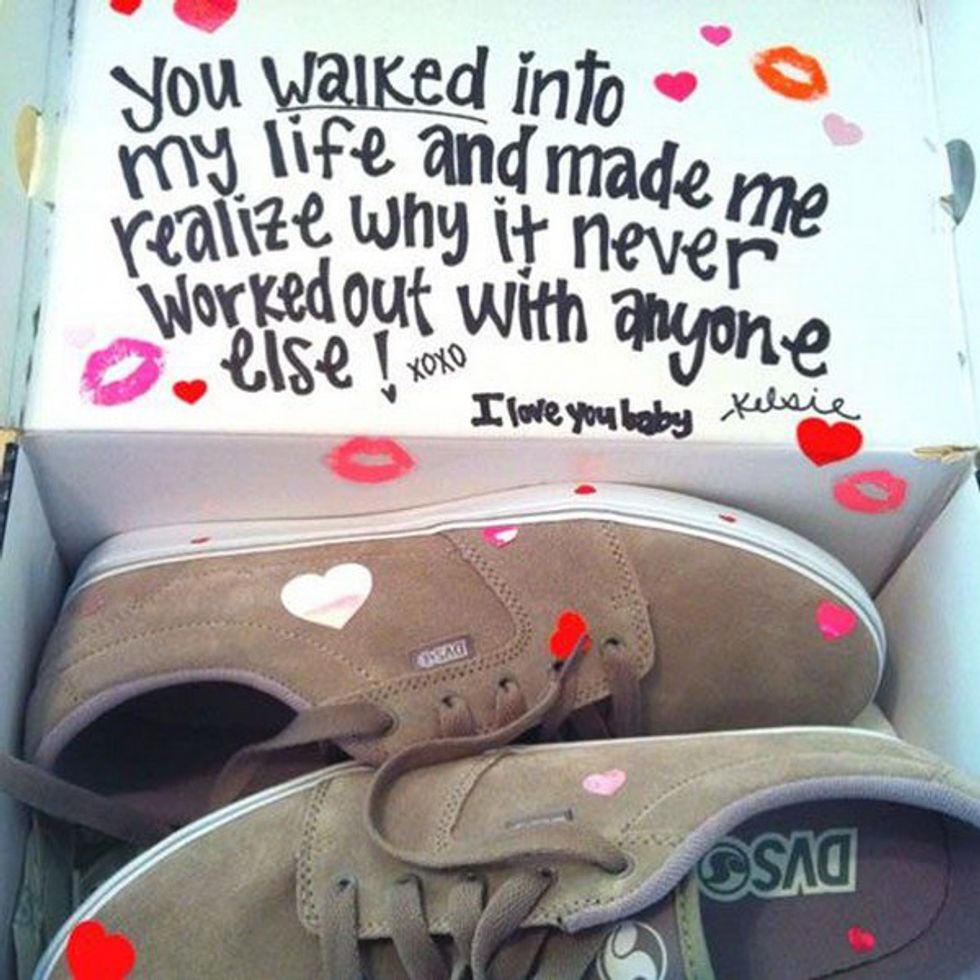 It can't get any simpler. Get a pair of your partner's favorite shoes and write this romantic quote on the inside of the shoe box!
Project details here
12. Our Love Is Timeless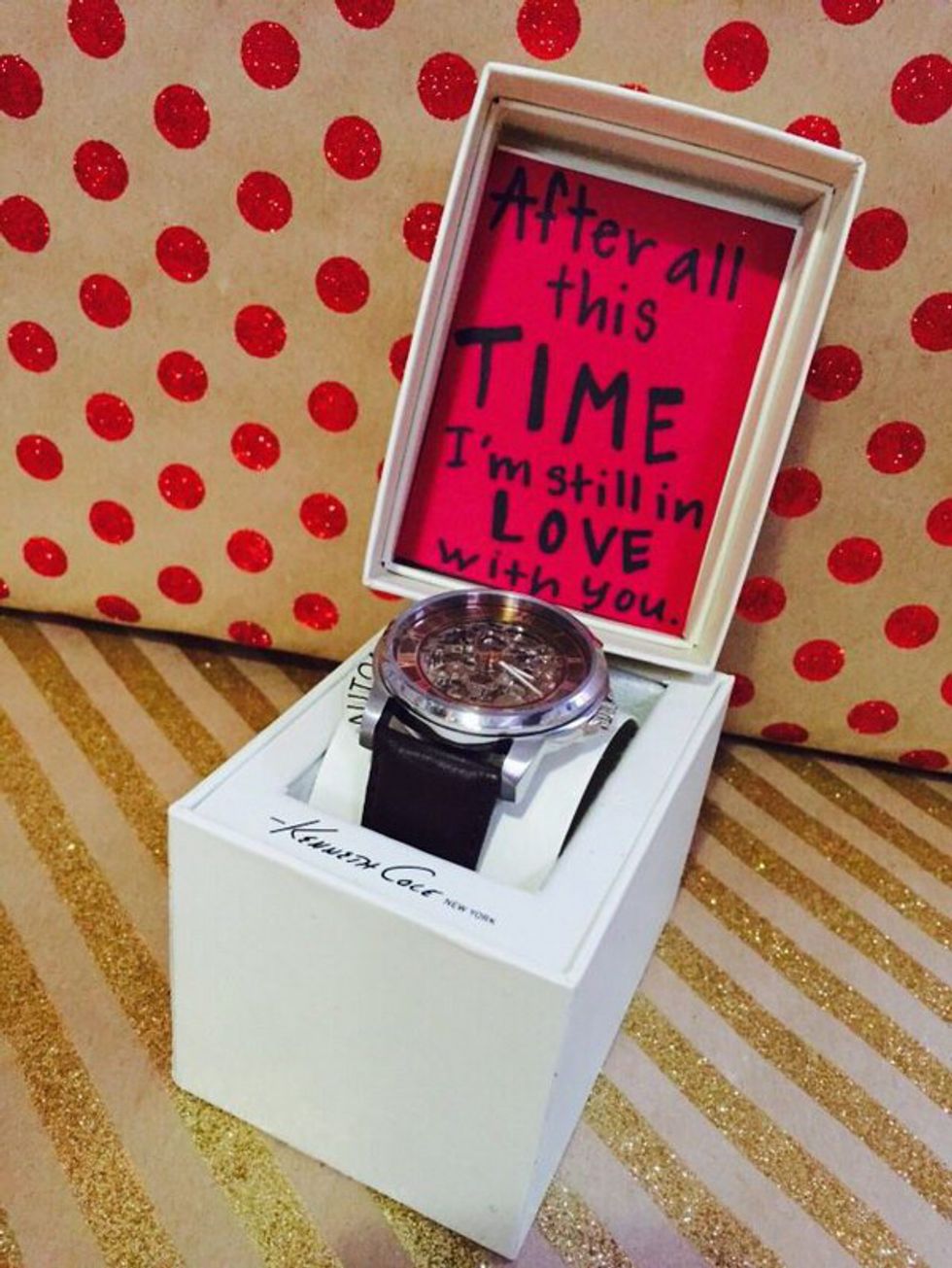 This gift could be at the top of your budget, but if you can do it, do it! It's a pricey, yet homemade gift. It's the best of both worlds!
Project details here
13. Sweet Treat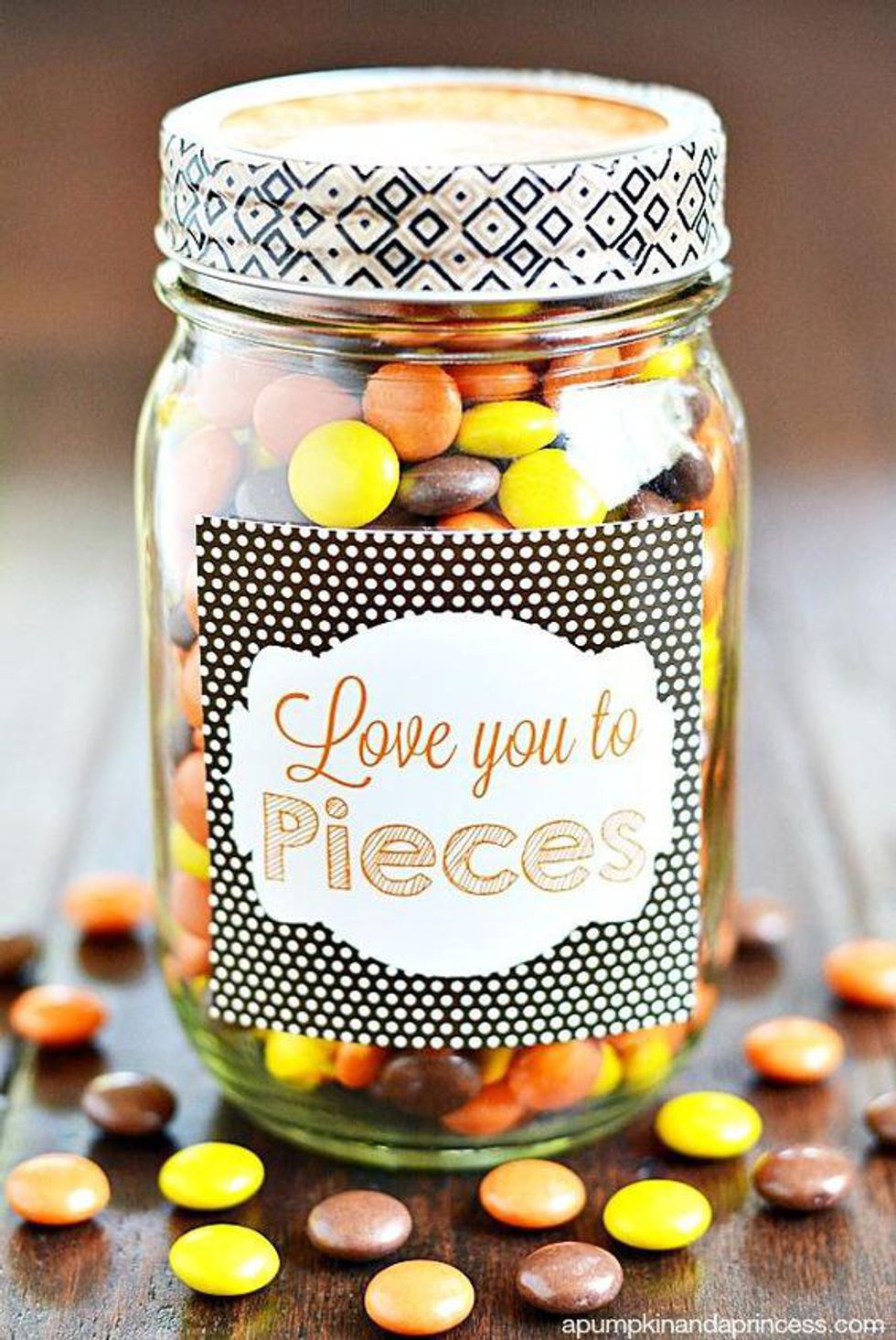 Take a mason jar and fill it with Reese's Pieces and add the quote. It's simple, cheap, and will be loved!
Project details here
14. The Eyes Have It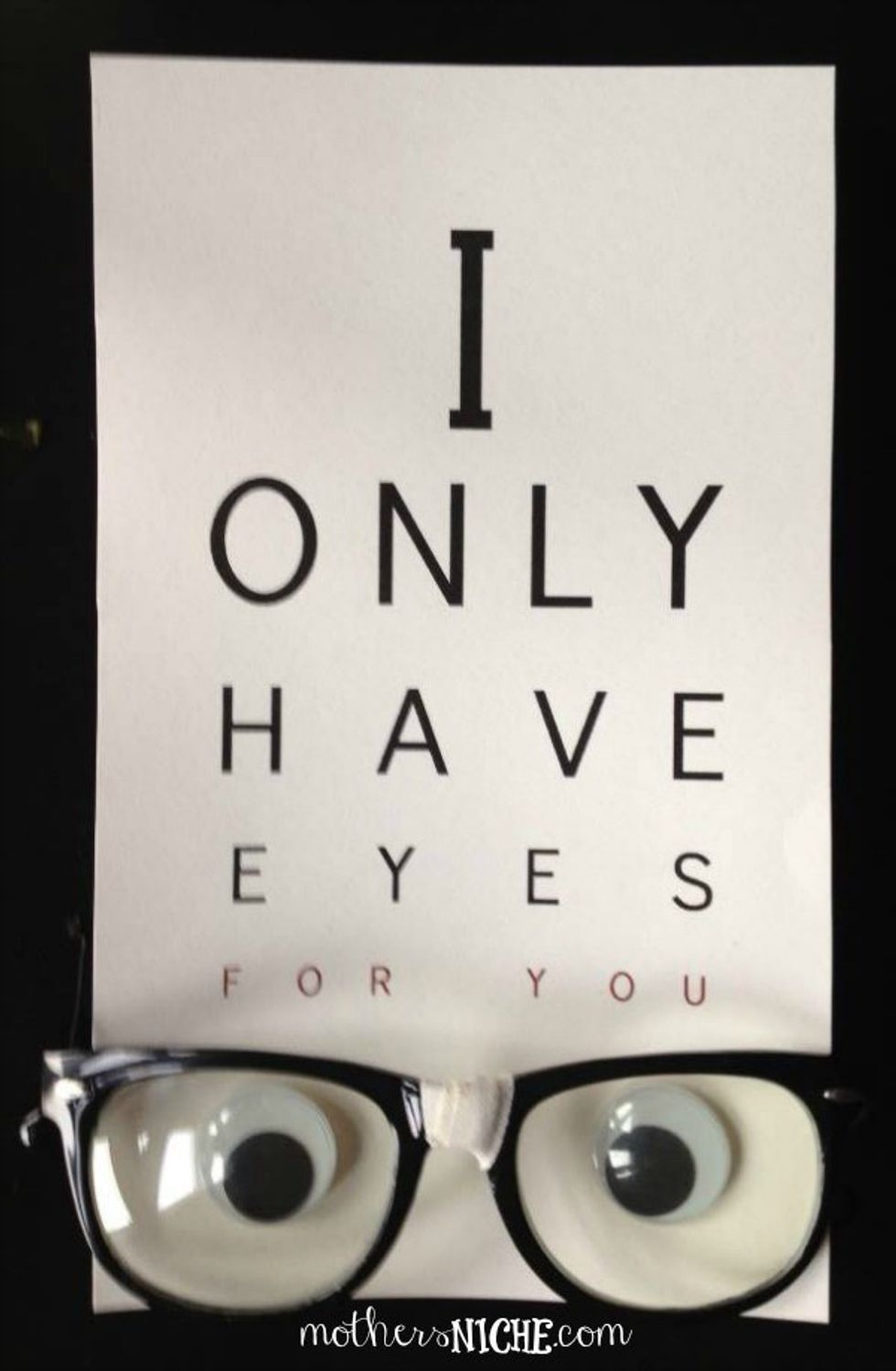 Looking for a gift that will make your valentine laugh? This printable project is a must. You can even make it look nicer by framing it! No biggie.
Project details here
Most of these projects, depending on what store you go to, should only cost approximately $30.