As a long time punk and post-punk fan, one can grow worry some of the repetitive and dull hiatus these genres have seem to taken in recent years. They were born of politically driven anger and frustration that bleed from the wounds of social discrimination.
Echoing from the dark basements and damp hole in the wall venues of D.C. and the Lower East Side, punk and post-punk redefined the purpose of music and put angry, screaming, and sometimes mild-mannered melodic voices into the mouths of the oppressed.
Their lyrics and electric sounds were pitch forks to a mob of millions. Since then its commercialization has directed punk and post-punk into the whiny discontent of privileged disillusioned teens, with the rare exception of bands with substance.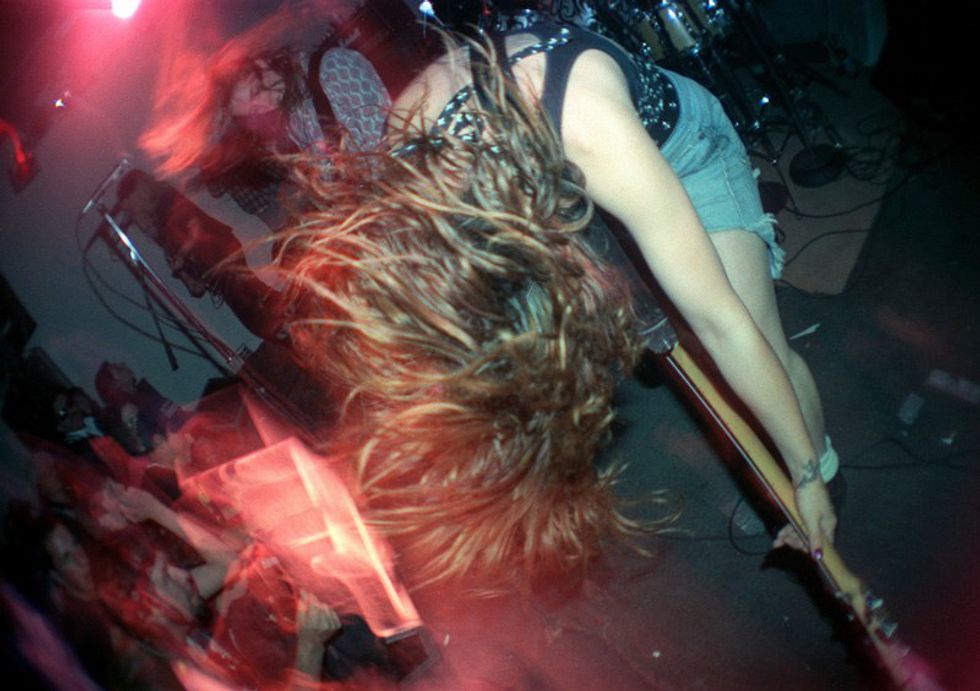 There is hope again. As third and now fourth wave feminism blares from the megaphones of socially and sexually oppressed women punk and post-punk has found its fiery breath again. The riot grrrl movement of the 90's is back and bringing the pounding flesh and pierced metal of Bikini Kill and Sleater-Kinney.
As feminism is becoming more relevant and abundant through multimedia awareness, punk and post-punk has found its meaning gain through its revisionists. Here is a list of ten recent feminist and feminist-friendly punk and post-punk bands that are bringing reason back to rock:
10. G.L.O.S.S. (Girls Living Outside of Society's Sh*t)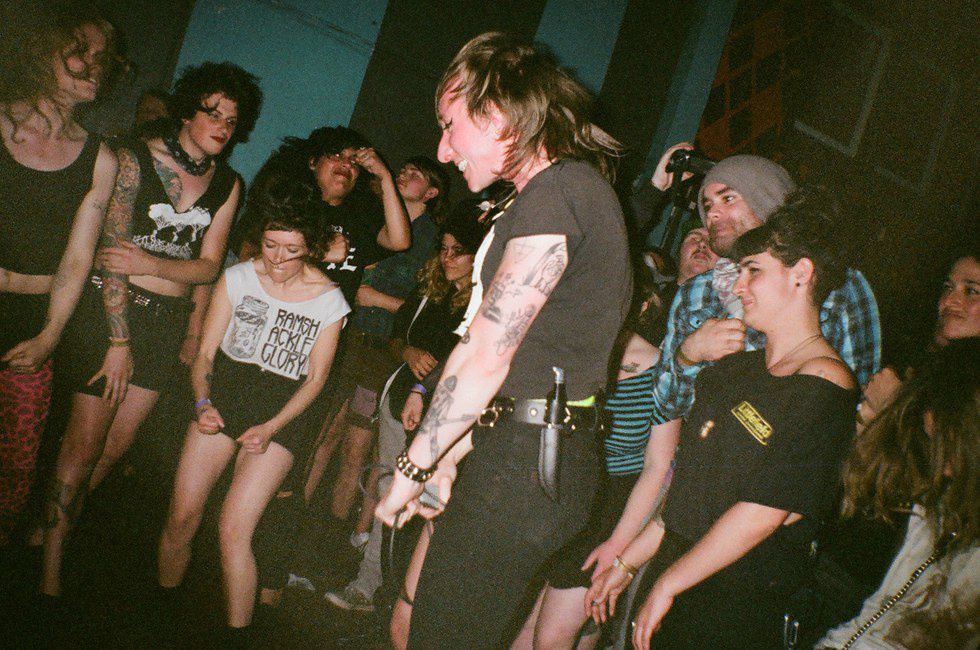 "...now they tell us we are girls, our femininity doesn't fit. We're f**king future girls living outside of society's sh*t!"
As if they were born from the sticky dried booze and puke floors of CBGB's and DC9, this band brings the batsh*t crazy and deafening screams of the New York Hardcore and harDCore movement. Hailing from Olympia, Washington, one of the birthplaces of the riot grrrl movement, G.L.O.S.S. are direct descendants from the punk pantheon. They dropped their self titled debut demo earlier this month power packed with one to two minute bludgeoning sounds of built up aggression.
This gender and sexual orientation fluid band comprised of transgendered, femme and queer artists attack conventional American on all fronts. Every lyric reigns with great exclamation and each strum of the guitar and bang on the drum creates a headbanging pulse that calls out those who stand in their way.
Their gender and sexual diversity allows them to create anthems for the pariahs of society.
Best 3 songs: G.L.O.S.S. (We're From the Future), Lined Lips and Spiked Bats, Outcast Stomp
9. Tacocat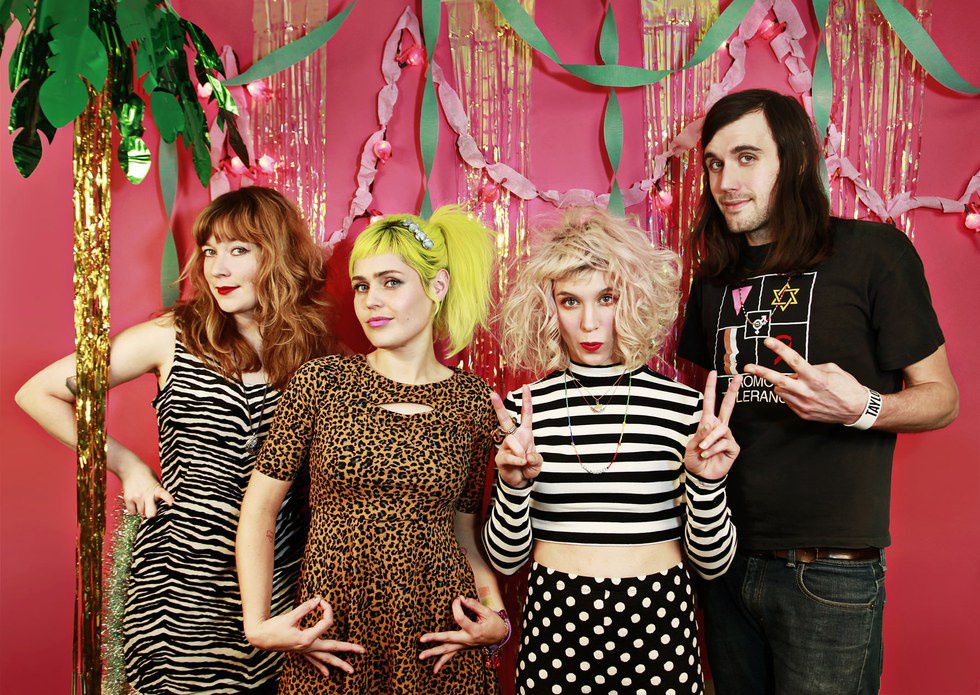 "Who do you think you are. Yelling at me from your car. Well come on back here then.I'm ready to jump in..."
Tacocat is a four piece punk-pop band from Seattle that formed in 2007. This band plays with satirical lyrics and catchy harmonies to express the American iconoclast, pop-girl perspective on modern patriarchy. Their colorful appearance and sound combines the riot grrrl attitude with Harajuku plasticity. Their album, NVM, that came out last year and shares the intimacy of young adult relationships, the party scene, and even the female anatomy. (Personal band info from Spotify)
Best 3 songs: Hey Girl, Crimson Wave, This is Anarchy. Bonus: Party Trap (Women's Day version)
8. Girlpool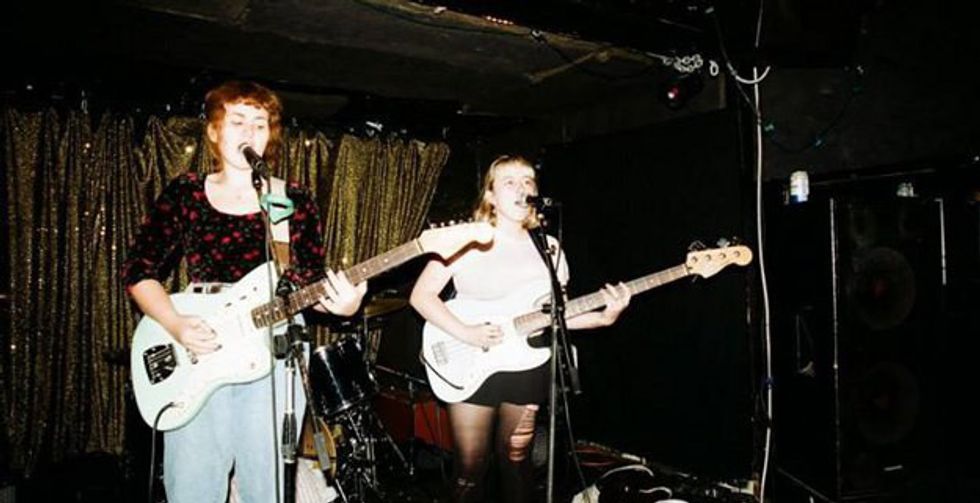 "I don't really care about the clothes I wear, I don't really care to brush my hair. I go to school everyday, just to be made a housewife one day..."
Girlpool is a two piece lo-fi post-punk band from L.A.Their little girl "naa naa-na-naa naa you can't catch me" vocals give an engraving, teasing quality to their expression. Matched with trite but honest lyrics and they create a middle school nostaglia, both playful and brutal. One electric guitar and one bass guitar, that's it. It provides a unique stripped sound that never becomes a gimmick. It reflects their appearance and overall style, "the neighborhood girls who give knuckle sandwiches" aesthetic. Assertive, aggressive and independent. Their newest album, Before The World Was Big, provides a mix of tracks revealing the darkness of girlhood and feminine identity. (Personal band info from Spotify)
Best 3 songs: Slutmouth, Emily, Chinatown
7. Joanna Gruesome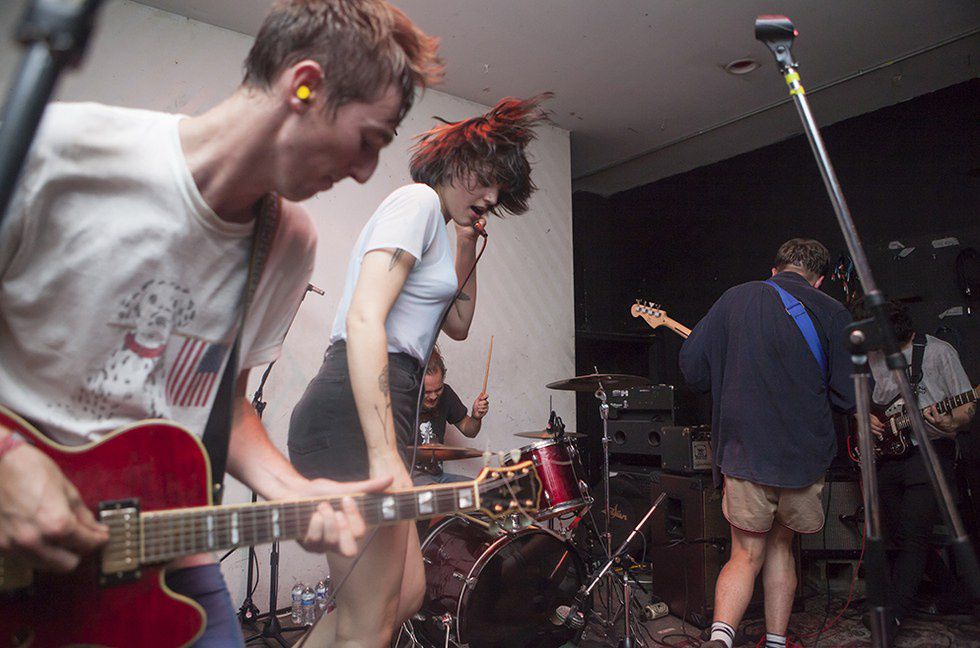 "Move your body getting close to me. Close enough to tell you babe. I said, I said that you secretly died..."
A five piece post-punk, noise pop band from Wales. Their backstory says it all as they supposedly met at an anger management class and formed after completing an exercise where the class split into groups to compose songs as a way to reduce stress. A page out of punk folklore.
They combine soft powdery vocals and sharp steely instrumentals. Combining soft and hardcore, riot grrrl power and pop punk tempo. Their lyrics are fragmented, free associated emotions. Like angrily scratched in notes of a diary.
Their most popular album, Weird Sister, released in 2013, gained the attention of multiple music magazines and sites including Pitchfork and displayed an empowered dominance, from a female perspective, over lesser immature boys.
Along with odes to pain and anger. Their like that one cool band you saw on MTV or Vh1 after school back in the day, somewhere in between the replayed Simple Plan and Blink 182 videos. (Personal band info from Spotify)
Best 3 Songs: Last Year, Wussy Void, Do You Really Want Know Why Yr Still in Love with Me?
6. Perfect Pussy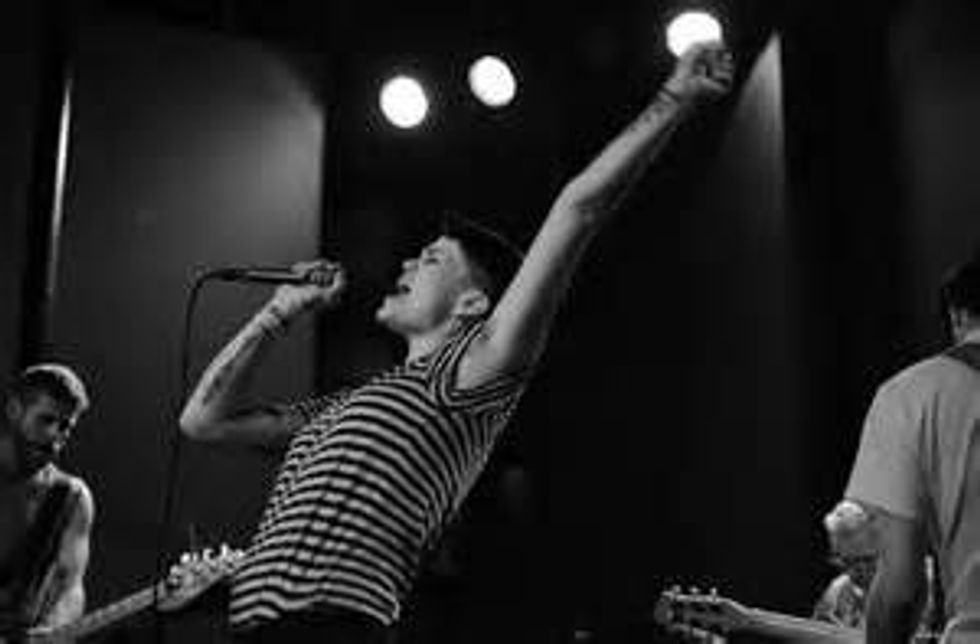 "...stick you flesh inside my mouth, say you like when I bite, cross your fingers and be nice and man I-just-might..."
Perfect Pussy punk and noise punk sound formed in 2012 in Syracuse, New York. Their screamo terror and staticy instrumentals beg to be noticed like a megaphone, soapbox protester screaming against the world. Their lead singer, Meredith Graves, lyrics are intensely personal, revealing sexual encounters, emotional abuse, and attitude towards her counterparts. Each song a personal middle finger to those who ruined her life. They are a "perfect" blend of hardcore and riot grrrl. A Bikini Kill in-your-face feminism and a rapid, pissed off Rage Against the Machine swagger. Their most recent album, Say Yes to Love, was well received and unleashed them to a tear through the New York DIY scene, many of you may have scene them play in Brooklyn venues like Palisades and Aviv this past summer and fall. (Personal band info from Spotify)
Best 3 songs: Driver, Bells, Work
5. Ex Hex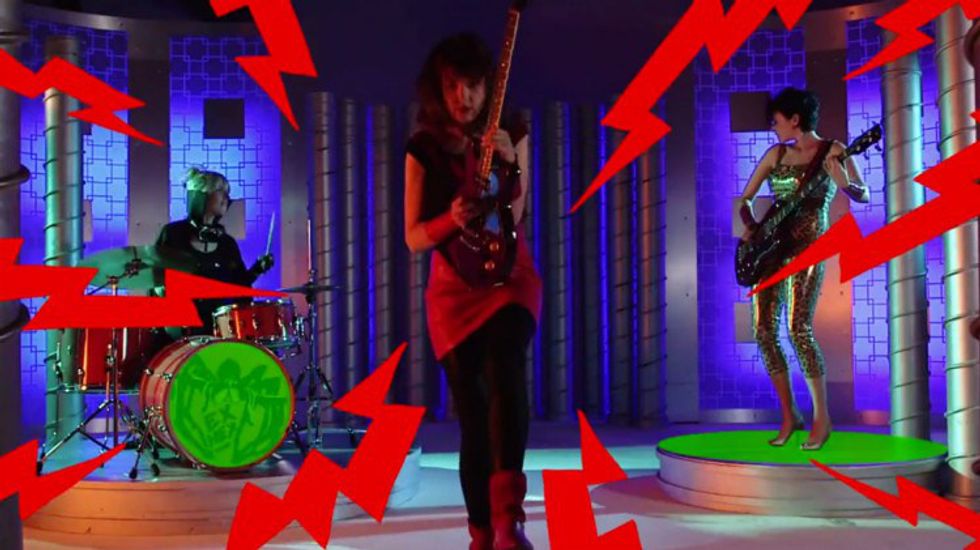 "I've been the object; of your affection, and I've been the target of your cruel intention, and I know just how you got that girl..."

A light-hearted glam rock, post-punk band, Ex Hex, formed in 2013 in Washington D.C., the birthplace of hardcore. This all female three piece band brings a super retro 80's sound with riot grrrl ethos. Their music recalls the rich playful yet edgy vocals and wheeling guitar solos of late 70's Blondie. Their style is a rebirth of 80's glamour girl pop rock put with an attitude fed up with cheating boyfriends. Their lyrics undermines "the macho man"and all of his efforts while empowering the role of women in social interactions. Rips, their most recent album would probably be the soundtrack to your high school revenge scheme. (Personal band info from Spotify)
Best 3 songs: Waste Your Time, How You Got That Girl, War Paint
Bonus: Hot and Cold
4. Adult Mom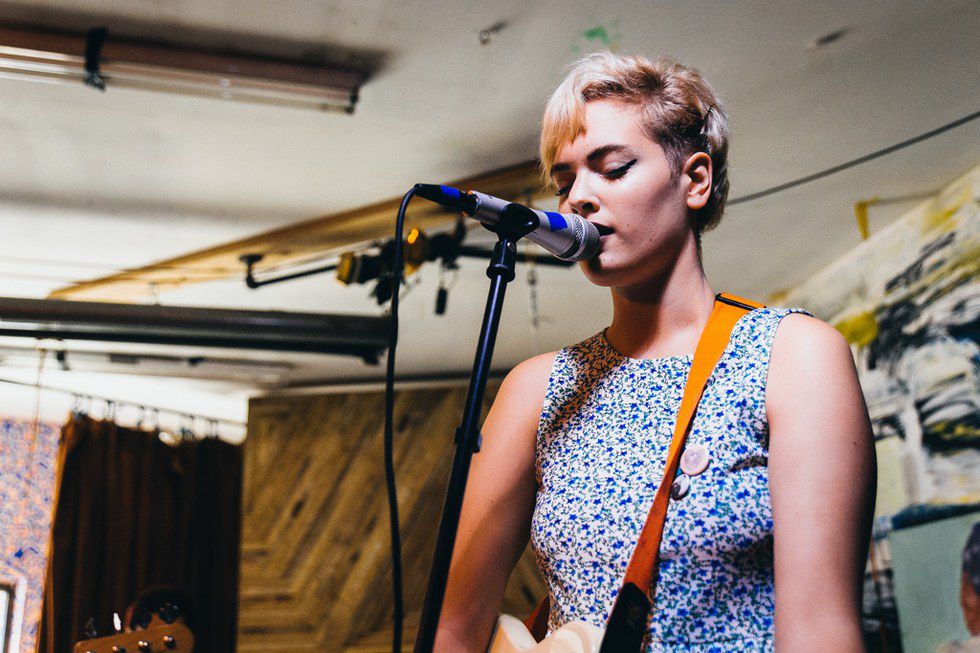 "I make boys cry 'cause they don't understand that I am a person. I get sad too but I don't take it out on you..."
Adult Mom formed in Purchase, New York and recently dropped their debut album, Momentary Lapse of Happily, earlier this year. This four piece post-punk, indie pop quartet bring a slowed cathartic melancholy of The Cranberries with their own minimalist indie flare. Their lyrics represent the mundane yet revealing idiosyncrasies of everyday life and express the pain, regret, and redemption of the everyday female life.
From the detailed struggles of eating an apple without getting lipstick on it to heart felt personal letters to heart-breakers. Adult Mom confesses the mistakes and soul sucking mundane attitude of modern female youth and brings them to their potential suicidal proportions. Like listening to the sweet voice of a brooding emo.
Best 3 songs: I Make Boys Cry, Survival, Sorry I Was Sorry
3. Mitski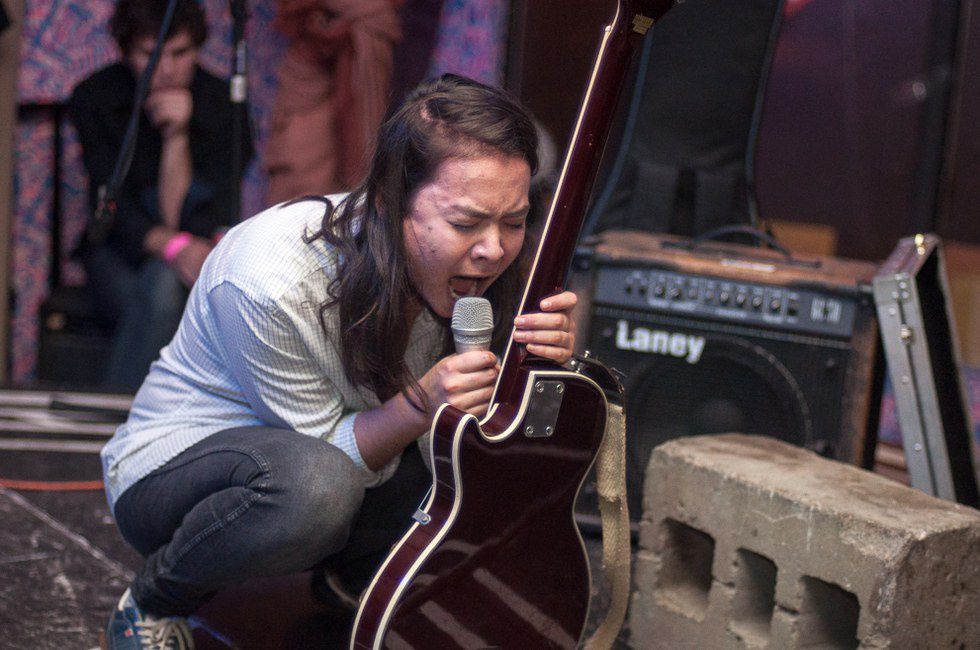 "I'm holding my breath with a baseball bat and I don't know what I'm waiting for, I'm not gonna be what my Daddy wants me to be.."
Mitski, the commanding presence of feminism is as potent a her music. She has lead her noise rock punk band from the belly of the Brooklyn underground scene to MTV and Rolling Stone profile pieces. She howls her sweet and sometimes sharply nasty voice like a somber Japanese enchantress. Her music brings a fuse of minimalist Joruri and country folk to ear-bleeding, speaker-screeching screamo.
Her ballads are heartfelt personal confessions and outspoken manifestos condemning the shallow patriarchy that did her wrong. Her albums: Lush, Retired From Sad, New Career in Business, and her break out, Bury Me at Make Out Creek, display a tapestry of enduring and suffering lamentation with polarizing expressions of sadness and anger. She brings a revolutionized riot grrrl attitude to personal deep-winded pain. Like Evanescence meets Bratmobile. (Personal band info from MTV)
Best 3 songs: Townie, Drunk Walk Home, I Don't Smoke Bonus: Liquid Smooth (features Japanese lyrics!)
2. Warpaint

"The color of my native skin, Colored into a color never seen,A sun so full arises..."
This abstract art rock L.A. all female quartet brings a phosphorescent blurriness to grrrl power. They bring subliminal metaphors and sometimes out right psychedelia to the plight of loss and love. Some of their songs will unearth your mind to the far reaches of the galaxy, Biggy, and some will bury you deep into the soil of deceptive love, Undertow. Their ghostly voices transform them into spiritual Sirens and their dense and sprawling instrumentals create transcendent existentialism. They bring feminism to a spacious intellectualism. (Personal band info from Spotify)
Best 3 songs: Undertow, Billie Holiday (a 3 layered ballad correlating men with Billie Holiday's drug addiction!), Biggy
1. Chastity Belt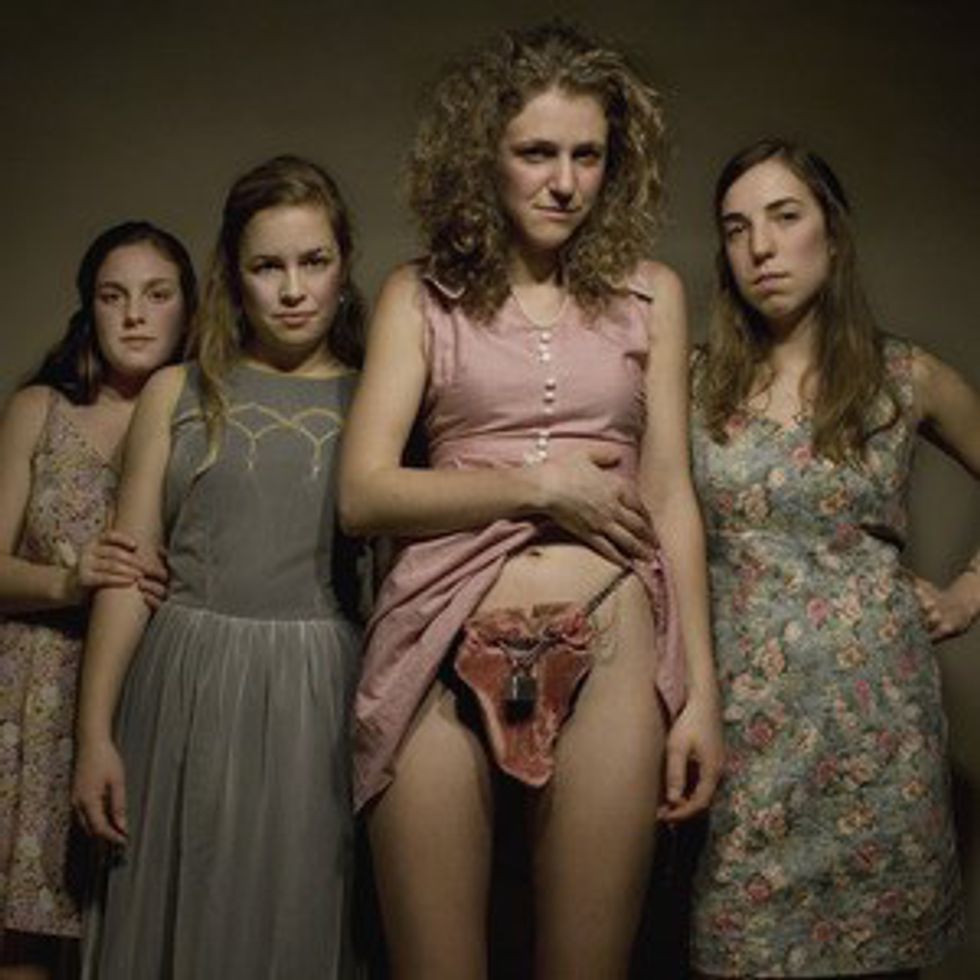 "I have no hands, I have no feet, I have no memory, vacant thoughts, vacant thoughts, vacant love, vacant lot..."
The absolute quintessential feminist post-punk band of the 21st century. Chastity Belt, formally known as F**K Chastity Belt, is a fine tuned sharp minded quartet out of Washington. They bring the mellow low-key guitar riffs and melodies of their 90's Pacific-Northwest Sleater-Kinney riot grrrl ancestry and meld it with their own quirkiness. Lead singer Julia Shapiro utilizes her thick woeful voice to beautifully convey the bands cynical wittiness.
Their lyrics reach down to the abrasive vulgarity of gender inequality frustration, across to sharp pop culture satire, and high above to free formed poetic imagery while maintaining their hypnotic indie pop instrumentals. Their songs take you through the trying times of banal high school Seattle parties with falsely motivated boys and withered minds to the fantastical images of intersectionality. (Personal info from Spotify)
Best 3 songs: Full, Black Sail, Seattle Party
Bonus song: Cool Slut (challenges the idea of a slut and its connection to female sexuality!)