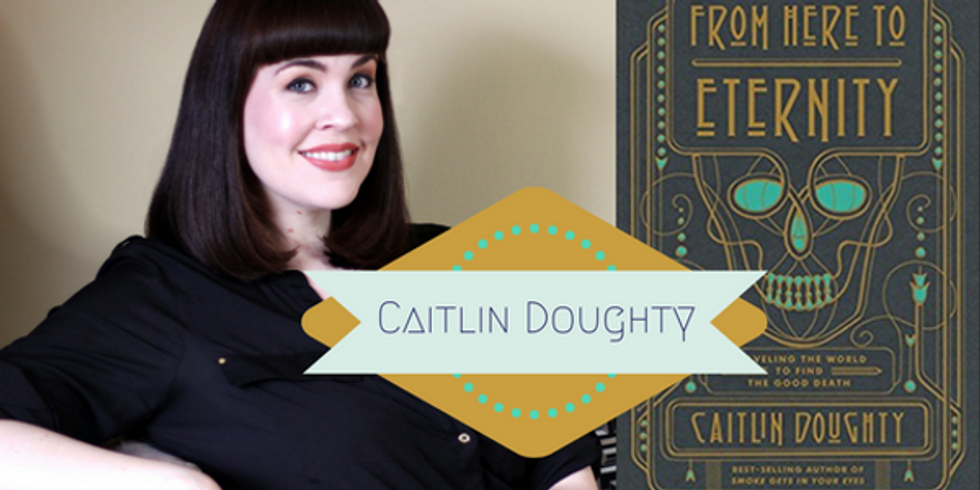 Over winter break, I drove back home all the way to Pennsylvania and took my friend to a town with "stuff to do." There was multiple outlets, a shopping mall, glow-golf, and a movie theater. When we were walking through the mall we went to Books-a-Million (because it is my favorite place to go, duh). I was stuck between two books, probably romance or mystery types, whatever, they looked like good books. Then a book with a beautiful cover on it caught my eye. From Here to Eternity by Caitlin Doughty was the book. A beautiful hard covered book with a gold skull and teal "glowing" eyes. Also on the cover in little letters it said "Traveling the world to find the good death." The good death? This is what made me put back the other books and go to the counter to purchase this good read.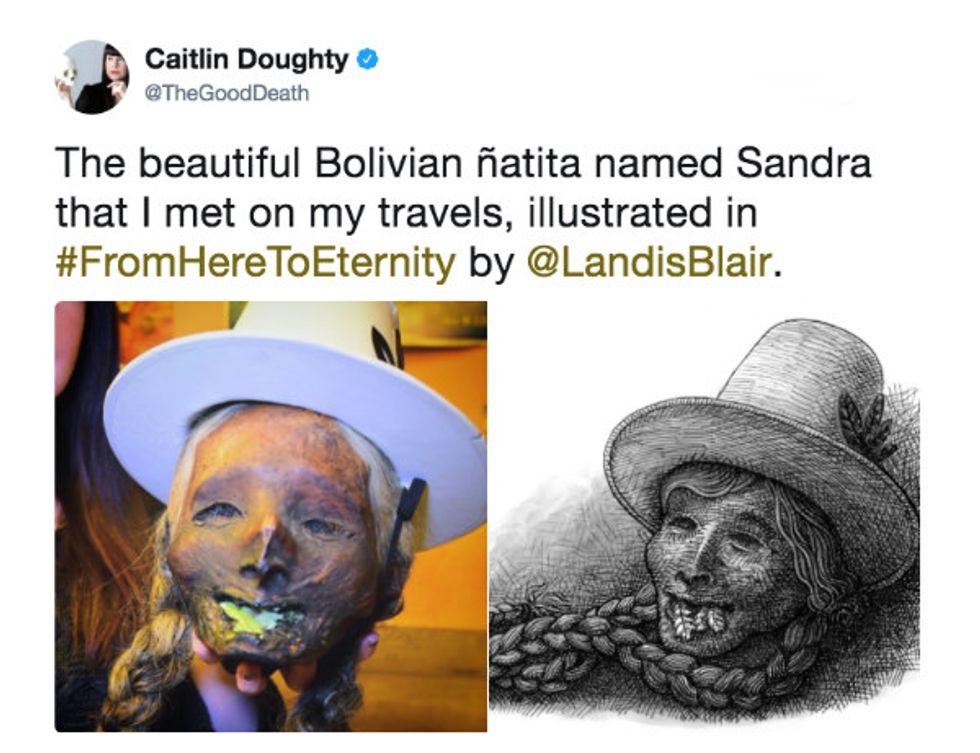 If you are afraid of death, this is the book for you.
I am not afraid of death, but I have had loved ones pass away and it was always difficult for me to process their death in a healthy way. Mortician Caitlin Doughty goes around the world (literally) to look for different ways people take care of their dead, and how different cultures revolve around death. In this book she travels to countries (and U.S. states) like: Colorado, Indonesia, Mexico, North Carolina, Spain, Japan, Bolivia, and California.
Everyone knows some of the "Death celebrations" like Dia de los Muertos in Mexico, but did you know that there are people in this world that live with their dead for years? Open air cremations? Composting bodies? Picking bones out of ashes with chopsticks? Wish granting skulls? There are so many cultures that are not afraid of death like here in most of the United States. There are so many different ways that our families take care of us after we are dead (obviously depending on where we are in the world).
She explains their traditions clearly in a way that you can understand, she throws in some humor as well. Not only does she explain the tradtitions of these other countries, she also compares them to the harsh traditions of the "American Funeral Industry."
Everyone should read this book. Are you scared of death? Yes, read the book. Are you curious about death? Yes, read this book. Do you need a new book to read? YES, READ THIS BOOK! This book gives lots of insight to the afraid and the curioius, I was personally curious so that is why I picked up the book!
I give this book an 11/10, 6 out of 5 stars! This was such a great read (and I don't want to spoil the book for you, because it is so good!
Please, take my word for it and read Caitlin Doughty's book From Here to Eternity: Traveling the World to Find the Good Death
Here is a link to Amazon.com to purchase the book!
https://www.amazon.com/Here-Eternity-Traveling-Wor...
Here is a link with some of the amazing artwork by Landis Blair: