A few years ago, my aunt was in Gulf Shores, Alabama on a girls trip. While walking around on a public beach, they ran into a local and asked her what the best seafood restaurant in the area was, and she told them to go to Bahama Bob's. They went that night, and the night after that, and on the second night bought a second meal because it was just that good. A couple years after that, I came here with my family and it was just as good as they said. Now, every time we come down here, it's a must have dinner.
Obviously, the food is amazing. My go-to is their great stirrup grilled shrimp, but they have a little bit of everything. Most of their meals come with new potatoes (basically just boiled potatoes) or rice and some seasonal veggies, which every time I've been there is corn on the cob. They also give you a homemade hot roll and if you get seafood, they give you this butter sauce that is to die for. If you go, dip your potatoes in that sauce, and if you don't get seafood, ask for it anyway. You won't be sorry. The food is a little pricey, but it's all fresh, and so worth it.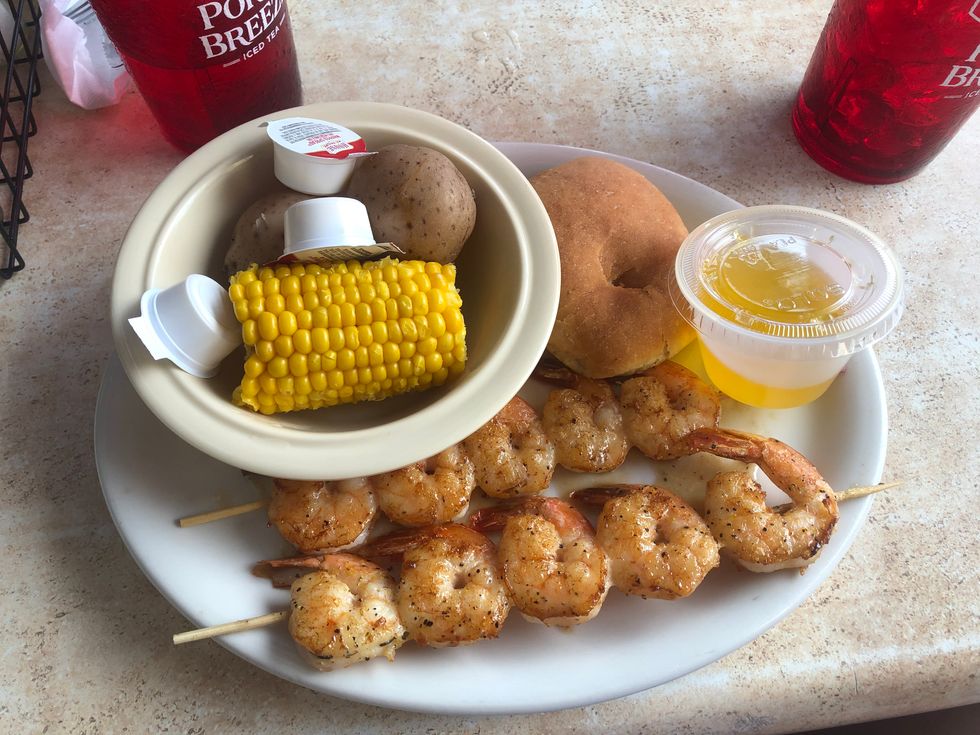 My favorite, the grilled stirrup shrimpPersonal Photo
To go right along with the food, the vibe the restaurant gives you is amazing. It was originally a beach house that was converted into a restaurant, and you can tell. The outside of the building is that pretty turquoise color that only beach houses can pull off, and because it used to be a house, there's virtually no parking, so you should probably either walk or find some public parking. The inside is pretty small and actually still has the cabinets from when it was a house. They also have quite a bit of outdoor seating, and if you get lucky enough to sit on the south side of the building, you have a perfect view of the ocean.
The waiters and waitresses are actually amazing as well. They're very personable and down to earth, and you can tell they're actual people, where servers tend to be pretty robotic. Even if, for some weird reason, you didn't get food, you'd still have a good time. But you should totally get food, you're probably crazy if you don't.
Just so you know, you're gonna have to fight a wait time, you're probably gonna want to have a late lunch or early dinner around 3:30 or 4 so you aren't waiting a super long time, but even if you have a long wait, it's so worth it. This is for sure the best place I've found in Gulf Shores, thanks to my aunt and the local woman who told her about it, and I've been here a couple times. If you find yourself in the area, you should definitely give it a try, I can just about guarantee you're going to absolutely love it. 10/10 recommend coming here, and asking locals for the best locations wherever you go, they sure know what they're talking about.