Yes, you read the title correctly. The Lightning Thief Musical opened on Broadway at the Longacre Theatre two weeks ago, and it will be running until January. But you're probably asking, why would they make a Percy Jackson musical? Haven't we suffered enough?
I'm here to tell you that this adaptation of the popular children's fantasy series is actually good. I was an avid reader growing up, and the Percy Jackson series pretty much defined my middle school years. I was twelve when I started the books; Percy was twelve in the first book. Because of that, I honestly felt like I was growing up with him as I progressed through series.
I loved reading about him going on different quests, saving the world, and doing it all with his best friends at his side. He was a kid who never asked to be a part of the struggles he faced, but he dealt with them anyways, and somehow managed to figure out who he was along the way. He went from an uncertain, terrified, unknowing child, to a slightly more put together natural-born leader, and even a respectful and kind young adult. That's all anyone in middle school ever really wants, right?
That being said, of course I was disappointed when I saw the movies for the first time. I grew up in the age of the Harry Potter and Lord of the Rings films, both of which were decent and actually used details from the source material. Of course we had high expectations for another beloved book to movie adaptation.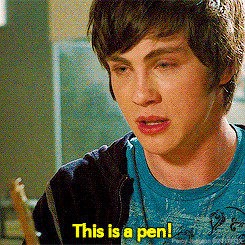 It sure is, Percy.Giphy
I honestly have no problem with the movies if I pretend like the books never existed. They are pretty funny, but stupidly so, and the plot makes absolutely no sense, but it's fun to watch. But as a fan of the books first, obviously I was heartbroken.
So when the Lightning Thief Musical was first announced back in 2014, I was intrigued, but expecting the worst. I never got to see it in its original run, and I never heard anything about it either. That made me wonder if it was any good. Then, in 2017, it was rebooted, and ran for a few months at the Lucille Lortel Theatre. But I didn't think much of it until it announced it was going on national tour in 2018, and the cast released an original cast recording on streaming services everywhere.
Needless to say, after one full listen, I was hooked. You can tell the writers and directors actually read the books, because the heart of the story of Percy Jackson is there. Important plot points are portrayed correctly, the songs are catchy, the critics are raving, and most importantly, they made it to Broadway. Fans are not just satisfied but delighted that the creators of the musical paid homage to such a great series.
If you have the chance, go see it on Broadway. I'm planning on going, and I know that it'll be better than anything I could've ever imagined (or at least better than the films ever were).