Shows such as Real Housewives and Love & Hip-Hop have really done a number on television since they were introduced to viewers in the mid-2000s. Before their creation, there were few reality shows that included shows such as, Jon & Kate Plus 8, The Little Couple, and The Duggars; all are shows that displayed the values of family, kindness, and love. During their syndication, they ran against scripted shows, sitcoms and television dramas, like Grey's Anatomy, Scandal, and Big Bang Theory. Over time; however, the production of these shows began to see a decline in popularity due to the rise in viewership of reality TV. Viewers were beginning to become attracted to the idea of seeing inside of people's lives. They were no longer given actors who spent weeks studying and learning a script, instead they were imparted with individuals who said the first thing that came to mind with no filter to dilute their words.
[rebelmouse-proxy-image https://media.rbl.ms/image?u=%2Ffiles%2F2016%2F09%2F25%2F6361042966960526611358628817_Joseline.gif&ho=https%3A%2F%2Faz616578.vo.msecnd.net&s=601&h=1f783bf02c2a674f3464816a15be07e3f23b1626e719f887b376d59b309547b6&size=980x&c=4216037829 crop_info="%7B%22image%22%3A%20%22https%3A//media.rbl.ms/image%3Fu%3D%252Ffiles%252F2016%252F09%252F25%252F6361042966960526611358628817_Joseline.gif%26ho%3Dhttps%253A%252F%252Faz616578.vo.msecnd.net%26s%3D601%26h%3D1f783bf02c2a674f3464816a15be07e3f23b1626e719f887b376d59b309547b6%26size%3D980x%26c%3D4216037829%22%7D" expand=1]
Audiences could not get enough of it, tuning in every week to see what reckless action will be done in the next episode. Seeing no problem in allowing such ignorance to be displayed on screen, many production companies continued to push out new shows that centered around the lives of celebrities and unknowns alike. To the people, it did not matter just as long as they got their drama fix for the week. The shows were money makers and the producers could see nothing wrong with the whole ordeal; they no longer had to pay for actors and writers. It was a very big win for them.
The losers of the creation of this monster are the viewers. Many would like to believe that media has no influence over their thoughts and actions, but we tend to pick up tendencies from people after spending an exponential amount of time around them. Plopping yourself in front of your TV for almost a whole hour watching women rag each other, while they simultaneously besmirch the integrity of their race and sex does no one any favors. The things viewers take from observing their behaviors are not positive at all. They begin to feel that it is acceptable to use vulgar and obscene language when interacting with others, almost as if it is a social norm. Also, young men who watch these shows assume that the female population should be degraded thinking that their actions are justifiable.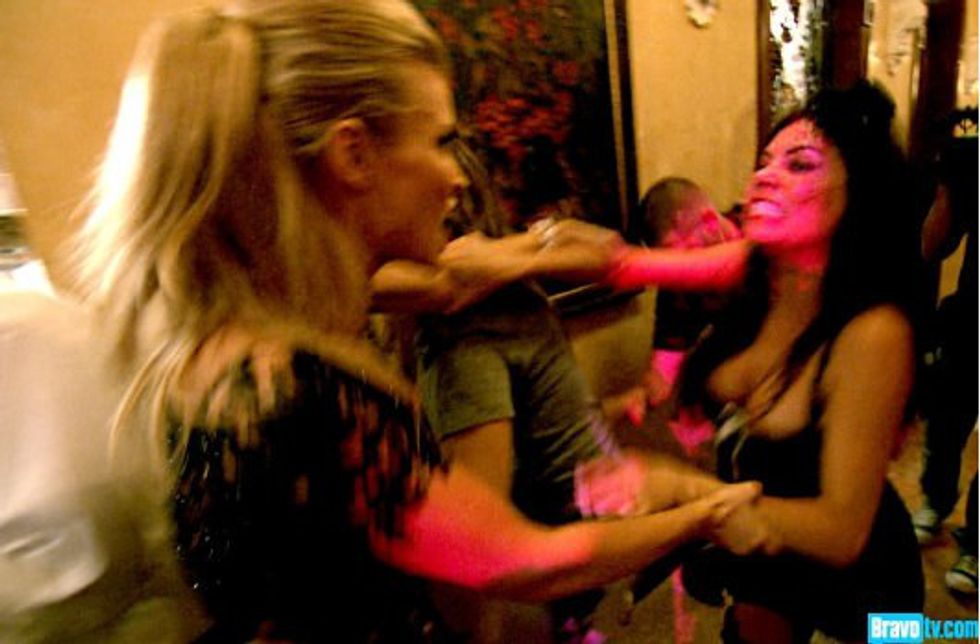 Some might argue that in TV dramas like Tyler Perry's, The Have and the Have Nots, and Shonda Rhimes', Scandal, we are faced with the same images. This is true; however, viewers know that in the end, all characters are fictitious and anything displayed on screen should not be replicated by viewers. When individuals on reality shows partake in these actions, their viewers follow suit. They look up to them as role models because they are allowed screen time. The power that people on these shows have is so prominent, yet they do not heed the authority they hold over them. It is almost like a game where they always win and their audiences are the losers. If we do not get back to scripted TV soon, we will continue on this downward spiral that is surely leading us to total anarchy.