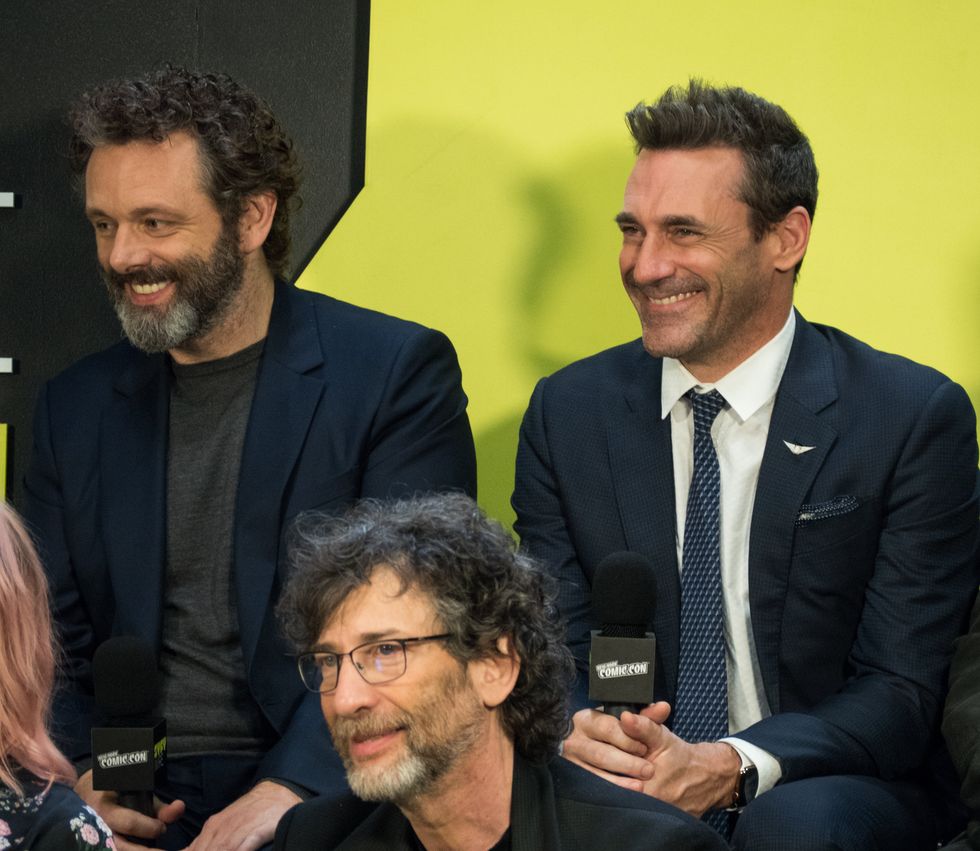 A hilarious and offbeat six-part miniseries of the coming of the Apocalypse that captures the beauty of being human is exactly what we need this summer to combat the truly concerning political environment that is surrounding us.
Starring David Tennant and Michael Sheen, this show is an adaptation of Neil Gaiman and Terry Pratchett's novel of the same name and it's a rare adaptation that may have benefitted from being a little less faithful to the good book.
I was introduced to it by a friend (Thank you!) and yes, it was at the time that I was craving some creative distraction: it was during finals week. I was able to restrict myself and only watch half of the show during that time but that did not stop me from recommending it to literally everyone I know.
For fans of the supernatural (and I'm not just talking about the show), this show brings out the dynamic of an angel and demon we crave from all supernatural adaptations ever: they have holy (or unholy?) chemistry. Even though they technically stand on opposing sides of a cosmic conflict for the souls of mankind, they form deep mutual respect driven by witty banter, and their odd-couple chemistry forms the heart and soul of the series.
Apart from the main protagonists, there are other supporting characters who expand the show's universe in uproarious and complementary ways.
Gabriel, Aziraphale's supervisor, is the embodiment of an angel who is filled with good cheer even as he expresses contempt for humans and support for the final war against hell. It is interesting to note that the depiction of angels in many supernatural shows like 'The Good Place' and 'Supernatural' as being very rigid-minded and incapable of empathy towards humans whereas demons are portrayed as more human-like in terms of their emotions and ambitions.
Anathema Device, a witch whose family has been preparing for the Apocalypse for generations, brings a very mystic but Hufflepuff vibe to the human nature of being an outsider all your life but also being under a legacy of pressure from everyone who has ever shown her love. Anathema's plot explores the choice between getting support by following your family's wishes and the challenging freedom of forging your own path. But, of course, her character is ruined by being part of a terrible romance plot that has her (a competent, clever woman) falling for a hapless man for no discernible reason. Weird stuff really, but oh well, you can't win it all.
Adam, the eleven-year-old boy that is the Antichrist, nearly destroys the world, not because he's inherently evil, but because like so many young people today, he sees the mess previous generations have made of things and is willing to tear everything down to build a better world.
In the end, it all works out, obviously. But the true magic of the show is the reason why it works out.
The angel and the demon protagonist are not the ones to stop the world from collapsing by their supernatural powers, though they do try; the real change is done by the choices that are made by the other characters that are simply human just like a quote in the book rightly concludes:
"It may help to understand human affairs to be clear that most of the great triumphs and tragedies of history are caused, not by people being fundamentally good or fundamentally bad, but by people being fundamentally people."

Good Omens takes you on a journey that is disguised as a huge task: to stop the Apocalypse but it ends up reminding the watchers that inevitably, the choices that we make determine our path and being human is a powerful thing.
Keep Reading...
Show less