Immediately after I listened to the song, "Gone Days" by Stray Kids, it quickly became one of my favorite songs. Both the lyrics and music video are filled with meaningful words and hidden symbols.
Stray Kids "Mixtape : Gone Days" M/V youtu.be
The inspiration behind this song is the phrase, "ok boomer," which is a viral meme that mocks the stereotypes that the baby boomer generation places on younger age groups.

The leader of Stray Kids, Bang Chan, wrote and composed this song. It is clear that he dedicated a lot of time on this song due to the word play he thought of for the title. The English title "Gone Days" is a pun for 꼰대 (kkondae) in Korean which is used to illustrate "a condescending person". Teenagers in South Korea use this term to describe a narrow-minded older person who believes that they are always right.
Some of my favorite lyrics from this song include, "Stop saying "back in my days"/I can't stand it anymore," "Every day the same words/Aren't you tired?/You don't even remember saying that," and "Just because you're locked in the past, don't drag me in."
Even though the lyrics displayed above sound harsh, Stray Kids balances out this tone with lyrics that assure the baby boomer generation that they have things under control. During the bridge (2:29), Felix sings, "I get it/You're doing this because of worries/But trust me once ey/I'll take responsibility for the future."
Another part I have to mention is Changbin's verse at 1:25 because he also expresses the tone Felix has in the bridge. He raps, "In some ways, I feel sorry for you/I'll tell you why/You want to teach me as a senior in life/You want me to be successful after ten or twenty years/Thank you for caring about me."
In terms of the music video, the eight members of Stray Kids all take on roles of different types of students. There is also a person wearing a horse mask, holding a coffee, and wearing a lanyard with "JYP" printed on it which is the company Stray Kids is under.
@filmhwanng on Twitter pointed out one of the most interesting symbols in this video. They tweeted that ""라떼는 말이야~" is a popular phrase from a CF which translates as "latte is horse," but the reason why it's popular is because it sounds like "나때는 말이야" which means "during my time" - something kkondaes often say."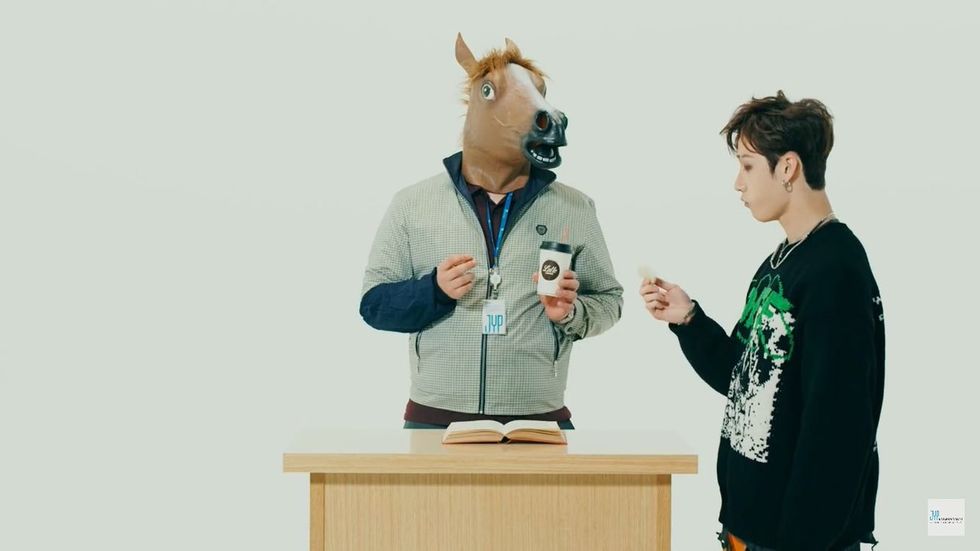 https://youtu.be/KAPXc0M4tLg
Shortly after the release of their official music video, Stray Kids made another music video for "Gone Days" on the channel, mu:fully, which features more of their perspective on kkondaes.
In this video, every member plays a different role, and I personally think it is helpful to know all the roles they portray for a better understanding of what they are trying to say through both the lyrics and video. Felix (the first member to appear) is the boomer's news anchor. Bang Chan comes in at 0:13 and is an innocent citizen who goes on the news channel to share his opinion on the topic.
The next member to appear is Lee Know (or Minho) at 0:26, and he plays a boomer "Gong Yoo" or a Korean actor. Han Jisung is a new recruit and interrupts Felix's new report at 0:34.
Alongside the members that play boomers, two members take on roles of those in the younger generation. Hyunjin comes in at 0:48 and plays the role of a free-spirited young person, while Seungmin is shown at 0:55 playing a college freshman. From the moment he first appears, the kkondaes, specifically Han and Lee Know, are telling him how to sit and act.
The last two members to appear are Changbin and I.N, who both take on roles of those belonging to the older generation. Changbin can be seen at 1:30 as an old fashioned camera reporter, and I.N, the youngest of the group, plays the role of top boomer at 1:52.
Stray Kids - "Mixtape : Gone Days" | mu:fully Special youtu.be
If you're interested in learning more about the song and the behind the scenes for both these videos, I highly recommend checking out this video for the official music video and this vlog for the mu:fully special music video.
Both music videos for "Gone Days" are perfect representations of Chan's lyrics, so I highly recommend watching the first video with the closed captions on or reading the lyrics on genius.
Stray Kids took a chance with this song, but I think it paid off and proved that the younger generation knows what they are doing.