Hayley Atwell reprised her role of Peggy Carter in Marvel's "Agent Carter". Peggy Carter who first debuted in "Captain America: The First Avenger", then appeared in "Agent Carter" which aired in January 2015. The show ran for two seasons but unfortunately was cancelled by ABC in 2016. I'm still not over the fact this show was cancelled.
Peggy Carter is definitely one of my favorite characters from the Marvel Cinematic Universe. I was super excited when the TV show was first announced. Here are some of the reasons why the show was so great.
1. Peggy Carter knew her value and didn't wait on anyone's approval.
While her male colleagues saw her as a secretary, Peggy Carter always tried to get her hands on the cases. She didn't care whether they approved of her and she always defended herself when they patronized her. She also didn't care about being recognized for her hard work, the only thing that mattered to her was doing the right thing.
2. She was known for being Steve Rogers' support.
As we see in "Captain America: The First Avenger", Peggy Carter stuck by his side because she knew he was meant for more in his life. In "Agent Carter", she protects the sample of Steve's blood from being taken by other people. Despite him being gone, she wanted to protect him.
3. The show was an inspiration for women.
Many different girls looked up to Peggy Carter's character. I think the line "I know my value. Anyone else's opinion doesn't really matter" resonated with so many women like myself. Seeing such a strong and powerful woman on TV was perfect. She was a true and honest female character that wasn't afraid of being who she is.
4. The villains of the show were also strong female characters.
Dottie Underwood was a bad-ass master assassin who could trick anyone who crossed her path.
5. The hair and makeup was gorgeous

I think they truly captured the essence of the 1940's in this show. Peggy Carter's outfits were always perfect and her hair flawless. I mean just look at her!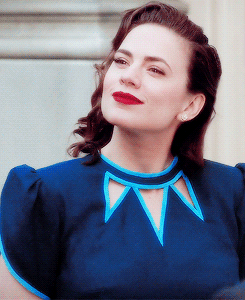 I hope to see more of Peggy Carter in the future. Even though the show ended, many fans still love this beautiful and bad-ass character Marvel created. Plus, there is truly no other actress that could portray Peggy as good as Hayley Atwell.