When I stumbled upon the original cast recording of "Hadestown" a few weeks ago on Spotify, I instantly fell in love. This hidden gem had me hooked from the first note and I have been playing it religiously for at least three weeks now (it's really that good). A small part of me was even hesitant to write about it because I wanted to keep it to myself for as long as possible before it really broke out. However, that'd be doing a disservice to you and this timeless love story.
"Hadestown" is a fresh re-imaging of the Orpheus myth based on a conceptual album by singer-songwriter Anaïs Mitchell. Set in a 1930's-style environment, Orpheus is a carefree musician who lives a simple life with his lover, Eurydice. However, things begin to fall apart for them when winter comes and it becomes harder to survive. With assistance from a charismatic Hermes (who also happens to be the storyteller here) and the "Lady of the Underground" herself, Persephone, Orpheus makes a treacherous journey to Hadestown in hopes to save his relationship with Eurydice that has been tampered with by a ruthless Hades. Along the way, Orpheus is confronted by tormented souls, mysterious Fates, and internal conflict that puts his devotion to the test.
Those of you who are familiar with the story will know what eventually happens, but I won't spoil it for those who don't. Either way, "Hadestown" is definitely worth listening to all the way through. The music alone is something to be admired just for its unique style, catchy folk tunes, and jazzy flair. Combine that with a beautiful narrative, and you'll begin to get an idea of just how stunning this production is. Besides, the whole album is only an hour and 17 minutes long. Some of my personal favorites are "Promises", "Road to Hell", and "Wait for Me II" (and the rest of the songs, of course).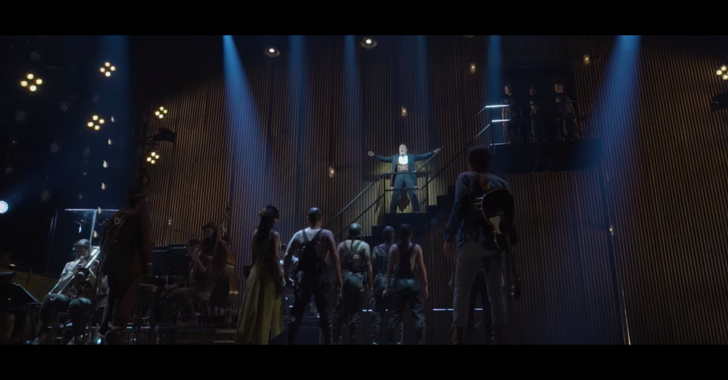 Patrick Page's Hades commands an audience of souls who work for him.
Lucky for us, it won't be long until this show makes its Broadway debut. After much success with an initial Off-Broadway run in 2016 and a Canadian production in 2017, "Hadestown" will be coming to London this November and Broadway sometime in 2019. Rachel Chavkin, whose direction on "Natasha, Pierre, & The Great Comet of 1812" earned her a Tony nomination and much acclaim, is on-board to direct the Broadway production.
Still not convinced this is something worth obsessing over? Check out this promo for the Canadian production to see some of the magic in action and get a taste of it for yourself. In the meantime, I'll gladly be accepting donations for a trip to London so I can see Reeve Carney as Orpheus (pictured in header) in person.