We all heard about the passing of Chadwick Boseman
There have been countless articles talking about his life playing iconic roles in blockbuster movies – he truly was an incredible man. I first watched Chadwick Boseman in the film '42' when I was a kid. He starred in many other roles before becoming King T'Challa aka Black Panther in the MCU. Chadwick was one of my favorite actors so obviously his passing brings me and millions of others much sadness. Instead of making another generic article detailing his life and what not I want to be unique. I wanted to talk about Chadwick Boseman's most iconic role as Black Panther.
For a lot of general audience members, the first time they heard of Black Panther was most likely 'Captain America: Civil War' (2016). They all had the same questions: "Who is this guy? He's from Africa? What is Wakanda?" Well for me at least and other comic book fans, we all knew who Black Panther was so when the news dropped that he was finally getting to be on the big screen. My first experience with Black Panther was this old 2010 Motion Comic Book series simply called "Black Panther".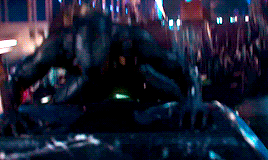 'Black Panther' Marvel GIF Giphy
I remember I loved that show and would always watch it on I think it was Netflix at the time. The series is based on a graphic novel and overall it is a really interesting tale that I highly recommend as it shows T'Challa becoming the king of his nation. I think what hit the most for a lot of people was what Chadwick represented as the Black Panther. An icon for millions of kids, especially young black kids. When he passed away, my mind immediately went to those kids because as a kid you don't really understand death until someone you care about is no longer around.

Black Panther was an icon that did not fall into the stereotypes that we see in the media. A successful black man, the king of his nation – who uses his wealth to fight for his kingdom. The African nation of Wakanda, breaking the molds of how all of Africa is simply shacks and grasslands – a nation never invaded by outsiders when in our real-world land many Africans were sailed away on boats in the Trans-Atlantic slave trade. So many wonderful themes and imagery that even during the 1960s were "radical" to many – but writer Stan Lee and artist Jack Kirby didn't let anyone stop them from telling the stories they wanted to tell.
In the end, Chadwick Boseman is the Black Panther to many, and his passing is just another heavy reminder that life is too short. But as the words of his character King T'Challa: "In my culture, death is not the end. It is more of a stepping off point."