I don't know when the change happened. I used to be terrified of anything remotely scary like the shows 'X-Files' and 'NCIS,' or even the creepy faces that Jim Carrey makes. However, nowadays, I listen to the podcast 'My Favorite Murder' hosted by Karen Kilgariff and Georgia Hardstark. This podcast seems to be the soundtrack of my life. It plays in the background as I get ready in the morning, and even as I try to fall asleep at night. Because, for some odd reason, listening to two grown women discuss their "favorite murders" each week in great detail brings me joy. So, even though I can easily remember the days where I couldn't get the terrifying image of the Grinch out of my prepubescent head, I find this podcast not only entertaining but also comforting.
Here's why...
"My Favorite Murder" is not just a podcast repeatedly covering the details of murders. It also goes into serial killers, pedophiles, rapists, ghost stories, hometown murder stories, and even things as fascinating as the 'Swiss Cheese Pervert' (I'm gonna let you do your own Googling with that one, folks). But, even BESIDES all of these JOYOUS topics, the podcast is hosted by two female comedians, Karen and Georgia, who have bonded over their fascination with true crime. It is hilarious, I promise, even though we are dealing with such a serious topic.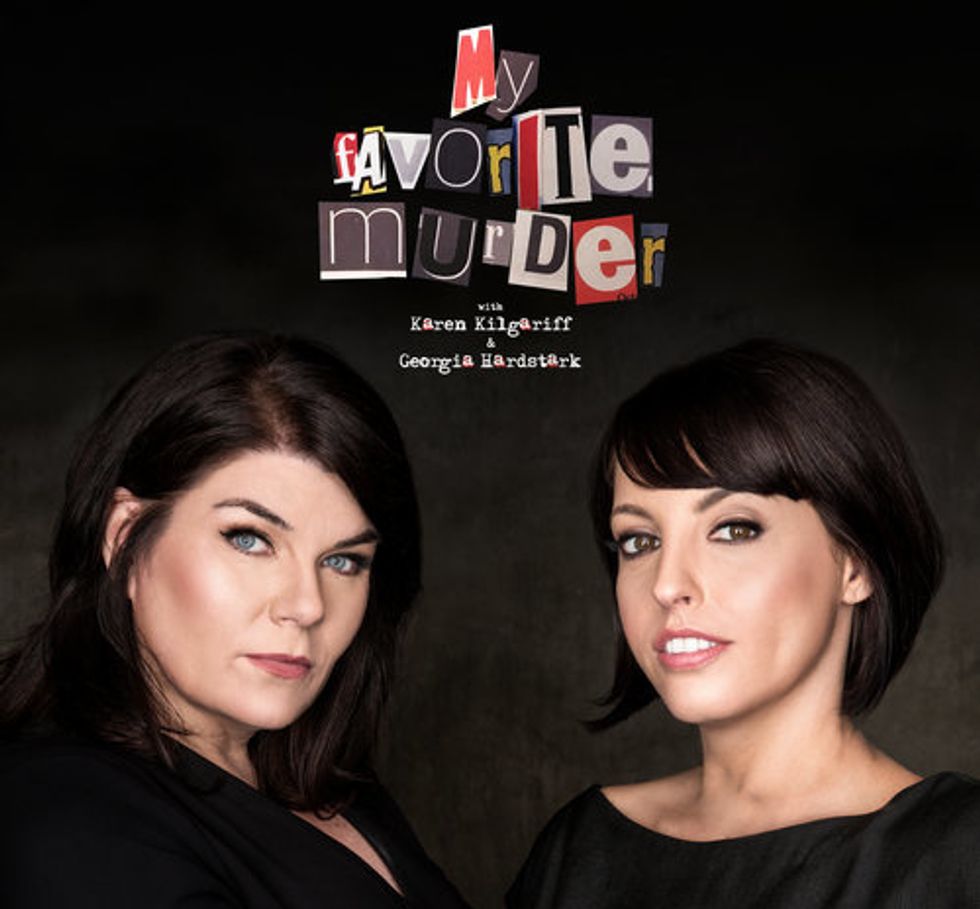 Karen Kilgariff (left) and Georgia Hardstark (right)www.exactlyrightmedia.com/myfavoritemurder
Karen and Georgia are not making fun of these murders under any circumstances. The two women would tell you themselves if you attended one of their live shows then very politely ;) ask you to leave the theater if you disagreed with what they were doing. The fact is, Karen and Georgia have created a podcast that allows people to listen to horrifying, true crime stories, while also still being able to laugh at themselves and the rest of humankind. Comedy is a coping mechanism, and speaking as someone that loves true crime and comedy, the two intertwine quite beautifully in 'My Favorite Murder.' As a form scaredy-cat, I need Karen and Georgia's bits of dirty jokes and ridiculousness to get me through these true crime stories without wanting to curl up into a ball. Even WITH these bits of comedy, I can still feel this way sometimes after listening to a new episode. I'm sure Karen and Georgia would agree, especially after one of their late-night Wikipedia binges detailing their most recent fascination with a particular serial killer. However, the point is, true crime is fascinating, and letting these hilarious, empowered women speak freely about is extremely entertaining. Not to mention, their true crime comedy podcast had also started a community for people that share their true crime interest (myself included). Members of this community call themselves murderinos, loud and proud.

Murderinos have Facebook groups now. They come together to not only form fanbases, but friendships. They create 'My Favorite Murder' themed products and merchandise that the community happily purchases. Karen and Georgia's podcast has given true-crime-obsessed people a space in the world to obsess over the murder, serial killers, and the like in peace. This is pretty amazing if you ask me. They do this all the while promoting the safety of yourselves and others, and encouraging people to always be aware of the evil in the world (even if they stop to make fun of it for a minute or two on their podcast). So, yes, this podcast is terrifying and about murder. Yes, Karen and Georgia make jokes about it and it is hilarious. However, all the while listening, people are becoming more educated on true crime and automatically are more aware of the dangers in the world than they were before they pressed play. People are able to learn very valuable lessons from these two empowered women, and I consider myself better off having listened to their murder-themed shenanigans on repeat.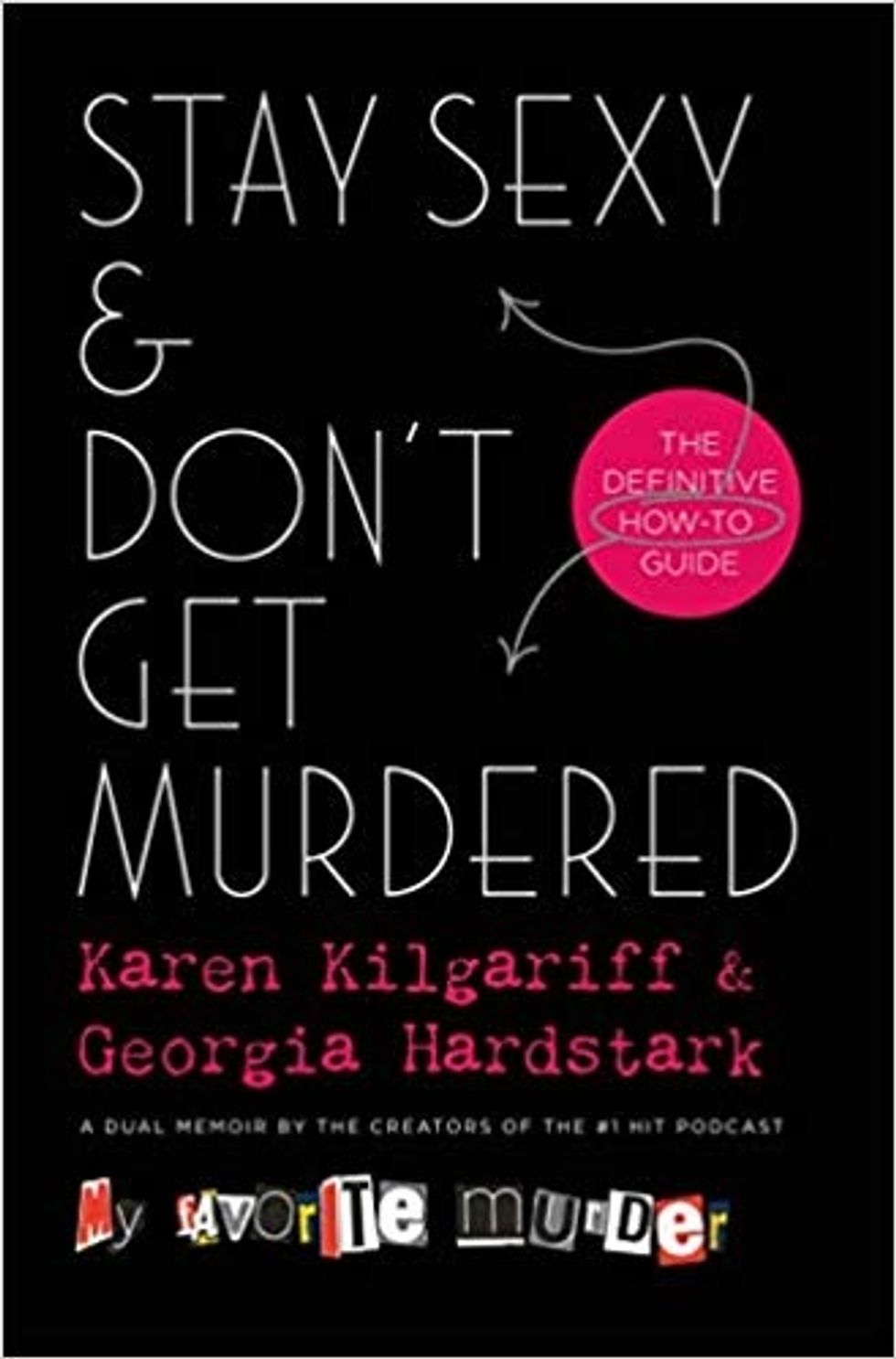 Karen and Georgia's memoirhttps://www.amazon.com/dp/B07G3DSXP1/ref=dp-kindle-redirect?_encoding=UTF8&btkr=1
So, I suggest you stop what you are doing and listen to 'My Favorite Murder.' How else will you know to stay out of the forest? Or to pepper spray first and apologize later? Or to f**k politeness? How will you learn any of these CRUCIAL life lessons if you don't listen?

You won't. So, go and listen now (OR buy their dual memoir linked above ;) ).
And, always remember: stay sexy and don't get murdered.
Listen through their website here: https://www.exactlyrightmedia.com/myfavoritemurder

Listen through Spotify here: https://open.spotify.com/show/0U9S5J2ltMaKdxIfLuEjzE