When you Google search "Graz, Austria," you see things like "Cultural Capital of Europe!" and "Culinary Capital of Europe!" However, for some reason, they don't mention how sweet and welcoming the city is. The first thing that should come up is how quaint and magical this Styria Capital city is, tucked away surrounded by mountains. But, that's why I'm here: to share with you the exciting city of Graz, Austria.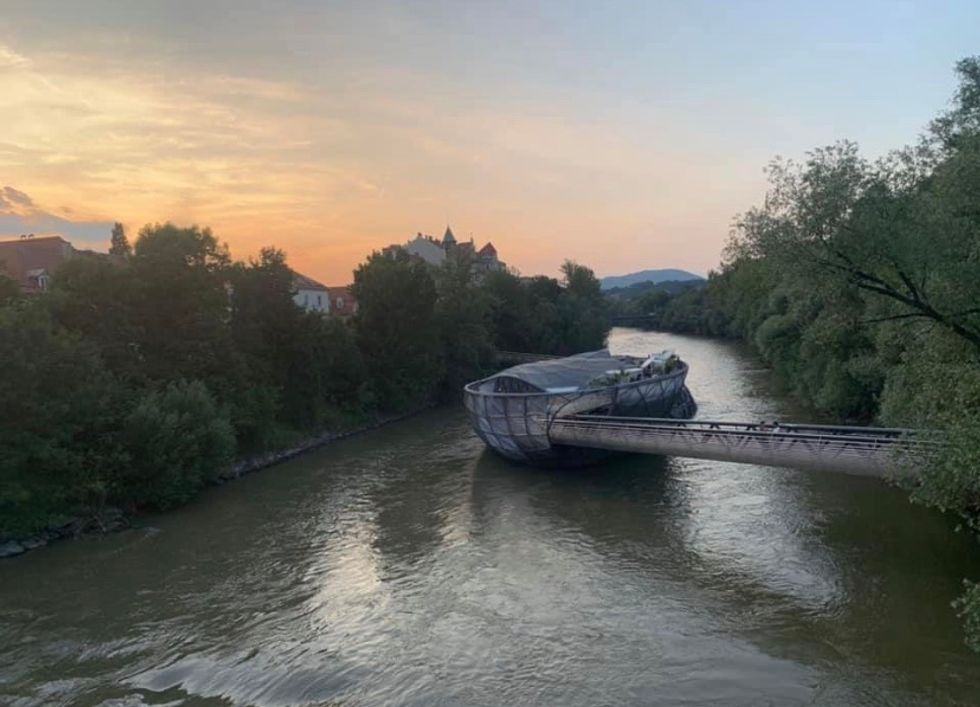 The MurinselNori Zaccheo
I was fortunate enough to receive an NSF International Research Experience for Undergraduates, so I spent the summer of 2019 living in Graz, working at Graz Technical University. My time in Graz is something I will never forget. I had never even heard of Graz before I received my fellowship, and yet I couldn't have asked for a better place to spend the summer.
Living in Graz is like living in a dreamland. It is picturesque and ideal. Everyone smiles and says "hello" to each other. The public transportation is easy to navigate and takes you everywhere you need to go. There are castles, forests, lakes, a BEAUTIFUL clock tower overlooking the city, and city life as well. Graz truly has it all. After spending 3 months there, I hadn't had a single unpleasant encounter with another person, nor did I pass by any strangers that did not say hello. The character of the people of Graz is contagious: they're happy to be alive and happy to be going about their daily lives. The energy of Graz in infectious, and it's almost impossible to be in a bad mood. People live simply there, often without air conditioning or clothes dryers, with small supermarkets containing only the necessities. Nothing is done in excess, yet they find so much joy in such a simple life. This is a major lesson that I will take back to America with me: find peace in the simple day-to-day. Enjoy life for what it is.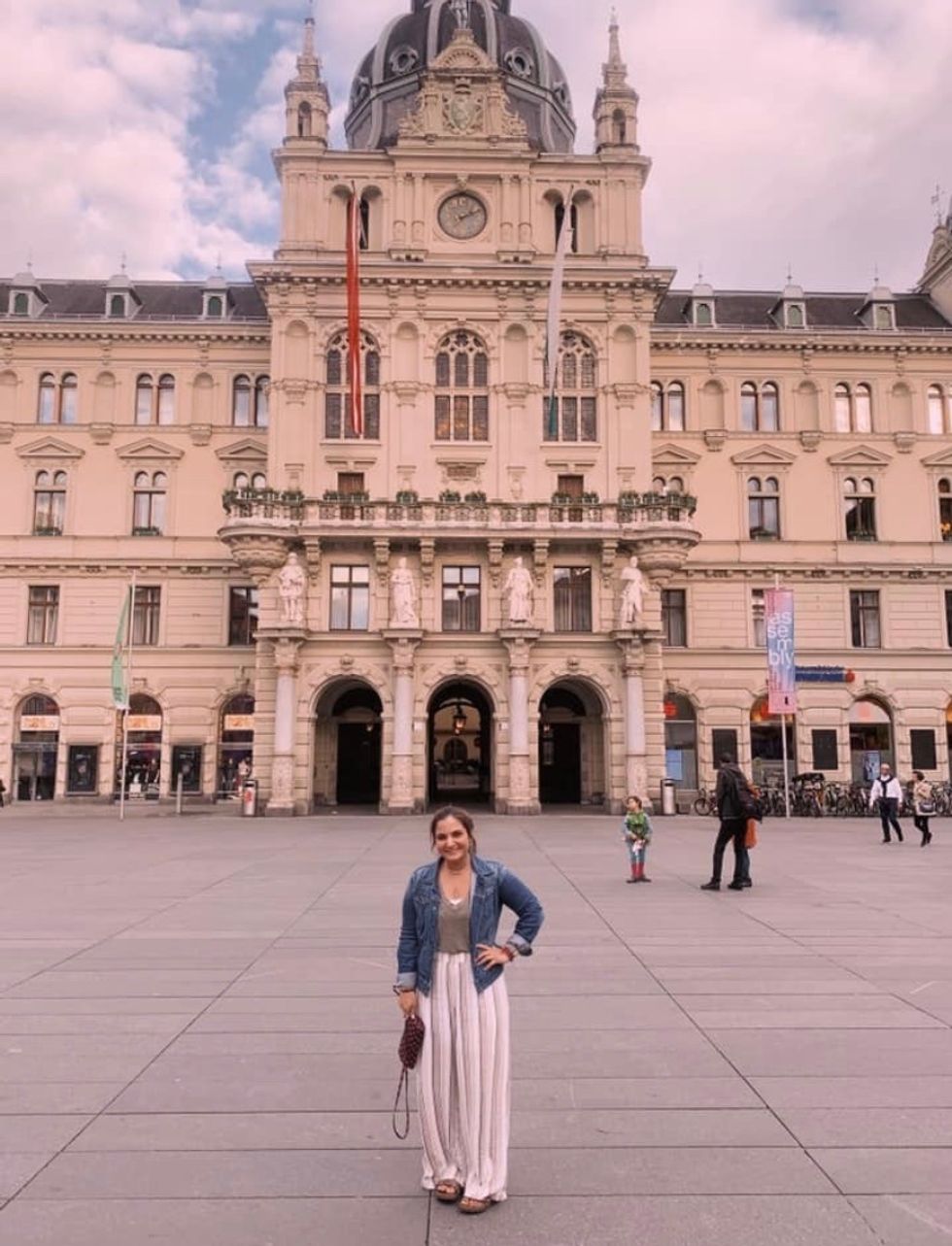 Me at Hauptplatz, the Graz main square.
I've met so many amazing people there, and each one couldn't have been sweeter to me. They'd always take me to eat, show me what foods to order that are the best Austrian dishes, and more. They'd take me hiking or exploring the city. They'd tell me the best places to go and see. Some days I'd come into work and see a small gift on my desk, such as a flash drive or a box of candies. The people there are just so genuine. I wish that everyone I encountered were as pleasant as those I met in Graz.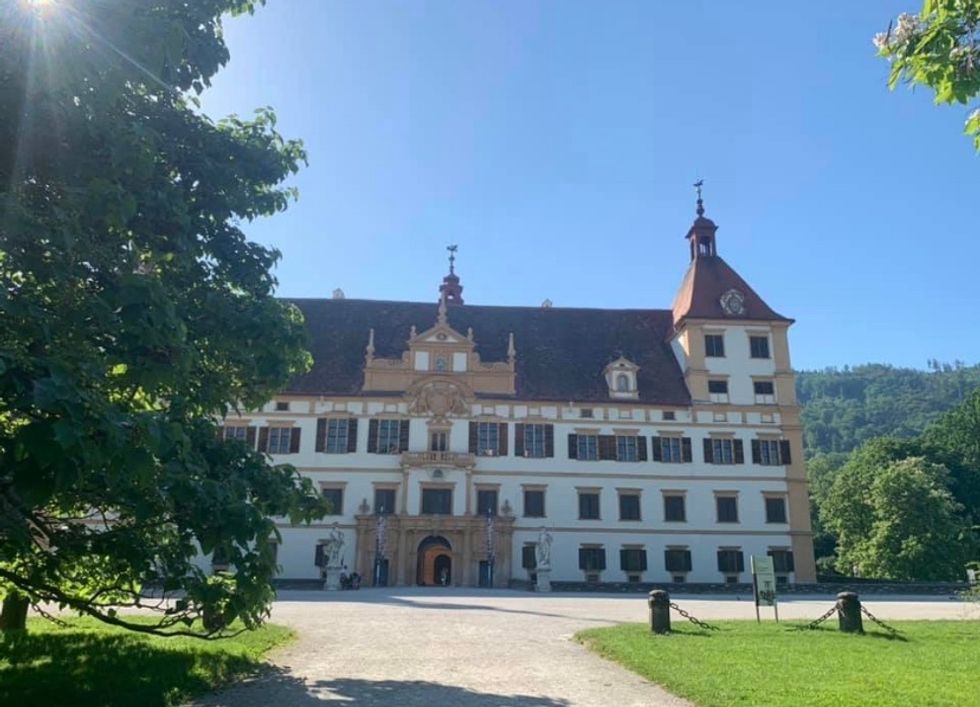 Graz's beautiful Eggenberg Palace!Nori Zaccheo
One important aspect of Graz, and of Austria as a whole, is the aspect of trust. People of Graz are so trusting of the others around them. Dogs walk without a leash. People leave bags and bikes unattended. They just trust that you buy a tram ticket and rarely check (I rode the tram multiple times a day and was asked for my ticket three times in three months.) Coming from America, I'm taught to always be on guard, to always watch my back. I noticed that nobody else acts this way. I was even told that it was offensive towards my neighbors that I lock my dorm room door because everything is always unlocked. That on its own just goes to show how trustworthy these people are of others, which I think is amazing. I envy the people of Graz for this and wish this was a reality in America as well.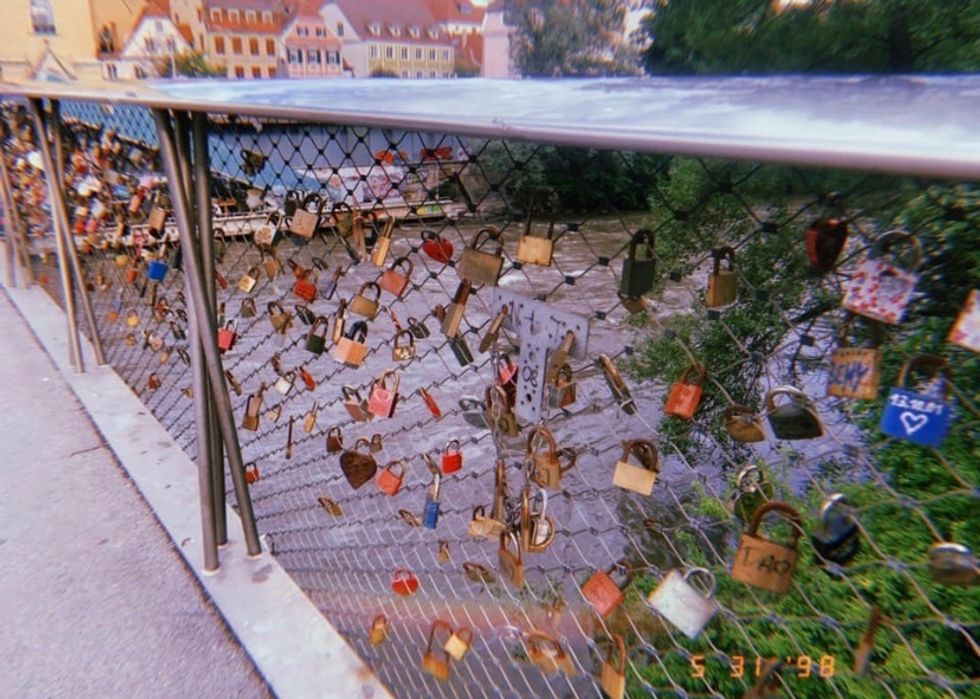 The Lock Bridge, in Graz!Nori Zaccheo
The work environment is also relaxed and very non-stressful, yet extremely effective at the same time. Austrians get shit done, but they don't stress out about it, which is amazing to me. The laboratory that I worked in has over 100 publications of amazing advanced chemistry papers, yet I never felt any stress or pressure being there. I truly enjoyed my work, and without even realizing it, I had a plethora of results. They just don't let themselves get overwhelmed. (Easier said than done in America, but actually easily done in Graz... for some reason). They take coffee breaks when they need and do what they can handle. After this, I'm dreading going back to America because I know that my stress levels will elevate significantly. Maybe I can bring this stress-free lifestyle back with me? Or is it just an Austrian thing? We shall see. Regardless, they run the most effective work environments I've ever seen, considering the happiness of workers as well as productivity.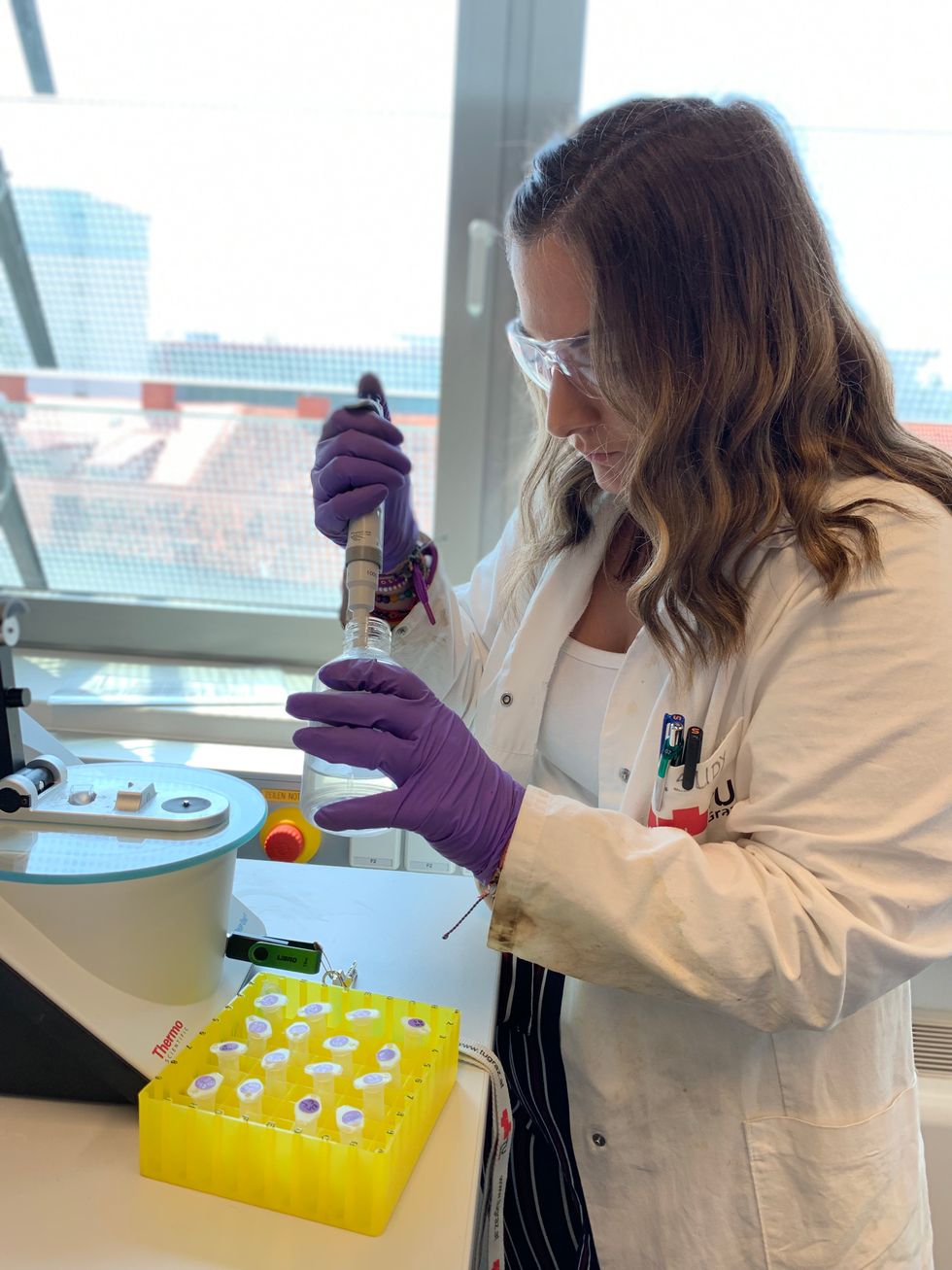 Me wonting at Graz Technical University!
Something I cannot fail to mention is the FOOD. Google wasn't kidding when they called it the culinary capital of Europe! Graz has such good food and coffee shops and everything. The traditional food like Wiener schnitzel and frittatensuppe are to die for everywhere in Graz. I haven't gone to a single restaurant that I didn't like (and I went to a LOT). Also, they're not expensive at all, which is so great. I always restrict myself from eating out back home to save money, but in Graz, you can get a decent meal for 3 or 4 euros (about $4-4.5), so I don't have to feel bad about eating out. There are also kebab places all over, and they're literally so freaking good. Each one I tried was better than the next. All I know is if you go to Graz, be prepared to eat good!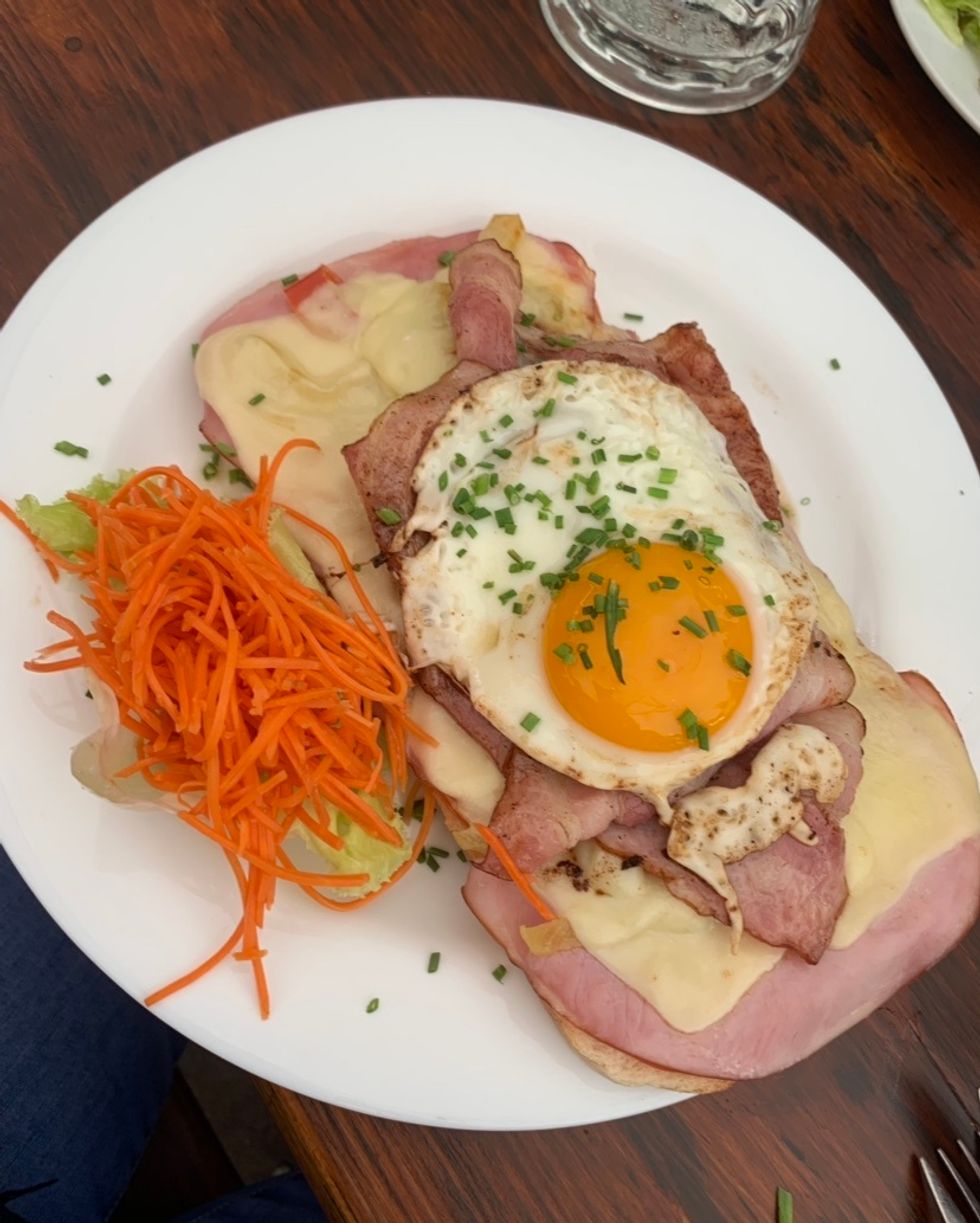 Traditional Austrian toast at one of my favorite restaurants, the North & South.Nori Zaccheo
Overall, if you ever have the chance to go to Austria, be sure to visit Graz. It is truly Europe's hidden gem. Be sure to go to the Eggenberg Palace, the Schloßberg Clock Tower, and the Hauptplatz city square. Eat some Wiener schnitzel, frittatensuppe, manner wafers, and drink some almdudler soda. Engage with as many people as you can. Enjoy yourself and the beautiful simplicity that is Graz.
Tschüss!