On September 13, 2016, Houston Police reported the shooting death of nineteen-year-old Kendra Childs, the mother of a two-year-old daughter. Kendra would have been twenty years old, the next day.
The main suspect of the crime is another female on Twitter named, "linglingbaby" also known for the Twitter handle, "@___ladykocaine."
The shooter, whose name is unidentifiable had been threatening to shoot Kendra for over a year. Her tweets are violent and hard to read, she even speaks about Kendra possibly taking her man away from her, in these tweets.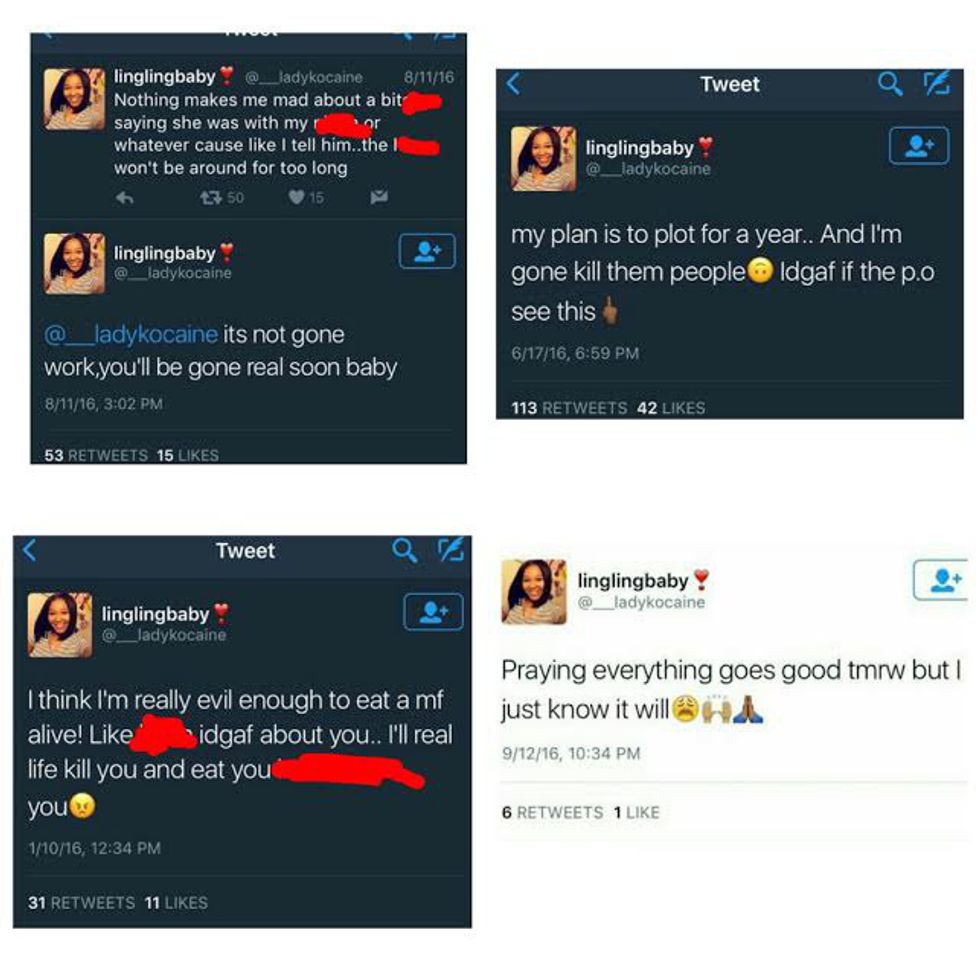 The even crazier part? She also prayed that the shooting would go well the next day.
What was the result of the crazy tweets? Kendra Childs' death, all because a jealous, crazy, still broken hearted girl could not move on.
The question that I am asking is, Is it worth it?
Is a guy really worth killing over? Is spending the rest of your life behind bars because you could not move on and be happy worth it? Really. Is it worth it?
Love will always be a cycle. People will fall in and out of love. Someone could be in love with someone who does not love them back. Unrequited love happens every once in a while. Being angry at someone for not loving back is not going to make them love you nor is killing the person that they love.
As for the people on social media, why did they not say anything? The trend about the "psychotic" girlfriend, or saying "the crazy girlfriend" is not something that should be viewed as funny. The incident with Kendra is enough to prove this. There are people in this world that need actual mental help. Being literally "crazy in love" is not adorable like society labels it to be.
For the people reading this article, I am hoping that you will report online threats that you come across and not let it escalate like "@___ladykocaine's" followers did.
Do you know what is worth it? Doing the right thing.
Although Kendra Childs' death was a tragedy, I can say that I have learned a few lessons myself. The first one being, to not be so upset if my crush does not feel the same way. If he so happens to like another female, then so be it. The second lesson that I learned is that social media is not just social media. Social media is a platform where we all can share our thoughts, feelings, and common interests with the people around us, even people that we do not know.
Why is it in the real world we have no problem with reporting someone for erratic behavior and threats, yet on social media it is a different story. Just because someone is sitting behind their phones, tablets, or computers it does not mean that their threats cannot happen.
Unrequited love is not worth killing someone for. The world does not revolve around you, nor your feelings.
Kendra Childs did not deserve to pass away due to someone else's spite. No life is worth taking, period.
If you or anyone you know whether it be personally or online has any thought of harming themselves or another person, then please call 1-800-273-TALK (1-800-273-8255) you never know who's life you could possibly save.