J.K. Rowling announced over a decade ago that Harry Potter fan-favorite Professor Albus Dumbledore is gay.
However, Dumbledore's sexuality was not mentioned in the book series. Given that most of the personal lives of the professors in the series remained ambiguous, it was seen as a non-issue. More so, Rowling responded to a critic in 2015 who said that they cannot "see him in that way" by stating, "Maybe because gay people just look like... people?"
Nonetheless, the upcoming November 2018 film, Fantastic Beasts: The Crimes of Grindelwald was an opportunity to explore on-screen Dumbledore's previously ambiguous sexuality. Moreover, Rowling previously stated that young Dumbledore (Jude Law) was in love with the titular character Gellert Grindelwald (Johnny Depp), before the latter became a dark wizard.
So, it only makes sense that in a Dumbledore-centric film, we would see a crucial part of who he was as a young man, and how it shaped him into the man he was in later years, right?
Apparently not. We are at crossroads with Rowling stating one thing and the film doing another. More so, the justification that "the fans know that he is gay" is as tired as Rowling's defensive behavior when fans express their disappointment.
Regardless of whether Dumbledore's sexuality will be mentioned in future films — Fantastic Beasts is a five-part series, with three more installments after the upcoming one — there is no reason why groundwork could not be laid now. Fans of the series are also growing more discontented with the "behind-the-scenes" approach to the sexuality of LGBTQ characters.
As alluded to previously, when The Crimes of Grindelwald director David Yates was asked if Dumbledore will be "explicitly gay" in the film, his comments hardly assuaged the suspicion that Rowling is merely looking for "diversity" points.
According to Entertainment Weekly, Yates said, "Not explicitly. But I think all the fans are aware of that. He had a very intense relationship with Grindelwald when they were young men. They fell in love with each other's ideas, and ideology and each other."
Remarkably, writers and directors in 2018 remain under the impression that LGBTQ visibility is present even when it is not seen or verbalized. To the contrary, it validates the point made in November 2000 by Ron Cowen, the former executive producer for Showtime's "Queer As Folk."
"There are more gay characters on TV now, but they're mostly clowns or eunuchs," said Cowen, in an interview with TIME.
One of the groundbreaking aspects of "Queer As Folk" is that it did not shy away from showing LGBTQ characters as sexual beings, like any heterosexual character when portrayed on TV. So, although it can be argued that Dumbledore's sexuality did not further the plot of the Harry Potter films, it is difficult to justify why there remains sexual discretion in a film about a younger version of himself and the man who he loved.
Perhaps Twitter user Ashley Poston (@ashposton) put it best when she tweeted the following: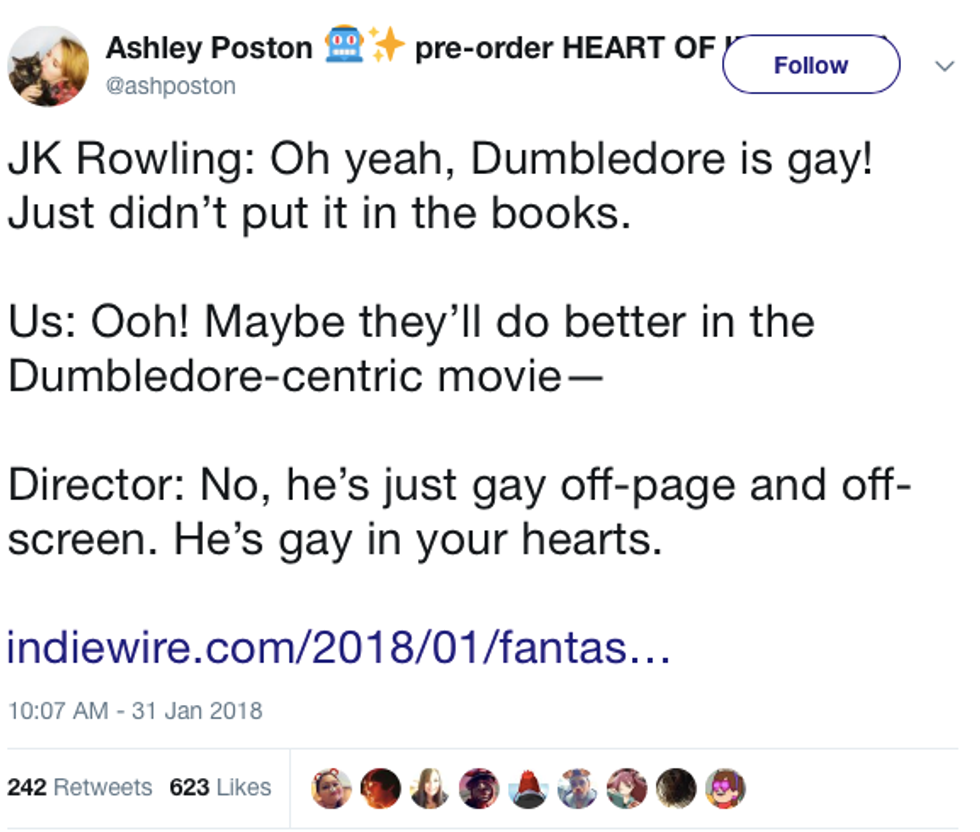 After all, if Dumbledore is not visibly gay in the books and he is not visibly gay in the films — when exactly is he gay?