I absolutely adore hot chocolate, especially during the holidays. And although I do love the traditional Swiss Miss hot cocoa mix, it does not compare to homemade stovetop hot chocolate. And it's actually quicker and easier to make this hot cocoa than you might think. I make this recipe A LOT during the holidays, and I usually half-measure half-eyeball everything- but it still turns out so good every time. So have fun changing up the proportions of the recipe to suit your tastes and adding in whatever toppings you want!
I include chocolate chips in my hot cocoa recipe because I feel like it makes it richer and more deeply flavored. I also add in some vanilla, cinnamon, and salt to accentuate the chocolatey flavor and add some dimension to the cocoa. If you don't particularly like a cinnamon-y hot cocoa, you'll find that the amount of cinnamon is pretty small and it doesn't impart much spiced flavor but simply serves to help the chocolate shine through. Also, this recipe makes enough for 2 cups of cocoa.
Ingredients:
2 c. milk
11/2 tbsp unsweetened cocoa powder
1/2 c. semisweet chocolate chips
1 tbsp sugar (add more/less to taste)
1/2 tsp vanilla extract
1/8 tsp cinnamon (1/4 tsp if you like more cinnamon flavor)
1/8 tsp salt
Note: I sometimes sub in 1/4 c. white chocolate peppermint chunks and 1/4 c. semisweet chocolate chips instead of putting the entire 1/2 c. of chocolate chips for a peppermint hot chocolate! If I do this, I typically omit the cinnamon and vanilla because I find they aren't needed.
Directions:
1. Add the milk, cocoa powder, sugar, vanilla, salt, and cinnamon to a small stove pot on medium heat. Whisk in the ingredients until there are no more lumps of cocoa powder.
2. Once the milk mixture is hot (no need to bring it to a simmer or boil), add in the chocolate chips and whisk again until all of the chocolate chips are melted and combined well.
3. Remove from the heat and pour into mugs. You can top this hot cocoa with whipped cream, marshmallows, candy canes, caramel, anything!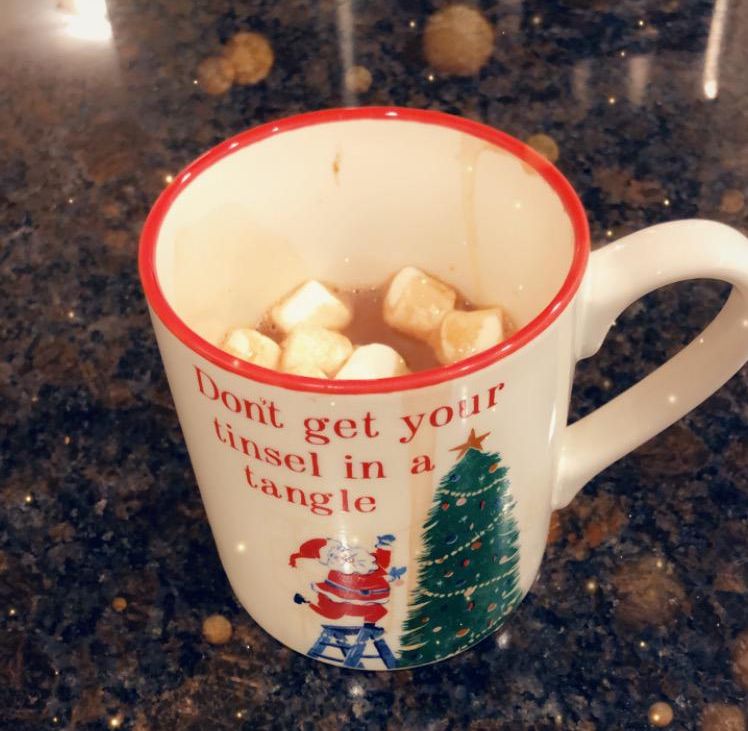 Sana Khadilkar