On Sunday, February 12th the 59th Annual Grammy Awards was held and broadcasted by the CBS network. It awarded those in music achievement from October 1, 2015 to September 30, 2016. It was quite a night at the Staples Center in Los Angeles.
The Host—Adding Some Comedy to a Music-Focused Ceremony:
Actor, comedian, and television host James Corden hosted the show for the first time. The Late Late Show host replaced Grammy staple LL Cool J. After Adele opened the ceremony with her hit song "Hello," Corden came on with a set malfunction joke. As the elevator was carrying him to the top of the stairway, it stopped halfway when he climbed up and then disappeared between the steps. After getting up again he rolled the rest of the way down. Then he rapped his opening monologue. Overall, James Corden was funny, entertaining, and absolutely brilliant!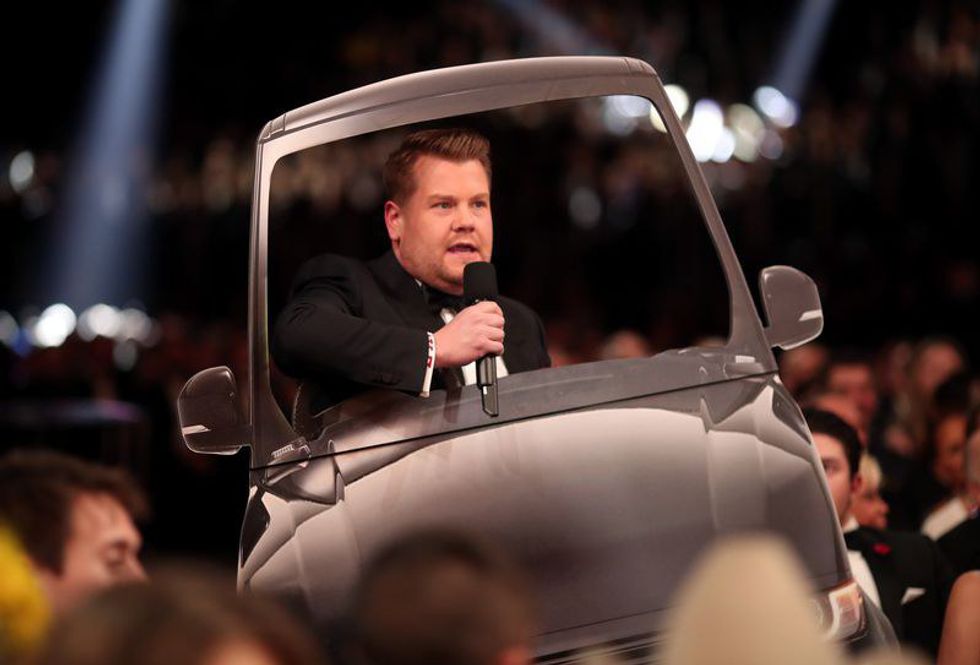 The Performances—the Good, the Bad, and the Average:
Ed Sheeran, who recently took off exactly an entire year from social media, was a one-man band performing one of his two new singles that he released, "Shape of You." As amazing as it was to see the down-to-earth singer up on stage again, it was no more than average. USA Today said about the performance: "A guy and a guitar isn't always the most transfixing thing to watch during an awards show..." Nonetheless, Sheeran sounded beautiful.
Adele performed twice singing her single "Hello" and "Fastlove," a tribute to George Michael. According to Billboard, her rendition of "Fastlove" was much better than when she sang her own song. She even stopped emotionally one minute into the song because she felt like she wasn't doing it well-enough for him, so she asked for a do-over to do the song justice and honor the late singer-songwriter.
Despite not winning the Grammy for Album of the Year, Beyonce's performance was on fire. Debuting her baby bump live, the performer sang "Love Drought" and "Sandcastles." According to USA Today those songs are "Lemonade's sleepier, lesser known songs," but "her visual presentation was anything but tired," as well as in "a completely different class from anything else at the Grammys so far this year, or most other years."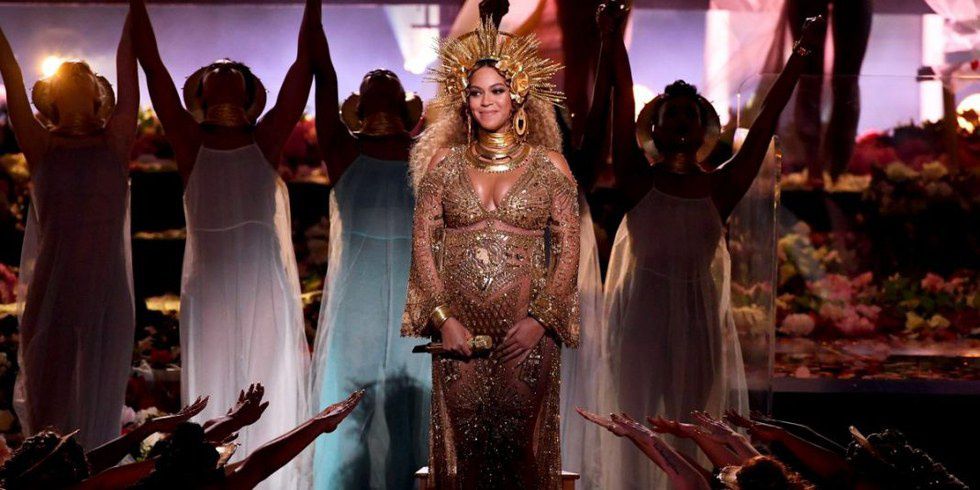 One of the more surprising acts was the duet between country newcomer Maren Morris (I didn't even hear of her until actually watching the Grammys) and R&B favorite Alicia Keys. The two gorgeously sang Morris's song "Once." Nothing screamed girl-power more than these two amazing women.
Ranked the worst performance of the night by Billboard was Pentatonix's rendition of "ABC," originally performed by the Jackson 5. Billboard said, the "cover sounded fine, but three hours into an awards show -- and after Bruno Mars' astonishing Prince tribute -- it felt like an unnecessary add-on."
The Winners—the Obvious, the Surprising, and the Memorable:
Album of the Year was awarded to Adele for her album 25, her third studio album. While on stage to accept the award, Adele took a scene right out of Mean Girls by renouncing her win, breaking her Grammy in half stating that Beyonce should have won for her album Lemonade instead. Adele also took home the awards for Record of the Year, Song of the Year, Best Pop Vocal Album, and Best Pop Solo Performance.
Chance the Rapper made history when he won three out of the seven Grammys he was nominated for as an independent rapper. He won Best New Artist, Best Rap Performance for "No Problem," and Best Rap Album for Coloring Book. Before that he made history with Coloring Book as the first streaming-only album to be nominated for a Grammy. Not only did the artist shine with his awards, but he also when he performed "How Great" and "All We Got" on stage. After the ceremony there was a 206-percent increase in Spotify streams for Chance the Rapper taking place in the U. S.
The moment it was announced that Twenty One Pilots won Best Pop Duo/Group Performance for their song "Stressed Out" members Tyler Joseph and Josh Dun dropped their pants. While on stage accepting the award they explained that they decided if they ever won a Grammy they should receive it "just like this." Then proceeded to say that "everyone at home to know that you could be next…because anyone from anywhere can do anything."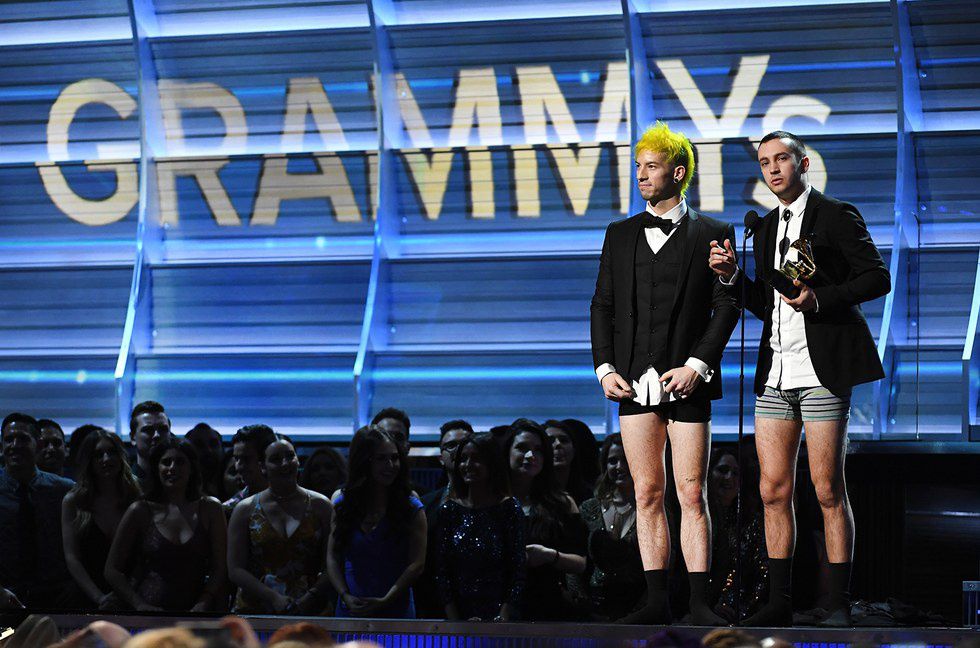 You can't really compete when you are up against a late music icon like David Bowie. Throughout his whole music career David Bowie had only won one Grammy in 1985 in Best Video, Short Form for the song "Jazzin' for Blue Jean." He had also won the Lifetime Achievement Award in 2006. Posthumously, the singer-songwriter took home four Grammys—Best Engineered Album, Non-Classical, Best Rock Performance, Best Alternative Album, and Best Recording Package. All were for his album Blackstar, the last album he released two days before his death.
And lastly, no major award show these days is complete without some sort of political commentary. With commentary from various stars like Katy Perry, Jennifer Lopez, and Laverne Cox, one of the most memorable was when hip-hop band A Tribe Called Quest joined by Anderson .Paak and Busta Rhymes performed "Movin' Backwards" and "We the People…" from their album We Got It from Here…Thank You 4 Your Service. During their performance, Rhymes took the microphone to criticize President Donald Trump and said "I just want to thank President Agent Orange for perpetuating all of the evil that you've been perpetuating throughout the United States…I want to thank President Agent Orange for your unsuccessful attempt at the Muslim ban."
It was quite a memorable Grammy night and definitely one for the books!