November is here, so that means Friendsgiving/Thanksgiving is right around the corner. Let's be honest, you're sick and tired of having the same appetizers over and over again at your Thanks(Friends)givings. If this is so you or you simply don't know what to prepare or to bring here are some ideas that you'll be dying to try.

1. Baked Brie with Honey & Almonds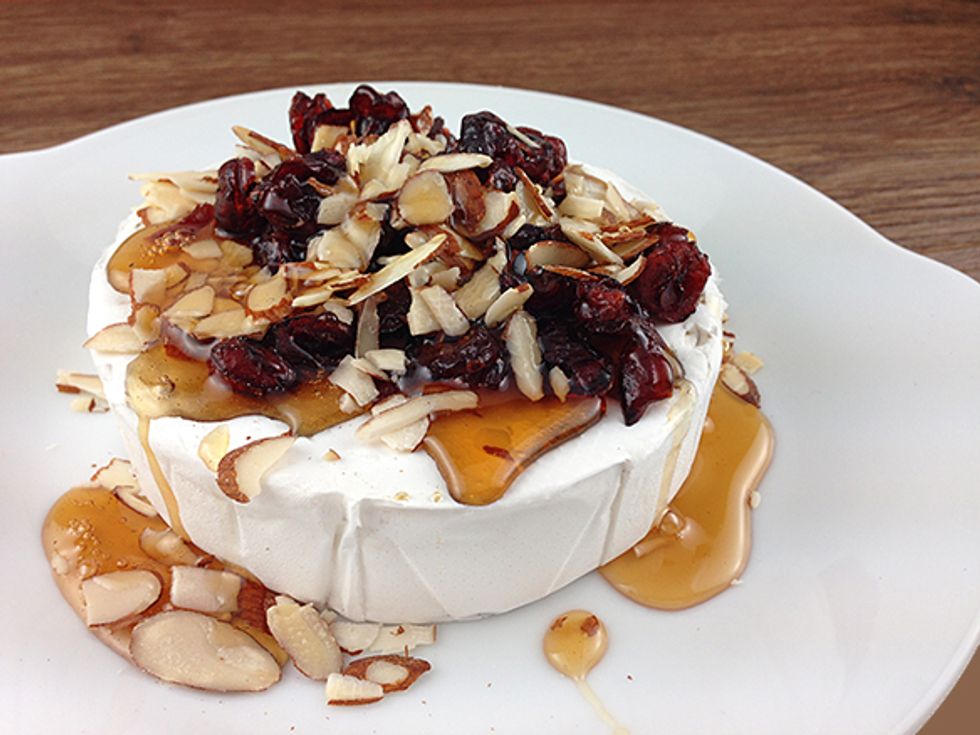 Ingredients:
1 wheel of brie, about 12 ounces
¼ cup of honey
¼ cup toasted sliced almonds
¼ cup dried cranberries
Instructions:
Preheat the oven to 350 degrees. Line a sheet pan with parchment paper. Place the brie in the center. Bake for 10 minutes, or until the center is oozy but not melted.
Transfer the warm brie to a serving dish with a lip on the sides. Sprinkled the almonds and dried cranberries on top. Drizzle with honey. Serve immediately with crackers or slices of baguette.
2. Mashed Sweet Potato Bacon Cups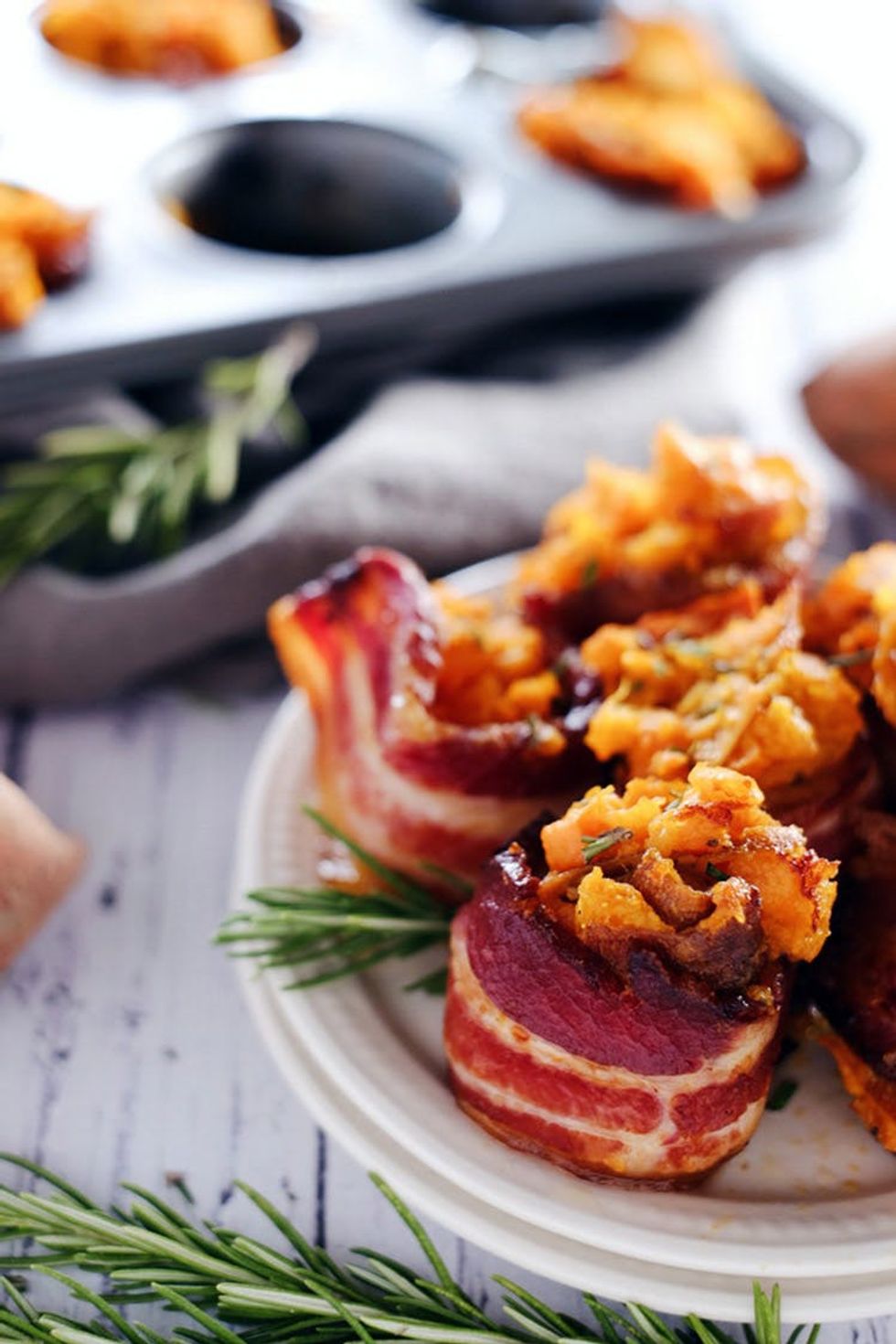 Ingredients:
2

sweet potatoes, cubed

2

tablespoons

grass-fed butter or ghee

1

tablespoon

fresh rosemary, finely chopped

1

teaspoon

granulated garlic

6

pieces

bacon, cut in half

2

tablespoons

pure maple syrup

(optional to drizzle on top - omit for Whole30)
Instructions:
Place your cubed sweet potatoes in a large pot. Submerge them in water and place on the stove over medium-high heat. Boil until the sweet potatoes are tender.
While the sweet potatoes are boiling, line your muffin tin with the half strips of bacon to create a little cup. We place them in the muffin holes from one end to the other, so that the bottom gets covered. Set aside when finished, and preheat your oven to 400 degrees Fahrenheit.
Once tender, remove your sweet potatoes from heat and drain the water. Place your sweet potatoes in a large mixing bowl. Add your grass-fed butter or ghee, chopped rosemary, and granulated garlic. Hand mash or use an electric mixer to get your mashed sweet potatoes to your desired consistency. We like them a little chunky.
Scoop your mashed sweet potatoes into your bacon cups, and place them in the oven. Bake at 400 degrees for 20 minutes, or until the bacon is crispy.
Remove from the oven, let cool for a few minutes by placing on a paper towel lined plate to catch the excess bacon grease.
When ready to serve these little guys, flip them onto their sides so the bacon wraps around the sides like in the pictures above. Drizzle with optional maple syrup on top if you're feeling a little daring, and serve! Eat 'em up!
via Real Simple Good
3. Cheesy Spinach Artichoke Bread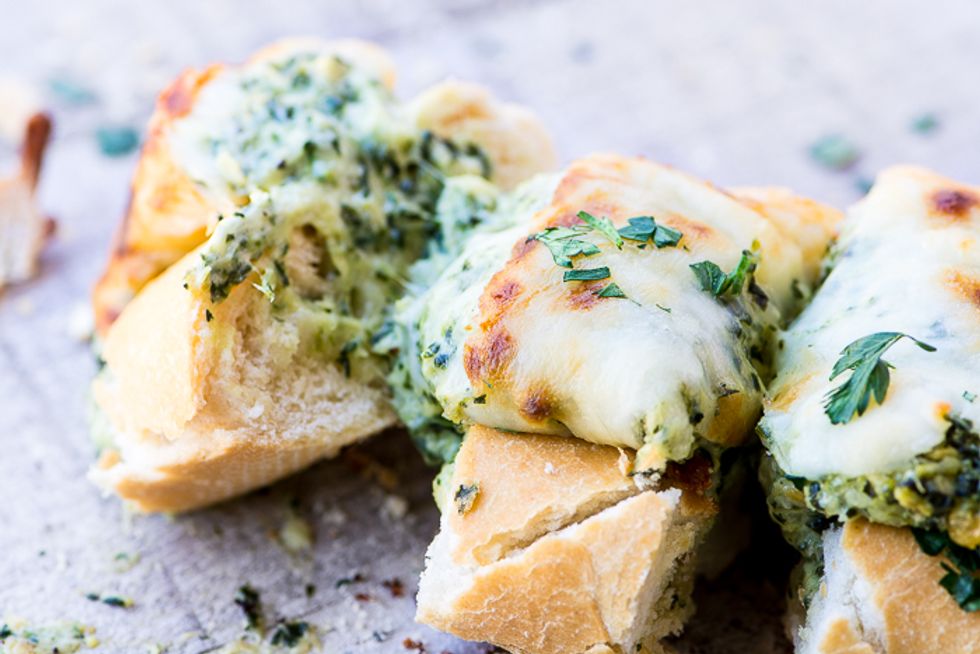 Ingredients:
Spinach artichoke dip

8 ounces frozen spinach, thawed
1-2 cloves garlic, peeled
1 14-ounce can artichoke hearts
4 ounces cream cheese
1/2 cup mayonnaise
1/2 cup sour cream
1/2 cup shredded Parmesan cheese
1/2 cup shredded sharp cheddar cheese
1 cup shredded mozzarella cheese, divided
1 teaspoon salt
1 teaspoon fresh cracked black pepper
1 large loaf French bread
Chopped fresh parsley for garnish
Instructions:
Set oven to 350 degrees Fahrenheit.
Make sure your spinach is very well drained, I put it in a mesh strainer and push the excess liquid out with the back of a large spoon. Put the spinach and garlic into the bowl of a food processor and process until finely minced.
Drain the can of artichoke hearts, and then squeeze the excess liquid out of each one gently by hand. Add them to the processor and process until finely chopped.
Add the cream cheese, sour cream, mayo, sharp cheese, and just 1/2 cup of the mozzarella to the processor. (Save the remaining 1/2 cup of mozzarella for the topping.) Add the salt and pepper and process until well blended.
Cut a channel into the top of the loaf of bread and remove the top section of the crust. Scoop out enough of the bread to leave room for the dip, but be sure to leave some bread along the bottom and sides for stability. Stuff the dip into the bread, pressing down with a spoon to get it completely filled. You will have extra dip, depending on the size of your loaf. You can bake it separately with chips, or freeze it for later.
Bake the bread for 15 minutes. Remove from the oven and sprinkle the remaining mozzarella cheese over the top. Return to the oven for another 15 minutes, or until everything is hot and melted. Sprinkle with chopped fresh parsley.
Let the bread cool for a couple of minutes, and then slice. Plan to serve right away, while it is hot.
via The View From Great Island
4. Stuffed Mushrooms

Ingredients:
16 extra-large white mushrooms
5 tablespoons good olive oil, divided
2 1/2 tablespoons Marsala wine or medium sherry
3/4 pound sweet Italian sausage, removed from the casings
6 scallions, white and green parts, minced
2 garlic cloves minced
2/3 cup panko crumbs
5 ounces mascarpone cheese, preferably from Italy
1/3 cup freshly grated Parmesan
2 1/2 tablespoons minced fresh parsley leaves
Salt and freshly ground black pepper
Instructions:

1. Preheat the oven to 325 degrees Fahrenheit.
2. Remove the stems from the mushrooms and chop them finely. Set aside. Place the mushroom caps in a shallow bowl and toss with 3 tablespoons of the olive oil and Marsala. Set aside.
3. Heat the remaining 2 tablespoons olive oil in a medium skillet over medium heat. Add the sausage, crumbling it with the back of a wooden spoon. Cook the sausage for 8 to 10 minutes, stirring frequently, until it's completely browned. Add the chopped mushroom stems and cook for 3 more minutes. Stir in the scallions and garlic and cook for another 2 to 3 minutes, stirring occasionally. Add the panko crumbs, stirring to combine evenly with all the other ingredients. Finally, swirl in the mascarpone and continue cooking until the mascarpone has melted and made the sausage mixture creamy. Off the heat, stir in the Parmesan, parsley, and season with salt and pepper, to taste, Cool slightly.
4. Fill each mushroom generously with the sausage mixture. Arrange the mushrooms in a baking dish large enough to hold all the mushrooms in a snug single layer. Bake until the stuffing for 50 minutes, until the stuffing is browned and crusty.
via Food Network
5. Roasted Grape Crostini with Lemon Ricotta and Honey
For the ricotta:
1 1/2 cups ricotta cheese
1 lemon, zested
Sea salt and pepper, to taste
For the grapes:

1 1/2 pounds seedless grapes*
1 1/2 tablespoons olive oil
Few sprigs each of fresh rosemary and thyme
Sea salt and pepper, to taste
To assemble:
One whole grain French baguette
Sea salt
Fresh thyme
Honey
Instructions:
Preheat the oven to 400 degrees. Toss the grapes with the olive oil, sea salt, pepper, and a few sprigs each of fresh rosemary and thyme. Spread on a baking sheet in an even layer. Bake until the skins begin to pop and the grapes brown slightly and release juices, about 30-35 minutes.
Mix the ricotta with the lemon zest and sea salt and pepper to taste.
Slice the baguette on an angle into 1/4″ – 1/2″ slices. Brush both sides with olive oil and bake until toasted and slightly golden, about 10-12 minutes, rotating the tray halfway through.
Spread the lemon ricotta on each crostini. Top with the warm roasted grapes (discard thyme and rosemary sprigs). Top the grapes with fresh thyme, flaky sea salt, and a drizzle of honey. Enjoy!
6. Cranberry Goat Cheese Log

Ingredients:
1 large log of your favorite goat cheese
1/4-1/2 cup cranberry sauce [recipe]
1/4-1/3 cup dried cranberries, chopped
1/4 cup walnuts, chopped
1/4 cup pecans, chopped
1 tablespoon [or more!] dried or fresh parsley
Extras:
Extras: sprinkle of cinnamon
A drizzle or two of honey
Crackers, crostini, and veggies for spreading and scooping!
Instructions:
Remove goat cheese from wrapper and allow to soften to room temperature.
Warm up your favorite cranberry sauce [hello, great use for leftover sauce!] and spread it on a cheese tray or serving platter.
Next, chop your nuts and cranberries and mix together along with parsley.
Roll your goat cheese in the mixture, pressing gently to coat.
Set the festive goat cheese log atop the cranberry sauce and surround with all your favorite crackers, crostini, and veggies!
Feel free to get a little trashy and sprinkle any leftover nuts all over the tray. Hello, edible confetti!
Ohmygosh and please please please take this baby over the top with a nice hearty drizzle of honey. It's divine.
via Peas And Crayons
7. Parmesan Asparagus Tart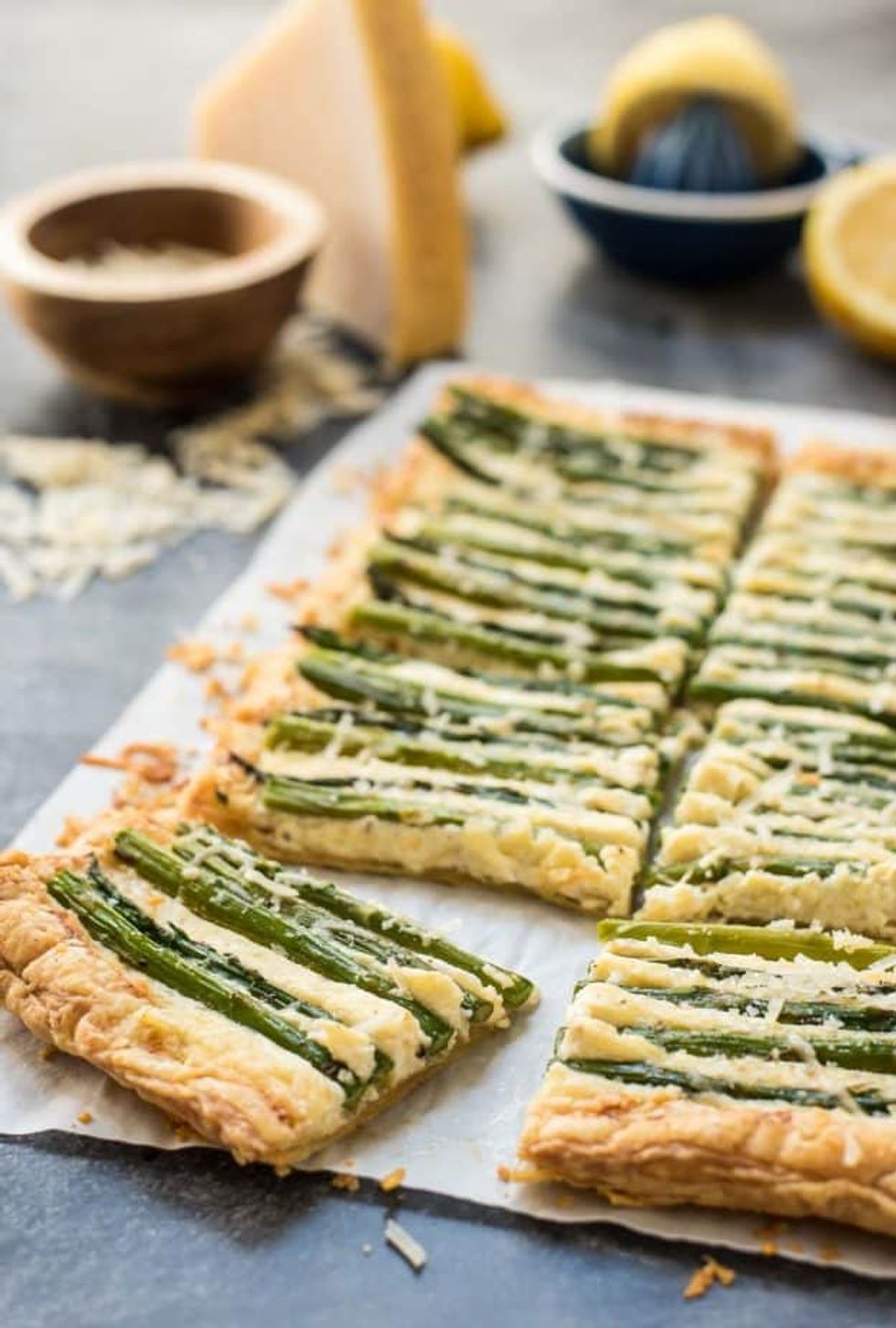 Ingredients:
1

sheet frozen puff pastry, thawed

3/4 pound

asparagus, ends trimmed

2

teaspoons olive oil, plus more for brushing

1/2

teaspoon Kosher salt

Fresh ground black pepper

1/2

cup whole milk ricotta cheese

3/4

cup shredded Parmigiano-Reggiano cheese, divided

1

egg

1/2

teaspoon Kosher salt

Zest of 1/2 lemon

1 t

ablespoon lemon juice (from about 1/2 a lemon)
Instructions:
Preheat the oven to 400 degrees. Carefully unroll the puff pastry onto a lightly floured piece of parchment paper and roll it out with a floured rolling pin to about a 10 inch by 16-inch rectangle. Poke the pastry all over with a fork. Transfer the parchment to a baking sheet and bake the pastry for about 12 minutes, or until lightly golden and puffed.
Meanwhile, bring a large skillet of water to a boil. Add the asparagus and cook 2-4 minutes, or until they are bright green and have just a little bit of crispness left. Remove the asparagus to a plate and toss with the olive oil, ½ teaspoon Kosher salt, and a generous sprinkling of black pepper. Set aside.
Whisk together the ricotta, ½ cup Parmigiano-Reggiano, egg, ½ teaspoon Kosher salt, lemon zest, and lemon juice. Once the puff pastry has cooled slightly, spread the ricotta mixture evenly over the top, leaving a 1-inch border all the way around. Layer the asparagus stems evenly over the ricotta. Brush the exposed crust with olive oil.
Return to the oven and bake for another 15-20 minutes, or until asparagus is tender and crust is golden brown.
Sprinkle with remaining Parmigiano-Reggiano and serve.
8. Samosas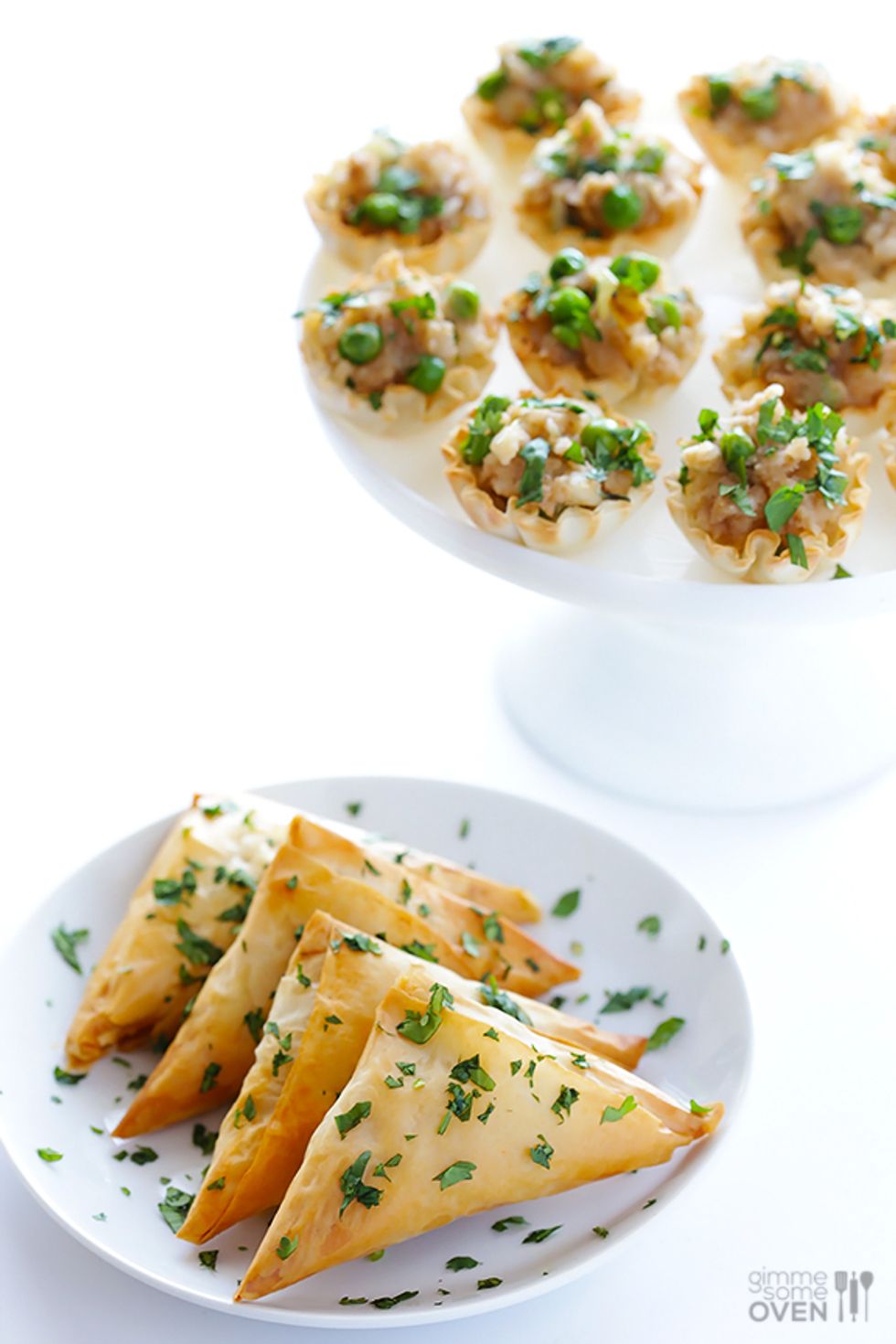 Ingredients:
Filling ingredients:
3 tablespoons vegetable oil
1/2 teaspoon mustard seeds
Half a small white onion
1 teaspoon finely chopped ginger
1/4 cup frozen peas
1 tablespoon ground coriander
1 teaspoon garam masala
1 teaspoon ground cumin
1 teaspoon salt
¼ teaspoon chili powder
1/4 cup water
1.5 pounds Russet or Yukon Gold potatoes, peeled and boiled until soft, then drained and mashed
1/4 cup chopped fresh cilantro, plus more for garnish if desired
Phyllo dough (traditional triangles) ingredients:
1 package frozen phyllo pastry dough*, thawed
6 tablespoons melted butter, for brushing
Mini phyllo cup ingredients:
4 (15-count) packages frozen mini phyllo cups*
Instructions:
To make the filling:
1. Heat oil in a large saute pan over medium-high heat. Add the mustard seeds and fry for about ten seconds, or until they begin to splutter.
2. Add the onion and ginger, and saute for 2 to 3 minutes, stirring occasionally. Add the peas, coriander, cumin, chili powder, garam masala, and salt. Cook for 2 minutes, stirring occasionally.
3. Add the potatoes and cilantro, stir to combine, and cook for another 2 minutes.
4. Add a few splashes of water (this may be more or less than 1/4 cup) until the mashed potatoes are slightly moist.
5. Taste the mixture and adjust the seasoning as necessary.
6. Remove from heat.
To make the phyllo dough triangles:
1. Preheat oven to 400 degrees Fahrenheit.
2. Unroll the phyllo pastry dough, cover with plastic wrap and a damp lightweight towel. Peel off one sheet and keep the remaining dough covered so that it doesn't dry out. Lay the pastry sheet flat on a clean surface, and brush lightly with melted butter. Fold in one-third of the pastry lengthwise towards the middle. Brush again with the butter and fold in the other side to make a long triple-layered strip.
3. Place one rounded teaspoon of the filling mixture at one end of the strip. Take the right corner and fold diagonally to the left, enclosing the filling and forming a triangle. Fold again along the upper crease of the triangle. Keep folding in this way making triangles upon triangles until you reach the end of the strip. Brush a little butter on the dough to seal the samosa, and also brush the outer surface so that the outside is lightly coated in butter.
4. Place the triangle onto a baking sheet and cover with another damp towel while you make the rest of the samosas. Bake in the center of the oven for 20-25 minutes, or until golden and crisp, turning halfway through the cooking time.
5. Serve warm, garnished with extra chopped fresh cilantro if desired.
To make the mini phyllo cups:
1. Spoon about 1 rounded teaspoon of the filling into each mini phyllo cup.
2. You can either serve these immediately or pop them in a 400-degree oven for a few minutes to warm them up if need be. Serve garnished with extra chopped fresh cilantro if desired.
via Gimme Some Oven

9. Cranberry Orange Cheese Ball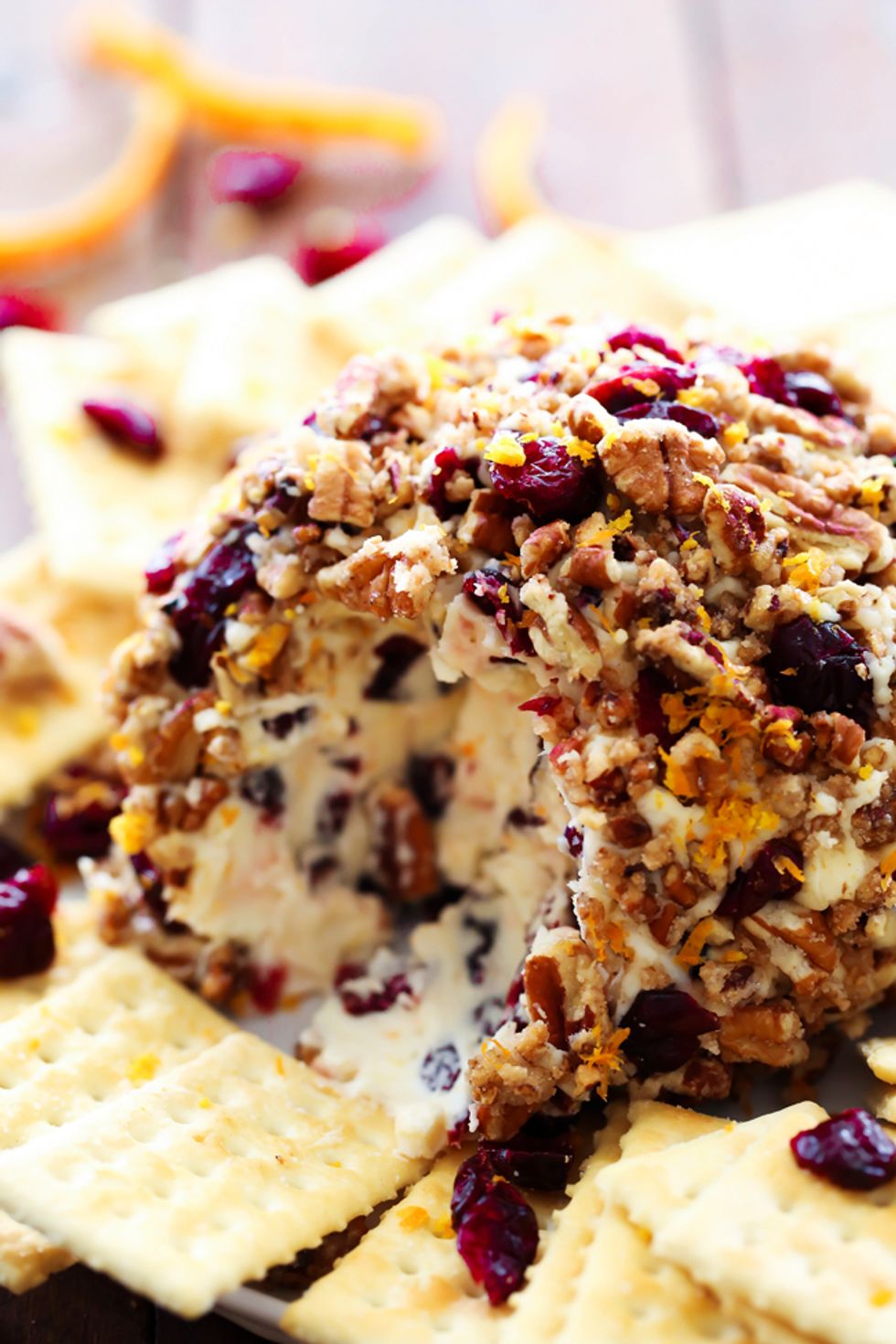 Ingredients:
16 ounces cream cheese, softened
1 cup craisins
2 teaspoons orange zest
1 tablespoon orange juice
½ cup powdered sugar
Coating:
1 cup chopped candied pecans
½ cup craisins
1 tablespoon orange zest
Instructions:
Stir softened cream cheese until smooth.
Stir in craisins, orange zest, orange juice and powdered sugar until well combined.
Set bowl in fridge and allow to firm up for about 10 minutes or just long enough to be able to form a ball.
Roll into a cream cheese mixture into a ball and place on a plate or tray and place in freezer to soft set for 10 minutes.
While cheese ball is soft setting, combine coating ingredients onto a large tray or plate. Roll cheese ball into the topping ingredients to coat on the outside completely.
Cover with saran wrap and store in fridge until ready to serve.
Serve with crackers.
via Chef In Training
10. Apple Cider Maple Meatballs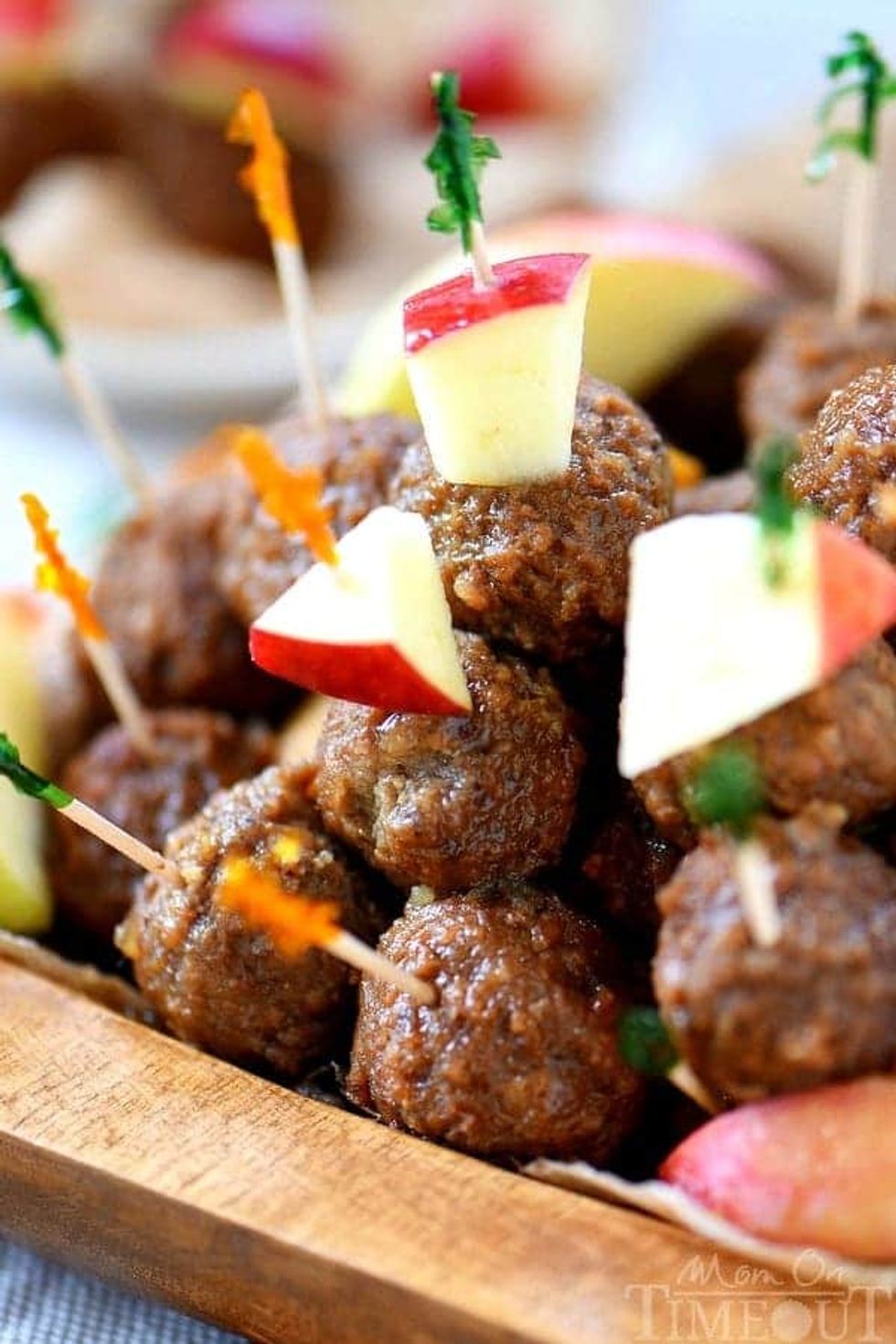 Ingredients:
50 Daily Chef - Casa Di Bertacchi Meatballs
2 cups apple cider
½ cup maple syrup
3 tablespoons apple cider vinegar
2 apples, cored and chopped
Instructions:
Spray the slow cooker with cooking spray or use a liner.
Turn the slow cooker on to low.
Place the meatballs into the slow cooker.
Combine the apple cider, maple syrup, and apple cider vinegar and pour over the meatballs.
Place the apples on top.
Place the lid on the slow cooker and cook on low heat for 4 to 8 hours. Turn to warm after that.
Serve warm with additional, chopped apples if desired.
via Mom On Time Out