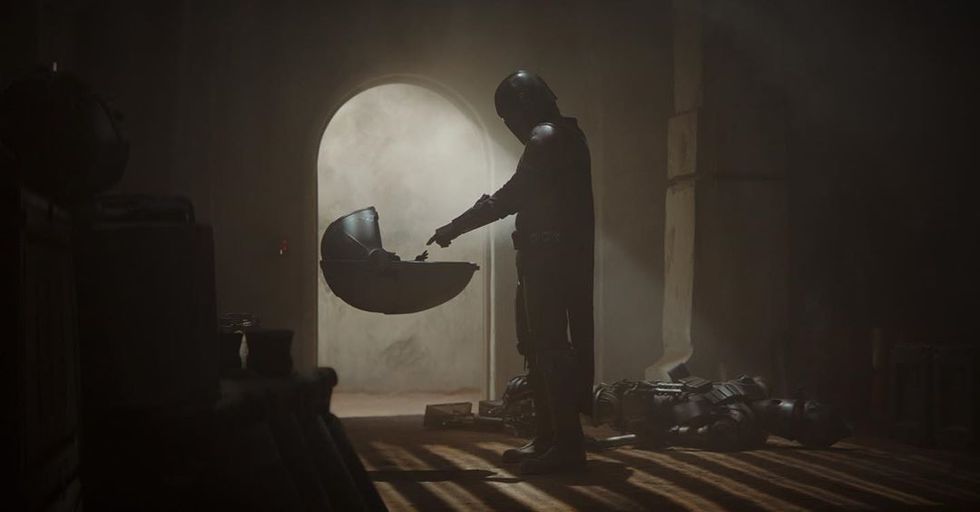 Disney+ launched November 12th, 2019 and with it came with a brand-new series: "The Mandalorian" (2019-). The show is the first live-action Star Wars television show in the saga's forty-plus year history. I think we are all in agreement that no one going into this show knew what a Mandalorian was, except for the die-hard Star Wars fans. But now, everyone is spouting out the name Mandalorian along with Baby Yoda! For me, the Mandalorian was off my radar for the longest time but now it has grown to be one of my favorite tv shows. If you don't know what the show is about and wondering why there are so many Baby Yoda memes, then read ahead.
"The Mandalorian" (2019-) follows a galactic bounty hunter named…well… The Mandalorian. In the Star Wars universe, the Mandalorian race was known to be the most elite warriors in the galaxy. But now they are in hiding, with only one going out in public at a time. Our protagonist was taken in by the Mandalorians at a young age and taught their way of life. Now years later the Mandalorian travels the stars bringing in wanted crooks to the guild for payment. One such mission brings him face to face with an odd package, a child. And this is where Baby Yoda comes into play. The baby's official name is "The Child" but folks online have dubbed him Baby Yoda and he has taken the internet by storm. This adorable green alien is honestly one of the cutest creatures I've ever seen. I think it's the way the eyes and the ears emote. I think it's crazy how people who aren't even fans of this genre are loving Baby Yoda. My friend on Twitter who never talks about anything geeky LOVES Baby Yoda! She retweets and likes so many Baby Yoda tweets and even has him as her header. It's crazy how much love there is for this puppet but there's more to love with this show.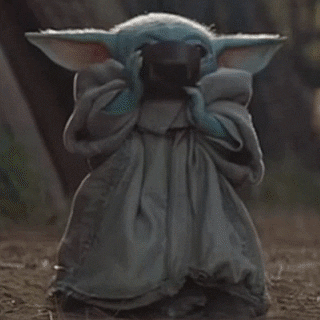 Giphy
The character of the Mandalorian is an excellent protagonist. Played by Pedro Pascal, he does an excellent job of conveying that stoic warrior that also has a soft side. What really impresses me is how Pedro has to act without the audience seeing his face. In Mandalorian culture, it is forbidden to remove one's helmet as it goes against the Mandalorian religion. Pedro Pascal has to convey emotions of sadness, anger, comedy all from behind a mask. I saw someone on twitter saying that having someone act with only a helmet on is not as worthy of appreciation as an actor in a film. Obviously, they are wrong, I should have known they were a Reylo shipper from "The Rise of Skywalker" (2019).

I think Star Wars fans really enjoy just the overall story. I am a sucker for a good story, so each episode had to wow me, and I am glad to say that pretty much 90% of the story had me engaged. In an era where Hollywood just pumps out mediocre stories, I am really glad that there are shows like "The Mandalorian" (2019-) that are trying to convey a captivating story. It's a story about a man who sees himself in this orphan and wants to give him a better life then he can give himself. Poetic, simply poetic. And the music, that opening theme by Ludwig Göransson is top-notch. He has done a bunch of work on projects like "Black Panther" (2018) and "Creed II" (2018) and his Mandalorian theme just slaps! The incorporation of wind instruments with the cellos and violins makes it a very elegant theme that gets you pumped. So much so that it's worth watching the end credits because not only do they play the Mandalorian theme, but the show also displays that particular episode's concept art. I am a sucker for concept art mainly because I like the way some characters look before the final product.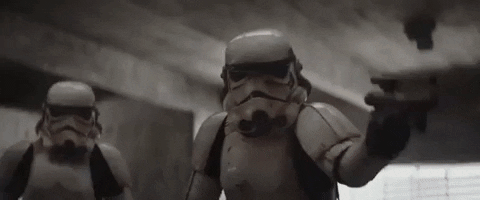 Giphy
In conclusion, if you have a Disney+ subscription and haven't watched this show definitely do. The episodes are 30-40 minutes long, so you aren't going to be stuck on the couch all day like a Netflix show. On top of that, there are only eight episodes. Another strength of the show. I can't wait for season 2 which premieres Fall 2020. The only question left now is, what else is there to watch on Disney+?

Keep Reading...
Show less