Supreme Court Justice Ruth Bader Ginsburg, otherwise known as RBG, sadly passed away Friday, September 18 after a battle with metastatic pancreatic cancer. This woman was tough, no doubts about that. This was her fifth — yes, you read that correctly — bout with cancer over the span of two decades.
The 87-year-old RBG served as U.S. Supreme Court Justice since 1993 — the second woman to be confirmed to the Court — when she was appointed by President Bill Clinton, but her career in the justice system started long before then.
RBG first taught at Rutgers University Law School before moving on to teach at Columbia University Law School, where she became their very first tenured female professor. She also served as the director of the Women's Rights Project of the American Civil Liberties Union (ACLU) in the 1970s, which tackled over 300 gender discrimination cases by 1974. She was later appointed to the U.S. Court of Appeals for Washington, D.C. by President Jimmy Carter in 1980, and then the US Supreme Court in 1993.
RBG spent her career fighting for gender equality, likely because she spent so many of her early years fighting for her place in the workforce. She found that despite graduating first in her class at Columbia Law School in 1959, it was nearly impossible for her to find a job. No one thought a woman could be successful in law.
RBG has paved the way for gender equality, and sadly, I fear that much of the work she has done is about to be in vain.
RBG's dying wish was, according to Ginsburg herself, "My most fervent wish is that I will not be replaced until a new president is installed."
With only months remaining until the results of the 2020 presidential election, things are down to the wire, and President Trump and Kentucky Senator and US Senate Majority Leader Mitch McConnell are wasting no time filling her spot.
Less than 12 hours after tweeting about the death of RBG, Trump took to Twitter again, but this time, it was about finding her replacement.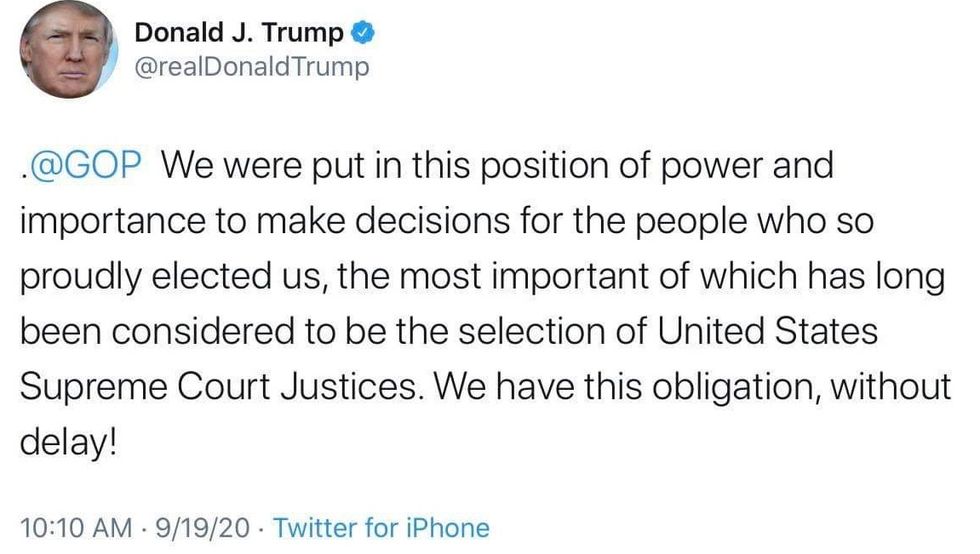 Donald J. Trump / Twitter
Not only is this crucial because it is an election year, but also because of President Trump's recent promise to defund Planned Parenthood, an exemplary movement to do away with women's reproductive rights.
Trump is disrespecting RBG's dying wish for his political gain, to further secure the Christian and anti-abortion vote. If that doesn't exemplify just who this man is and how little he truly cares about his constituents, I don't know what does.