If you're a major Coldplay fan, like me, you know that we have been craving some new music, even just a single, for about four years now. If you are not big into Coldplay, you may know a few of their major songs: Viva La Vida, The Scientist, A Sky Full of Stars, Clocks, or, my all-time favorite: Fix You; I'm sure you have heard at least one of these popular songs. Coldplay's last album was in December of 2015, where they released the 11-track "A Head Full of Dreams," which sold 1.9 million copies worldwide! Their latest feature was on The Chainsmoker's "Something Just Like This," which was released in 2017.
On October 22, 2019, Coldplay posted a picture on their official Instagram page: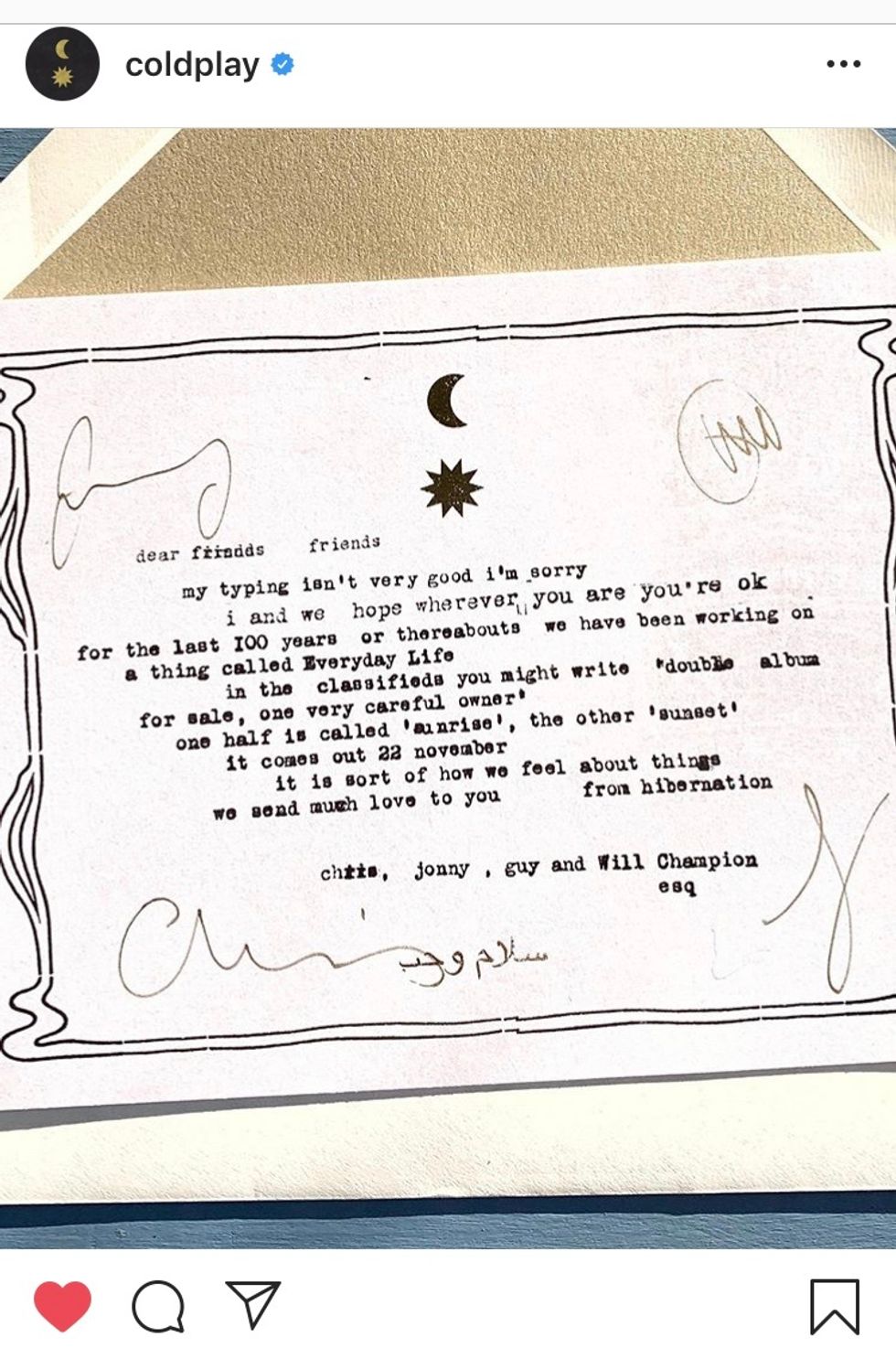 Their caption stated that their new album, titled "Everyday Life," will be released on November 22, 2019. Hopefully we can expect some singles to be released from the album between now and then. We can't wait!
After fans have waited years for some new Coldplay material to listen to, you can expect how excited everyone was after this announcement. It has been spread all over social media: Twitter, Instagram, etc., where people are hash-tagging "Everyday Life." The Instagram post received over half a million likes and over 16,000 comments of people expressing their excitement and love in many different languages. The titles of the tracks that are expected to be on the album were also shared, which can be seen in the Instagram post. The band even ends their release note with "we send much love to you from hibernation" to clarify they know how long it's been for us fans.
I, personally, hope Coldplay doesn't change their sound. They have a great style that fluctuates between Pop, Alternative Rock, and even some DJ-type sounds. Whatever Coldplay releases I'm sure will be amazing; us fans can't wait to listen!