In America, gun violence has grown to become a key part of our society. Amnesty International estimates that around 2,000 people are injured by gunshots every day. According to Gun Violence Archive, in 2019 there were more mass shootings than days in the year, with 417 mass shootings. A little over 15,000 people died last year from guns and just under 30,000 were injured. These numbers are pretty consistent dating back to 2014.
Companies like Walmart and Dick's Sporting Goods have had histories of selling guns in their stores. Although companies like Dick's are eliminating their gun and hunting sections, the ease of access across our country to getting a firearm is still severely lenient.
A lot of celebrities think enough is enough when it comes to guns, championing legislation that would outlaw guns entirely, create stricter procedures for procuring a gun, and trying to start conversations on the topic in whatever ways they can.
These are 19 celebrities you may not have known were leading that charge.
12. Julianne Moore
Julianne Moore Makes Plea To Mitch McConnell On Gun Control. ⁦@Everytown⁩ ⁦@MomsDemand⁩ https://t.co/T3vnGHZvjF

— Julianne Moore (@Julianne Moore) 1565304265.0
I am sick to my stomach over what has happened in El Paso today. I can't believe this is happening in my country an… https://t.co/88dLk6w14F

— Lili Reinhart (@Lili Reinhart) 1564875696.0
To join the military you need proper training and follow rules right ?They do evaluation check to get in right ?If… https://t.co/ZcmefZCaia

— iamcardib (@iamcardib) 1578988796.0
Spoke to my brother @carmeloanthony & we're standing w/ students from MSD. We both come from communities where gun… https://t.co/EMlGfjIWB6

— DWade (@DWade) 1520718699.0
What the hell??? School is supposed to be a safe place for children....we need gun control, NOW. https://t.co/NWKnuLh5rQ

— Zendaya (@Zendaya) 1491859525.0
Cameron good talking to you last night. All of your bravery is amazing. I stand with you guys. #march24… https://t.co/FnSUpgJFgx

— Justin Bieber (@Justin Bieber) 1518972193.0
Dallas, Live On Tour. https://t.co/wWA7vSpqhI

— Harry Styles. (@Harry Styles.) 1528318804.0
Enough is enough! Email your Senator before tmrw's vote & tell them to close background check loopholes https://t.co/MyAoTcCDUf #DisarmHate

— Britney Spears (@Britney Spears) 1466383167.0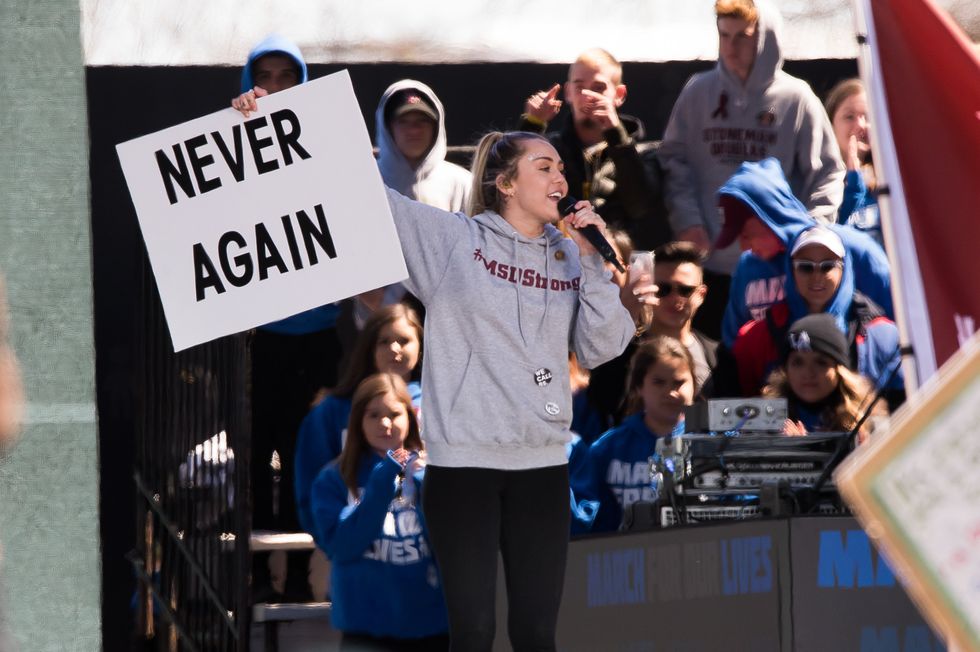 Julianne Moore Makes Plea To Mitch McConnell On Gun Control. ⁦@Everytown⁩ ⁦@MomsDemand⁩ https://t.co/T3vnGHZvjF

— Julianne Moore (@Julianne Moore) 1565304265.0
Oh say, can't you see?! https://t.co/SFAgo4MkgS

— Jim Carrey (@Jim Carrey) 1519595082.0
Gun Control is a serious issue in the US. What do we need to do to prevent senseless killing? Ridiculous.

— ADAM LAMBERT (@ADAM LAMBERT) 1402425873.0
We owe it to our children and our teachers to keep them safe while at school. Prayers won't do this: action will. C… https://t.co/0KGNfJSour

— Kim Kardashian West (@Kim Kardashian West) 1518654125.0
Prayers without accordant action are silent lies told to oneself, heard by no God, amounting to nothing. Action is… https://t.co/6nscffCxJ4

— Mark Ruffalo (@Mark Ruffalo) 1518648675.0
No words, no actions, no laws are enough until we end this epidemic of school shootings in our country. My heart is… https://t.co/tjXGNhDN4e

— Ellen DeGeneres (@Ellen DeGeneres) 1518647056.0