"KRYSTEN RITTER is well known for her starring roles in the award winning Netflix original series, Marvel's Jessica Jones, and cult favorite, Don't Trust the B---- in Apartment 23, as well as her pivotal role on AMC's Breaking Bad. Krysten's work on film includes Big Eyes, Listen Up Philip, Life Happens, Confessions of a Shopaholic and She's Out of My League. She is the founder of Silent Machine, a production company which aims to highlight complex female protagonists. Ritter and her dog Mikey split their time between New York and Los Angeles."( An excerpt from Ritter's Goodreads Author Bio). But what I DIDN'T know was that Krysten Ritter is a fantastic writer.In her debut novel Bonfire she shows off her immense talents, and storytelling skills.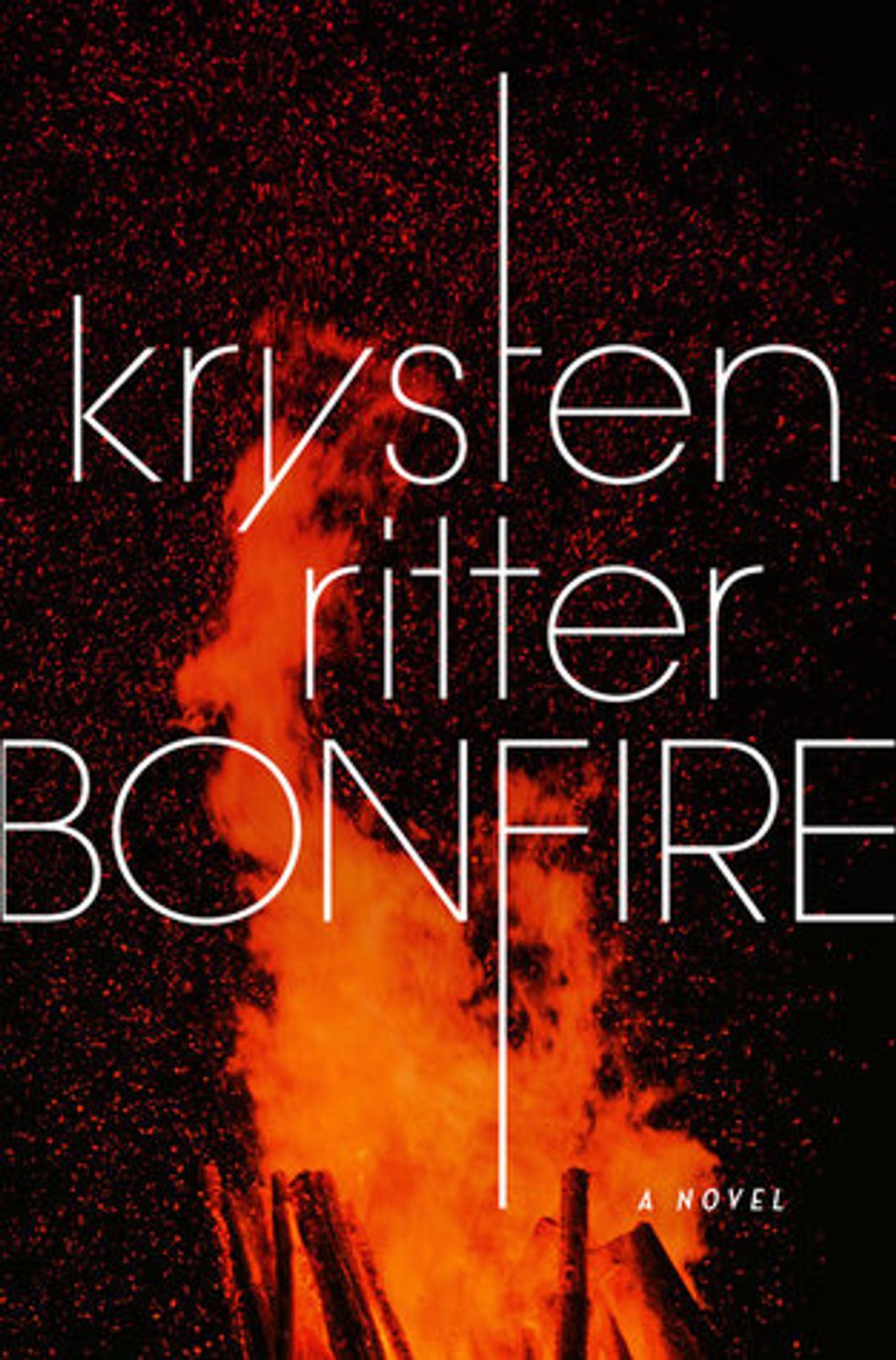 I started reading Bonfire envisioning Jessica Jones as the protagonist. I don't know why per say, but Krysten Ritter is Jessica Jones to me and it was very hard to separate this well known actress from the spunky female main character. Our main character Abby is an environmental lawyer, and a fire cracker of her own nature. She is just the perfect amount modest as she is spunk and sass. And though I started out picturing
Jessica, I soon was pulled into Ritter's pages and Abby herself became clearer to me as the reader.
Then about 20 pages in I found myself complaining about the choppy sentences, and the short chapters. The entire novel felt mediocre at this point, and I was disappointed. . . Until I read another 20 pages, and realized that the nature of the text and format itself was a stylistic choice of the author and an amazing one at that.
This novel left me literally on the edge of my seat the entire time. Ritter's characters were relatable, and personable. You wanted to know everybody, and even got to learn the stories of all of her characters. Even the bad ones who you would never be friends with in your own life. And there were a lot of them. But overall it gave that small town feel in every aspect. I knew every bodies names. And what their stories were just like you would in an average small American town.
And then I neared the end, and had less than 20 pages left… and I still had NO idea what was going to happen. How was this story going to end? This was what I loved the absolute most about this novel. Because with the thriller and suspense genre, I often find myself guessing and figuring out the ending before I get halfway through the book. But not this time. Ritter didn't give away the ending until it was happening and there were almost not even enough pages left to give me all the answers I needed.
She answered them though.
And she did it with grace, and style. It was not your average wrap up, but something greater.
I was a fan of Krysten Ritter before, but through this debut novel she has earned every bit of success, and has proved her immense talents once again.
If you want to check out this novel its available for preorder on Amazon, Barnes & Nobel and other book retailers worldwide. Bonfire will be released in November of 2017 by Crown Archetype Publishing.