There are gazillions of reasons why the Oldies will always remain No. 1. And though there are plenty of modern day songs I love, none of them compare to the vintage taste of the 20th century. Of course, this is coming from a person who has a personal disdain for rap, but no worries, friend. This isn't a hate speech against the trendier and modern genres.
Anywho, here are the reasons why I believe know that the Oldies take the throne.
1. They are classics.
You Baby Boomers have a pretty great ear for tune. No one can beat Elvis Presley, the Animals, the Turtles, Tom Jones and the hundreds of talented singers that provided our world with good music. Listen to one of my personal favorites, the Ozark Mountain Daredevil's "Jackie Blue," and you'll see why it's a classic.

2. You can actually understand the singers.
One hundred percent death metal right here. Maybe I'm just old fashioned, but I like to hear what I'm listening to rather than just the instruments and screaming. This is one of my brother's favorite types of music, and I like to give him a hard time and tell him that the vocals sound like they're coming from dragons.
3. The melody is out of this world.
Believe me, listen to "Evil Woman" by E.L.O. or Elton John's "Bennie and the Jets" and you'll probably ditch rap.
4. The concerts have such a respectable atmosphere.
My friend and I recently saw Paul McCartney on his One on One Tour, and let me tell you, it was way different than a One Direction concert that same friend and I attended two years ago. McCartney's audience was definitely not as annoying, and even had the classic, lighter sway during songs like "The Fool On The Hill." The Directioners screamed--and I mean screamed--every time a One Direction perfume commercial appeared on the venue's projection screens. I'd pick an oldies concert over a boy band concert any day.
5. If you're younger, you grew up listening to this genre via parental units.
Yep, good ol' Mom and Dad got you hooked on the Bee Gees before you could even tie your shoe. My mom's music was the first thing I listened to growing up, and was the first thing on my iPod when I turned 14. I'm 20 now, and you'll still find dozens of classics on my phone.
6. The original fangirls are rooted to the oldies.
Way before the Backstreet Boys or One Direction, we had Beatlemania stealing the hearts of the youth.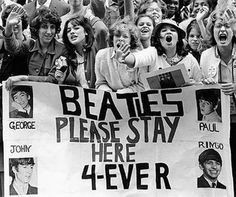 7. The lyrics aren't vulgar and condescending.
To all modern-day artists: Women aren't b-words, and you don't need an f-bomb between each word. My goodness, your mothers ought to wash your mouths out with soap.
8. The oldies provide perfect songs for any life-altering event.
Weddings, funerals, graduations, any social or private event, you name it. They all sync perfectly with beautiful songs of the 1900s. I'd love to have Three Dog Night's "Old Fashioned Love Song" play at my wedding someday, and I'll come back and haunt my funeral planners if the Beatles' "Free As A Bird" doesn't play at some point.
9. A majority of the younger artists have all been inspired by oldies bands.
I'm not a Justin Bieber fan, but even this artist has cited Michael Jackson, Stevie Wonder and the Beatles as inspiration.
10. Why smoke to be cool? All you have to do is listen to the oldies!
I'm not even kidding here. Many teenagers post lyrics or song titles and instantly have interaction with that post. Let's be real. If the oldies genre was a drug, everyone would be hooked. I know I am!