Recently I went on a trip to a girl's favorite place: Target. I wanted to look for a new one piece swimsuit but also a dress for graduation. Well I found a cute dress and picked up some bathing suits to try on. When I tried everything on, I was getting annoyed with the sizing variations.
Typically, I wear a small in clothes. I have literally been the same weight for 8 years now so you cannot tell me I've changed in size. Well I tried on the dress in a small and it was actually too big! I tried on an extra small and it fit perfect. No big deal, it was just a minor sizing difference. Then when I tried on the bathing suits, things got interesting. The small was wayyyy to small. The medium fit my body except the bust was still way too small. The large then fit better in the bust, but was baggy around the rest of my body. Can you see the frustration?
Now of days women constantly have to try on clothes in all types of stores because sizing is never consistent. I know there are a lot of body types, but these variations are so extreme anymore. Like how can I go from wearing an extra small dress to a large bathing suit? That is way too big of a difference. Even kids clothes are probably the same way. Some of the outfits I see in the kids section look like they are large enough that I can fit in them! I received a pair of YOUTH LARGE pajama pants for Christmas and they fit me perfectly!
Just look at this tweet I saw the other day. It is one of the most relatable tweets and I saw so many women liking and retweeting it!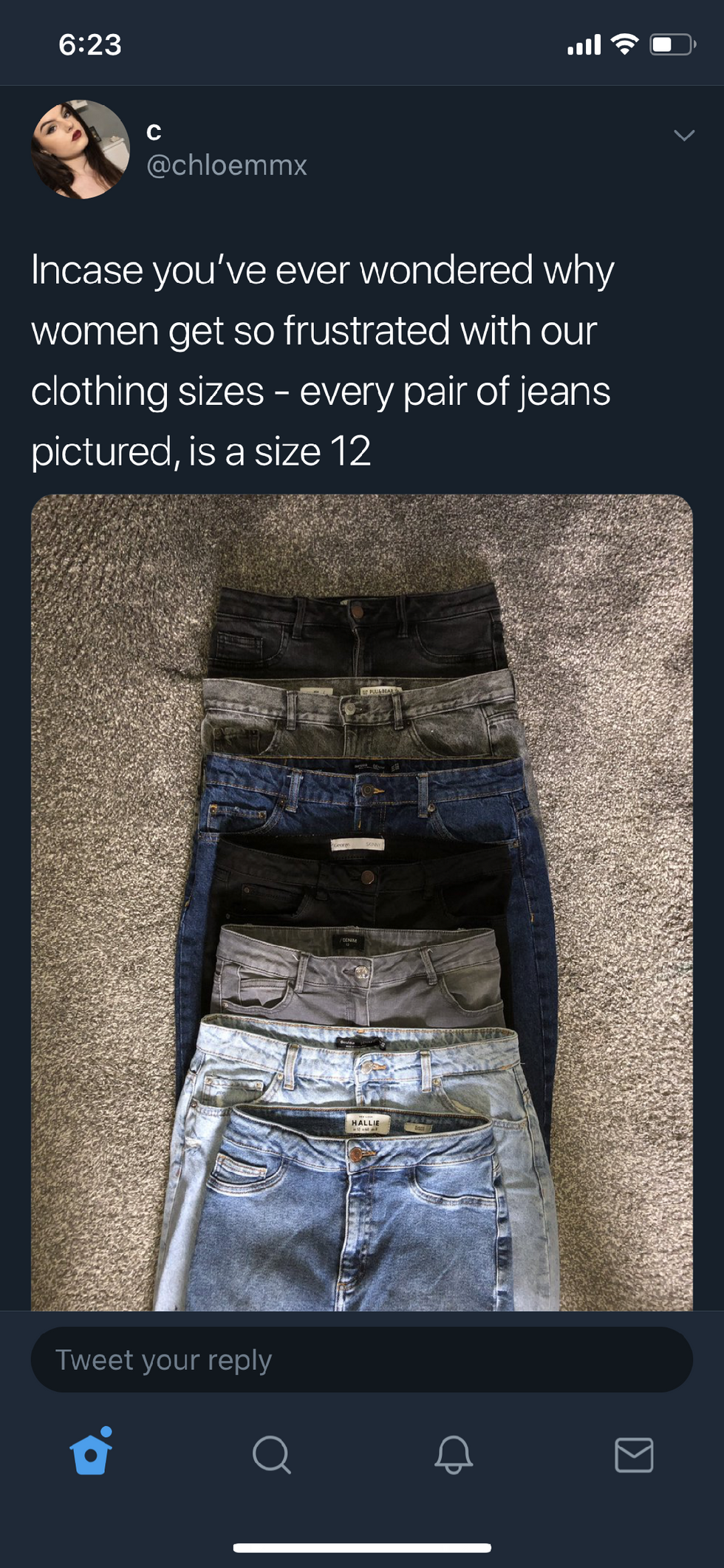 https://twitter.com/chloemmx/status/1104013214013116417
It has really become an epidemic in the fashion industry that clothing sizes just aren't standardized anymore. I understand making clothes for plus size or jeans in a short style, but the basic dimensions should stay the change. These vast variations in sizing is probably what leads to low self confidence in some women. If they go from a size 5 to a 10 in a year they might think very poorly of themselves, when in reality they didn't change one bit and here it was the manufacturer of the clothing changing the sizing.
This ridiculous variation in women's clothing really needs to stop. We need influence manufacturers to stop changing their sizing.