Qualifications, Criteria, and Sources
To be clear I am an Adam Sandler superfan -- an Adam Stanler, if you will. I am also a pure comedy movie junkie. Over the next few months, I want to rank all the great comedy leads and their career's work. There is no better option to start with other than Sandler because he has peaks as high as any movie star of the 90s and 2000s, and has had his share of lows (his career valleys are more like trenches).
One of the few staples in our culture for the past quarter century is the ironically self-proclaimed Sandman. He has enough acting credits to make Nic Cage blush and owns real estate in the mind of every American comedy fan. Adam Sandler joined the ranks of Eddie Murphy in terms of most famous and successful SNL alumni.
Sandler is a massively popular stand-up, a best-selling musician, a sketch comedy phenom, and a bonafide movie star in the mid-90s. Way before that kind of cross-pollination became as commonplace as it is in the social media society of today. I often feel he doesn't get the respect he deserves; so this list proving he has 15, um, watchable, movies is a step in the right direction of defending his honor. For my criteria of 'best', I decided to include things like critical reception, domestic box office receipts (adjusted for inflation), cultural relevance, and -- most importantly -- how funny the movie is.
Admittedly I have a pro-Sandler bias but I believe I can be objective about this, because I'm doing this so you don't have to. Just because there are 15 movies in this list doesn't mean Adam has 15 good movies. The average film connoisseur may think every Sandler movie is pure garbage, and I'm not gonna argue against that mind set, but if that sounds like you then I'm sure you're familiar with the 'New Tab' function on your browser. Let's get to the list. There will be moderate to severe spoilers.
The Sandlerst
1. "Happy Gilmore" (1996) Metacritic Score: 31/100. Box Office: $79,141,400
Dir. Dennis Dugan. Written by Adam Sandler & Tim Herlihy
Often referenced but never replicated. I can understand hating "Jack and Jill" or "The Ridiculous 6" but I will not tolerate slander of this film in my presence. This is perhaps on the Mount Rushmore of sports comedies and is a top 50 comedy movie of all-time.
Featuring an iconic performance from Christopher McDonald as the one-and-only Shooter McGavin. Carl Weathers turns in one of his most memorable characters as Chubbs. And Richard Kiel played a guy with a nail in his head (interestingly enough, Richard Kiel was in the original "Longest Yard"). This movie has everything, including the most indelible celeb-cameo in any Sandler movie ever.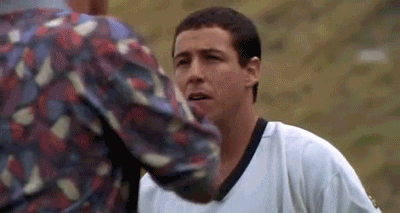 Bobby B. didn't want a piece, he wanted the whole thing. I won't ever understand how this movie was so underwhelming at the box office ($38.8M without adjusting for inflation). What were people in 1996 that they couldn't spend a few bucks to see this? Conversely, I'll never blame a critic for not understanding comedy; it happens all the time. Taking number one on my list is a sports comedy masterpiece and the crown jewel of the Sandler filmography. If you only ever watch one of this man's movies, it should be this one. It always leaves me Happy.
Bonus points for tying Dazed and Confused in being the best uses of "Tuesday's Gone" in cinema.
2. "Punch-Drunk Love" (2002) Metacritic Score: 78/100. Box Office: $27,672,300
Directed & Written by Paul Thomas Anderson
Not the usual surrounding cast for Sandler (though Luis Guzman is in the cast and has been known to drop in a Sandler-verse movie before). Phillip Seymour Hoffman is uncanny as per usual. The film has some gorgeous imagery (thanks in part to DP Roger Elswit) and a feels every pit like a PTA movie and nothing like a Sandler flick. It amazes me this didn't get more awards love in any respect; the lone Golden Globe nomination for Sandler as the leading man in this movie is also Sandler's only major nomination ever. Legendary movie critic Roger Ebert said this about "Punch-Drunk Love" leading man, "Sandler, liberated from the constraints of formula, shows unexpected depths as an actor.
3. "Funny People" (2009) Metacritic Score: 60/100. Box Office: $62,629,200
Directed and Written by Judd Apatow
If this movie was 30 minutes shorter it would be considered a masterpiece. Sandler is essentially playing a fictionalized version of himself -- one with darker tendencies and poignant vices. The film plays more like a novel I'd argue, sometimes the story wanders. The tender relationship of Seth Rogen (who is cast at the right time in his popularity) and Adam Sandler is palpable at times. Rogen, Jonah Hill, and Jason Schwartzmen as roommates valiantly attempt to make the 146 minute run time worthwhile. And seeing Sandler introspectively deconstructing his career through his career is like crack for a comedy nerd.
Bonus points for this movie including real home footage of Sandler making prank calls as Apatow's roommate when they were up-and-comers.
4. "The Waterboy" (1998) Metacritic: 41/100. Box Office: $308,237,800
Dir. Frank Coraci Written by Tim Herlihy & Adam Sandler
This is one of the harder films to write about because it's just so undeniably successful by every metric. One of Sandler's most quotable and culturally resonant films. It's the highest grossing film of his (with adjusting). Kathy Bates and Henry Winkler are flat out amazing. This was the other film from 98, for those keeping track.
Bonus points
for the first time Schneider says "u can do eet," which is also arguably the cultural peak of his career. Psst, this is also streaming on Netflix right now.
5. "Billy Madison" (1995) Metacritic 16/100. Box Office: $53,001,000
Dir. Tamra Davis Written by Tim Herlihy & Adam Sandler
In his last year at SNL Adam Sandler announced his self to the comedy world with ... an under performing and critically panned movie. I'm not sure what everyone in 1995 was doing but it sure as hell wasn't seeing this movie. But for the cool few who did -- they were in the know. This guy was up next. Bradley Whitford is stellar as the villain in this movie and Chris Farley comes in with an ALL-TIME 'supporting' performance. He's not in the movie much but his performance is one of the reasons for the Farley Song.
6. "Click" (2006) Metacritic Score: 45/100. Box Office: $188,942,600
Dir. Frank Coraci Written by Steve Koren & Mark O'Keefe
In a way, this movie feels like Sandler's most sincere. A dad misses his kids' lives from work and is too stupid to realize what time he wasted. It's not long after this movie that he shifts to kids films because that's what he wanted to show his children. I believe Click's textual premise was something Sandler could relate to in real life.
Bonus points for Christopher Walken offering up another classic performance to the cinema gods. We should be forever grateful.
7. "The Wedding Singer" (1998) Metacritic Score: 59/100. Box Office: $154,160,800
Dir. Frank Coraci Written by Tim Herlihy
1998 is a massive year for the Sandman. Two huge successes at the box office and he stars in his first film with Drew Berrymore. This movie, at times, expertly pairs Adam Sandler's knack for music and comedy and creates magic. This is definitely the most underappreciated movie (in a cultural sense) on this list.
8. "Big Daddy" (1999) Metacritic Score: 41/100. Box Office: $289,951,400
Dir. Dennis Dugan. Written by Steve Franks, Tim Herlihy & Adam Sandler
The film ventures into the heartfelt territory. Schneider shines as the Chinese delivery guy and Steve Buscemi goes for broke in his first stunt as the homeless guy (later he reprises the role in Mr. Deeds). Also features a young Dylan and Cole Sprouse who were destined to be moderately popular. Bonus points for every time I tried to lower a lugi to the ground a suck it back up because of this movie.
9. "50 First Dates" (2004) Metacritic Score: 48/100. Box Office: $175,423,800
Dir. Peter Segal. Written by George Wing

Some consider this the crown jewel of the SandMore trilogy (I've been using this name for years but I doubt I'm the first to use the phrase) -- god knows it's not "Blended" -- others deservedly see this as a strong outing by two leads with chemistry. Putting aside the oversimplification of head trauma and short term memory loss (few things from early 2000s comedies has aged well) it's tender RomCom with some seriously funny sequences and unique ideas.
Blake Clark turns in his most dynamic performance in all of the Sandler-verse flicks he's been in as Marlin Whitmore, the father of Drew Berrymore's character, Lucy. Sean Austin and Rob Schneider steal the scene every chance they get as Doug, Lucy's steroid using brother, and Ula, Sandler's chungus of a best friend.
10. "The Longest Yard" (2005) Metacritic Score: 48/100. Box Office: $222,255,300
Dir. Peter Segal. Original Written by Al Ruddy and Tracy Keenan Wynn, Sheldon Turner penned this remake.
A solid addition to the canon of sports comedies and an underrated case of a remake that can hold its head up high when comparing it to the original. This movie produces some iconic moments from Chris Rock as Caretaker. Brucie, Big Tony, Cheeseburger Eddy, all makeup for what they lack in name subtlety by being unforgettably funny. Most of D12 can be seen heckling Sandler in one of the basketball scenes, which is a fun easter egg for Detroit hip-hop fans. Nelly and Goldberg were all-time good career moves at the time. Bonus points for Nelly's "Here Comes the Boom."
11. "The Meyerowitz Stories (New and Selected)" Metacritic Score: 79/100. Box Office: N/A
Directed & Written by Noah Baumbach
The star-studded cast, (Ben Stiller, Emma Thompson, and Dustin Hoffman) an indie icon behind the camera, and a massive platform. Ultimately the result is a solid exercise in film making by Baumbach and largely an attempt to legitimize Netflix Original Films. By far this is the best of the films in Sandler's Netflix deal (though you should give The Week Of a shot), but it's nothing new from anybody in this film. This is nobodies best work -- it was Sandler's best work for about 7 years (and that was his voice as Dracula in the first Hotel Transylvania) unfortunately. This is also the most recent movie on the list -- let's hope it's a sign of good things to come. *Stares at Murder Mystery intensely*
12. "Anger Management"(2003) Metacritic Score: 52/100. Box Office: $202,681,400
Dir. Peter Segal Written by David Dorfman
This movie made MLB Superstar money. Jack Nicholson, Luis Guzman, and a surprising amount of athletes and famously angry people bolster the cast. Controversial figures like Bobby Knight and Rudy Giuliani (who was unashamedly available for movie/tv/radio/anything appearances as he basked in his newfound post-9/11 fame) make some cameos. Of Sandler's popular movies that feature his usual cast members, it feels the least Sandler-esque. Paul Thomas Anderson once said on the Bill Simmons Podcast that he always felt like something about Adam Sandler's anger was real.
13. "Reign Over Me" (2007) Metacritic Score: 61/100. Box Office: 25,749,200
Directed & Written by Mike Binder
Let's get this out of the way: the way the movie uses 9/11 as an emotional propellant for the story felt questionable-at-best upon the year of release, and I'll say it comes closer to earning that emotional crux then it did when I saw this as a kid. I imagine it could age well if people like me still care in a decade or so.
Instead, it intends to depict a life that was genuinely lived. A grief-stricken man who lost everything to tragedy finds solace in someone who represents a better time in life. This is probably the least popular movie in every definition of the word. Don Cheadle clocks in with a grounded, complex performance, and unfortunately the Jada Pinkett Smith role is underwritten. Bonus points for Shadow of the Colossus being played.
14. "Eight Crazy Nights" (2002) Metacritic Score: 23/100. Box Office: $36,559,100
Dir. Seth Kearsley Written by Brooks Arthur, Allen Covert, Brad Isaacs, & Adam Sandler.

Sandler deftly manages to shoehorn the usual Sandlervers suspects -- meaning Rob Schneider, Allen Covert, Jon Lovitz, Peter Dante, etc. -- into the line up (kudos to Adam, honestly) in this film, even though it was new territory for him. This was Sandler's first foray into animation -- a very successful venture for him. However, spoiler alert, this is the only animated film on the list.
"Eight" can be a profoundly funny work of art if you're willing to have the sense of humor a 12-year-old man child for 90 minutes, which I often am. Whitey Duvall is a gift to this earth and it's a shame we haven't gotten more of him since. Sandler showcases his gifted vocal talent by singing and voicing over five characters in the film. Bonus points for the last song always making me cry (I cry a lot) and for "Davey's Song" being oddly haunting, "I hate love, I hate you ... I hate me."
15. "You Don't Mess with the Zohan" (2008) Metacritic Score: 54/100. Box Office: $125,511,100
Dir. Dennis Dugan. Written by Adam Sandler, Robert Smigel, & Judd Apatow

A movie that was simultaneously two years too early and two years too late. It's odd because this movie is really funny. The hacky sack B story is only one-upped in absurdity by the hair salon storyline that binds the movie together. And yet, the homogenization of cultures the film portrays would potentially keep this movie from being greenlit by studios today. The star-spangled power of Sandler and Apatow at the time could've gotten anything made in 08.
There's a lot that's problematic with this project along with the fact that it was filmed digitally and that was an ambitious move for the time period given how many dark scenes were going to be shot in the movie … it hasn't aged well. Bonus points for the hilariously aware-of-how-unaware-she-is bit part by Mariah Carey.
Honorable Mentions
"Adam Sandler: 100% Fresh" Metacritic Score: (ironically) N/A. Box Office: N/A
Chris Farley Song - SNL - A song from Adam Sandler's special "Adam Sandler: 100% Fresh" on Netflix.www.youtube.com
Dir. Steven Brill (and segment director Nicholaus Goosen). Written by Adam Sandler

IMDB has this listed as a TV Special. I could argue a stand up special is a movie and that historically some stand up specials have been released in theaters (Kevin Hart most notably did this recently). But in the interest of time and following the arbitrary guidelines I made for some reason, we shall omit this. I will say, it's easily taking a top 3 spot if it was eligible, but rules are rules. Make no mistake: this is the best thing Sandler has on Netflix. Bonus points because the Chris Farley song makes me cry EVERY -- SINGLE -- TIME.
"Little Nicky" (2000) Metacritic Score: 38. Box Office: $65,910,800
"Crazy Eyes" Little Nicky (2000). New Line Cinemawww.youtube.com
Dir. Steven Brill Written by Steven Brill, Tim Herlihy & Adam Sandler
Patricia Arquette and Harvey Keitel are two candidates for the what the hell are we doing in the movie hall of fame. For all this movies' flaws it does feature John Witherspoon's crazy eyes moments -- it's hysterical.
I ask someone "if they're getting all crazy eyed on me" three times a week.
Follow Alejandro on Twitter and Instagram @AtSignAlejandro or @WhyNautsComedy for more content.