Facebook wants to put eyes on your content, but only if it helps them, too.
Their goal is to create a platform that users love to use. More specifically, they want to keep their users on their platform for as long as possible –– because that's how Facebook makes money.
So, if your post that features your article is keeping your friends and followers on Facebook for longer than the average post, then the engine that makes Facebook run will make sure more and more people see it on their News Feeds.
Still confused? Let's break it down into seven simple ways you can crack Facebook's code.
1. Give readers more than just a link when you share your content.
It's SO exciting to see that your article just went live on Odyssey. All you want to do is copy and paste your link into your status and crush that "Post" button as fast as you can... But don't rush it.
Taking the time to package your post properly will make all the difference in the world.
The engine that runs your News Feed wants to keep your friends on Facebook for as long as it can, so giving them a post with nothing but a link to your article makes the engine unhappy.
But, if you tag relevant pages, potential readers, use hashtags, and get conversations started in the comments, the engine is happier than college students are about curved grades. Why? Because your friends have more options than just a link to click on.
They can check out the things you tagged, which keeps them on Facebook for just a little bit longer. Those precious seconds that your friends are staying on Facebook because of your post mean the world to your content's potential reach.
Here's an example post.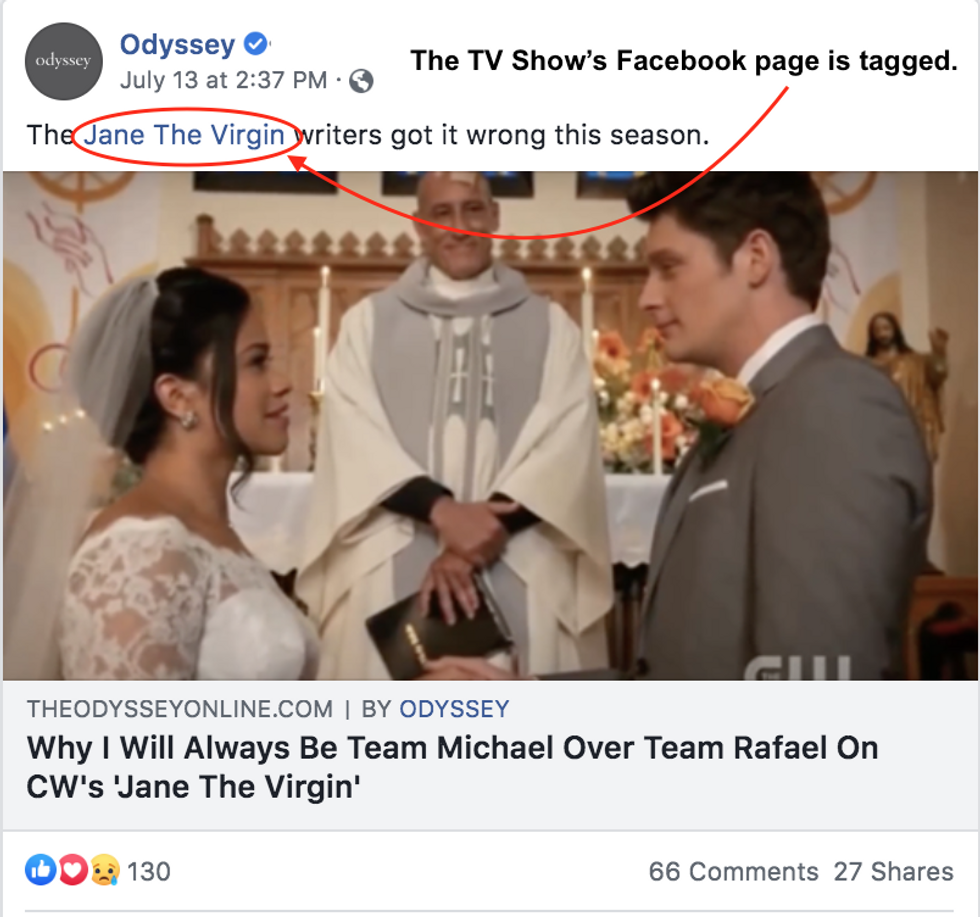 2. Avoid shameless self-promotion like the plague.
"Please like and share!"
"Check out my newest article."
These words, or any version of these words, are dirty words in Facebook's eyes and should never be included with your content. Period. Not only does it look pretty desperate to your friends, Facebook can actually detect how boring your post must be if you're begging people share it.
And Facebook hates that. Like, a lot. So much, in fact, that almost no one will see your post on their News Feed if it sees any nonsense like that in your post.
So don't ask people to read, like, comment on, or share your post. Instead, look for relevant accounts, pages, or friends to tag in the message you write above your link. Ask a question and get those comments rolling. Use a trending hashtag.
Anything, anything at all, will be better than begging your network to engage with your post.
3. Set your post to "Public."
If you already forgot everything you just read, remember this one. Setting your post to "Public" rather than "Friends Only" multiplies your potential network of readers by hundreds, even thousands of people.
This is perhaps the easiest and most impactful thing you can do with your content on Facebook. For most of you, your default setting for sharing on Facebook is set to "Friends Only," which means that the only way for one of these posts to spread beyond your immediate network of friends is for one of your friends to click the share button.
But, if you set it to "Public," then you can tap into the networks of anyone who reacts to or leaves a comment on your post. On their friends' News Feeds, it will say "Dillon commented on a post from so-and-so" and right there will be a link to your article.
Here's another example.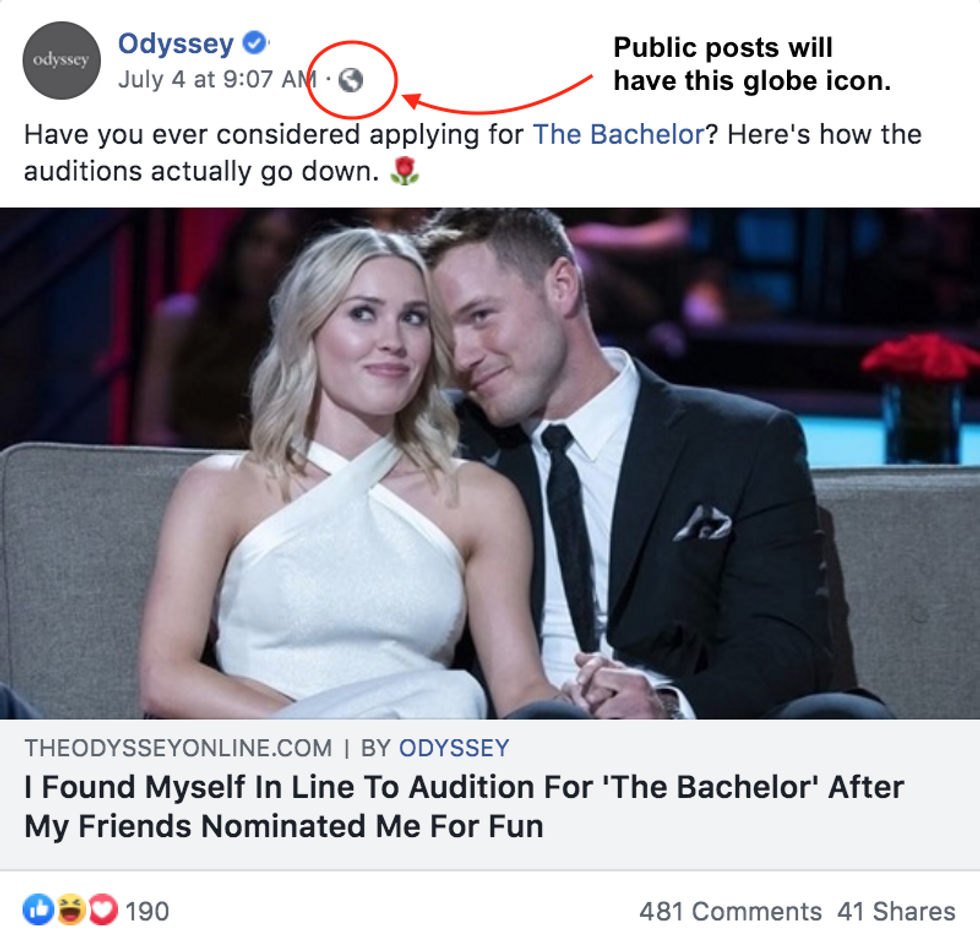 Now, think about that at a larger scale –– with all the friends you have, all the friends they have, and so on. That sure is a buttload of people if you ask me.
4. Make sure your timeline is on point.
If all you share are links to your Odyssey articles, then your timeline is definitely not on point.
Facebook will punish users who only post content from one site or platform. Think about it: if all you share are links to content that sends people to theodysseyonline.com, then it's pretty clear that you only use Facebook to steal its users and send them somewhere else.
Facebook doesn't jive with that.
It wants you to be a diverse and interesting person on its platform. So, you should sprinkle some posts from other publishers and platforms that you enjoy consuming content from. This will allow the engine that runs Facebook to ease up on suppressing the content you really want to reach a wider audience with.
5. Become a regular user of Facebook and its features.
It's not enough to have a fire timeline, filled with great content from all kinds of publishers and platforms. Facebook has tons of bells and whistles for you to use and it loves when you use them regularly in a genuine way.
It might seem forced at first, but uploading photos, videos, joining groups, liking pages, planning parties with Facebook Events, checking into locations, etc. can actually be fun if you tailor it to your interests. Facebook wants you to have fun its platform and will reward you for doing so.
6. Share more than once, but not too much.
Michael Jordan missed far more shots than he made, but he made the game-winners because he kept on shooting.
You shouldn't post your content over and over again because Facebook will punish you spamming your friends. But relying on just one post for your content to reach its target audience isn't going to tip the odds in your favor.
You should space your posts out with a few days in between, being sure to repackage your message above the preview link in a different way each time. Try a different hashtag. Tag a different page. Ask a different question.

"But, I don't want to post often because I don't want to bug my friends."
That's a myth and doesn't really make sense when you think about it. Have you ever seen something on your News Feed and thought, "Wow seeing this post that has nothing to do with me just ruined my whole day."
No? Me either. We just keep scrolling.
Facebook is smart enough to know who normally engages with your posts and who doesn't, so even if you post your content six times in the same week, the people that you're afraid of bothering won't see it anyway.
7. Share your content in Facebook groups.
Facebook loves it when you share content in groups, and will actually give those posts a hand in their News Feed ranking system. What does that mean?
Well, let's say you have 500 friends on Facebook and you share a piece of content on your timeline. Because the only thing connecting you to those 500 people are your online "friendships," Facebook doesn't assume that all 500 people are interested in that post. There isn't anything specific that you share with all 500 people on your list of friends.
But if you wrote an article about your favorite TV show and you post that article in a group filled with 500 fans of that TV show, Facebook can assume that most, if not all, of those 500 people care about whatever it is you posted in there. Because of this, Facebook will put that post higher up on all of their News Feeds.