Yesterday, CNN reported on claims that Russia made efforts to compromise President-elect Donald Trump. BuzzFeed published the 35-page dossier that alleges Russian operatives compromised financial and personal information about Trump. Both publications have been called out by the Trump campaign as being fake news.

CNN's Anderson Cooper interviewed Kellyanne Conway today and she insisted that " [CNN] linked to the BuzzFeed article." Cooper stated that his news organization never links to the dossier because the material is unverified.
Here are all links in CNN's article accompanied with screenshots to prove that BuzzFeed was never linked to anywhere in CNN's publication.
1) "Prompted then-Senate Democratic Leader Harry Reid..."




Links:
"Reviewing newly discovered emails that might be linked to Clinton's private server."
"Clinton's FBI investigation: What you need to know"
2) "Since been published by Buzzfeed"

Conway tweeted that CNN linked to BuzzFeed but evidently didn't click the link because you're not directed to the memos.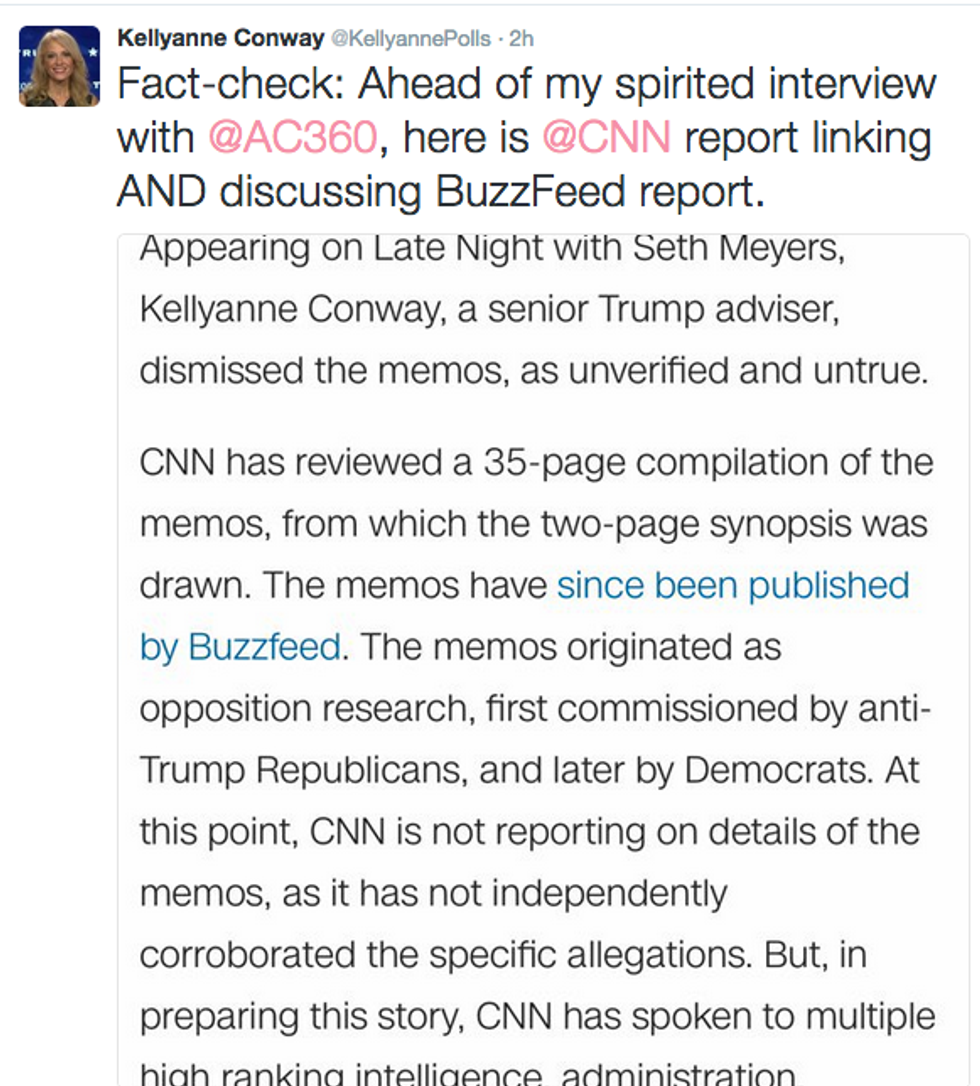 CNN directs you to an article that was published by their own Dylan Byers.




Links:

3) "Russia denies having "Krompromat" on Donald Trump"



Links:
"At a senate hearing on Tuesday"


4) "Were first reported publicly in Mother Jones"

David Corn
touches on what the allegations are but never links to the BuzzFeed. Articles published by CNN don't even link to BuzzFeed.
Journalists should publish credible stories. But when credible journalists are being called out for fake journalism, we should be scared. Intensive research for credability should always be conducted before allegations are made and that is why CNN and Esther-Irene Egan do not link to the BuzzFeed publication.