When she was still pregnant with me, my mom got me a little stuffed alpaca that she thought was cute. When I was born, I basically fell in love with it. Ever since then, alpacas have been my favorite animal. Over the years, family members would continuously get me little stuffed alpacas until I had a collection of them growing.
During my junior year of high school, my mom took my love of alpacas to a whole new level. My birthday is in October and all I could think of was getting a new car so that I could finally drive myself to school, as all my friends did. My mom tortured me for weeks giving me hints that sounded like I was getting a car.
On the morning of my birthday, my mom gave me my present. A box that was way too big for just a set of car keys. I shook it, but no sound came from it, either.
Confused, I opened the box to find another stuffed alpaca made with real alpaca fleece. Lying underneath the stuffed animal was a piece of paper: a print-out of a website page that was for adopting alpacas. I gave my mom a look that basically said, "What is this?"
With a huge grin on her face, she said I was adopting my own alpaca for my birthday.
The day came where we went to go to the alpaca ranch for the first time. I was pretty excited just to play with alpacas, let alone adopt one. When we got there, we met the people who owned the place and she showed us into the alpaca pens.
As soon as I saw his shy little face, I knew he was my alpaca.
I pointed over at him as he hid behind what I assumed was his mother, and the owner told me they called him Wallace. He was about two months old and had the biggest eyes I had ever seen. He was so damn cute. I tried to keep an open mind while we looked at the other alpacas just in case I liked one of them better. By the time I'd seen all of them, I just knew I wanted little Wallace.
The lady helped harness him so I could get some one-on-one bonding with him. It felt like I was walking a dog. He was so shy and very afraid of me at first, but by the end of my trip, he warmed up to me a bit and got used to my presence. His mother, however, she didn't like anyone, and she definitely didn't like me playing with her baby.

The ranch was a two to three-hour drive from my house, so we would go every two weeks or so. Eventually, I got the hang of harnessing Wallace by myself, which isn't easy. We would do little agility training exercises and I would take him on walks around the ranch.
He was very sweet-natured, and while we walked, I would talk to him about whatever I felt like. As I talked to him, he would hum back at me and make little noises like he was responding or adding to the conversation.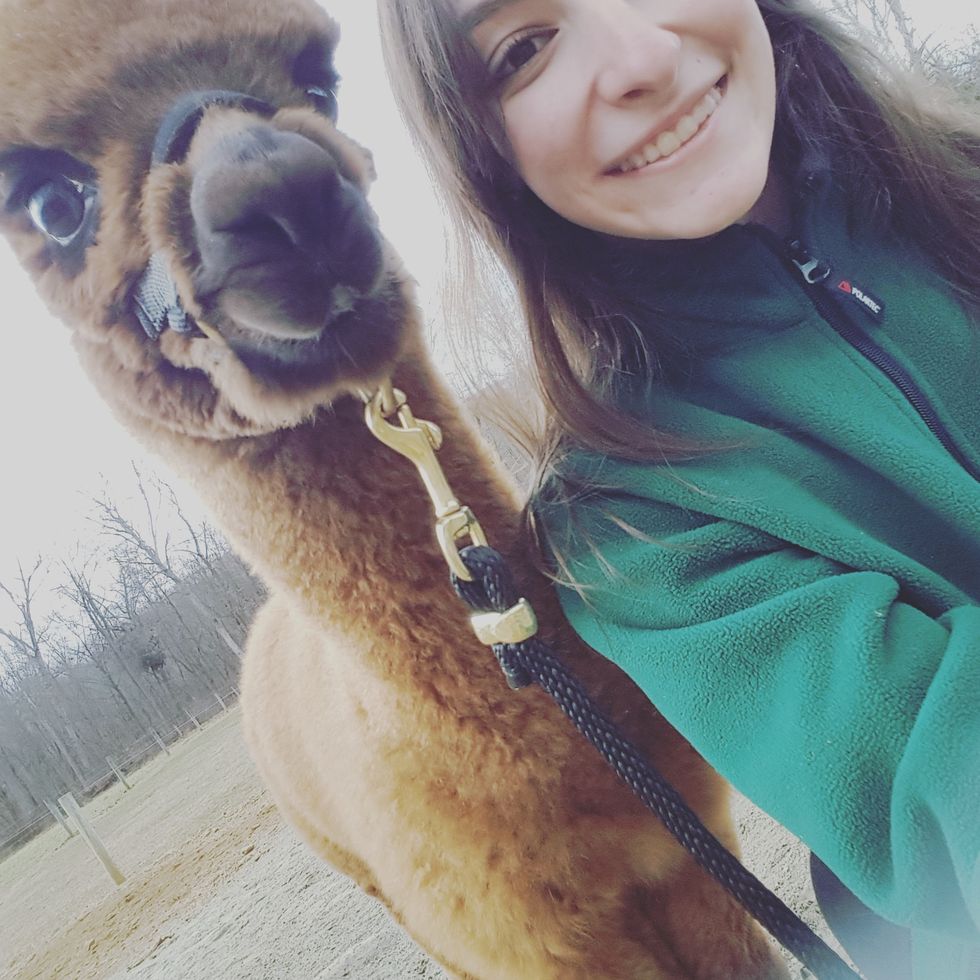 Visiting Wallace was always fun. Sometimes, I would be there when there were tours going on at the ranch. I would have Wallace in his harness and we'd be walking together, but the little kids running around would freak him out and he would hide behind my legs.
He loved my cell phone. For whatever reason, he was always so fascinated by my phone, and he loved to look at himself on the camera and take selfies. He was very photogenic, too; he knew how to smile for pictures.
Going to visit Wallace was always an all-day affair because of how far away he was. It started to get more difficult for me and my family to keep up with the visits. The adoption subscription only lasted for a year. I wanted to keep adopting him every year, but I knew I could really do that, considering that I was going to college soon.
My last visit with him, something seemed off. It was like he knew I wasn't going to be coming back for a while. When it was time to leave, I gave Wallace a hug and a kiss on his nose and told him I'd miss him.
I haven't seen Wallace in about a year and a half now. I think of him often and I have his picture sat framed on my window sill. I don't know when the next time I see him will be, but I definitely plan on visiting him sometime soon. I wonder if he'll remember me at all since it has been so long and I had him when he was a baby.
I also hope that he'll still be there when I eventually go back to the ranch. Alpacas have long life spans, so I'm not worried about that, but I'm worried the owners might sell him in my absence.
All I know was adopting an alpaca was a way better birthday gift than a car.