This summer, I landed a marketing communications internship in Carmel, IN, so I decided to make the city my home for three months. At my job, the marketing team was allowed to work remotely on Fridays. As a coffee shop frequenter, I knew exactly how I'd spend my days away from the office: exploring local cafes.
The first Friday of the summer, I did some research and saw that a brand new coffee shop called Java House Coffee Bar opened in a nearby outdoor shopping center, Carmel Clay Terrace. I visited and immediately fell in love. The next few weeks, I'd spend my Friday mornings working away while sipping on Java House's specialty lattes, a few of which I documented on Instagram.
One morning, I was scrolling through my Instagram feed and saw an ad from Java House announcing "Coffee Palooza," a week-long event they were sponsoring that encouraged participants to visit coffee shops in the Indianapolis area.
The $15 package included a reusable Java House cup that sports the hashtag "#drINklocal," a free nitro from Java House, and a coupon book with discounts for 20 different local coffee shops.
That's right. 20 coffee shops. That means, in order to hit all the cafes within the 7-day window, a given participant would have to visit 2-3 of them each day. Because that just wasn't feasible with me working 40 hours a week (and being in Chicago for 2 days because I went to actual Lollapalooza), I decided to prioritize going to the places I had never previously visited and give away my other coupons.
The cafes I was lucky enough to have already tried (and my friends were lucky enough to get free coupons for), were
-BRICS Ice Cream (Broad Ripple, IN)
-Commissary Barber and Barista (Downtown Indy)
-General American Donut Company (Downtown Indy)
-Georgia Street Grind (Downtown Indy)
-Monon Coffee Company (Broad Ripple, IN)
-Noble Coffee and Tea (Noblesville, IN)
-The Well Coffeehouse (Fishers, IN)
I spent the week visiting the remaining stops listed below, and learning to fall in love with each of them in their own little ways.
Stop 1: Java House Coffee Bar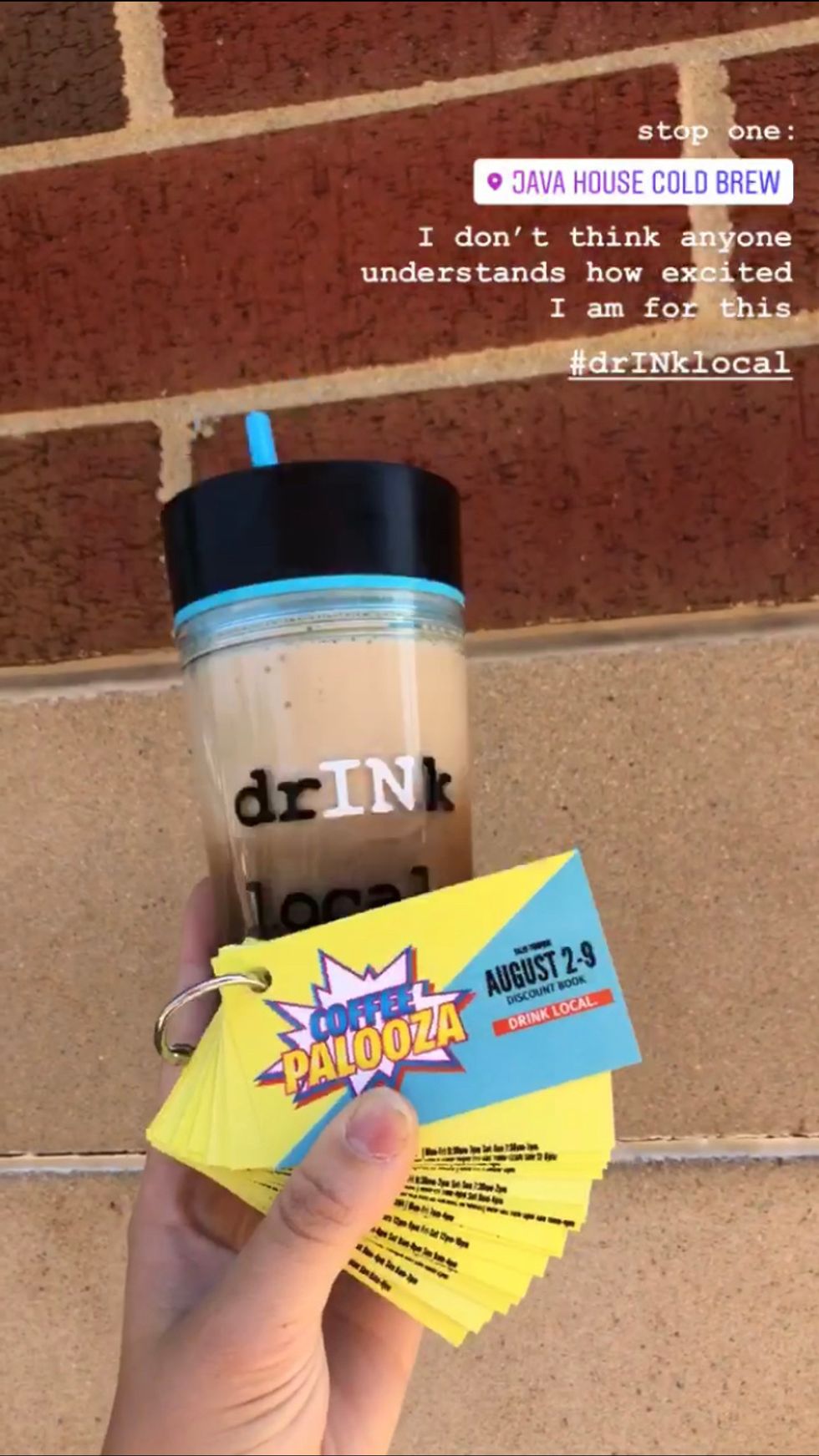 As the official sponsor of Coffee Palooza, I started out my journey by picking up my coupon book and free nitro at Java House Coffee Bar in Carmel. It was my first time not getting a specialty latte with all sorts of yummy syrups mixed in and candy pieces on top, and I was pleasantly surprised.
Stop 2: Perk Up Cafe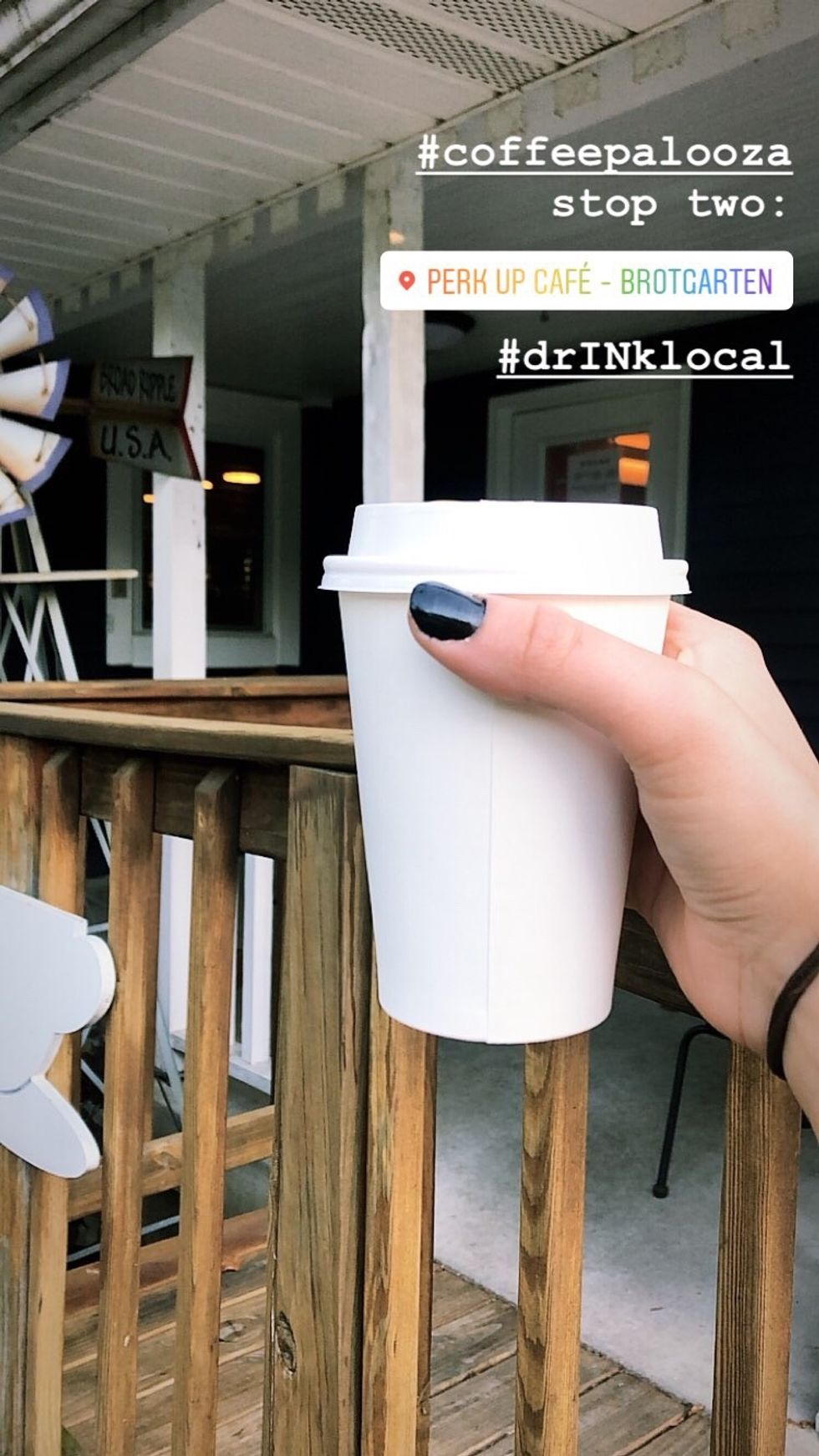 Though I live a short 15 minutes away from Broad Ripple, I spent two years as a Butler student without knowing about Perk Up. Here, the deal was a free cup of coffee with a sandwich purchase, so I ordered an egg sandwich from the menu that seems to have German roots. It was a tasty way to start my Saturday!
Stop 3: Della Leva Espresso Bar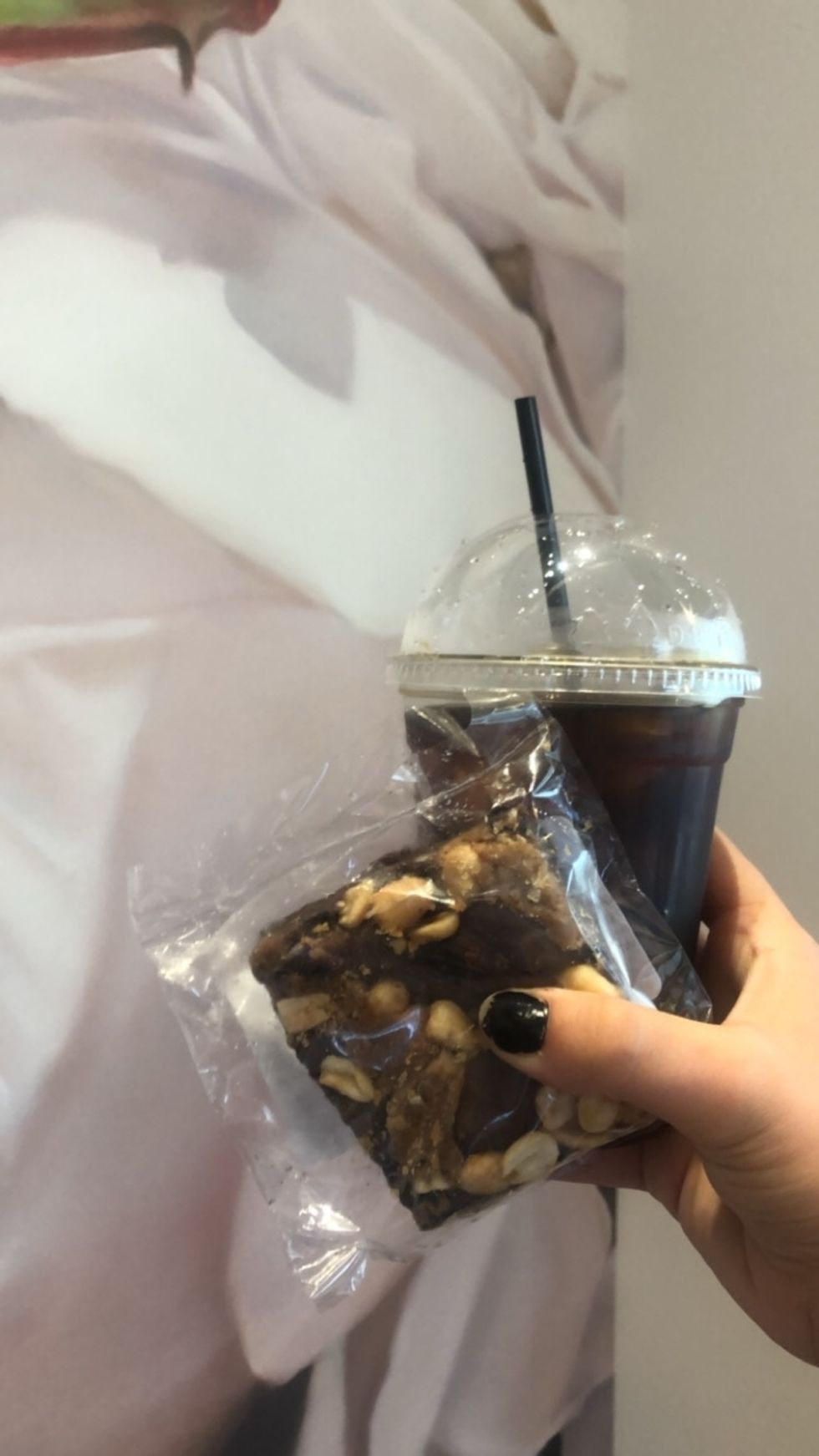 I'd never heard of Della Leva before, and the shop was a pleasant surprise. Because the cafe is located in Fishers, it was slightly out of the way. Still, the staff was extra friendly, and they mentioned they've been around for 2 years but are not widely known. I ordered a brownie and an iced coffee, and it was the perfect mid-afternoon pick-me-up.
Stop 4: Zing Cafe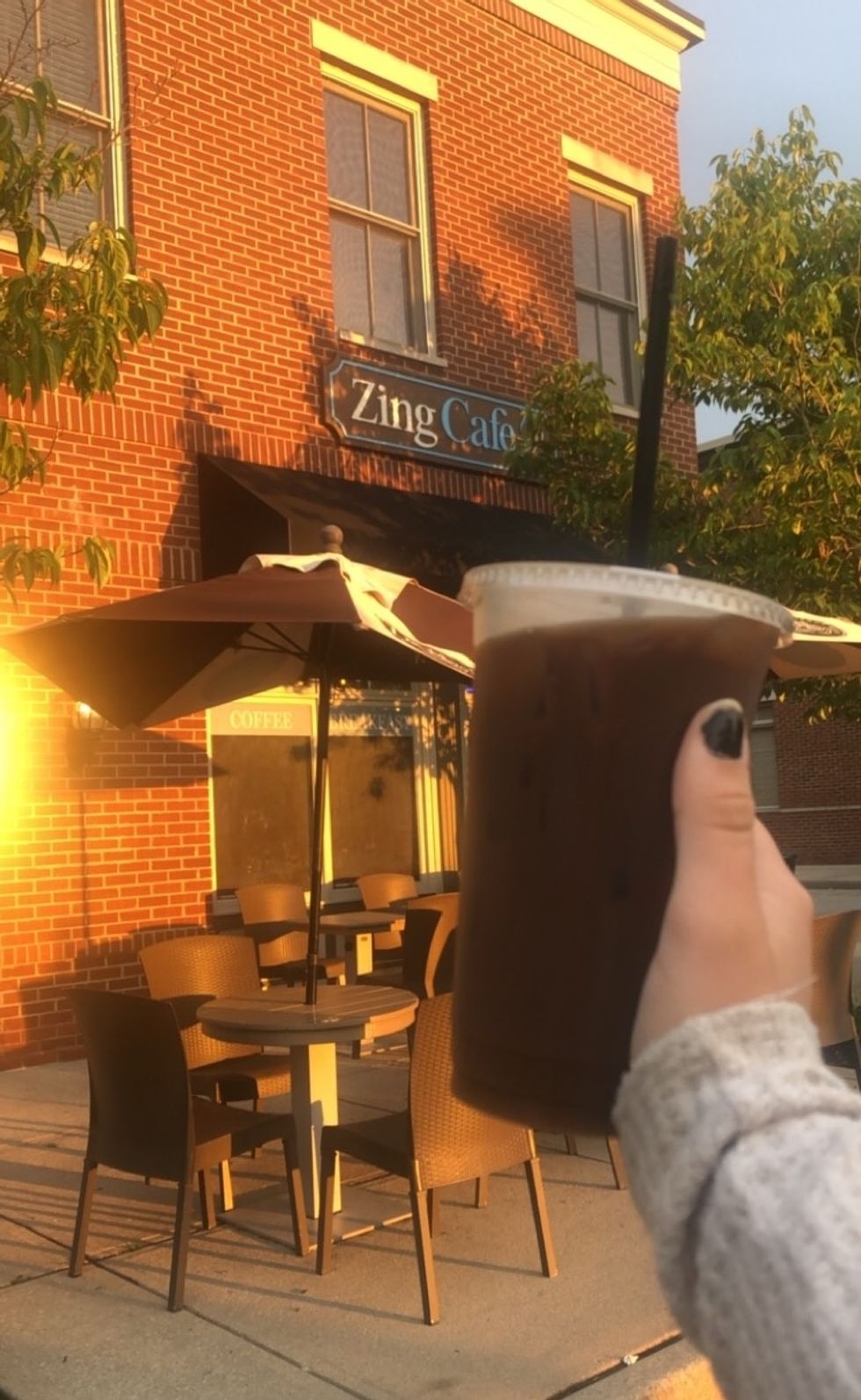 I fell in love with Zing Cafe not only because of its coffee, but also because of its location. It resides just outside of a beautiful Carmel neighborhood, and even coming in at 7 a.m., I saw many people already typing away on their laptops inside this cafe. I ordered a coffee and a s'mores brownie, and the brownie was absolutely incredible.
Stop 5: SoHo Cafe & Gallery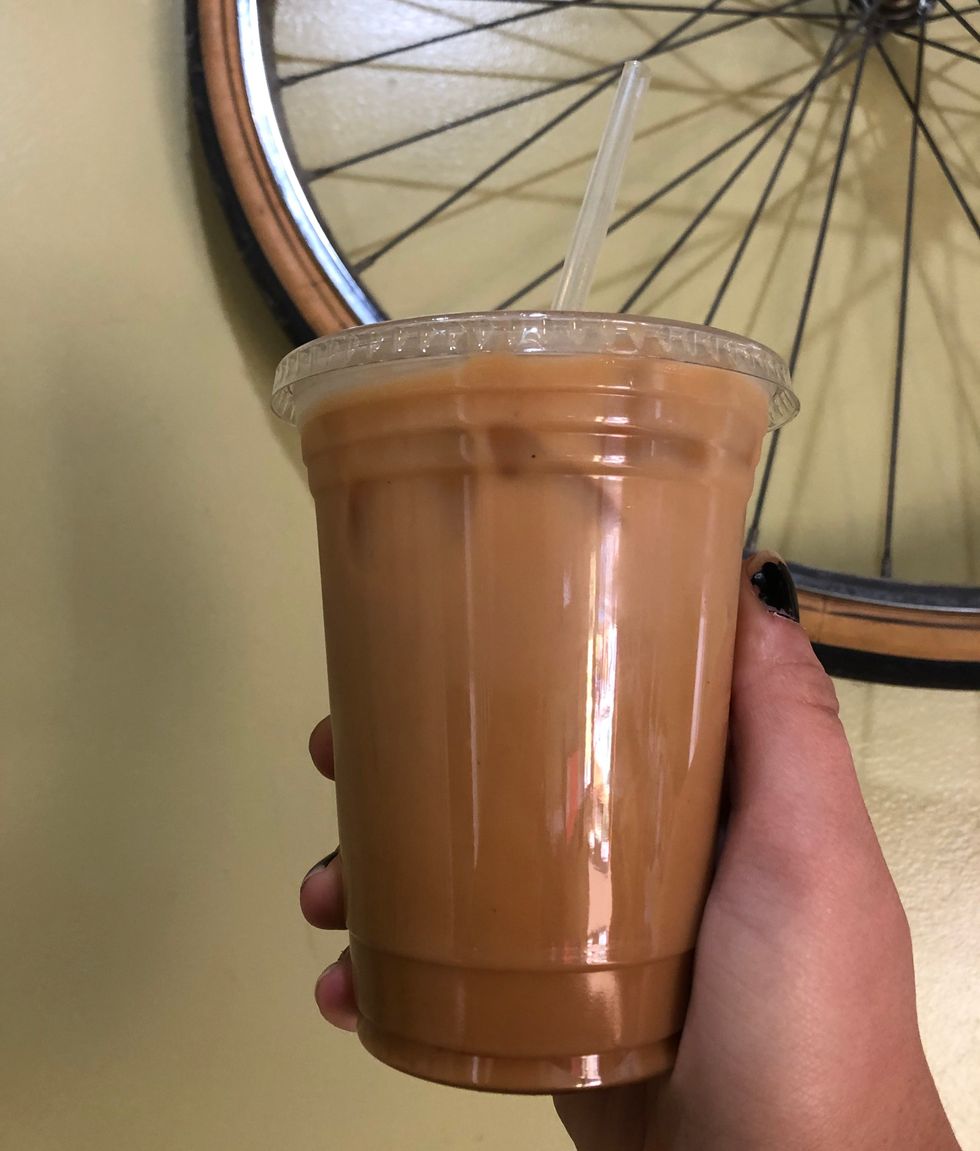 Because I stopped at SoHo Cafe & Gallery in Carmel on my way to work, I didn't get to stay long. Boy, do I wish I could've! Though I can't speak for the gallery portion, I loved my experience at the cafe. The service was friendly (even in the wee hours of the morning), and though I wasn't a huge fan of the specialty latte I ordered (I went out on a whim and got a little too far out of my comfort zone), I had a scotcheroo that was to die for!
It was also at this cafe where I found out not everyone calls them scotcheroos. Am I the only one that thinks "chocolate butterscotch rice krispie treat" just takes too long to say?
Stop 6: Blu Moon Cafe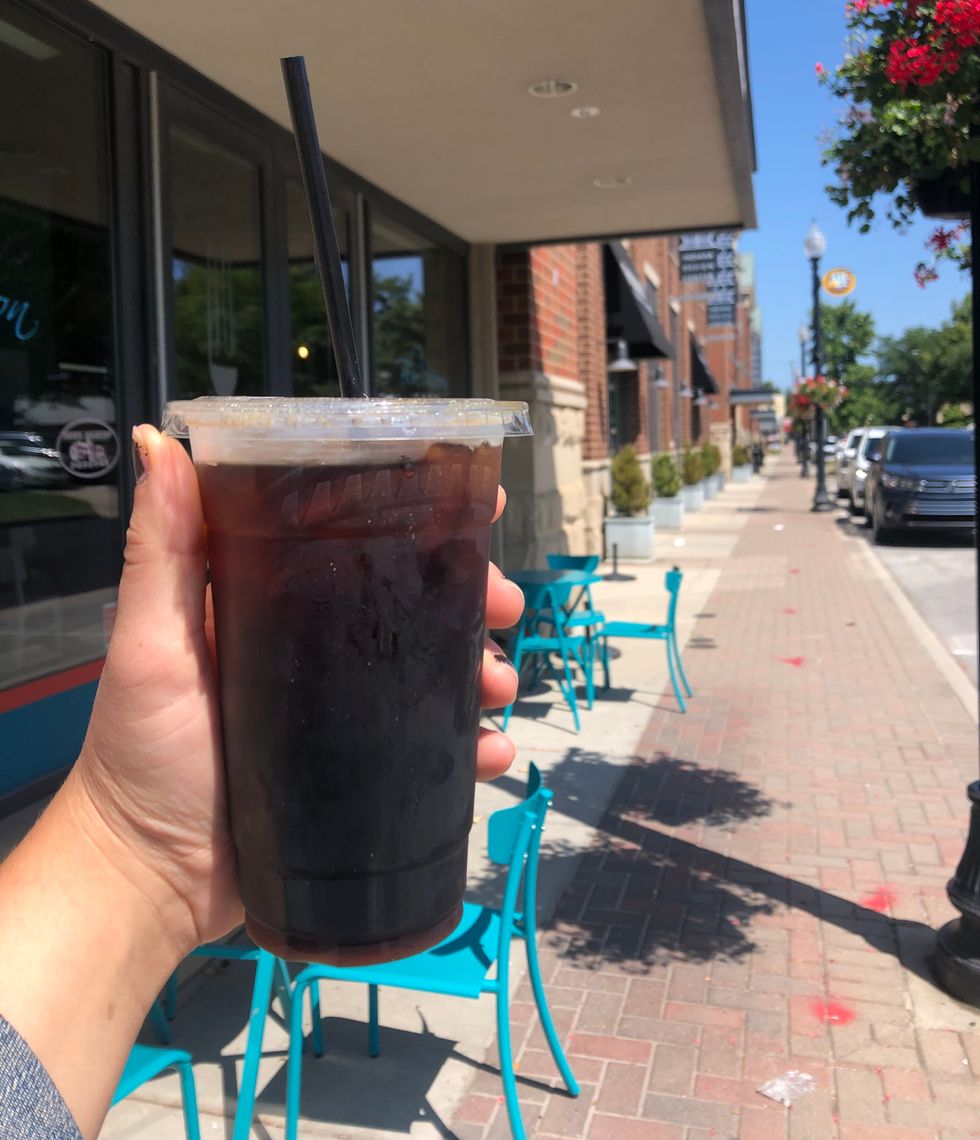 What a stop for lunch! Shortly after Coffee Palooza ended, I made my way back to Carmel's Blu Moon Cafe to try another item on the menu that caught my eye. Though coffee may not be the cafe's specialty, I tried a ribeye sandwich that made my mouth water and my stomach happy. The cafe also offers adorable outdoor seating as well as various salads that will remind you of your church pitch-in picnics.
Stop 7: Plat 99 Coffee + Cocktails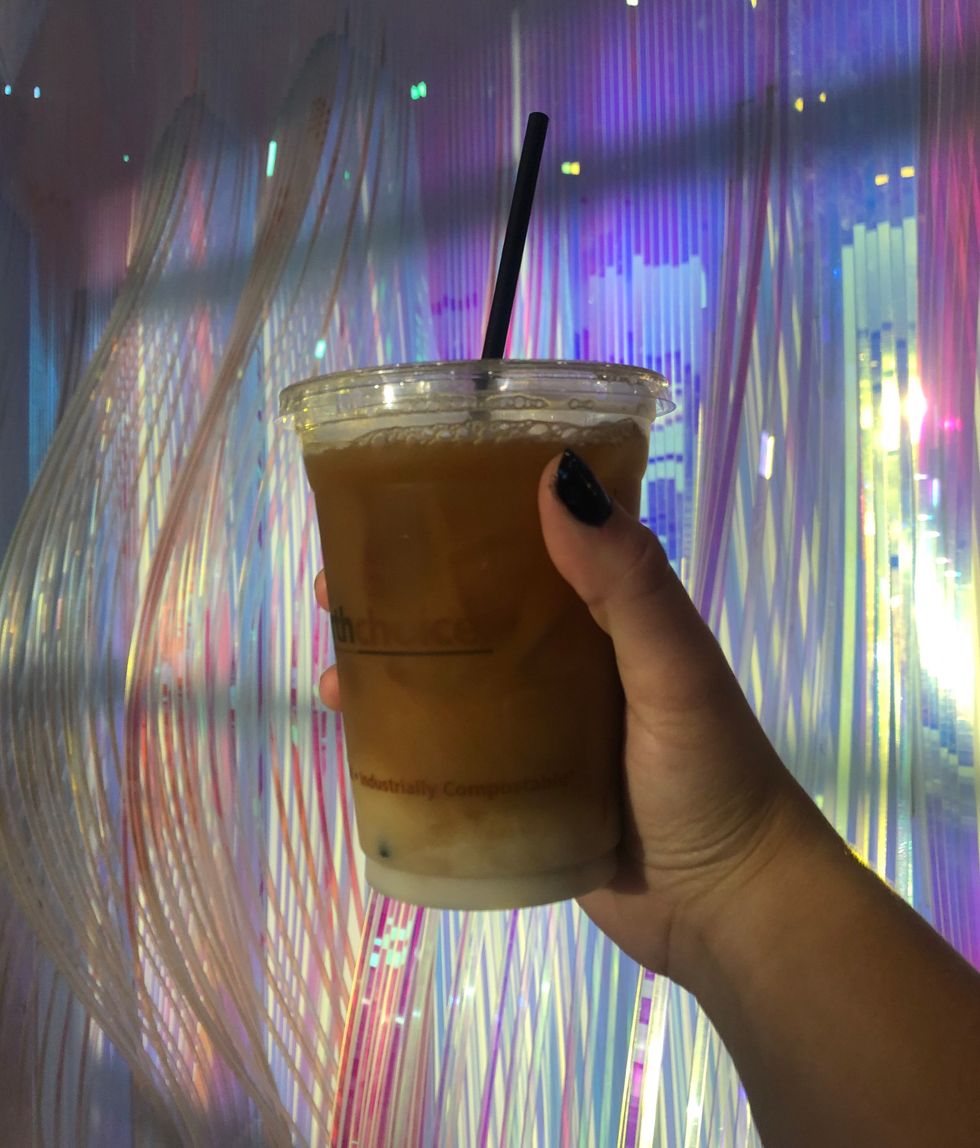 Located on the second floor of The Alexander hotel in Downtown Indy, Plat 99 is a mixology lounge that specializes in coffee and cocktails. I stopped in for a nice iced coffee and proceeded outdoors to the "What Lifts You" mural. Thanks to Coffee Palooza, Plat 99 is definitely on my list of places to take my friends when we all turn 21!
Stop 8: Donut Refinery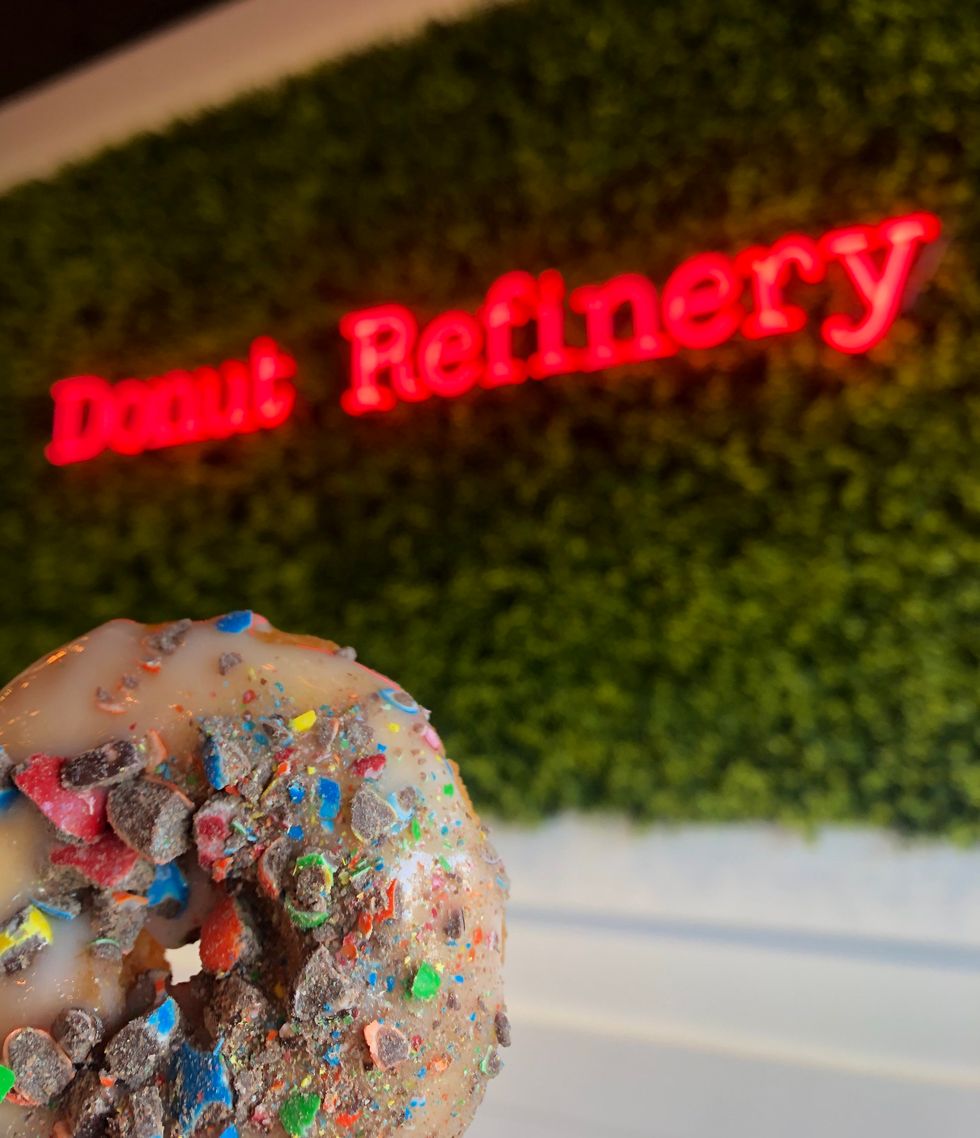 Oh. My. Doughness.
Donut Refinery is not only delicious, but also SO aesthetically pleasing! Walking into this Carmel, IN shop is like walking into an Instagram profile brought to life. The decorated walls and inspirational chalkboards encourage you to enjoy every second of your customizable donut experience. That's right: Order a donut (doughnut?) how YOU like it, icing and toppings and all.

Stop 9: Buzzy Coffee Co.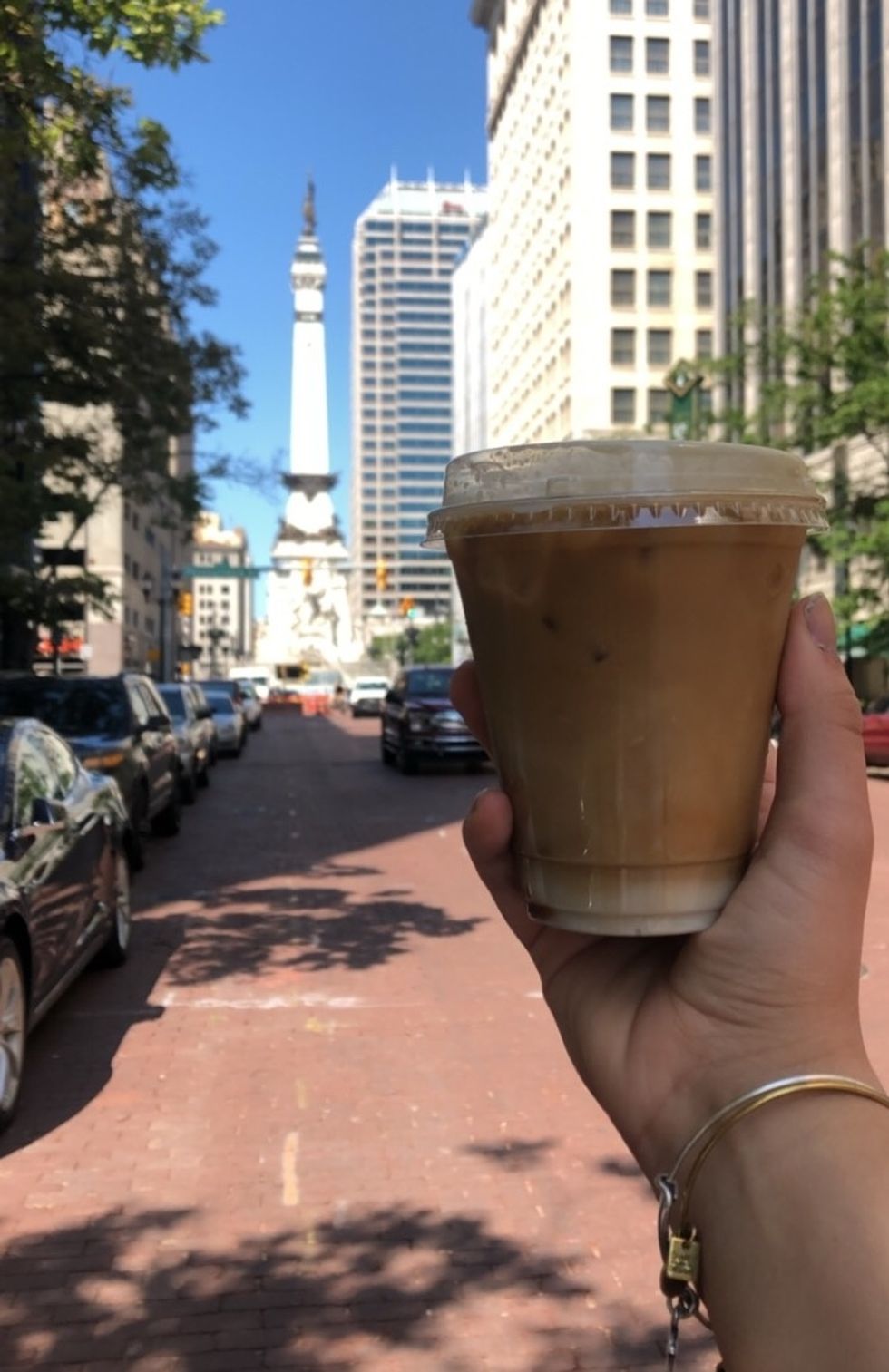 I will admit, finding my way into Downtown Indy's Buzzy Coffee Company proved to be a little more difficult than I first anticipated; still, I'm glad I finally made it! I've been following Buzzy on Instagram for awhile now, so I was excited to finally try a cereal latte. It was tasty, but I do wish I could've gotten some whip cream and cereal pieces in my drink to make it even more delicious.
Buzzy Coffee Company is in an optimal location for Indianapolis tourists and locals alike. Grab your morning brew and either head to your downtown job or take a stroll around Monument Circle! The views are incredible just outside this to-go coffee shop.
Stop 10: Books + Brews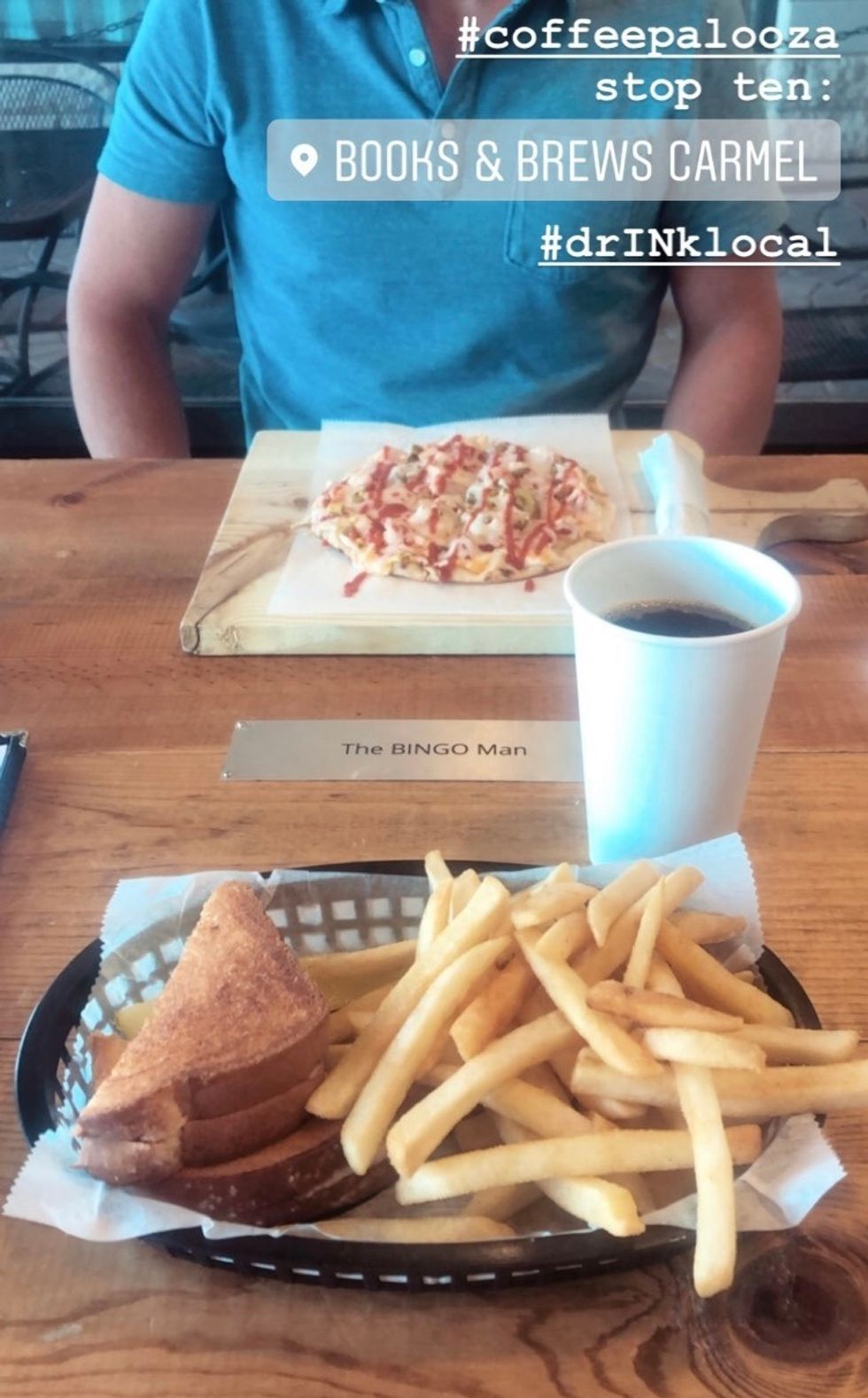 Though I live a short 10 minutes from the Broad Ripple Books + Brews, Coffee Palooza brought me to the Carmel cafe for my kick-off coffee experience with this company. Staying on brand, items on the menu are named after classic novels. I sipped on a nice cup of coffee while munching on Dante's Inferno, a grilled cheese made with ghost pepper and provolone. It was, as they say, straight fire!
Stop 11: Dry Bones Mud House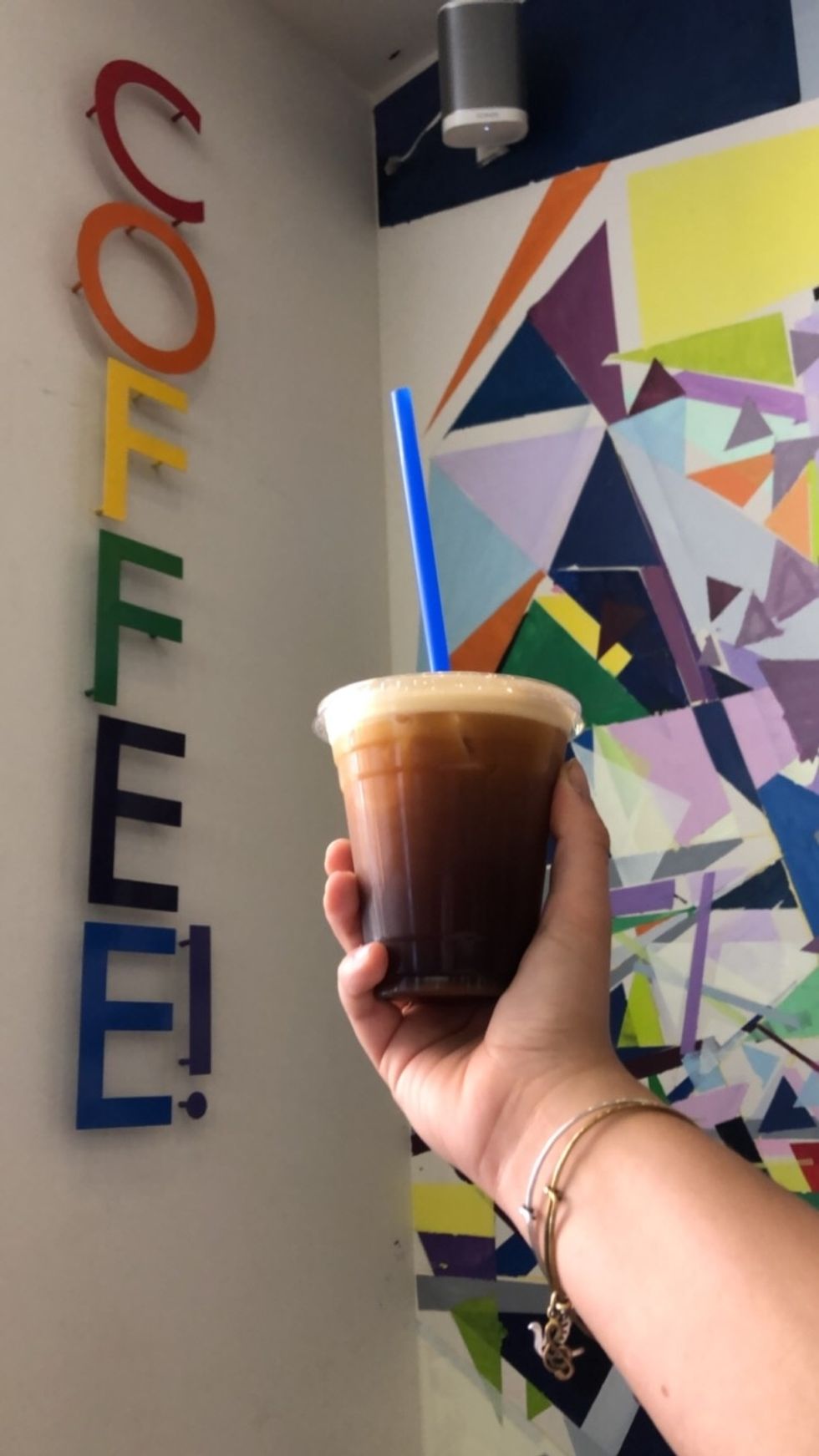 Dry Bones is in a bit of a funky location when it comes to parking, but it is definitely somewhere I want to go again! Part of The Union 25 (also the home of Launch Indy), this Indy cafe is near the Rolls-Royce building and Lucas Oil Stadium. I ordered a nitro, and it exceeded expectations.
I also love the feel of the cafe itself. It reminded me of a kindergarten classroom for grown ups! I can definitely see myself spending long afternoons working away on assignments in this gem of a shop.
Stop 12: Foundry Provisions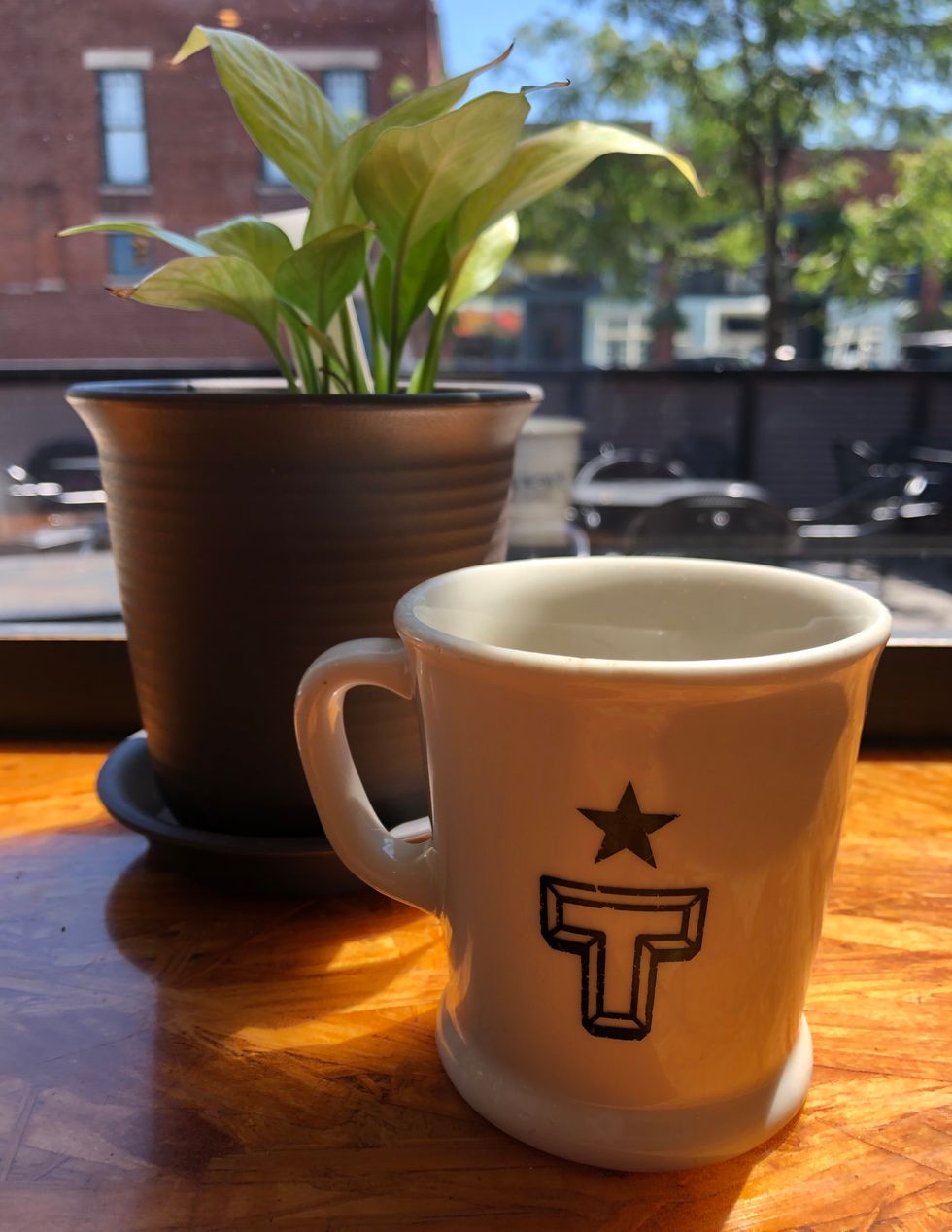 Last, but not least, I visited Foundry Provisions located on 16th St in Indy. I ordered a classic cup of coffee, with beans roasted by none other than the local Tinker Coffee Co.
The small little shop seemed like your small-town getaway, with construction workers stopping in for lunch on one side of you, and old friends catching up over a cup of coffee on the other. I worked on a summer class at the bar by the window, and I even got to venture out to the outdoor seating for a bit.
Though I have no complaints about my classic cup of joe, I definitely want to try a smoothie when I come back!
Overall, Coffee Palooza was as fun as can-"be(an)"! I wish it could've lasted longer than a week — I once visited four cafes in a single day and still didn't hit all the stops. I also wish all of my college friends could've been in the city for this experience, especially since going to coffee shops is how we make studying fun.
I can't "espresso" how grateful I am that Java House encourages consumers to #drINklocal!