In 2016, a friend told me to watch Skam. "It's the Norwegian version of Gossip Girl." she explained. With that, I was intrigued--as an avid Gossip Girl fan, her one-sentence summary had me hooked. I remember watching Skam on Daily Motion where some American fan--bless their soul--translated the entire show and added English subtitles for each scene. To my friend's credit, yes Skam (which translates to "Shame" in English) has a Gossip Girl-esque premise: following the lives of teens as they navigate the difficulties of growing up; yet, that is where the similarities end. Skam's writers created realistic (and lovable!) characters with relatable lifestyles all while exploring relevant social issues like LGBTQ, sexual assault, and subliminal racism. Although the show has ended (RIP my heart), everyone needs to watch it ASAP.
1. Realistic Depictions of a Suburban Teen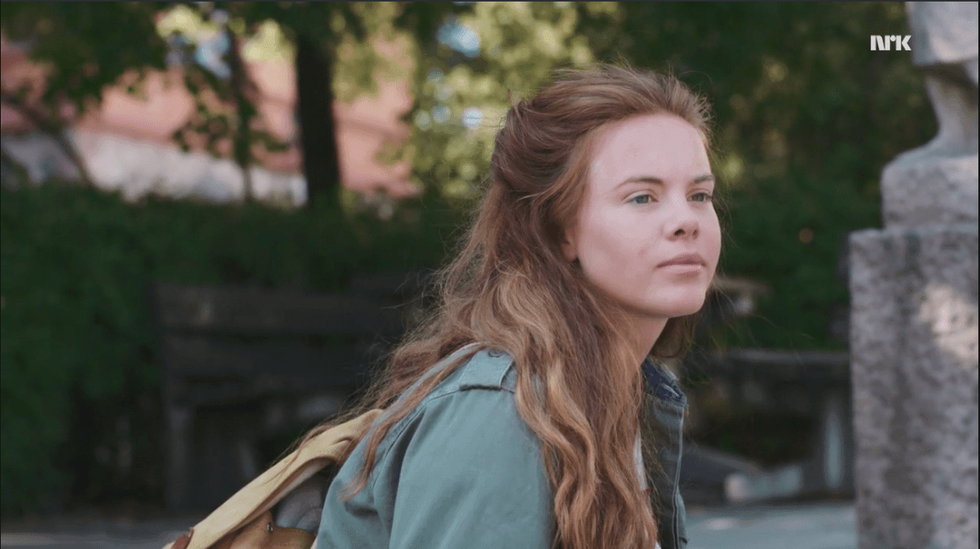 One of the main characters, Eva, chilling in between classes.
Compared to other shows on the "teen" market, Skam took a different approach and actually casted 17 to 19 year-old actors. In fact: the series centers around students at Hartvig Nissen which is a real school in Oslo, Norway, and some of the actors are actually students enrolled at that very school! Moreover, instead of making each character look perfect in every shot--I'm talking about you, Gossip Girl and Riverdale--Skam's costume designers decided to thrift most of the costume pieces and go easy on the makeup. It's not unordinary to see a character on Skam rock a ratty pair of sweatpants and an old tee shirt with zero makeup on (and acne exposed). This sense of truth and transparency creates a sense of shared camaraderie between myself and the characters that I can relate to--which is refreshing and different.
2. Tackling Difficult Conversations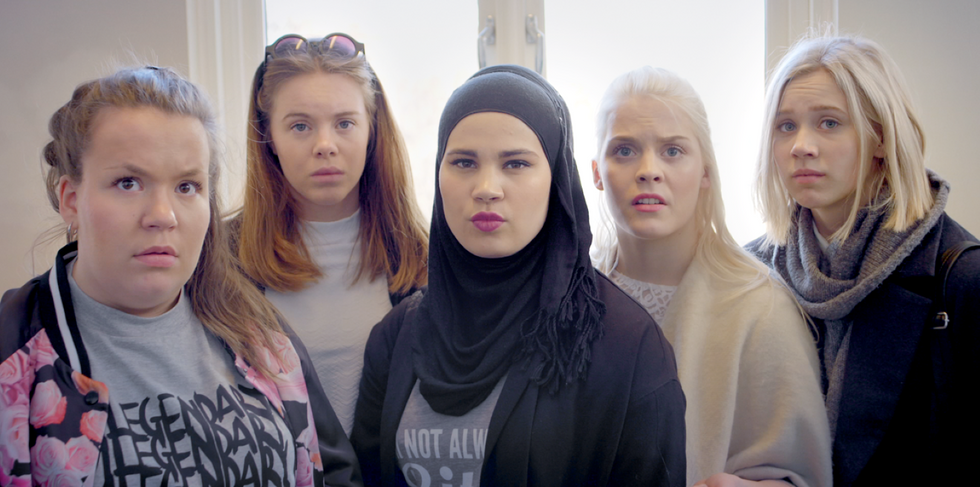 The main girl squad in Skam.
As young adults, our age demographic deals with a lot of uncertainty and confusion. Things like sexuality, religion, political beliefs, and ethnicity can be things that cause massive amounts of stress in everyday life. Skam does a good job of tackling some of these issues head-on. Each season of Skam focuses on a different character and tackles a corresponding social issue that a particular character faces. Season 1, for instance, focused on bullying and the importance of finding those who positively impact your life. Season 2 examined feminism and the issues that surround sexual assault, while season 3 portrayed a gay main character and delved into LGBTQ rights. The final season, Season 4, centered around a Muslim girl trying to balance her religious values and westernized thoughts. That particular season did an amazing job of addressing the rampant Islamaphobia that exists not only in the United States but in other parts of the western world as well.
3. Capturing a Teen's Daily Life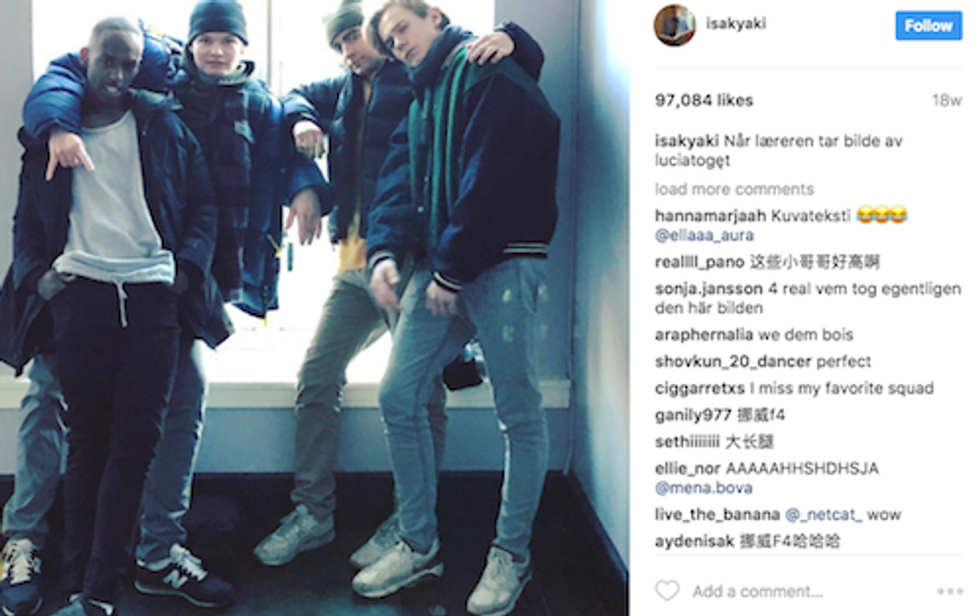 Isak's--one of the main characters--Instagram account.
Not to be dramatic, but Skam reinvented TV shows. Why? Well, when it was first released, Skam's production channel (NKR) would post short clips during the week that would later cumulate into a full episode. For example, if a party was to happen on a Saturday night in the Skam universe, a clip would be posted that Saturday night. The show also intertwined social media with real time dialogue effortlessly within the episodical clips; however, the writers took their creativity one step further. Each Skam actor was also in charge of their character's Instagram account. These actors would post behind the scene pictures and other photos that the "character" would probably enjoy or find amusing. Even more surprisingly, other characters would comment and like their friend's posts. Sometimes, these pictures would also hint at future episode plot points or bring back a key event that happened in a prior episode.
Skam, in my opinion, is one of the best TV shows that I've ever seen. Period. Do yourself a favor and start watching, and remember: alt er love <3
Related Articles Around the Web