Since entering college, mental health has become increasingly more prevalent. With the stress of schoolwork, joining clubs, applying to internships, trying to find where you fit in, all on top of trying to live out the "best four years of your life", it's obvious that college has its ups and downs. From anxiety to eating disorders to depression to just feeling 'down', college really does it to ya.
While society is becoming more destigmatized to mental health, I personally don't see many people I know talk about it. Let's face it we all have hard days; I'll admit that November has already started off with a couple breakdowns. Something that makes it even hard is thinking that you're the only one going through these ups and downs, making you feel even more down. I'm writing this article with the hope of shaking that feeling from you all.
I asked several people to share their opinions on mental health: what it means to them and how they've had to deal with it through college:
What does mental health mean to you?
"Being free of depression, anxiety, and other disorders."
"It means taking care of myself and making sure I have the means to survive and succeed"
"Something that our university does not offer enough resources for."
"Not much."
"Feeling content, fulfilled, and confident in myself and my abilities."
When/what has been the lowest you've felt since entering college?
"Not having friends and realizing how fucking lonely it is sometimes being in a big university."
"Feeling completely alone and unwanted after realizing I had so much free time because I didn't have any plans with anybody at the end of my first year."
"The lowest I've felt is probably right now because of anxiety and uncertainty about the future and just having too much on my plate and feeling like I'm not enough."
"I think I've had low points during each part of college, just in different ways. My freshman year I was at a very low point because I was struggling to find where my true friendships were. My sophomore year I was very low because I was dealing with unrequited romantic feelings. Even now during my junior year, I'm struggling because I'm wondering if I've made the most of my time here, considering it's already half over. Every point in my college career has brought me a different struggle, none necessarily better or worse than others."
"The stress of five classes during midterms which caused me to drop a class."
"My winter quarter of freshman year, I was going through a breakup, I had no friends at school, I felt completely alone... I also got really sick, and I hit rock bottom overall, my grades dropped and I had little/ no motivation to even get up in the morning."
The point of this article isn't to make you feel bad for these people and take pity on them, it was to point out that everyone is going through things. Just because you see everyone on social media having a ball, don't let that bring you down. Just because you see everyone smiling and looking dandy on campus, doesn't mean they're happy 24/7. You're not alone with how you feel, however you feel. Mental health is a work in progress for everyone.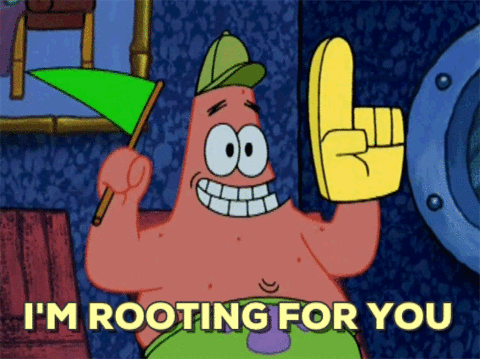 media2.giphy.com