Before I get started, I should let you know that I go to Washington State University Everett, not Pullman.
Most people don't have to say that because most people actually have the privilege of attending the main campus unlike myself.
That being said, I got the privilege to be apart of the first class to attend the newly open campus (or building, I should say). And that wouldn't have happened had I gone straight to WSU Pullman after high school, which had been the initial game plan.
But I'm an indecisive human, as you can tell from a recent article I wrote, and I can honestly say, I don't regret a single academic decision I've made thus far.
I believe everything happens for a reason, and there's a reason I stayed close to home all this time. Maybe even multiple reasons.
Regardless, I, along with a ragtag team of a few other amazing communication students from WSU Everett made the long journey down to Pullman for the 43rd Murrow Symposium, which is a huge event for communication students — for any professional in the field in general.
All but one of us drove, and if you don't know where Pullman is compared to where all of us generally live, it's approximately a five and a half to six-hour drive. Give or take. So, yeah, you could say it was pretty exhausting.
This was my first time being on the main campus, and honestly? It was freaking awesome. It was everything I had expected and more. Way, way more.
First of all, it's a true college town.

WSU is literally everywhere.

Their Walmart and hotel have their own mini WSU section in them, their restaurants have WSU-related drawings on the wall and "Cougar Gold" cheese on their menus — even their McDonald's sign has "Go Cougs!" on it. I've honestly never felt more at home in my entire life.
Where I live, which is approximately 30 minutes away from Seattle (aka UW-central), it's rare to see that much Cougar appreciation, which is sad. Especially for us loyal #EverCougs. So, it was nice to be on the other side for once.
I think that's what made me like being there so much. Everywhere I went, I was reminded of the single best decision I've ever made in my life:
Becoming a Coug.

OK, maybe it's not the single best decision. I've made tons of best decisions in my life. Like, buying a portable charger for my always dying cell phone. But hey, it comes at a pretty close second.
That's not the point, though. The point is I love my college, and I wouldn't have wanted to go anywhere else. I'm thankful to have had the opportunity I had. To have been accepted into such an incredible school, and to have joined a program I live and breathe every single day. To have met such amazing people in the short amount of time I've been at WSU.
And to have gotten the chance to visit where it all began — the main campus — is surreal. And yeah, a part of me kind of does wish I'd gone there instead. A part of me wishes I'd had the full college experience.
But a bigger part of me is extremely grateful to have taken the route I took.
All things considered (Murrow communication majors, you better get this joke), I leave you all with one final thought…
GO COUGS!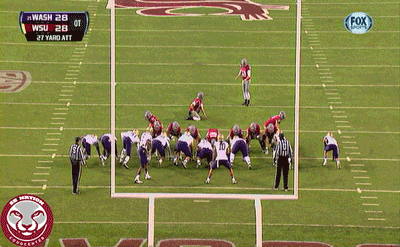 Cover Image Credit: Joanne Wu