So I just went back to work at McDonald's for the summer and after my first day back, I got the back pain back into my body and the smell of chicken nuggets on me. Everybody thinks that working in a fast food place is simple.
Reality Check: It seriously isn't. Let me give you guys the 411 of working in a fast food restaurant and what we really do.
1. We get a free meal. That doesn't mean we get to eat free food our whole shift.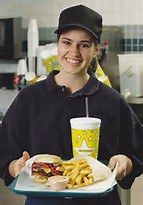 2. When you don't have your cash ready at the window, it's very annoying.
3. We do not spit in your drinks, we're making sure you're getting the right one.
4. We will switch out toys from your happy meal if you ask nicely.
5. Ordering more than ten of a sandwich or meals is time-consuming for everybody working on the floor.

6. 11am-2pm are peak hours. Meaning the long line is not our fault. Everyone is hungry.
7. Those batch of fries with no salt is a hassle.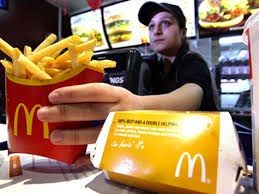 8. Making sweet tea is a pain because we have to refill the drink dispensers every forty-five minutes.
9. The food is fresh when you place the order so don't assume it isn't.
10. We really want to scream when a customer yells at you for the fifty cent upcharge for a large meal.
11. The ice cream machine breaks because you guys run through all of it the first half of the day.
12. We know you don't want the receipt but we have to give it to you.
13. When you don't know what to pick even though the menu has been the same since the moon landing.
And that's just a preview of our daily activities on regular fast food work day.