Worcester, Massachusetts is surrounded with a unique culture of its own. There is a true essence of history displayed with a smile that enlightens the visitors passing by. It is the heart of a well-known city. Worcester is about an hour from Boston that many commuters pass through on a daily basis.
Since the pronunciation is difficult for those visiting from the outside, Worcester is most commonly known as WOR-CHESTAAAH. Boston is nearby, not too close, but not too far. Worcester is a college town, filled with several colleges and universities as the core of academic excellence. The communities within Worcester are culturally diverse.
The city is filled with creative geniuses that are trying to make their mark on the world. A rising star in the film industry is based right in Worcester, Curtis Kariuki, or "The Video Kid." He showcases his talent with a camera to open the doors for outsiders to view the artistic community in Worcester. There are various creative individuals surrounding the city that are brought into the limelight through Kariuki's up and coming documentary "The Rare."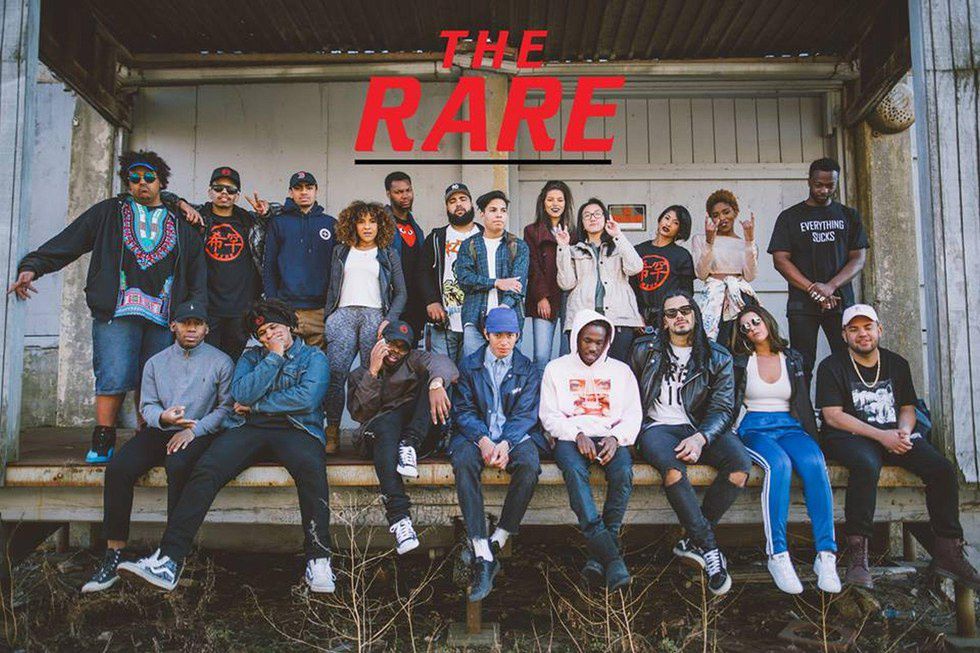 "My main goal is simply to inspire. I want this film to inspire creators all over the world and let them know they do not have to be from New York City or Los Angeles to follow their dreams, they just need to have a drive and dedication, anything is possible" stated Kariuki when describing his latest project.
I think his work will inspire all those individuals pursuing a career that is not a typical nine to five job. Creativity strikes at any moment and artists use their talents to create a work that will live on forever. Art comes in all shapes and forms. Kariuki's documentary describes the struggle of making it into the big leagues despite not having the same connections of individuals coming from a larger city.
Kariuki captures the lifestyle of an artist in the making. It is important to remember that The Rare is based out of Worcester. There are not a lot of connections or huge Hollywood studios that are making his work happen. He is making a name for himself as well as the individuals involved in his work.
Worcester has a more artistic vibe than what meets the eye. There are many artsy people roaming the city, more than you would imagine.
Worcester is filled with creative hotspots where people go to be inspired. Crompton Collective, BirchTree Bread Company, and NUCafé are great places to get inspired. These are some of my favorite places to look for some inspiration and think hard about what I want to accomplish as a writer.
Crompton Collective and BirchTree are both located on Green Street. Crompton Collective has a taste of hipster flair and attitude. This shop focuses on the classics, the antiques, that give a feel for the city. The artistic scene is displayed through this building. I love to observe the artistic nature of those passing by. BirchTree is a great place to sit down and just lose yourself in your work. They are open to new artists which I think is important in a city like Worcester. There is live music, artwork on the walls, and I always see people sketching or working on a project. Their food and coffee is to die for with a wonderful atmosphere. It is the perfect place to study, sketch, or write with a coffee in hand.
NUCafé has a diverse crowd and is located on Chandler Street. The menu has various healthy options that all taste delicious. There is an outdoor patio for your enjoyment where you can soak up the sun. It is another great place to work on your creative process similar to BirchTree.
I highly recommend visiting any of these places to get a sense of the true cultural gems hidden in the city. Young individuals surround these places to get inspired to pursue their dreams. I also recommend staying tuned for Kariuki's documentary to be released. His work shows that anything is possible and following your dreams can become a reality if you work hard enough and believe in yourself. Even though Worcester is relatively unknown, the cultural community comes together to form a cultural masterpiece.