Finally.
Women around the world are breathing out a sigh of relief. Finally, the female hero we need. The female hero we deserve. "Wonder Woman" is everything we wanted and more. It's the feminist movie that isn't a feminist movie, and director Patty Jenkins, a badass Wonder Woman of her own, outdid herself.
**Caution: Spoilers Ahead!**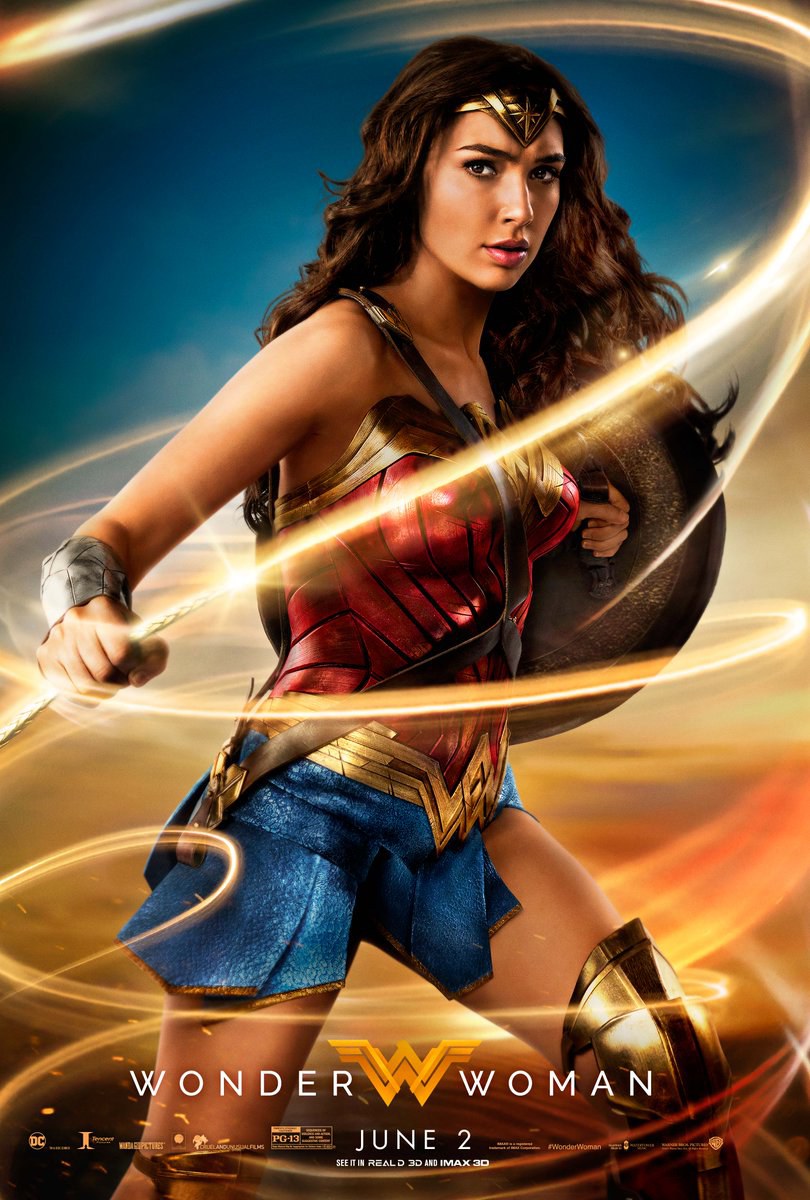 Wonder Woman Poster (Gal Gadot) l Warner Bros.
---
The movie starts with a scene that you've seen many times before, yet it's like nothing you've ever seen. It's a battlefield, war horses with soldiers galloping through the ranks, valiantly fighting and destroying the opposition. But the soldiers are women, amazing, powerful and beautiful Amazonian women. The scene is incredible, a cinematographic win, with so many women on the battlefield, so much power and grace-- it's truly moving. It's something you didn't even realize you needed, as Caroline Framke so eloquently puts it. But the best part about the movie is how natural it all feels. Clearly, seeing so many capable women in one place is rare, but the movie makes it feel like of course this is exactly what's supposed to be happening. It presents these bold feminist statements as simple facts; Jenkins doesn't let the fact that we're seeing something unprecedented on such a big screen distract from the story. Which is the biggest and most important stride in feminism we need. We're in awe of how amazing these women are, not the fact that they're women.
The movie is not about feminism, but it still feels like a huge win with all of its bold subtleties (an oxymoron, yes, but how else do you describe something like this?) Diana's costume is one of those bold subtleties; in fact, even the casting of Gal Gadot as Diana is one of them. Gal Gadot is 32 (which is often considered old for Hollywood, although she looks absolutely poppin) and is Israeli. WHAT A HUGE WIN. She's of course the perfect choice, because she's beautiful and a wonderful actress and strong and powerful beyond any imagination, but she brings a beautiful ethnicity into play as well. The movie does such a good job with representative casting (although I think we missed an South Asian Amazonian from this movie), and the lead being of an ethnic minority is a refreshing change from the caucasian faces we are used to seeing as our action heroes.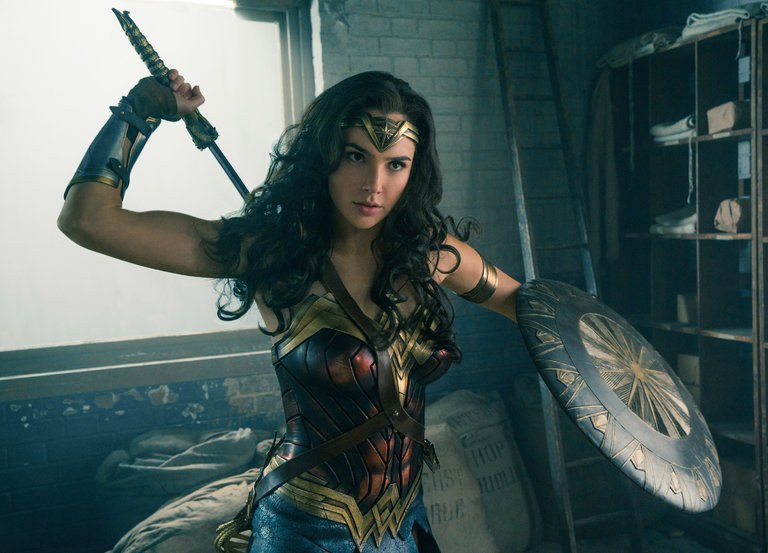 Gal Gadot as Diana l Clay Enos/Warner Bros. Pictures
---
Gal Gadot Gal Gadot is beautiful, but she's also realistic, as are all of the Amazonian women. They take their flawless beauty in full stride-- if you're beautiful, don't be ashamed of it. But their beauty doesn't distract. Makeup is minimal on screen, giving them a very natural look, and instead allows the attention to be drawn to the powerful head-dress pieces and crowns they wear. These aren't your regular shiny gold and diamond tiaras. These are war helmets, strategically covering their faces but allowing for movement. It's an amazing sight to behold; these women who are beautiful, yes, but more than that, who are powerful. But don't get me wrong, their beauty isn't understated. The Wonder Woman costume and the battle garb of the Amazonians beautifully accentuates their athletic and strong bodies. I was, at first, disappointed that they chose to keep Diana's traditional costume, because I had always seen it as a sexualizing, mysoginistic outfit that they squeezed her into to create the sex appeal for the audience, which was mainly boys who got most of their action from movies and comic books. But keeping Diana in that costume was a great move. It celebrated her body and her physique, and yeah, it made her look hot. It took what was seen as sexualizing and reappropriated it into something that accentuates her power and her femininity. It sends the message to girls that they have nothing to be ashamed of, and that their bodies are nothing to sexualize or hide. Diana's body was real, and damn it, she was beautiful. Once again, she empowered women by embracing what they have.
But the movie didn't seek to diminish men in the midst of all this. Yes, there were a lot of "You don't need a man," moments in the movie, which I was absolutely in love with. It showed an independent and strong woman. Diana shamelessly overshadowed Steve, who was, by all definitions (including his own), not an average man. But it still showed that Steve was powerful too, as were all of his companions. What "Wonder Woman" did amazingly well, what Jenkins deserves a thousand standing ovations for, was the grace with which Steve was portrayed. He was all set out to act like a manly man and protect Diana, who in his eyes looked like someone lost and in need of protecting, aided of course by the fact that she was a woman. But when he realized that Diana was in fact badass extraordinaire, he stepped back and let her take the reins. He didn't make a fuss about losing his manhood because a woman took the charge. He instead stood in awe of her, and respected her. That right there is what made the movie feel so natural and well-deserved. That is the example set for our young boys and girls, that girls can take the lead and that boys can follow. Amazing.
The movie has taught us to embrace our roles, and to embrace shifting roles as well. There is a lot of focus on the idea of love, an effeminate topic. Traditionally, there's no place for love in a superhero movie, not while you're blowing up bad guys. But Diana is a woman, and the movie has done an amazing job reminding us of the fact that running away from what biologically and evolutionarily makes you a woman doesn't empower women. Embracing it and drawing your power from it empowers women. There is nothing wrong or weak about using love as your power, or about embracing what it is that makes you you.
There's a lot to learn from "Wonder Woman" but the most important thing to learn from the success of the movie is that this can't be a one-hit-wonder. "Wonder Woman" has paved a new path in major cinema, and my hope is that many more will follow, for all the Wonder Women in our world.
Wonder Woman Trailer l Warner Bros.