Pretty dresses, perfectly curled hair, uncomfortable shoes, sweat dripping down your forehead, and older girls yelling at you to shut up: sounds exciting, right?
Girls from all over the country go to their respective universities in the fall to participate in what is known as "sorority rush." And from the outside looking in, I'll agree, it looks ridiculous. However, after experiencing rush and sorority life firsthand at the University of Georgia, my opinion of sororities has been completely changed. But first, let me give you some background.
I decided winter of my senior year that I was for sure going to rush in the fall. This basketball-loving girl who was always found wearing tennis shoes with her hair pulled up into a ponytail wasn't exactly the prime candidate for rush. My dad even laughed at me whenever I told him, "I would love living in a house with 60 girls for a year."
And on my first day of rush, as I stood outside of the 10th house I had visited that day with very sweaty hair and a very short patience, I started to think that maybe I wasn't cut out for this whole "sorority thing" either. Some girls still looked flawless. Some had been wearing wedges the whole day while I was barely making it out alive in my Jack Rogers sandals. Also, seeing this (pictured below) every time I got to a house was a little intimidating: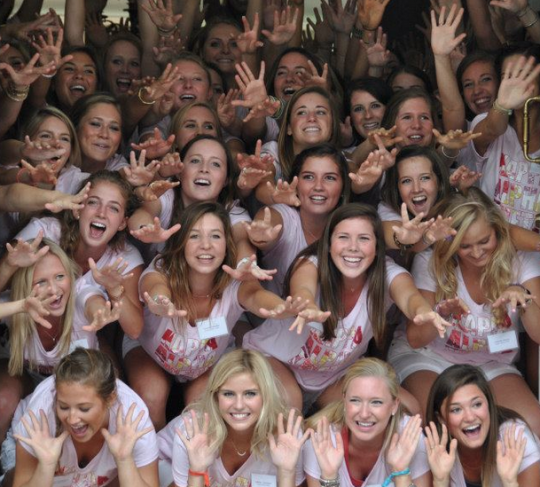 And although every tired bone in my body (at least the ones in my feet) was telling me that I should quit, I decided to finish the week. I loved the girls I was meeting and didn't think that quitting because it was hot outside was a good enough reason to back out.
Let's just say that my week ended pretty spectacularly. I'm not here to brag about my sorority or the girls in it (even though they rock), but I am here to tell you that you won't regret rushing.
It's scary. You have girls judging you based on what you say to them in the span of your five-minute conversation with them. They look you up and down and ask you questions you've been asked at least four times already that day. And as you get cut from house to house, you start to wonder if anyone is going to like you enough and if maybe there's something wrong with you. But a Gamma Chi (the girls who lead rush) told me something one day on the bus that completely changed my outlook on the whole process. She said, "What girls tend to forget is that these sororities know the kind of girls that will thrive in their sorority. Yes, you may be sad because your #1 choice cut you. But what you might be neglecting to focus on is that they truly don't see you fitting in with the girls in their sorority, and instead of being upset about it, you should be thanking them."

No, it doesn't end perfectly for everyone. Not every girl gets the sorority they want, and some don't even get a bid. However, it works out for everyone. Every girl I know who has gone through rush has been happy about the results. They ended up loving the sorority they got a bid from whether or not it was their first choice or they are glad they didn't get a bid because they didn't see themselves in a sorority. And although not every girl gets their "happily ever after" on bid day, every girl does have the opportunity to have a memorable week, and here's why:
When else will you have the opportunity to spend a week with 1,000 girls from across the nation, dressing up just to impress a handful of people and eating mediocre bagels from Chick-fil-A? That sounds so stupid, but think about it. I met some of my best friends I have today standing on a sorority's lawn waiting to go inside or riding on the bus from the sorority houses to the convention center. Some of them got a bid at the end of the week, some didn't. But that friendship wouldn't have ever started had it not been for rush week. And even after getting a bid, I've made the greatest friends ever from being in a sorority. We've gone through a lot together, from victories to really tough tragedies. And although I told myself I'd never say this, I can't imagine my freshman year without my "sisters" by my side.
All of this is for me to say that you won't regret rushing. You might hate it the first day, you might not get the bid from your favorite sorority that you've been wanting all week, or you might not even get a bid at all. But you're going to make some awesome friends, whether they're made the week of rush or during your year in a sorority, and you're going to end up where you're supposed to be. The girls I've met because I decided to rush have changed my life. They've made me want to be a better person and have been the most intentional, caring people I've ever known. So, rising freshmen (or sophomores, juniors, and seniors), rush. Even if you hate dresses, make up, and high heels, you won't regret the week you spend during rush. And who knows? You might end up with some pretty great "sisters."