In last week's article Gender Roles & the Workplace Pt. 2 (the Influence of Caregiving), I talked about how women are less likely to be hired than their male counterparts because of their status/potential status of motherhood, which is deemed a cause of "distraction" in the workplace.
Firstly, a lot of this "distraction" stems from the amount of pressure women are put under to just stay at home, partly because of women's traditionally domestic roles and partly because men use it to guilt women into backing out of the rat race.
Let's just all agree that men in general should be a lot more like Ben Wyatt: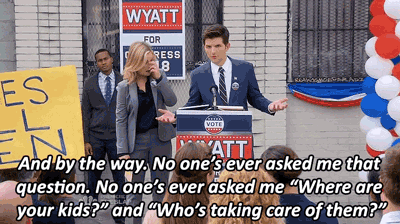 Secondly, it is my firm belief, as I briefly touched on in last week's article, that:
...moms are often better workers because of their motherhood, not in spite of it.

In my experience particularly, my work ethic has increased ten-fold because I am a mother and as such I only have limited windows to accomplish certain tasks, which has ultimately taught me valuable time management skills. A huge plus in the employer's eyes, I would venture.
Moms are also extremely skilled at multi-tasking and problem solving, something we encounter constantly in our role as mothers. Kids keep you on your toes to say the least, which means moms are adept at switching gears. Again, a huge advantage when considering who to hire.
Another aspect that employers fail to take into account is that yes, are moms, but that means that being at work is often a huge sacrifice and rather than squander our time away from our kids, we are going to do the best damn job possible to make it all worth it.
Lastly, moms are still human beings. Often, motherhood is a transitional period in life that makes society write us off as people with no sexual desire, no career aspirations, and generally no other concerns beyond whether or not to water down Sarah's juice (for more on this subject, see I'm A Mom Who Selfishly Chose to Go to College).
And that concludes the mini-series of Gender Roles & the Workplace!
For more of my series "Gender Roles &..." see my author profile.