"That's fake news."
"These journalists are so biased, I hate how far left the media is."
"I don't trust mainstream media, I get all of my news from social media."
I have heard these snip-its of conversation countless times. As I further my education as a future journalist, these comments have started to have an impact on me more and more.
I have watched Trump bash the media endlessly in tweets and have read the replies of people in agreement. My first thought was, "I'm going into the most hated career in the U.S. right now..."
But that thought was followed by a more powerful one and here it is: I want to change people's opinion on the media.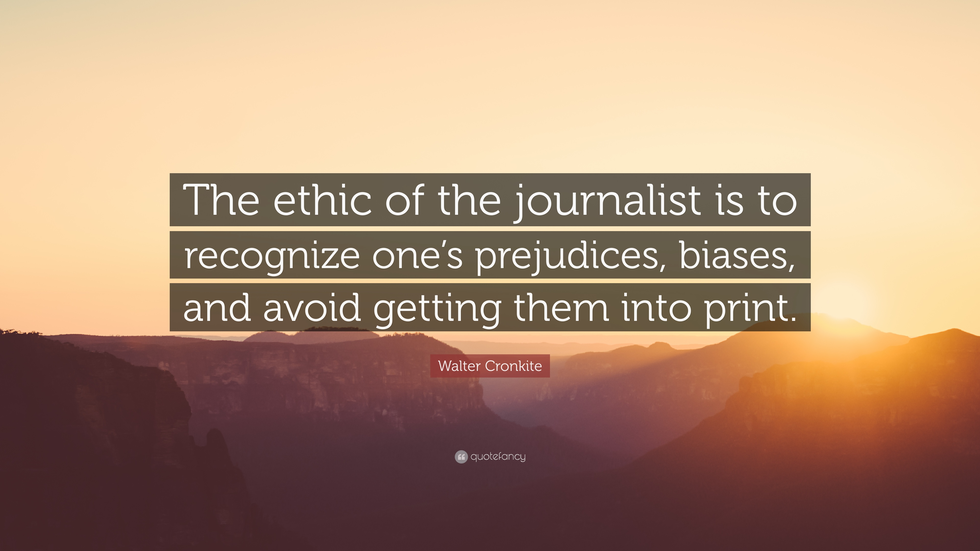 Today, people believe that large media enterprises are out to make money first and provide quality reporting second. In some cases, this is true, but it is not in most cases. Trump continually refers to The New York Times as "failing" and "fake news." But is it really?
I am currently taking a journalism class in which we have to stay very aware of breaking news and current events, locally as well as nationally. News has always been a passion of mine, but I never truly realized how much more is out there when you actually go to the websites of papers like The New York Times or The Washington Post. The little articles we see on social media? Those are small pieces of a large entity.
The biggest place journalists get a bad reputation is mainstream media. I recently saw a post complaining that news entities are still reporting on the tension of Confederate statues while there is a very severe natural disaster unfolding in Texas and the individual was complaining how awful that was. Let me enlighten you on what future journalists are being taught so maybe you will understand why news is reported the way it is.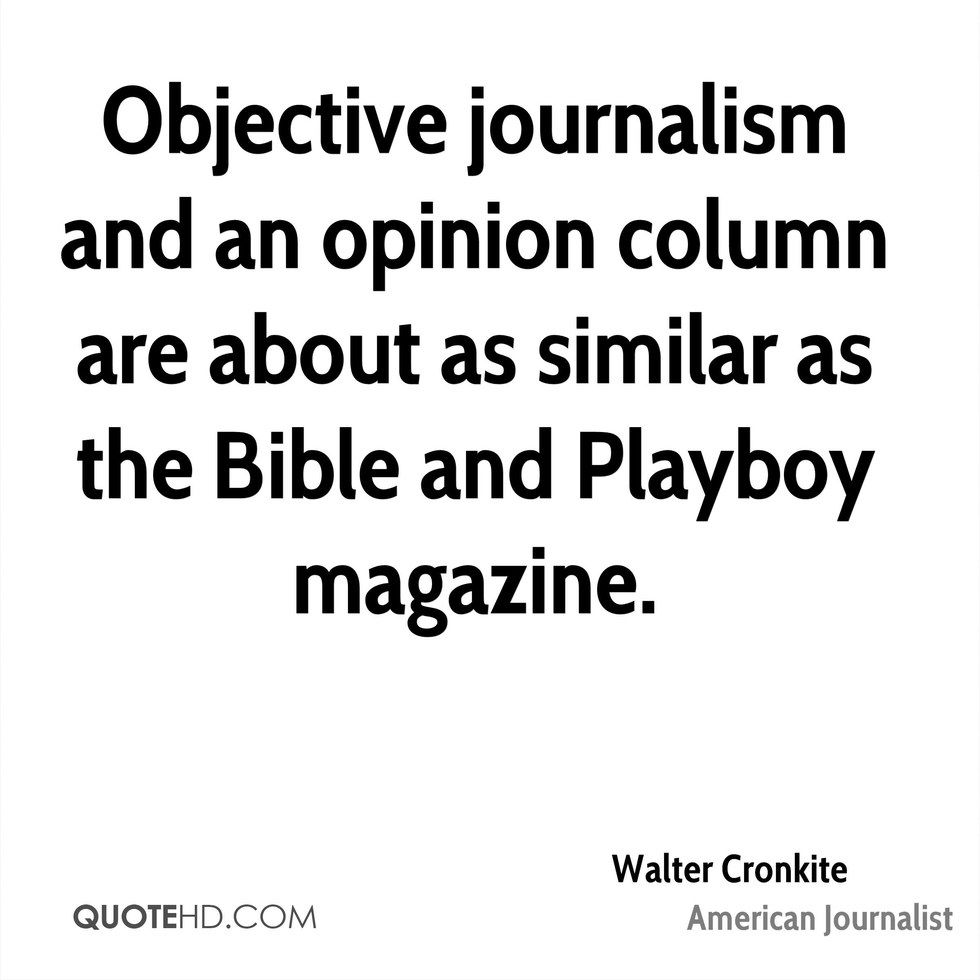 A novel that I had to read last year for a journalism class was Kovach and Rosentiel's "The Elements of Journalism." They stated that "Journalism's first obligation is to the truth." Journalists report the truth regardless of what people like hearing. There are also three metaphors they wrote about in their book that the press identifies themselves with that I think are extremely important for the public to understand:
1. The press is a watchdog, meaning they are supposed to bark at the big guys in power (the government) when things aren't right. We are there to protect the interest of the little guy, or citizens.
2. The press is a marketplace, meaning they are to report on a wide variety of topics and ideas, regardless of popularity or majority agreement.
3. And finally, the press is a mirror, meaning they REFLECT what is happening in society for all to see.
Personally, I think that last point is the most important. People get angry over things happening in the world and get mad at media for the stories when they are simply doing their job of reporting. Is the article you hate really "fake news" or is it simply something you disagree with? Just because you are in disagreement does not change the facts. Yes, they are reporting on events other than Harvey. Why? Because people still need to stay informed about what is going on in the world around them.
Of course, there are opinion columns and talk shows and places where journalists do share their own biases and thoughts. That is the beauty of our First Amendment right. But not every news entity shares their opinion and every journalist is trained to report straight facts without a one-sided feel to the article.
Let me leave you with this. If we did not have the media, how would we know things? How would we know about the tragedy of Hurricane Harvey and which charities are best to donate to? How would we know which presidential candidate we would like to vote for? How would we know about anything going on in the world around us?
The answer is simple: We wouldn't have a clue. Journalists and the press are necessary to our society to string along the flow of news and without media, our world would be completely different.