During the beginning of my senior year of high school, you would have caught me saying, "I don't want to go to a big school." The thought of leaving my small suburban town in south Georgia to go to a giant college terrified me. I was afraid of going somewhere so big, and barely knowing anymore. But then, I got into the University of Georgia, and I thought "Maybe I'll give this a shot." There are a lot of dawg fans in my family, including my grandparents, dad, and aunt, and they all encouraged me to try out the big college lifestyle.
Fast forward three years: I'm so glad that I choose to go to the University of Georgia. I can't imagine myself going anywhere else for school. Sure, sometimes the classes are hard (and finding a seat in the MLC can be a struggle sometimes), but overall, my experience at UGA has been a good one. Here is a list of why I am thankful I choose UGA.
1. The wonderful people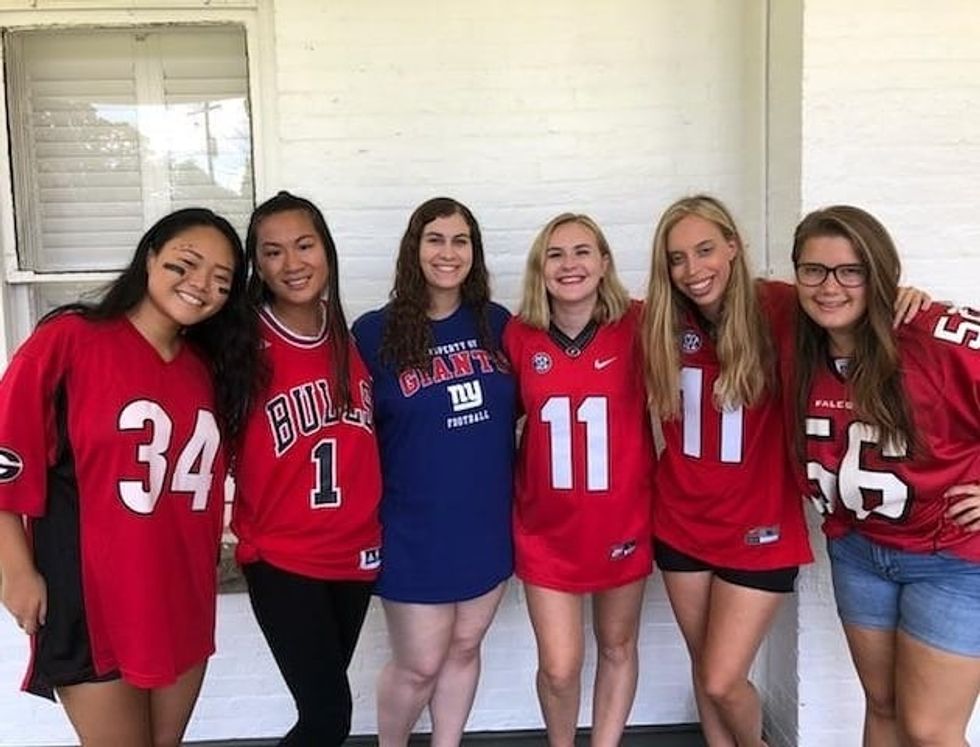 I know it's cheesy to say, but I have met so many incredible friends at UGA. For upcoming freshmen, I would recommend doing FreshCo, which was where freshmen come early in the summer to take summer classes. Not only did I get ahead of my classes, but I also got to meet some of my best friends. I am still friends with some of those people that I met that summer. Every year, I continue to meet more and more people, and this has led me to feel more at home at UGA. The college may seem big at first, but with time, it will seem smaller because of all the people you meet. Also, I have made so many valuable friendships in college that I will value forever. My roommate and I are rooming together for the fourth year in a row next year, and I feel so lucky to have so many great and strong friendships at UGA.
2. The endless opportunities 
I have been given so many opportunities at UGA to expand my job experiences in the field of journalism. For example, I wrote for the Red & Black, an off-campus newspaper, for two years, and I was an editor for them last summer. I also have been able to learn many valuable writing and technology skills through my classes with UGA's Grady School of Journalism and Mass Communications (the second best journalism school in the nation, I must add!!). UGA has given me so many needed skills that I will be able to take with me after I graduate.
3. The great experiences 
Not only have I been able to make a lot of countless memories with my friends (spring break beach trips, a trip to New York, UGA club cross country meets to North Carolina, date nights, formal, semi-formal, etc.), but I also have been able to travel on my own some. I was able to study abroad in Costa Rica last May, and it was one of the best experiences of college. I loved the beautiful country, and I was able to improve my Spanish while learning more about the Costa Rican culture. It was an experience that I will treasure forever.
4. The endless things to do 
To be honest, my social life was kind of limited in high school. I went to school, then went to cross country practice or track practice, and then I went home. That was pretty much it. However, in college, there are so many social activities to do. You can either go eat at some diverse array of restaurants with your friends, or you can jam out at a concert in the Georgia Theatre or 40 Watt Club. Also, Greek Life is not for everyone, but I have found some of my closest friends in my sorority, and I have been able to go on lots of fun socializing adventures with my sorority, including a trip to the South Carolina Aquarium for our formal. There are also so many different clubs that one can get involved with, and these can lead to you meeting your best friends. Being bored at UGA is not an option.
5. The Football 
Okay, the Dawgs might not have done the best during the last season (rip that Alabama game), BUT it's still great to be a Georgia Bulldawg. I don't care if we win or we lose, I will always rather wear red and black over any other football color. Being a dawg fan is not something that ends when you graduate, it stays with you forever.