This summer has been quite an adventure for me, and a huge part of that adventure has taken place in Hong Kong. Aside from the amazing culture and wonderful scenery, Hong Kong provided some amazing experiences in the culinary department. I will admit, when this trip began I was worried I would be living off of the meal bars and fruit snacks I had packed. It was amazing to me that I only ended up eating one of those the entire trip. I do not know if there is any possible way to describe how wonderful it was, but here is my attempt. So here are seven reason why if you love food, Hong Kong must be on your bucket-list.
1. The Street Food
I think one of my favorite parts about traveling is the cheap street food. It really gives you a sense of the culture wherever you may be. Hong Kong was no different! I loved sampling all of the cheap foods that the locals were buying as well. My favorite of those were the egg waffles, or as we called them, bubble waffles. These things became an absolute addiction for me. I definitely ate more of them than I should have.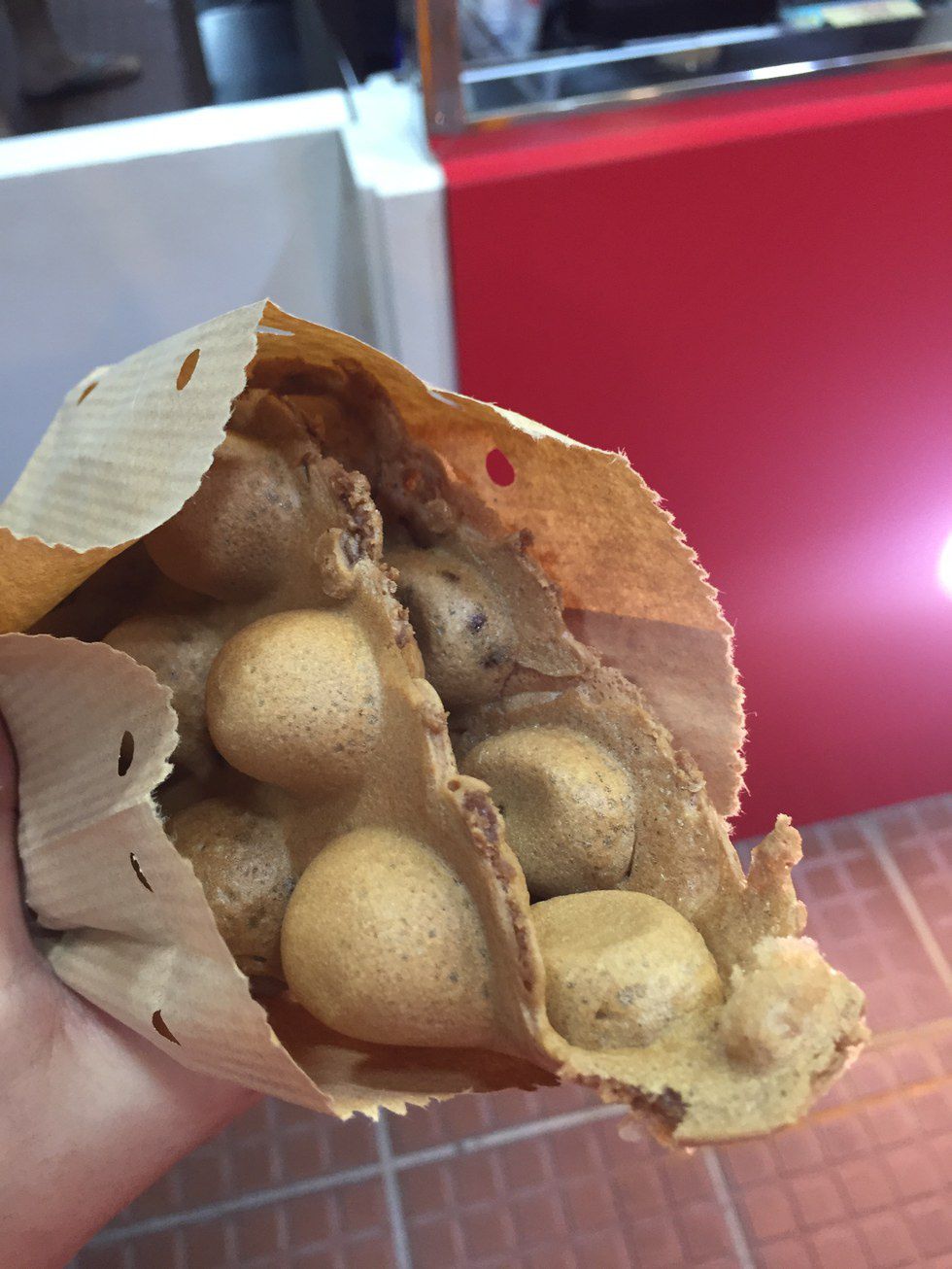 2. The Exotic stuff
Traveling presents opportunities to try foods that would be hard to find back in the states. In Hong Kong I had the pleasure of trying things that I never would have imagined having the chance to including Chicken feet and Shark Fin soup. Though not a huge fan of either, I loved the chance to try both of them!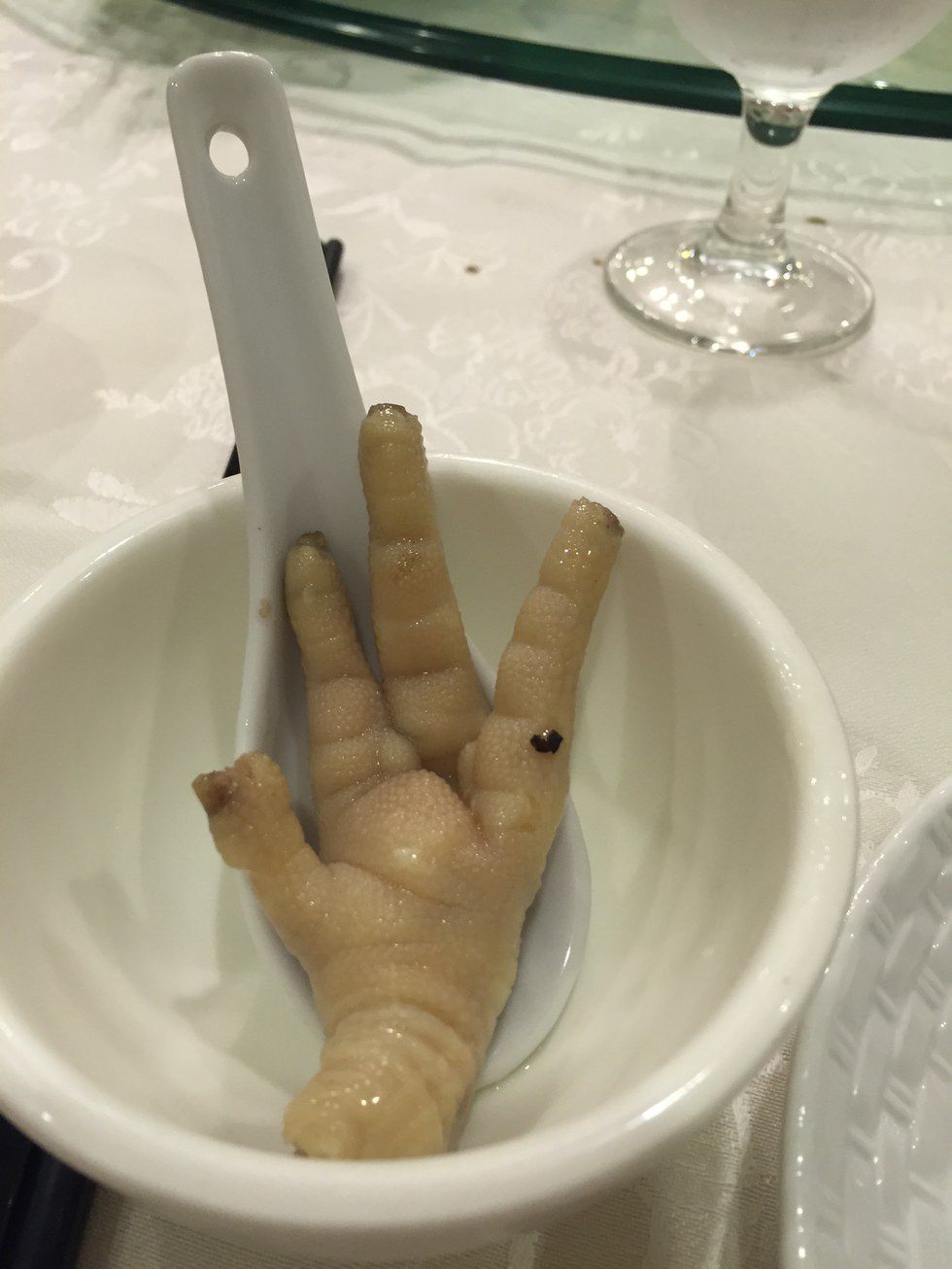 3. Dim Sum for Days
Eating Dim Sum is one of my favorite ways to eat. For those who don't know what dim sum is, it usually involved small portions of lots of different foods ordered separately and shared among groups. I love eating this way because you get to try most of what is on the table. During our trip we ate dim sum almost every day. Even just writing about it is making my mouth water.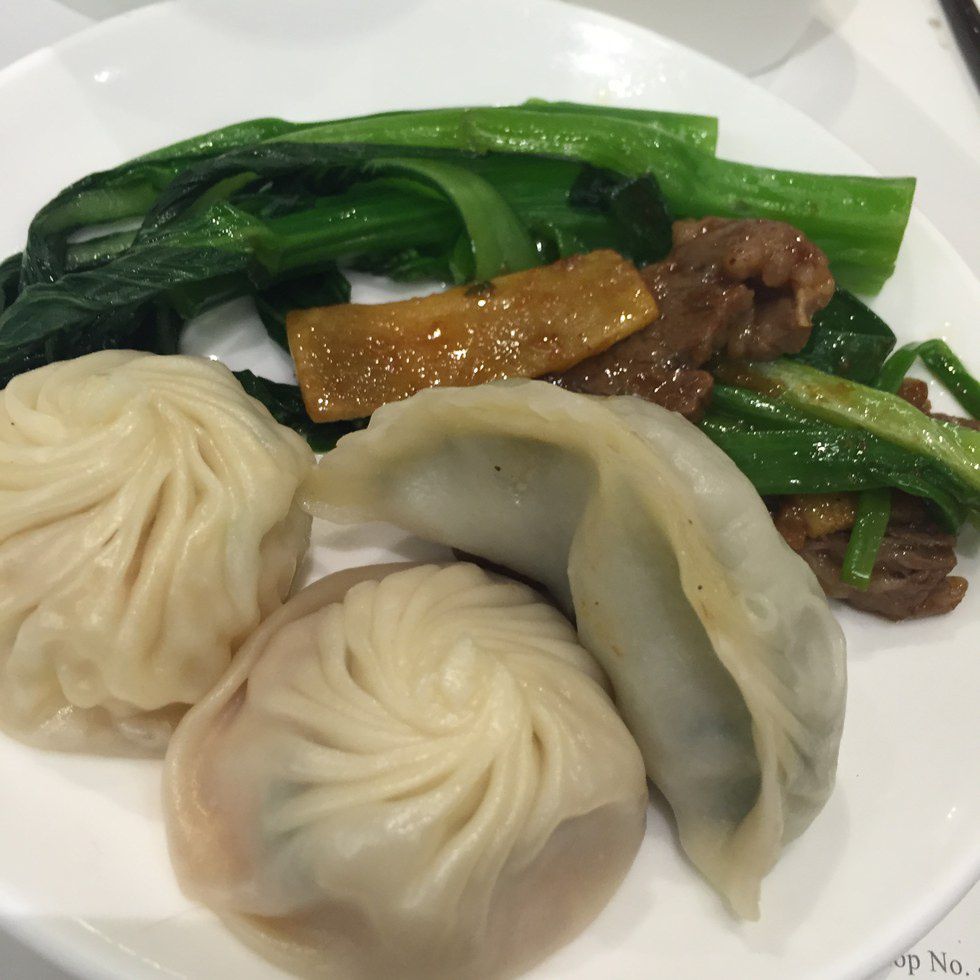 4. Healthy stuff
I am not huge into eating healthy, but I must say eating in Hong Kong was healthy (for the most part) and delicious. This trip was probably the first time I looked forward to eating cooked vegetables! Even many of the desserts were fruit, or red bean based. It made me feel much better about myself for eating so many of them. Plus, they look absolutely adorable!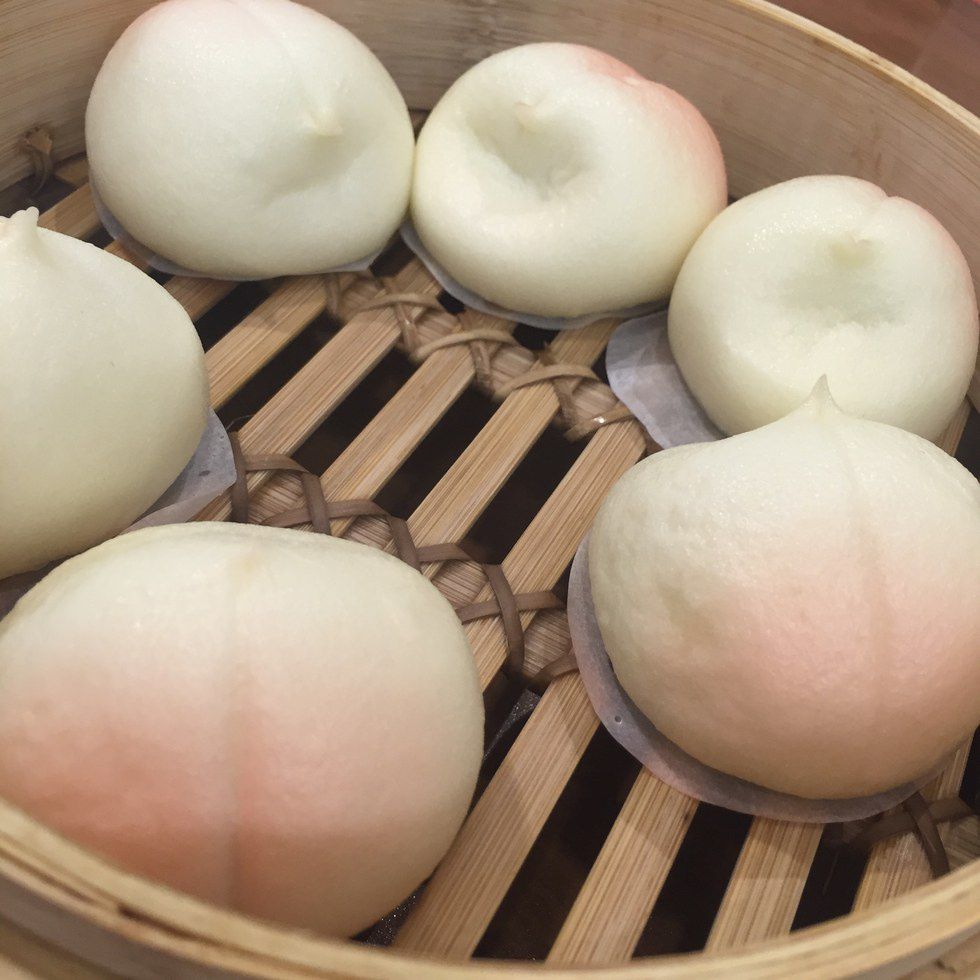 5. Bread
Most mornings we would hit a bakery along one of the subway stations before starting our day. I have to say, the Hong Kong bakeries do pastries much better than ours in the states. There was an amazing variety of buns and rolls. I tended to lean towards those with meat in them, such as the ham and cheese croissants. But the Red Bean, Orange Cream, and all others were amazing too!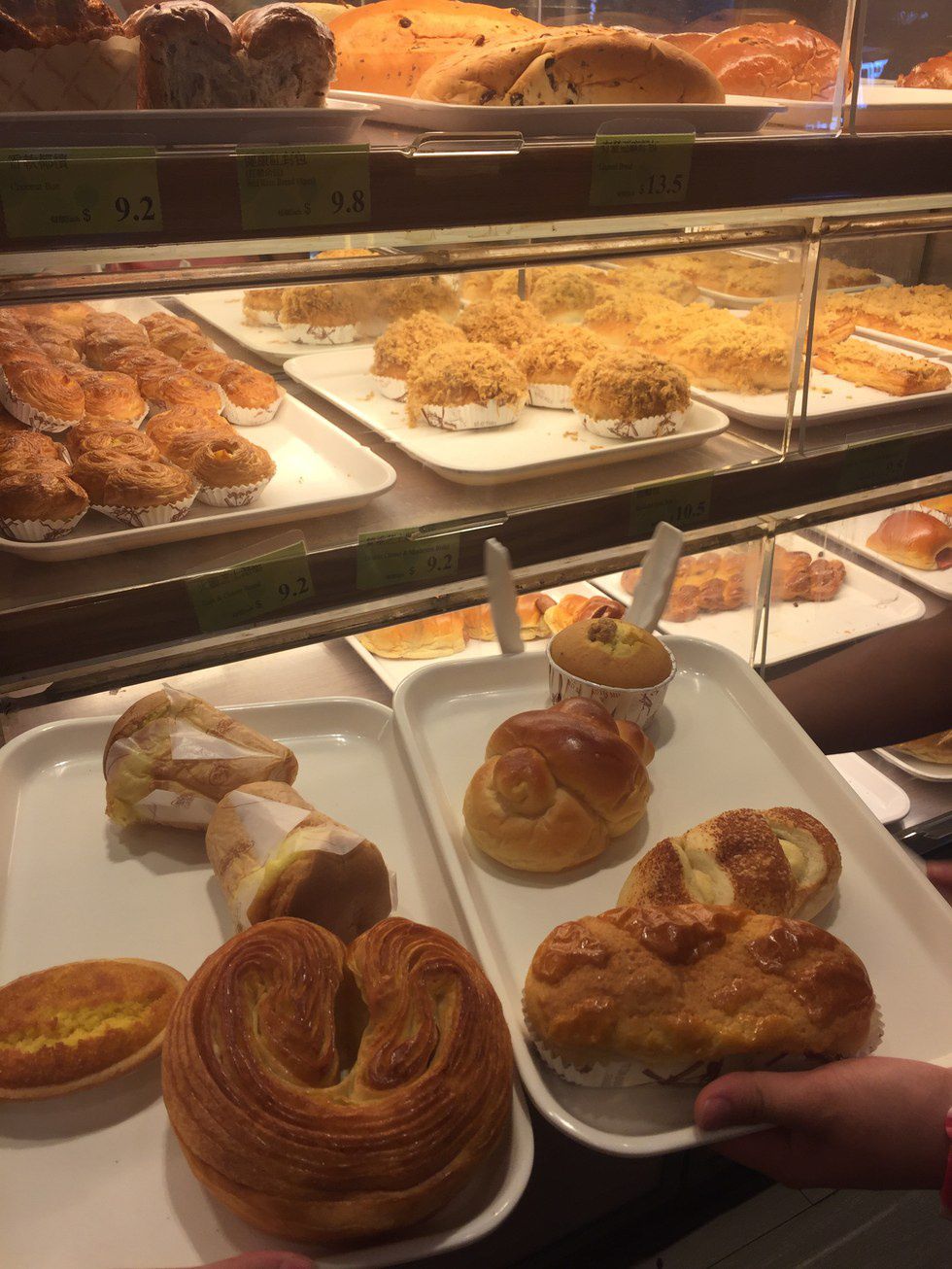 6. Drinks
Bubble tea is wonderful, so I'm just going to start by throwing that one out there. I had never had it before this trip and now, along with bubble waffles, I have a new addiction. Hong Kong milk tea is also wonderful! The Chinese custom of drinking tea at most meals is wonderful. I also got to drink coconut water right out of the coconut for super cheap!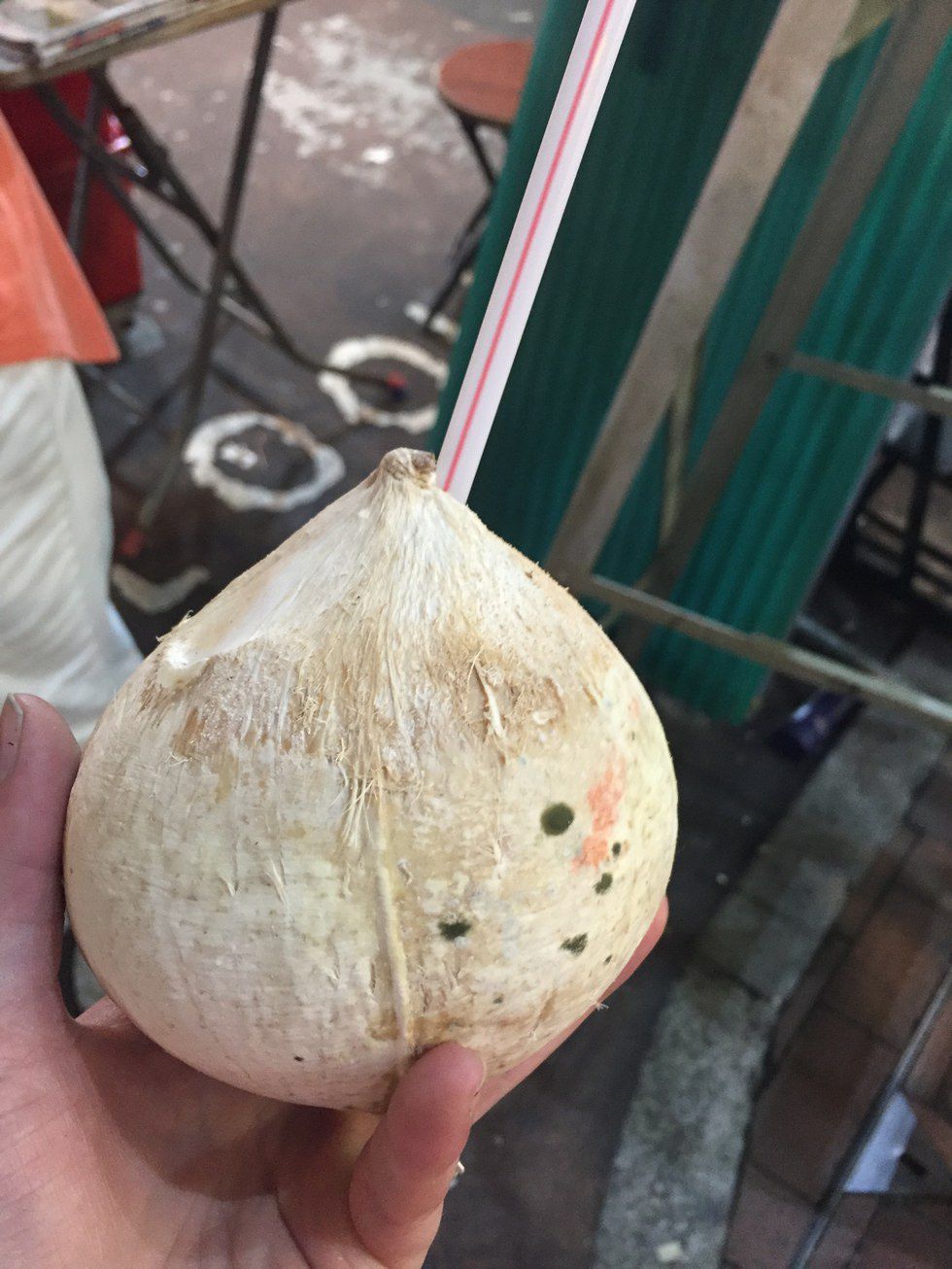 7. Large Meals

I think this one goes along with the dim sum, but oh my gosh the sheer amount of food we were given at some meals was unbelievable. I ate more than I have in months. I'm glad the food was semi healthy or this would have been a serious problem. Overall almost everything I ate was amazing. And the best part was getting to try just about everything.
---
If this hasn't tempted you to pack your bags and go eat, I don't know what would. The experience was incredibly and I would definitely suggest it for anyone. So if you are a human who loves food, Hong Kong is a wonderful place to visit!