640 acres of desert,140 miles East of San Diego lies the "last free place" in America. Slab City, CA.
What used to be an old, abandoned marine training base called Camp Dunlap, is now a squatter community. After the military left, the concrete slabs stayed, thus creating Slab City. Starting out as a campground to come to during the winter months where the population swells to about 4,000 people, a small portion of people stay year-round.
However, many are deterred from staying because of the extreme conditions. In the summer, temperatures can reach above 120 degrees Fahrenheit. Despite most people leaving after the winter is over, the year-round population of roughly 200 people are free to do as they wish. Being separate from the government allows them to live without paying rent or having zoning laws. Even though this freedom may come free in terms of money, it is not free all around. There is no electricity, no water, and no sewer system. There could also be munitions and military waste buried in the soil. At which point the Federal government is looking into this.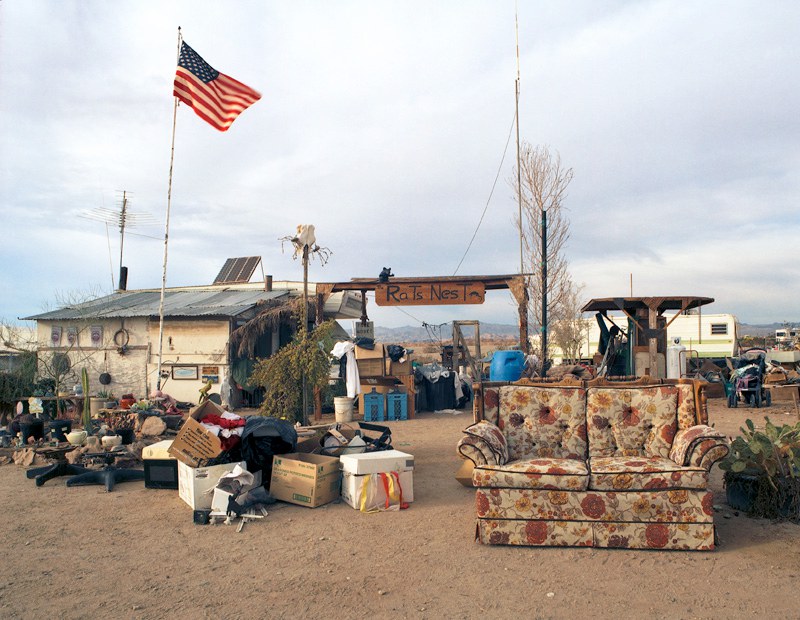 In Slab City, there are no stop signs, the homes are made of a variety of makeshift shelters ranging from old school buses to tents made from pallets and blankets to make them sturdier. Not everything is this run down, there are more upscale "houses" which are nicer RV's, some even have solar panels. The community has made a church and a library as well.
Slab City not only serves as an escape from the hustle and bustle of the rest of the world but also as a place to create art. In one section of Slab City called East Jesus, there are many creations of art that people have made over the years. The art is generally made out of trash, items that would have been sitting in a landfill are either repurposed or used to make pieces of art. For instance, one sculpture is of a mammoth made completely out of tires.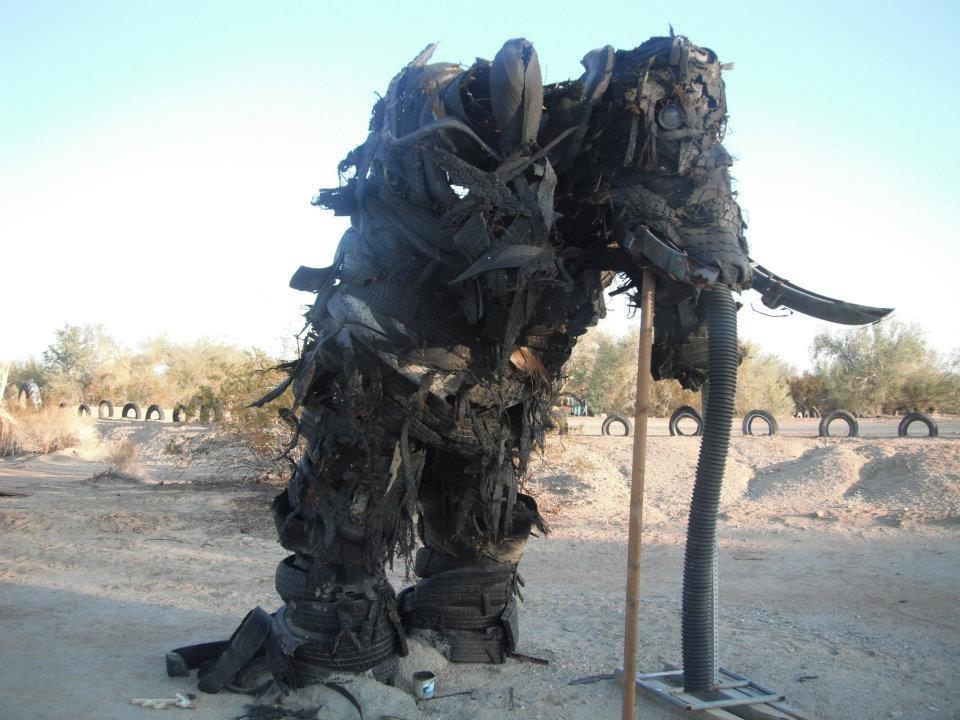 This piece of land is owned by the state of California and they have recently put it up for sale. Alarming the residents of Slab City, they have decided to make an effort to buy it. The community is worried that Slab City could be turned into a geothermal energy or solar energy plant, destroying the last free place in America.
At the moment, Slab City's future is uncertain due to the fact that many of the residents live off government aid and Social Security. They need to raise approximately $500,000 in order to have enough money to buy the land for themselves. Right now, they have not come up with the $5,000 needed for the application deposit.
If you feel like this is the place for you, here are directions for getting you there. I bid you farewell and safe travels. Simply drive towards Niland on Highway 111, turn east on the street by United Grocery. Then travel for 3.5 miles to the city. The Salvation Mountain marks the entrance.