I have really strong opinions regarding figure skating being the best sport in the world.
I remember being mesmerized as a little kid in the '90s and early-2000s, during the Olympics, when Tara Lipinski, Sasha Cohen, and Michelle Kwan took the ice for their freeskates. In fact, those talented ladies led me to skate competitively for over 10 years. There's something so effortlessly badass about figure skating--I mean, it is one of the most-watched events in the Winter Olympics. What other sport combines that much strength, stamina, and artistry? Step aside, football.
Last weekend, Skate America aired on figure skating's network partner NBC. Skate America is the first event in the Senior Grand Prix circuit, where skaters can rack up points throughout the circuit for a chance to compete as one of six spots in the Grand Prix Final. For skating fans, Skate America is one of the first chances to visualize the season to come in preparation for Nationals and the World Championships.

2014 U.S. National champion, Gracie Gold, performs her freeskate at the 2015 Skate America. Gold finished second in the competition overall.
However, the most disappointing part about the coverage was NBC only allotted one hour of coverage time. The rest of the coverage was shoved to NBC Sports Network which is located in the eerie depths of the high 800s on a channel lineup (but I don't have it at my apartment. Boo). Not even 10 years ago, I could watch almost the entire coverage of the skating season through regular networks. Now, the only way to get the same coverage is to pay an unreasonable amount for IceNetwork ($49.99/season). Since I'm broke, I have to scour YouTube for low-quality recordings. And that doesn't hold the same nostalgia as being able to watch a performance live on television.

Skating is one of the most popular sports abroad. Russia has become a factory for producing frighteningly talented 15-year-olds. Two-time Olympian and six-time World medalist Kim Yuna is a high-profile celebrity in Korea and other parts of Asia. In America, if you ask a non-skating fan anything about skating, they'd probably say, "Oh, yeah! I love Michelle Kwan." Sigh.

Figure skating has declined in America in the last decade, as far as I've noticed. Remember the good ol' days of the 6.0 system? Back then, skating was judged separately for artistry and technical elements on a grand scheme. There was less focus on racking up points on a jump combo or your degree of difficulty on a spin variation. Unfortunately, the International Skating Union (ISU) felt the need to change after the 2002 Olympic scandal.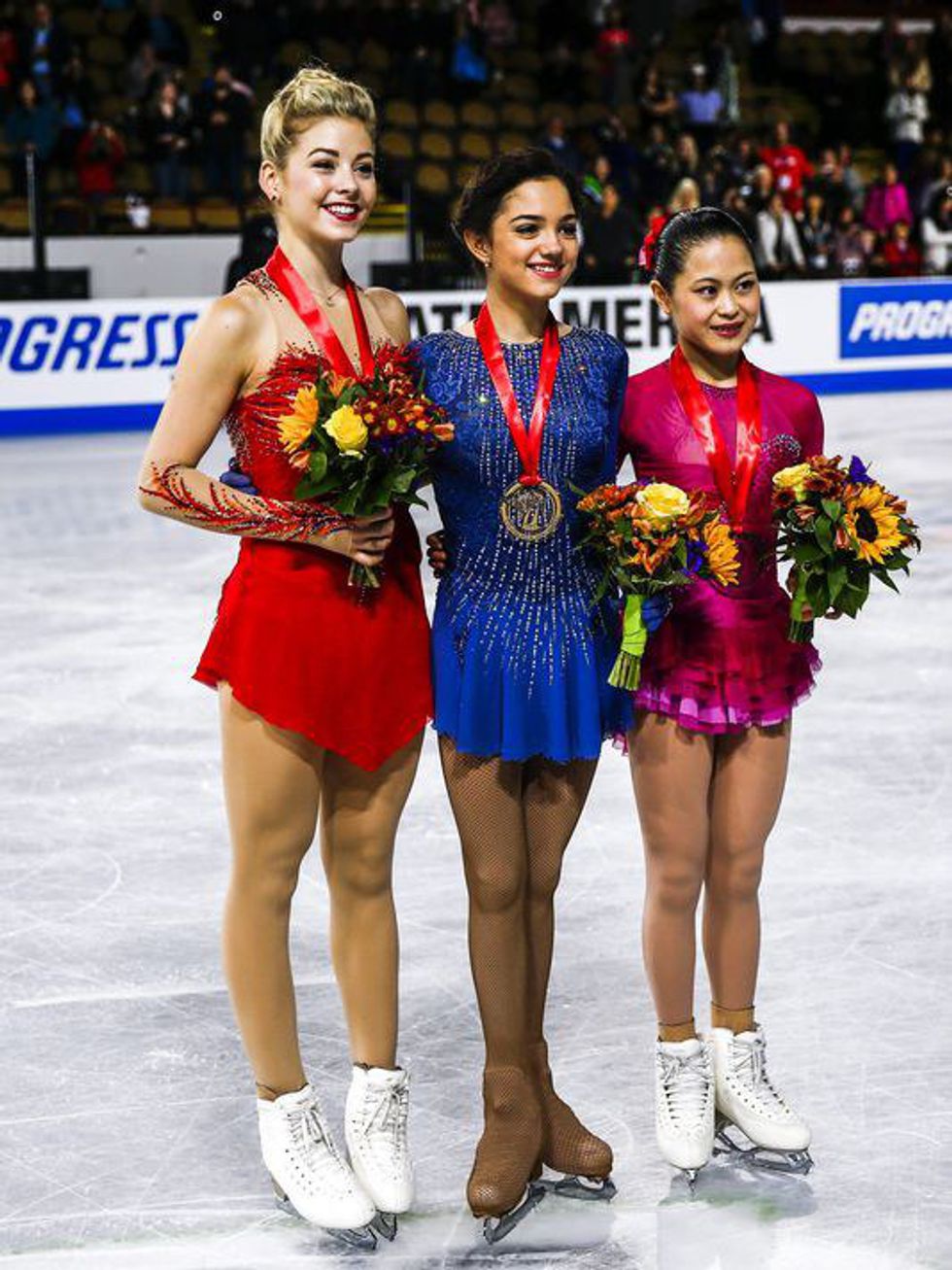 Ladies podium at 2015 Skate America. L-R: Gracie Gold (USA -silver), Evgenia Medvedeva (RUS - gold), Satoko Miyahara (JPN - bronze)
Ever since the switch to Code of Points (CoP)/International Judging System (IJS) in 2005, skaters are heavily scrutinized for every tiny detail in a program. Watching skating has lost its magic and now has turned into a jumping contest. Each element now has a base value and either a plus or minus value added for how well the skater(s) execute something. If any of the ladies don't have a triple-triple combination or the men don't have a quad, they can forget about making it to the top. The new scoring system still isn't 100 percent unbiased, either. Don't think fans aren't able to see which skater the judges favor. A score over 200 might be an amazing feat, but there will always be someone who had an extra jump added, or a Level 4 on something someone else got a Level 3 on. A .01 difference might look like nothing to the average viewer; however, to a skater at an elite level, their career is dependent on it.
The originality in music is dying too. Last season, ISU allowed all disciplines to use lyrical pieces (prior it was only ice dancers). Rather than taking the opportunity to use an extensive repertoire of music for the first time in skating history, skaters are like, "Let's use 'Carmen' and 'Phantom of the Opera' like we have every other season, but with words!" Even so, there are 10 gazillion instrumental pieces out there that aren't Carmen, but someone always skates to it. How about instead of laying artistry and originality to rest, let's ban Carmen. (But seriously, for the love of the ice, stop using it.)

Skating needs a lot of help to rebuild the audience it had in the days of the Nancy Kerrigan, Michelle Kwan, etc. reigns. The nuances of the sport aren't lost, just adapting to the new future. It has the opportunity to be better than ever, but the way it's been handled over the last decade is not the answer to building that audience. According to the L.A. Times, in 2014 figure skating viewership declined on both television and attendance at live events, which justifies the lack of coverage, even during the 2014 Olympics. The 2007 U.S. Nationals still holds the largest attendance with 155,000. Yet, it's only gone down from where it once was.

American figure skating will always hold a special place in sports. Despite this, there are too many problems driving away even huge skating fans, like myself. But for right now, you can still find me yelling at the TV like a football dad when an American skater takes the ice.