An excessive-heat warning this past weekend was just what we needed to kick-start this summer into full gear. Pools are open, water parks are running and air conditioners are pumping. Doors stay closed, windows are shaded and sane people stay indoors. Note that 115 degree weather is no joke and unless you live here or until you visit during the worst time of the year, you won't be able to understand the smothering and claustrophobic heat of Arizona's summer environment.
Arizona is great. There's a good chunk of the year where its residents are able to play sports, go hiking, go mountain biking, camp and participate in other outdoor activities without the weather being a problem. When May rolls around, temperatures start to pick up. Once June makes its grand entrance, it's all downhill from there. You can't go outside without feeling like your skin is baking under the sun. It honestly feels like we live in a giant oven that just keeps getting hotter as the summer weeks go by.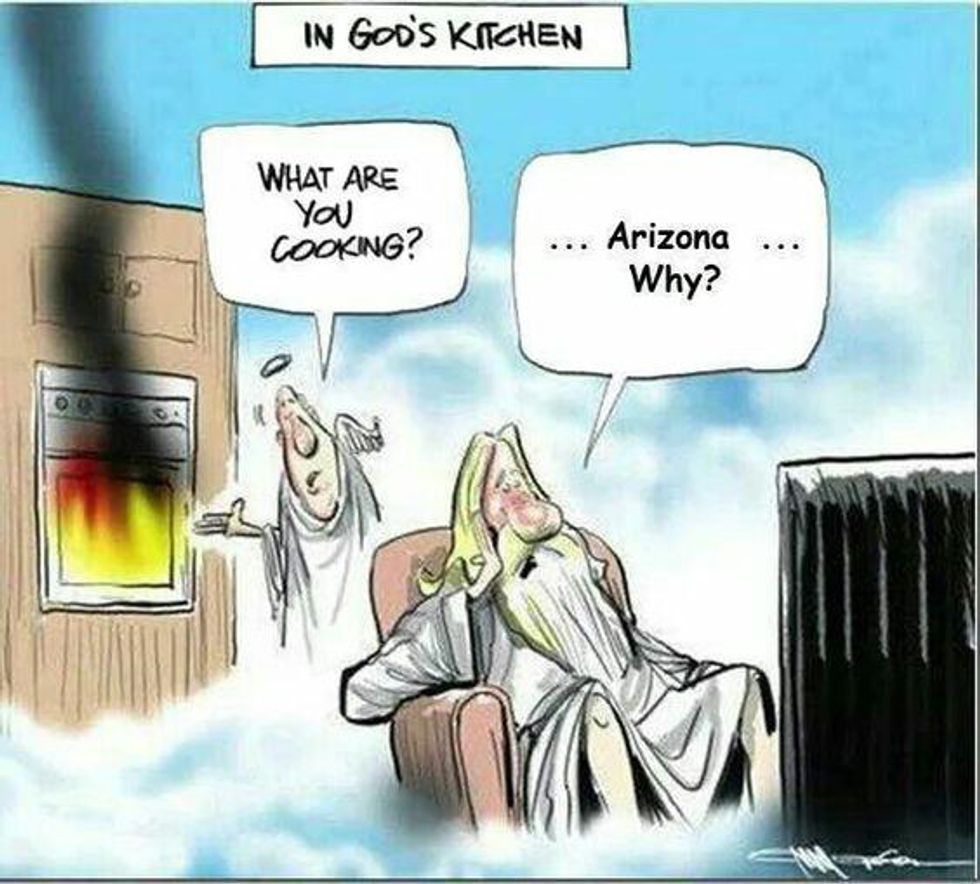 While it often feels like we live in an oven, here's another comparison of the heat we are forced to endure here in the southwest. Most of the time, the outside air is stiff, but when nature decides to let a little breeze through, it feels like your face is burning off and the hot wind momentarily blocks your ability to breathe.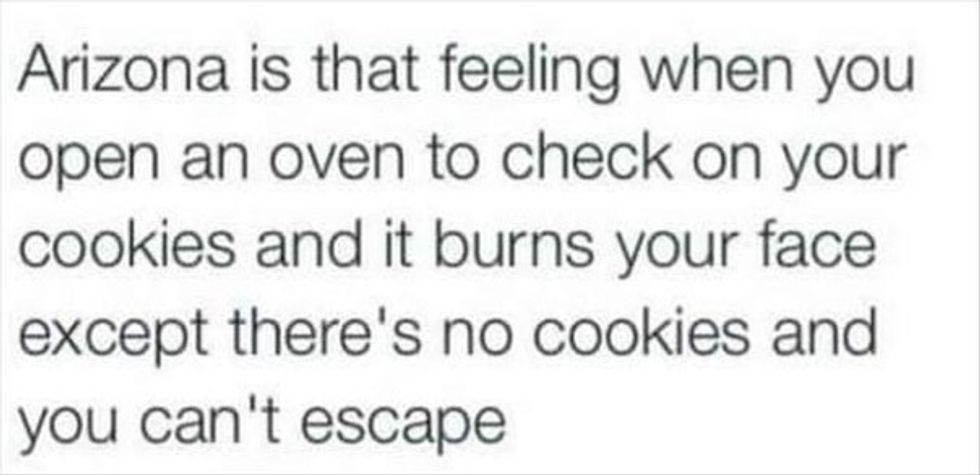 This may seem silly, but to the common Arizonan, using an oven mitt to protect your hands while driving is up there with the most clever of ideas. You also know that leather seats are an absolute no-no, unless you want a few layers of skin to peel off when the time comes to get into your car. Another vehicle cautionary is the metal part of the seat-belt. You're basically being branded if you let that scorching piece of metal touch you because that's how quick and sharp the pain is.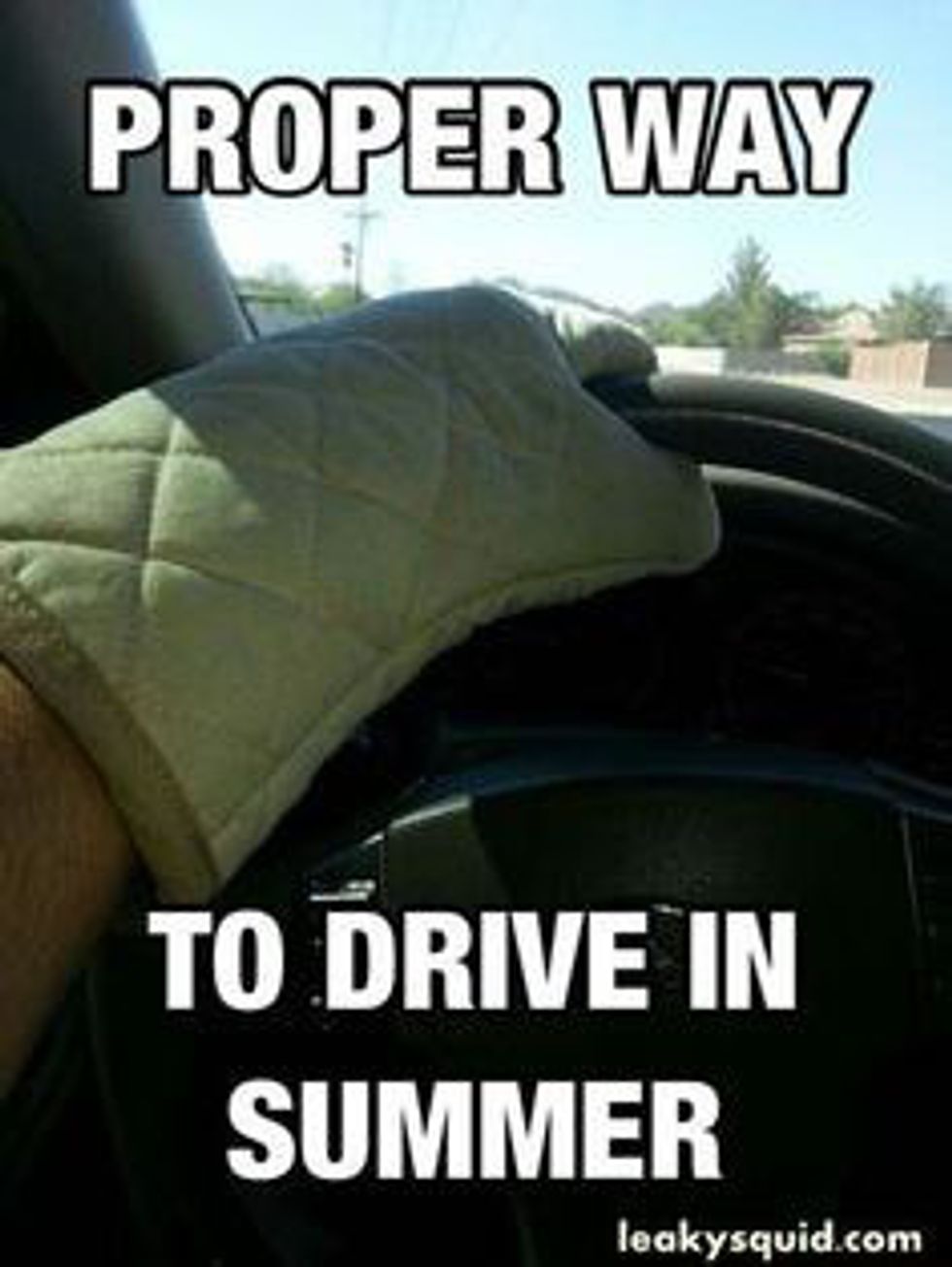 At some point during the summer, you stop checking the weather forecast altogether. It's usually the same every day: hot and sunny. While temperatures can range from 100-120 degrees Fahrenheit on any given day, you know that ultimately it all feels the same — like death.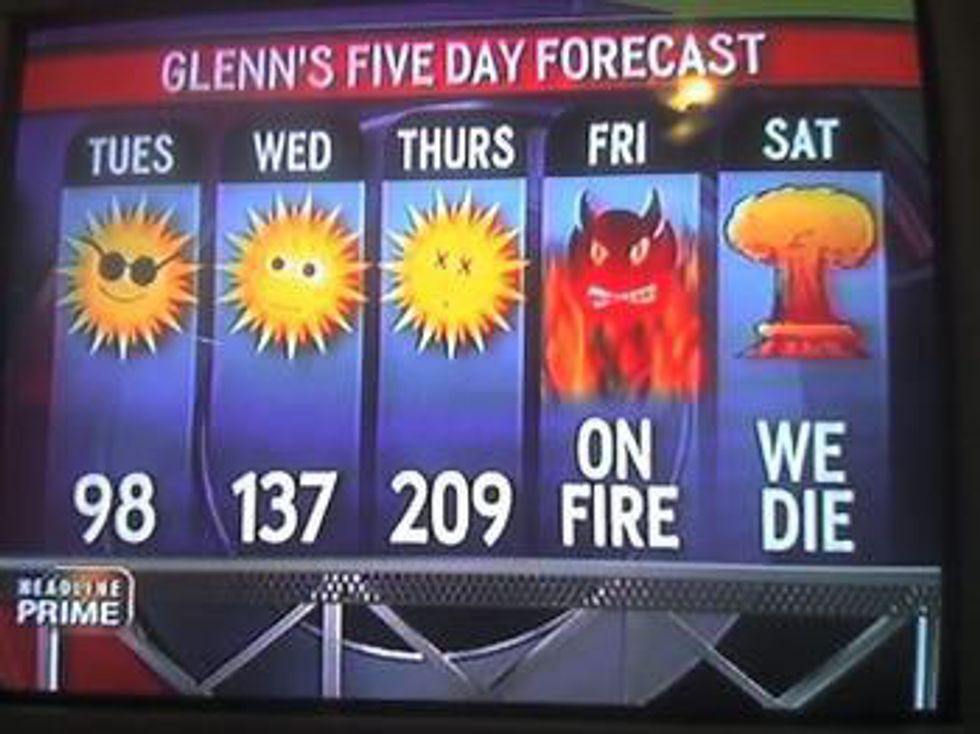 "But wait! It's a dry heat! That's so much better than the hot and humid combination."
I've experienced the scorching heat of the dry desert, as well as the hot and humid combination of summer in China. Heat is heat and it all sucks. Sure you might be constantly soaked in your own sweat if you add humidity to the summer mix, but if you're outside for more than 10 minutes in the dry heat, you'll be basking in your own sweat too.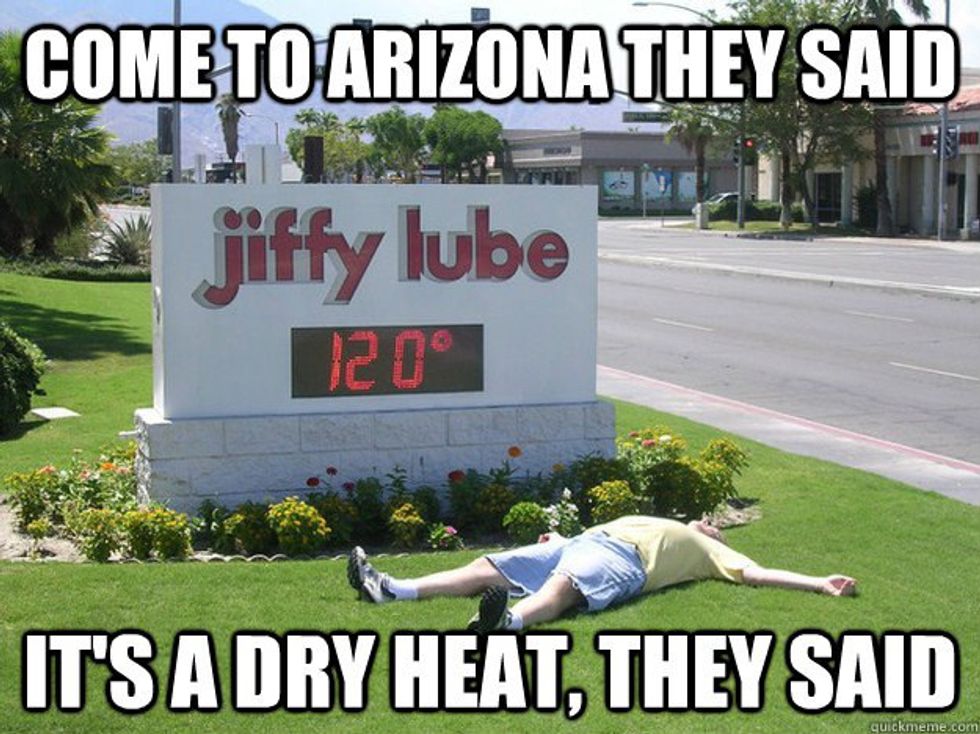 I mean, while hell is assumed to be a fiery inferno, I'd be lying if I said I don't think the same of Arizona summers.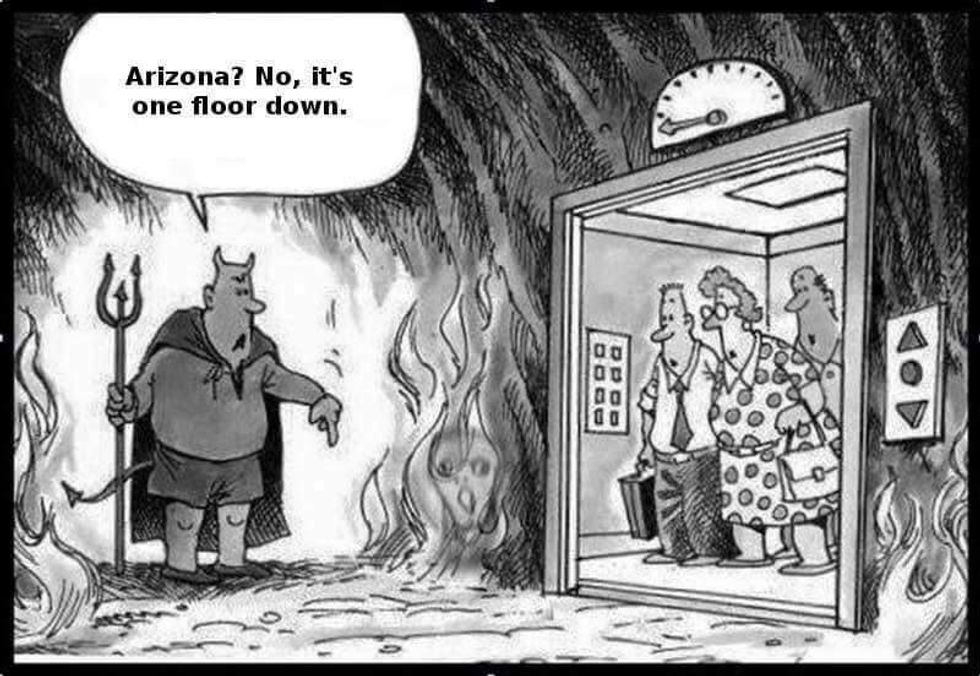 I've personally never seen a person chilling in an ice cooler, but it's definitely not a shabby idea. There are times when you're working or out running errands when you want nothing more than a cold shower or to be buried under a giant mounds of ice until it's safe to come out again.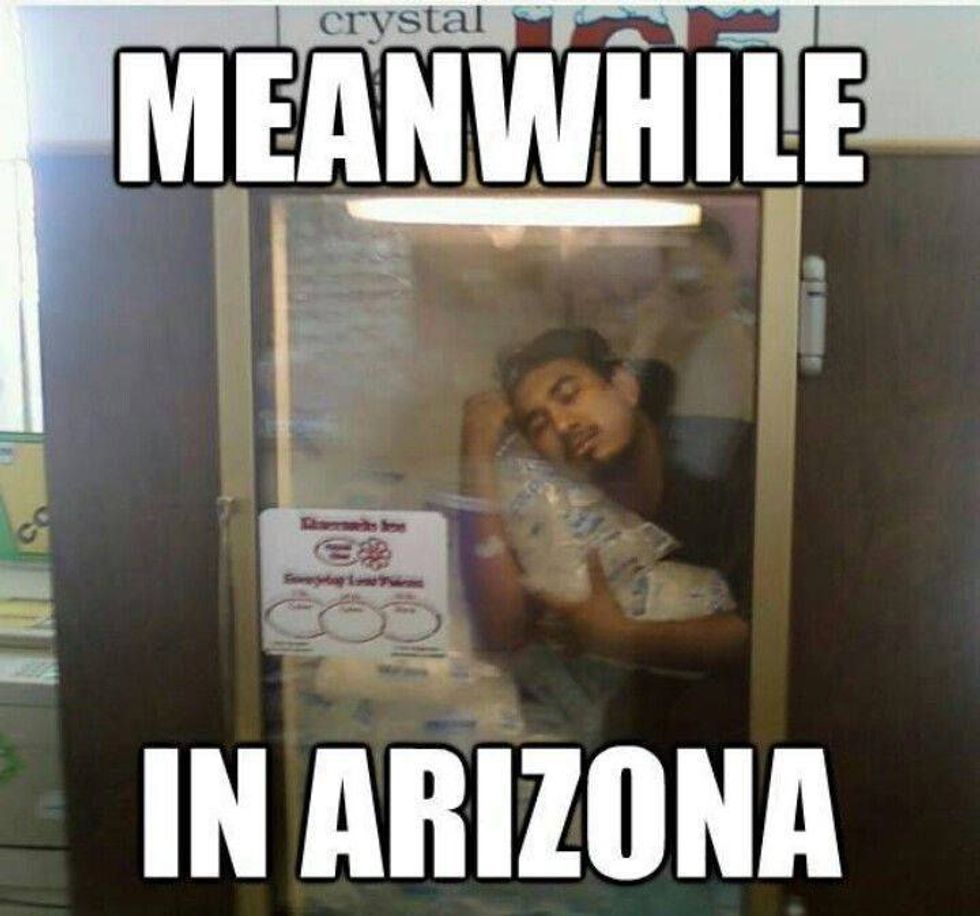 Standing on the sun is a spot-on comparison to going outside in Phoenix, Arizona. It's hotter than many other cities in this state, often by 5-10 degrees Fahrenheit. It's honestly a disgrace to nature and it baffles me how one place can take so much heat. Somehow, despite the sickening heat, it still manages to be the sixth biggest and most populated city in the United States. Why so many people subject themselves to this torture is beyond me.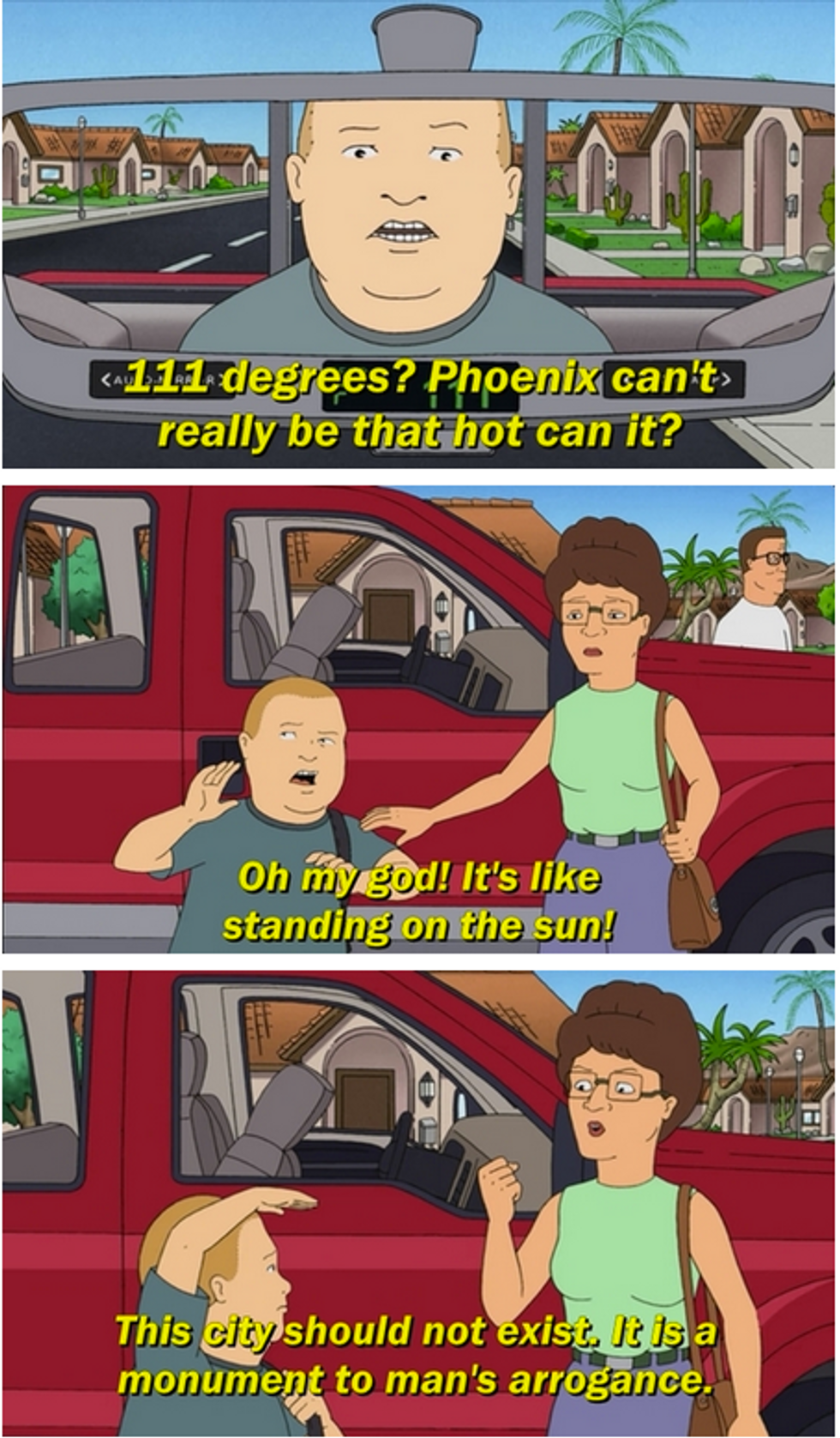 Yeah, Arizona summers really suck. There's not much to do besides work, go to summer school or spend hours in the pool. Even then, the water loses its feeling of refreshment after awhile. As summer ends and "fall," "winter" and "spring" takes its place, you forget how absurdly disgusting the summer heat is. However, being the desert rats we are, our bodies acclimate once again and the heat becomes more of an annoying constant rather than the topic of complaining conversation when it first arrives. Stay strong you beautiful Arizonans.