Drive about 15 minutes out of North Amherst and you'll find yourself cruising through Leverett's lush forests and minimally-developed farmlands. Turn onto Cave Hill Road, park in the designated lot, and take a short walk through the trees-- and you will meet the iridescent, snow-white structure in the center of this forest's sacred land.
Nestled a few dozen meters off of Cave Hill Road lies the New England Peace Pagoda, an immense domed building that symbolizes peace among all faiths and backgrounds. The Pagoda was the vision of Nichidatsu Fujii, a Buddhist monk who devoted his life to non-violence after experiencing World War II's atomic bomb at Hiroshima. Fujii founded the Nipponzan-Myōhōji Buddhist Order, and it was the Nipponzan-Myōhōji monks who had constructed North America's first Pagoda in Leverett alongside the hands of volunteers.
Monks belonging to the Nipponzan-Myōhōji Buddhist Order participate in daily prayers on site and also orchestrate peace walks, sometimes lasting months and spanning continents. Monks will often embark from the Leverett Pagoda on these non-violent, political walks that are meant to symbolize and advocate for peace across the globe.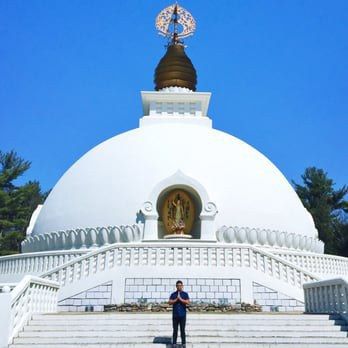 The New England Peace Pagoda, Leverett MA
The Pagoda is striking in its size and almost other-worldly beauty. The Pagoda's dome consists of four alcoves that depict Buddha's four stages of life, and it is said that inside the dome lies a relic of the Buddha himself.
To the left of the Pagoda is a temple which was built in 2011, 26 years after the Peace Pagoda's resurrection. This temple is the site for the daily prayers of the Nipponzan-Myōhōj monks. These prayers are held at 5:30 a.m. and 5:30 p.m. and any person, regardless of religious affiliation, is invited to participate. Upon entering the Temple (and after removing shoes), one is encouraged to take a vibrantly-colored origami crane as a symbol of sharing peace throughout the community. One's eyes will dance along the Temple's altar display of symbolic statues and decorative pieces, much of it painted in a shiny metallic gold.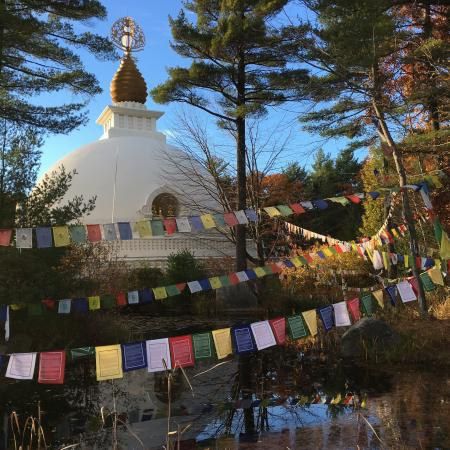 Tibetan Buddhist Prayer Flags at the Pagoda
The land surrounding the two focal points of the area include a small pond, grassy fields and trees decorated with bold Buddhist prayer flags that act as connectors between them. Walk deeper into the surrounding forests and one will find prayer flags of seasons past, tarnished, but still colorful reflections of ceremonies past. Even if one is non-spiritual or agnostic, the Pagoda and its grounds offer a tranquil setting that can act as a means of self-reflection or even just the silence that one's mind craves every so often. The aura that surrounds the area is an almost buzzing peacefulness; it is as if stepping onto the Pagoda's grounds can ensure a lifted weight one endures from the outside world, even if only for a little while.
Volunteers are responsible for the upkeep of the Pagoda, Temple, and surrounding grounds. If you are interested in volunteering, see their website for more details. The Pagoda is located at 100 Cave Hill Road, Leverett, MA. And it is most certainly worth a visit.