Thanksgiving break was quite possibly my favorite five days of the year. After a stressful few months at college, those few days off felt like heaven on Earth. Reuniting with old friends, eating lots of delicious home-cooked food, getting to sleep well, playing with my dog... ahhh, break.
But now, we're back at school and we've got three weeks to go. Just three. It's gonna be fine. Just three weeks. Until you realize that the first Monday back felt like an entire week in and of itself and that no, these three weeks will not be easy.
You're almost there, you can see the finish line on track coming up, but the single CLIF bar you had this morning is already wearing off and you're burning out. You've made the end of the semester to-do list, and it's full of essays, projects, presentations, exams, studying, and of course lots and lots of busy work.
You've said C's get degrees more times than you should, and you've considered dropping your second major and your minors, you've considered life as a hermit.
But never fear! Because we can do this. My professor told me on the first day of school that if you can get through your first semester at college, you can get through practically anything. You can definitely get through college.
It might sound like a pretty lame cop out, but you have to remind yourself that college is not easy. People struggle here ALL the time. One of my close friends struggled her entire first year at college to the point where she thought she may transfer out and go to college closer to home, but now in her senior year, she's the top candidate for recruitment at several different accounting and consulting firms.
That goes to show that just because it's difficult now, it does not mean it will be difficult always. It does not mean that you can't do it. You can. You just gotta keep pushing.
This same friend told me over break that if you work hard, you're going to be fine, and if you've worked hard and still don't do fine, it's okay. Let it go. Sometimes you know you just have to take the L, but don't let it get you down. Keep going. Don't worry about the stuff you can't do anything about, and just put your best work forward.
I know all this is much easier said than done; trust me, I'm in the same position. I can't help but stress out over these things too. All you need is a little inspiration.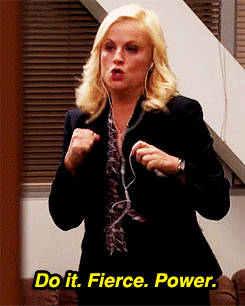 Leslie says, "YES YOU CAN."
Right now, you've been running the 3-mile distance on an entirely new track, and it's got hurdles even though you never signed up for them. But now you're on the last lap of the last mile. You've got to finish strong.
You're gonna run this bend, you're gonna sprint down the straightaway, you're gonna cross the finish line. Even if you don't get your PR, you're gonna finish. You got this.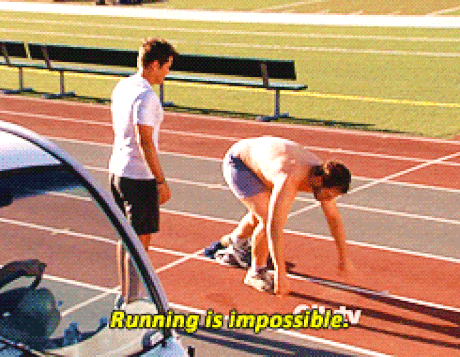 Don't be Andy. You can do it.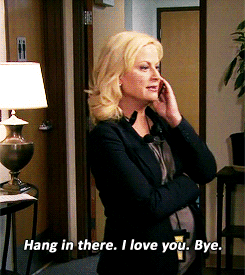 Leslie's got your back (and me too).