I was sitting at a coffee shop with some friends recently talking about our plans for Valentine's Day. We all seemed to have very different views in some areas, while having the same thoughts on others. It got me thinking about what the average person our age might be doing for this Valentine's Day. So, with the help of my fantastic coffee shop friends, I created a survey to find out.
The Results are in!
With the poll capped at 100, we found 50 women and 50 men classifies as millennials to take the survey. The first question asked the participants if they were in a relationship, and what kind.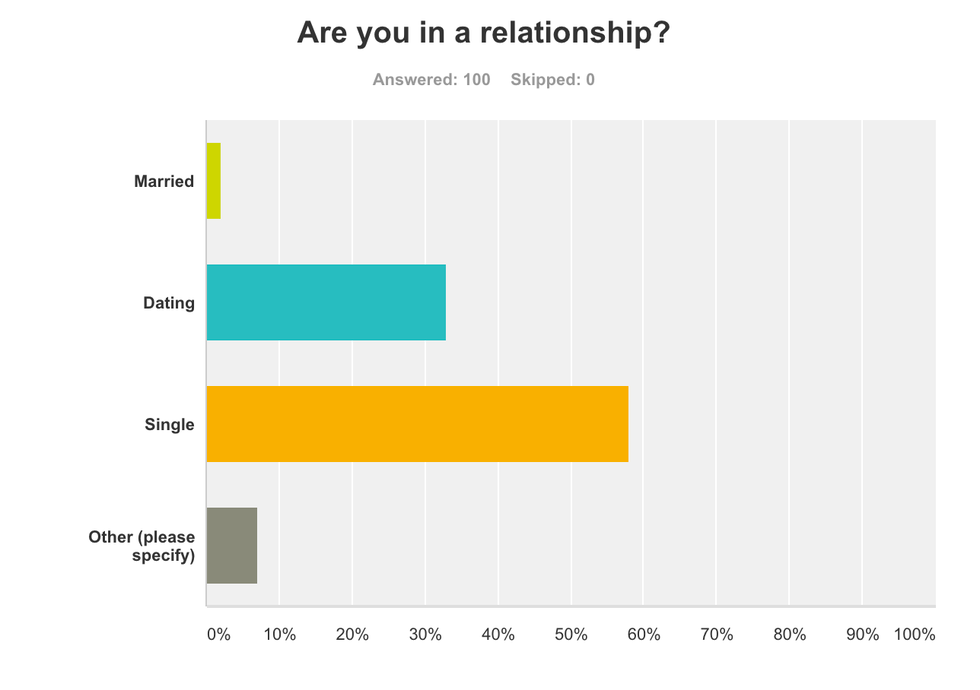 It is very obvious that the majority of millennials were single. Though the graph only shows 58 percent, three of the 'other' responses, such as 'forever single', fell into that category as well. We had one respondent answer with 'engaged', and another answer 'pretty much promised to'. However out of the seven 'other' responses, my favorite happened to be 'In love with my best friend.' Whoever you happen to be, I wish you the best of luck!
The next survey question asked the millennials what they wanted for Valentine's Day. This question allowed for multiple responses.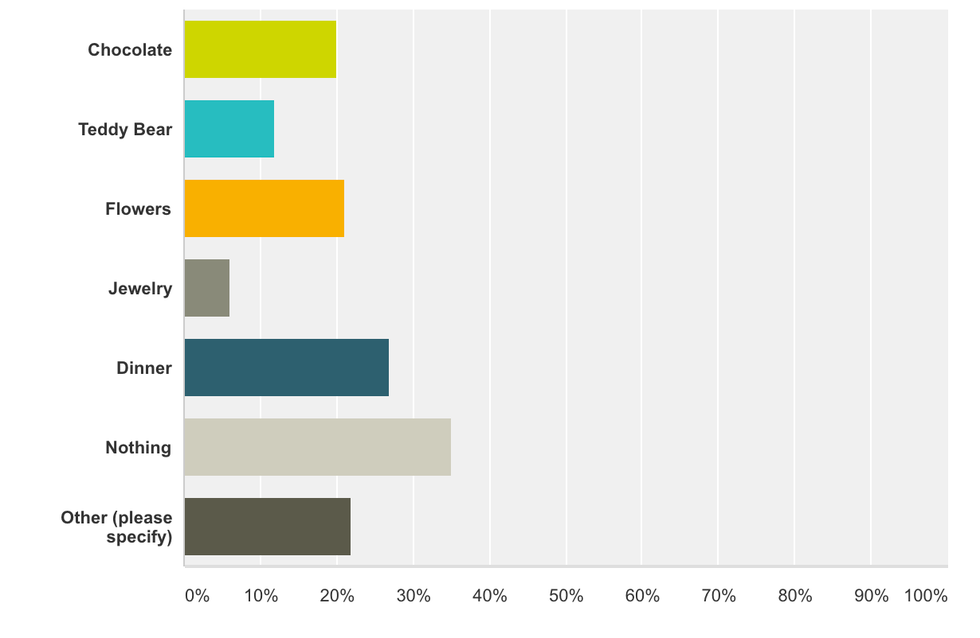 The answers to this one were a little more surprising! I don't know who these people are who don't want anything at all, but that was a bit of a shock to me. Maybe it's because I always seem to get something (even if it is from my wonderful mother). Aside from the idea of being in a relationship, giving friends valentines has always been something I participated in, so having 35 people say they do not want anything was surprising. The 'other' answers for this question were pretty great too! 8 respondents stated that they wanted 'quality time,' which I definitely should have made an option in the first place. Three stated that they wanted a 'card,' or more specifically 'a corny card.' Four respondents that I assume are single wanted a relationship, or a girlfriend. Other fun responses were, 'an airplane', 'pizza', 'something meaningful', and 'an adventure. However one specific response really stuck out to me.
"I believe that Valentine's Day should be a day that you let the people around you know how important they are to you. This can be done through gifts, but I believe quality time is always the best way to go."
Whoever you are anonymous responder, I could not agree with you more.
The next question was directed at the males specifically. It asked them if they expected a gift for Valentine's Day as well.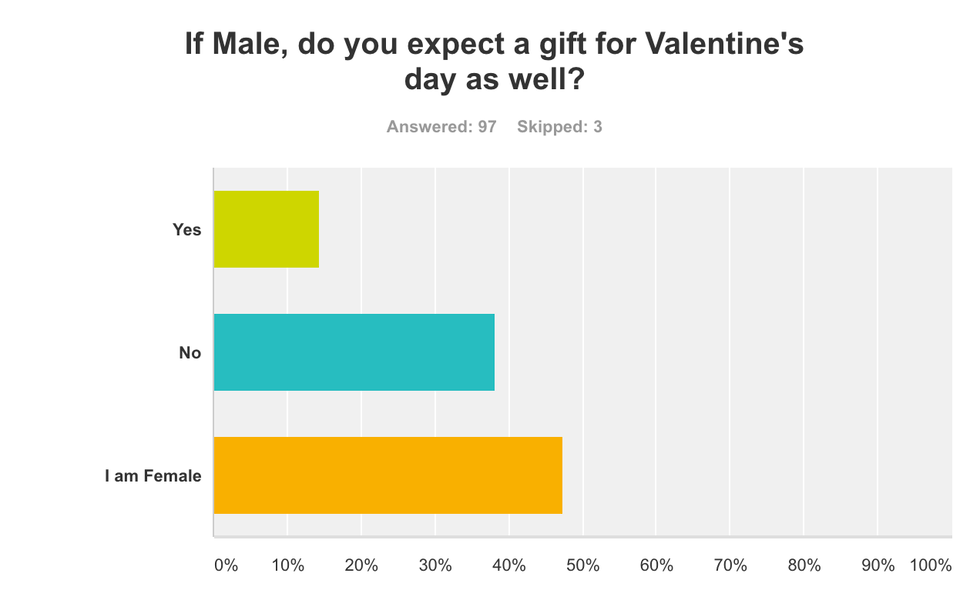 36 Men said they do not expect a gift for Valentine's day. However, 29 of the males answering this survey were single, so only seven men who are in a relationship did not expect a gift from their significant other.
The next question asked just how much people planned to spend on things like dinner and gifts this Valentine's Day.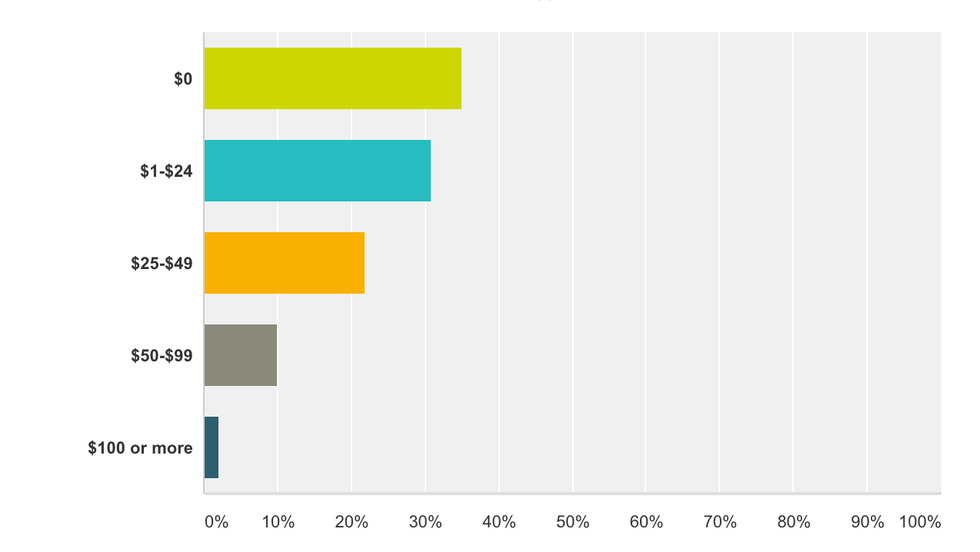 The numbers on this one made a lot of sense to me. With mostly single people answering this survey, it made sense that 35 participants do not plan on spending any money this valentines day. The number of participants with each amount of money showed a steady drop, ending in only two planning to spend $100 or more.
When asked if celebrating Valentines Day on February 14 specifically, 33 people stated that it was important to them. 67 participants said they they would not mind celebrating another day.
The last question on the survey asked participants what they would want to do if single on Valentine's Day. 76 responders said that if single, they would rather spend Valentines Day with friends. 24 responders would rather spend Valentines day alone if not with a significant other.
No matter what your plans may be for this holiday, we here at the Odyssey hope you have a wonderful holiday filled with love, friendship, and lots of chocolate!