Previously written for a Journalism 201 course on interviewing and writing.
Wandering through downtown Evanston, Illinois, one can find shops typical to a college town: popular clothing stores, hip-workout spots, and an abundance of inexpensive food options.
With about half of Northwestern University's undergraduate population falling within the age range of 16-19 years old, approximately 4,000 students represent a portion of the population that has more than triple the average unemployment rate which is 5 percent, according the Bureau of Labor Statistics, one might assume that this inflated unemployment rate is detrimental to the profits of businesses.
Businesses however are doing great thanks to local families and retirees who frequent the shops. Evanston retail workers also attribute many a sale to visiting parents, eager to treat their college students. Karl Thelen, 26, an employee at American Apparel said that "about 50 percent of the store's shoppers are students" while the rest are "moms and families." Alicia Fuller, 22, a sales associate at Gap approximated the age of an average shopper to be "about 25-years-old, maybe a little older."
Additionally, if the past year is a reliable indicator, the unemployed population within young college students is dropping, as there was a decrease from 16.8 percent in December 2014 to 16.1 percent in December 2015 as shown in Bureau of Labor Statistics data, Evanston stores could see even greater profits.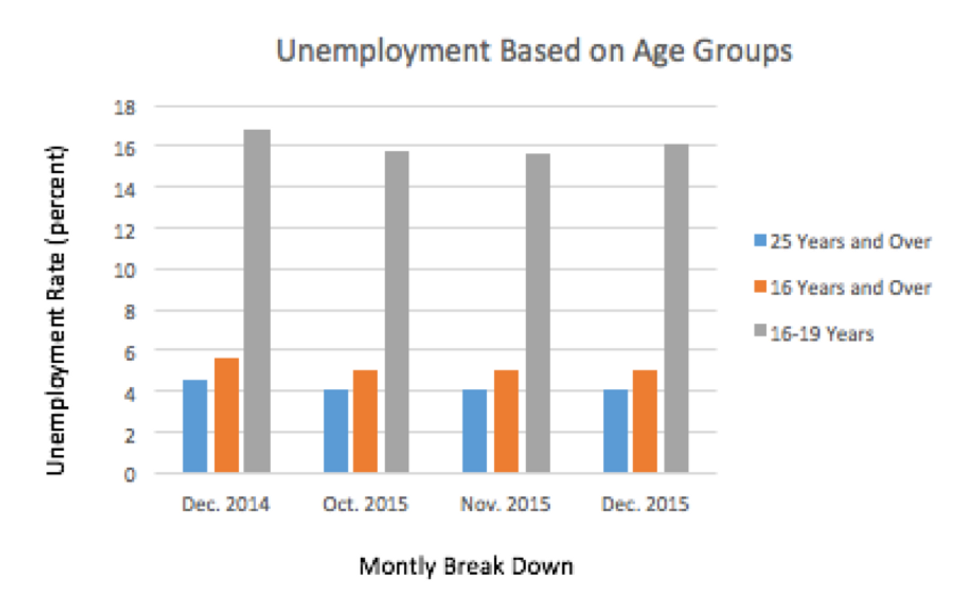 This trend is certainly represented at Northwestern as many students take advantage of the work-study program, which provides on campus-jobs as a form of financial aide.
Freshman Emily Lewis, 18, has worked six to eight hours a week since the beginning of the school year at Pick-Staiger Concert Hall, noting that "it is convenient that it [her job] is on campus. When asked what motivated her to use her work-study opportunity Emily said "Without a job, I would have no money."
Still, other students seek employment off campus. Emma Evans, 18, was recently hired at the Pure Barrre studio in Evanston. Emma said that she postponed her job hunt until second quarter of her freshman year as she "Decided that my full time job, especially first quarter, was being a student and making sure I was integrated into the Northwestern community and doing well in classes." Nonetheless, the temptation of making money and having the more grown-up experience of an off campus job called Emma to take on more responsibility.
While the unemployment rate for students early in their undergraduate career is still much higher than the national average, the incentive to make money is strong as Bryan Holden, 18, a freshmen considering getting a job, said "In college what you need is stupid money that you can waste," which is easy to do when you live in a town like Evanston, full of stores that cater to, and benefit from that spend-happy state of mind. Grabbing a job application with a to-go-bag from your favorite restaurant just might be the new thing to do. ###
Source List:
Emily Lewis, 18, freshman, undecided, Northwestern University, Gorham, Maine, 207-239-1755, emilylewis2019@u.northwestern.edu
Bryan Holden, 19, freshman, communication studies, Northwestern University, Arlington, Texas, 817-946-6912, bryanholden@u.northwestern.edu
Emma Evans, 18, freshman, undecided, Northwestern University, Cleveland, Ohio, 216-702-0756 emmaevans2019@u.northwestern.edu
Alicia Fuller, Evanston, Illinois 22, 847-809-6177
Karl Thelen, Chicago, Illinois 26, 847-913-5032
Jamila Smith, Evanston, Illinois, 31, 847-494-7453
Brynn Samp, Chicago, Illinois 24, 218-851-2574
Dids Patel, Evanston, Illinois, 24, 872-806-8090
Bureau of Labor Statistics (bls.gov)