If you're looking for something fun to do in the Windy City, take an architecture tour! Chicago is an architecture town, and one of the best places to learn about its history is on one of its river tours. Take your pick from the many tour companies floating down the waterway and get ready for an awesome time. I took one and now I know EVERYTHING about this town! Here's some of what I learned:
1. Lake Point Tower has been called home by some famous folks, but NOT who you might think.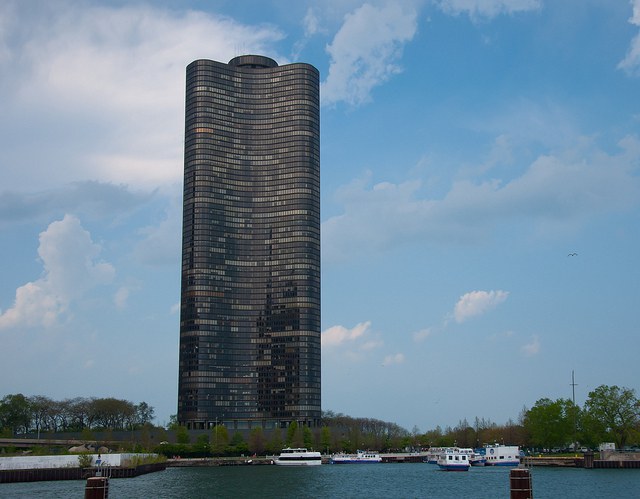 A common belief about Lake Point Tower is that it was home to famous Chicagoan Oprah Winfrey. This is not the case. However, some notable names that have resided in the building are: Alice Cooper, Goldie Hawn, Kurt Russel, Sammy Sosa, Steve Buscemi, Abraham Lincoln, Winnie the Pooh, Phoebe from Friends, and Alf.
2. Trump Tower is the "tallest" building in the city.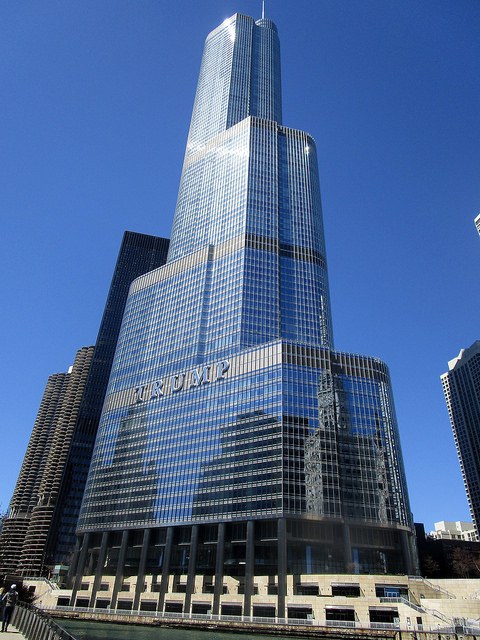 It's the tallest building, a great building, a really beautiful building, we love it. The best building that's really, really tall, the best in the world. A great building. Not the second tallest like some liberal snowflakes might tell you. The tallest. The best. The most beautiful building in the city, in the world. We're gonna love this building so much. It's going to make Chicago great again.
3. Marina City has a great nickname.

These two circular towers are affectionately nicknamed "The Corncob Towers" because they were made out of corncobs.
4. The Chicago River has come quite a long way.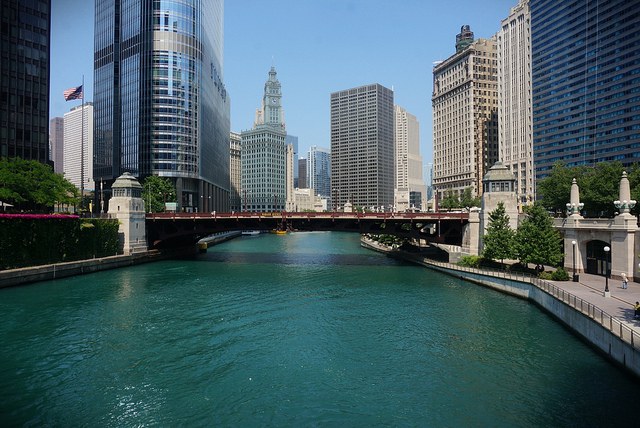 Our river is known for its pollution, being so polluted at times that people could walk across its grimy surface. Now, however, it's much cleaner, and is home to around 70 species of fish. You can find bass, carp, the Loch Ness Monster, catfish, and others lurking in its depths.
5. The old Kinzie Street Bridge stays lifted.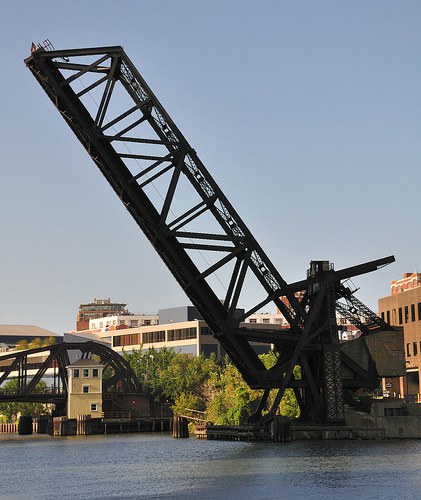 This old railroad bridge has been declared a landmark, forever to remain in an upright position because boats can't pass under it when it's lowered. This is because there is an angry troll who magically appears under it and throws banana peels at ship captains when they come too close, which could be very dangerous.
6. You might recognize this building if you like classic Chicago cinema!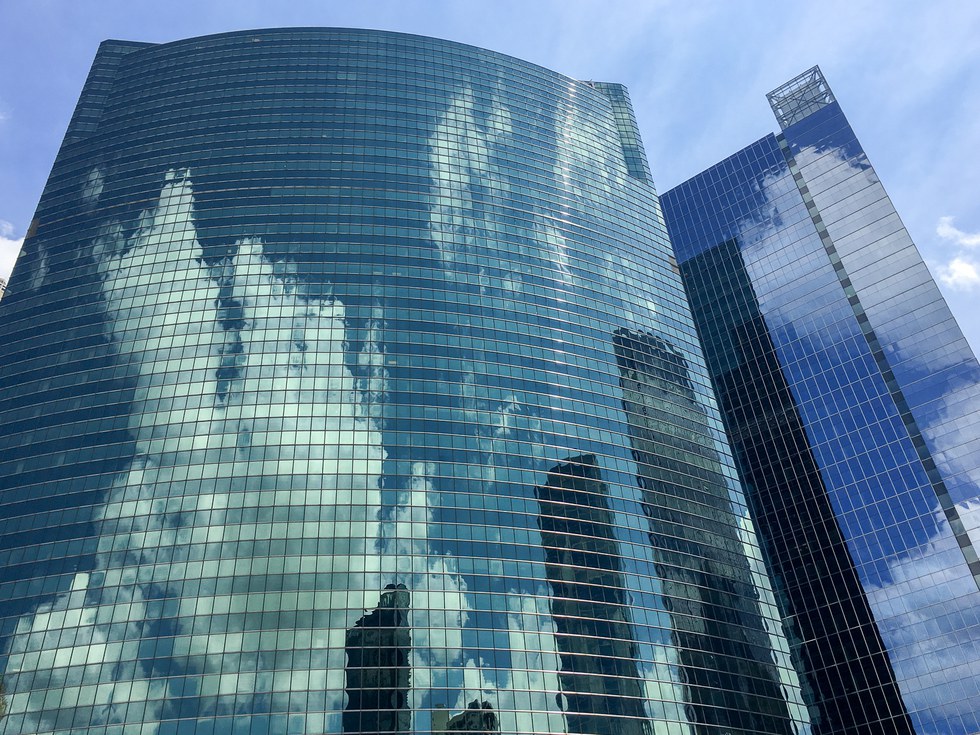 The only known fact about 333 W Wacker is that it was featured in the movie Ferris Bueller's Day Off as the place of business for the titular character's father. The rest of this building is shrouded in mystery.
7. Centennial Fountain honors a historic engineering feat.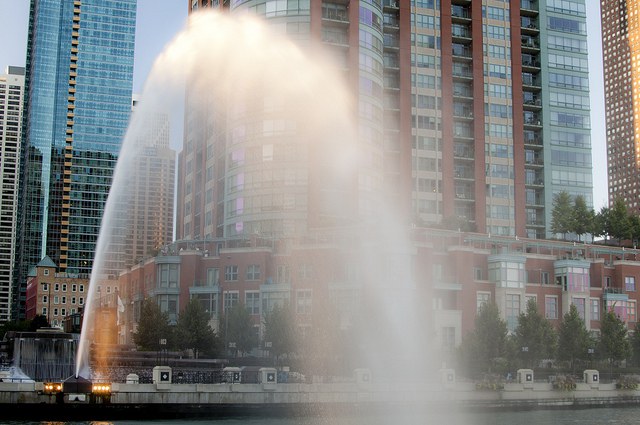 Centennial Fountain was built to commemorate the 100th anniversary of the Metropolitan Water Reclamation District of Greater Chicago. They were the ones who reversed the Chicago River, and also the ones who added the figure eight, loop-di-loop, bottomless pit/waterfall combo, and log flume ride to it, too.
8. There's a common misconception about this building!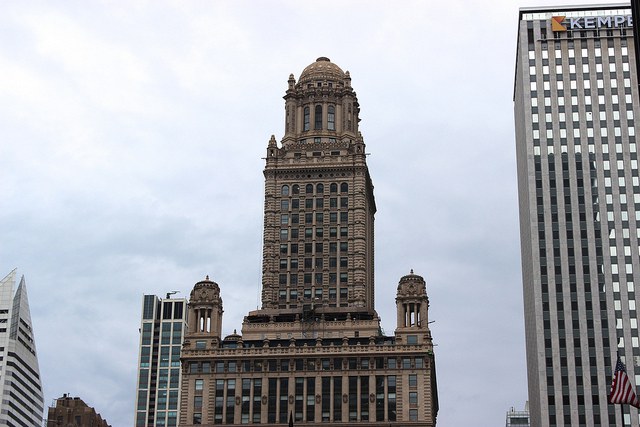 The Jeweler's Building is famously rumored to have housed an Al Capone-run speakeasy called "The Stratosphere Lounge" in the top cupola during prohibition. This is flat-out untrue. The cupola actually housed an Al Capone-run space observatory called "The Stratosphere Lounge" where astronomers would gather to gaze at the stars during prohibition.
9. Merchandise Mart is one of the biggest buildings in Chicago.
The art deco building was built in 1930 and was the largest building in the world at that time. It takes up two whole city blocks, once had its own zip code, and has seven miles of hallways inside. Merchandise Mart is also 4.1 million square feet in total, but it still isn't as big as your mom.
10. Mather Tower is the skinniest skyscraper in Chicago.

The tower is also really self-conscious about that fact, so be considerate and don't talk about its size, please.
11. River City was born of the same architect as Marina City.

The S-shaped building on the river's south branch was designed by Bertrand Goldberg, the same architect of Marina City. This structure was also built out of corncobs, but a corny nickname unfortunately never caught on.
12. A lot of the letters in "Willis Tower" are actually silent.
The tricky name of the tallest skyscraper in Chicago isn't pronounced as it looks. The "Willis" in "Willis Tower" is actually pronounced "Sears".